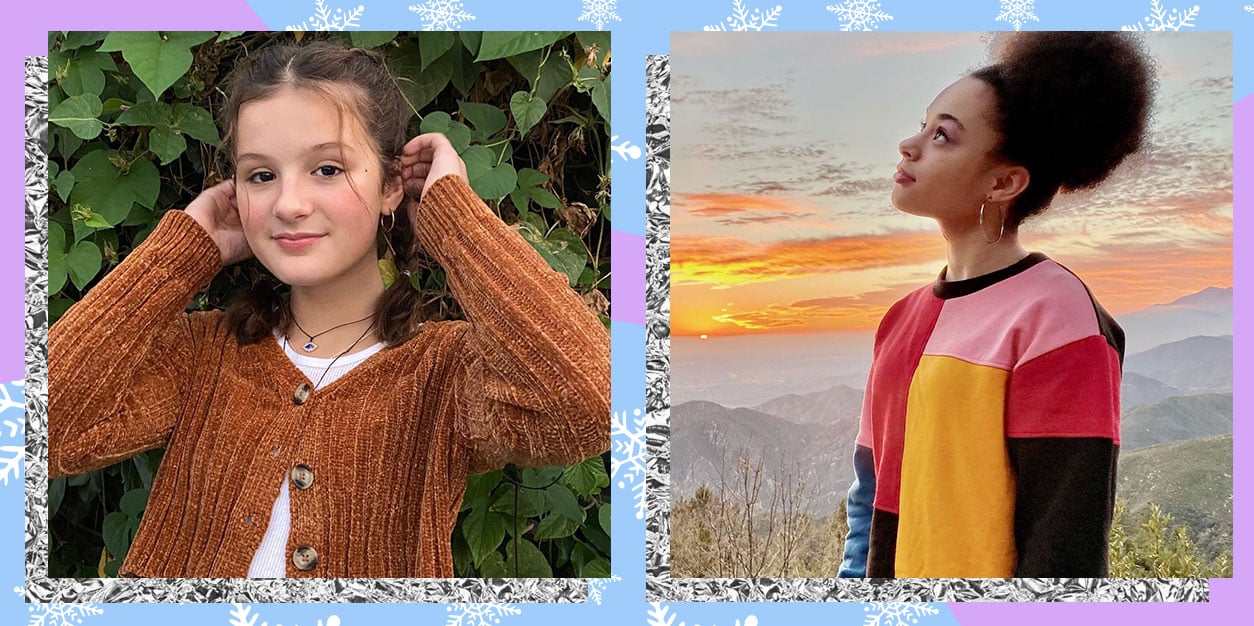 WINTER WISHES: Your Favs Sound Off on Their New Year Goals & Winter Vibes
Winter is underway, and TBH, whether you love or hate the cold, we can all agree that it's an amazing time to make lasting memories! Swap out your sneaks for ice skates, sandcastles for snowmen, and flex your cutest sweater because it's time to embrace the winter chill. Kick back and watch as flurries fly while sipping on hot chocolate, or daydream about jet setting with your fam on a ski trip – either way, there is so much about winter to adore!
It's also the perfect time to reset your goals, refresh your mindset, and look positively into the coming year – especially after the one we just had! That's why we decided to catch up with some of your favorite stars to find out what they love most about Winter and their wishes for the new year ahead.
From snowy strolls through Central Park, their favorite winter fashions, and their biggest dreams for 2021, here's what they had to say!
SOUND OFF: Winter Wishes: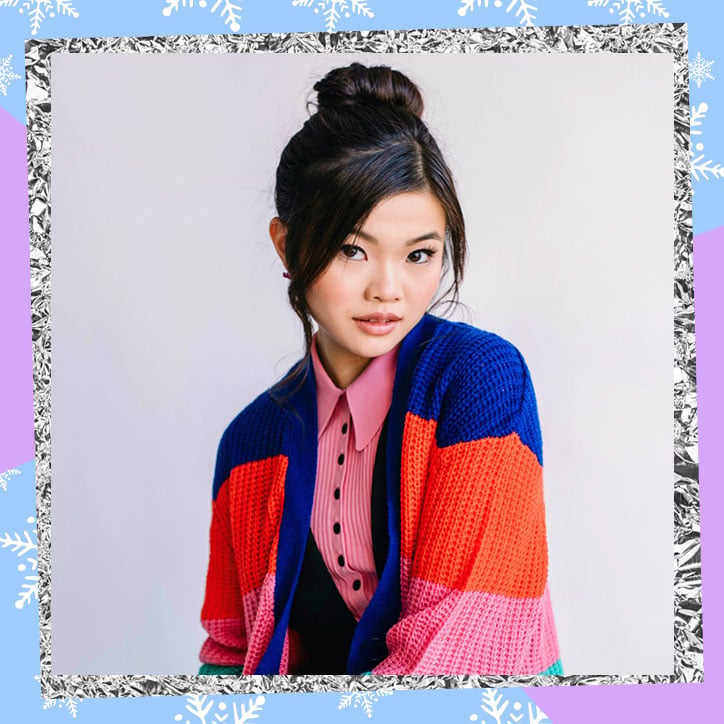 HOPEFUL SPIRIT: The Astronauts actress Miya Cech has a hopeful (and totally relatable) wish to share for the year to come.
"My wish for the new year is that we all are able to be together again, give each other the hugs and high fives we've missed over the past year, and never take that for granted again."
Same, girl! We can't wait to hug our besties, reunite with our families, and get back to normal – and we bet you're all feeling the same way too!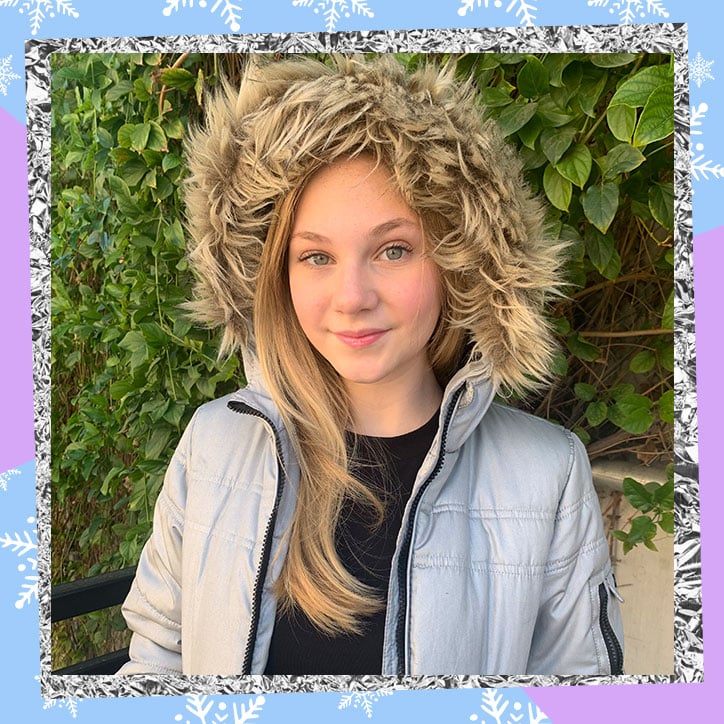 BIG CITY VIBES: The Big Show star Lily Brooks O'Briant is a city girl at heart, and her favorite winter traditions are ones you definitely need to check off your list if you're ever in NYC!
"I live in California now with warm winters, but my favorite Winter memory is our first winter when I lived in New York City! The first snow is magical – snow angels in Central Park, ice skating in Bryant Park, and walking through the beautiful snowy streets of NYC is always unforgettable. Rockefeller Center's gorgeous tree, the light show at Saks Fifth Avenue & the wintery streets of NYC are really incredible, and I am lucky to have been able to experience!"
From the electric energy to the twinkling city lights, nothing beats a wintery walk through NYC!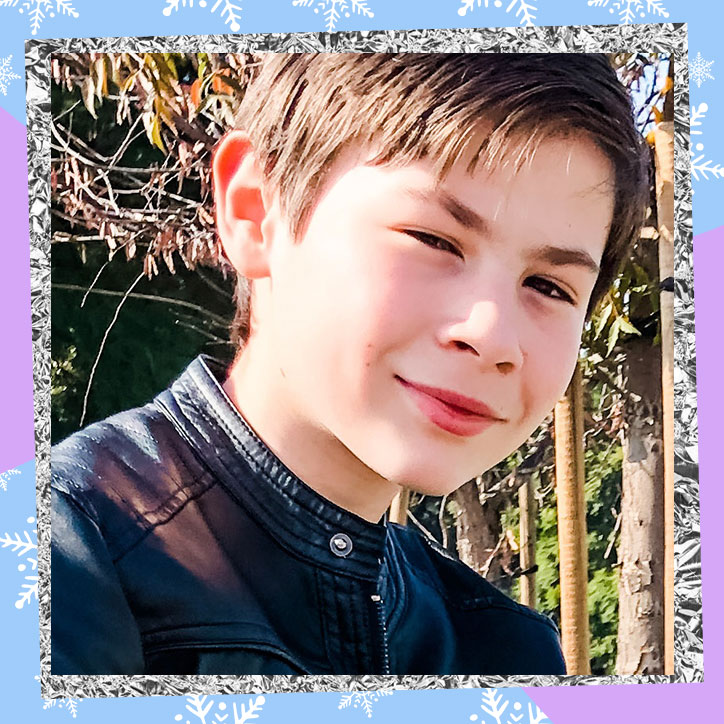 NEVER GIVE UP: If your goal is to try new things in 2021, actor & voice artist Jake Diaz is right there with you! He's using this year to try new things and never give up!
"My wish for the New Year is to remember that "The only real failure is the failure to try. Here's to 365 new attempts!"
What will YOU try this year?
COMFY VIBES: Singer-songwriter Sophie Pecora is known for her relatable lyrics and amazing music, and it's clear that she's a poet at heart! She captured the perfect winter vibe when sharing her favorite winter things with us!
"I love the colder weather during winter. I get to cuddle up in blankets, and it's so comfy. I also love drinking hot chocolate. Winter in California is short, so I actually enjoy it – even when it's raining! I also like wearing sweatshirts and cool jackets, so when winter is over in California, there goes most of my favorite part of my wardrobe! So, wintertime for me is short, sweet, and comfy."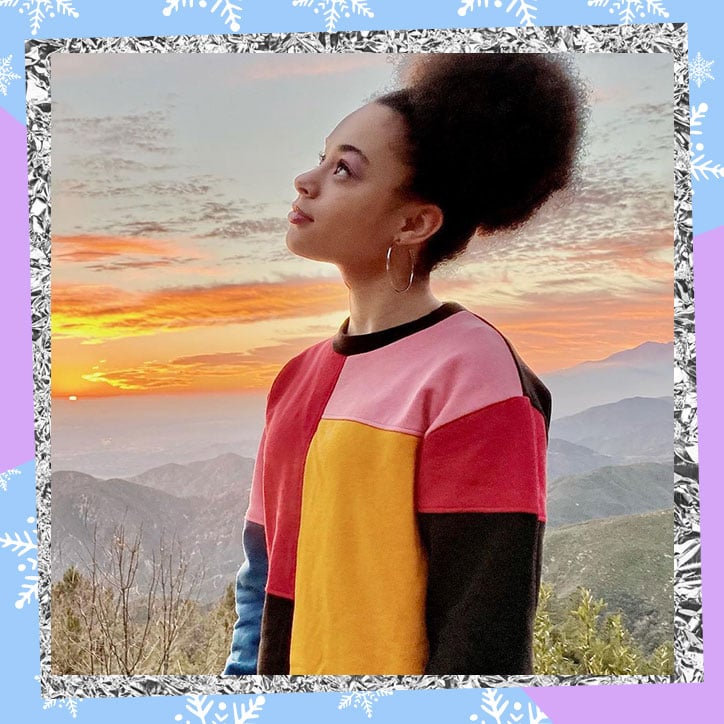 THE LITTLE THINGS: Trying to be more positive this year? Nickelodeon star Gabrielle Nevaeh Green shared the perfect mantra for anyone trying to embrace the little things in 2021.
"My wish for the New Year is for everyone to find joy in the little things of life every day knowing that happiness comes from within."
A great way to channel positivity is through a gratitude journal. Each day, jot down a handful of things that made you happy that day. It doesn't need to be anything major, just simple things that made you smile – the way your cat looks when it's sleeping, a cute new haircut, or a batch of chocolate chip cookies your mom baked as a surprise all count as things to be grateful for!
CRISP AND COZY: We know exactly where Where's Wally voice artist James Cartmell will be this winter – cozied up in the UK on a snowy day with a mug of hot chocolate!
"Winter is my absolute favourite season. I love the cold, sharp, crisp mornings where the frost bites your nose. There is so much to look forward to – hot chocolate, mulled wine, toasted marshmallows, and the best thing of all Christmas (and if we're really lucky here in the UK, a little snow!)"
Doesn't this sound like the perfect wintery vibe?! How do you relax on a snow day?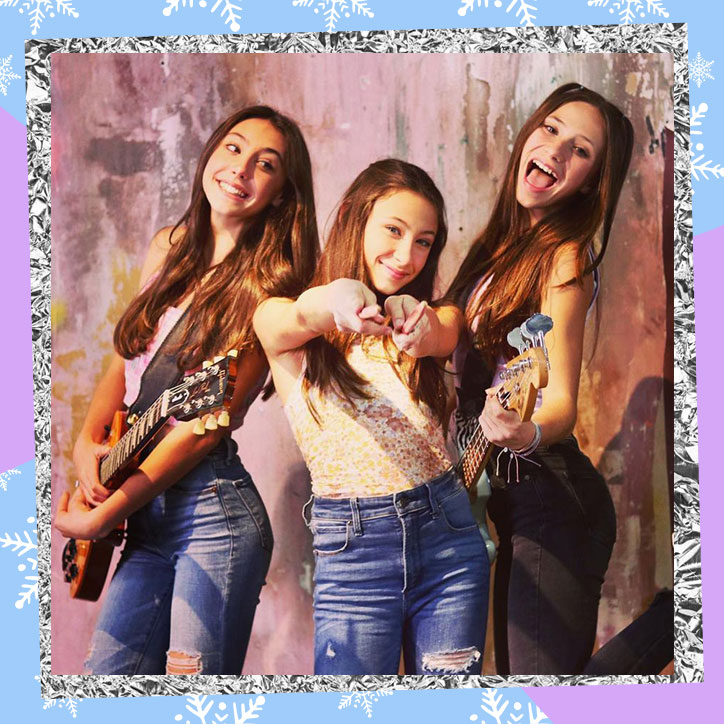 WINTER WANDERLUST: Our girls Grace, Scarlett, and Gabriella Mason from Hello Sister may be from Florida, but they don't let the warm weather stop them from embracing winter fun!
"The thing I love most about winter is being able to spend time with our family that lives in Canada and enjoying the weather. It's really fun for us to go skating skiing and tobogganing. There's no better feeling than coming in from the cold and sipping a yummy hot chocolate!" – Grace Mason
"My fav winter memory is when we went to Canada to visit our family for Christmas and went tobogganing which was really fun because we don't normally do that here in Florida because it's always hot and sunny." – Gabriella Mason
"Florida as you know, is very hot, so being able to wear sweaters and change up my wardrobe is fun!" – Scarlett Mason
If your winters are warm like these Florida sisters, which winter traditions do you dream of experiencing most?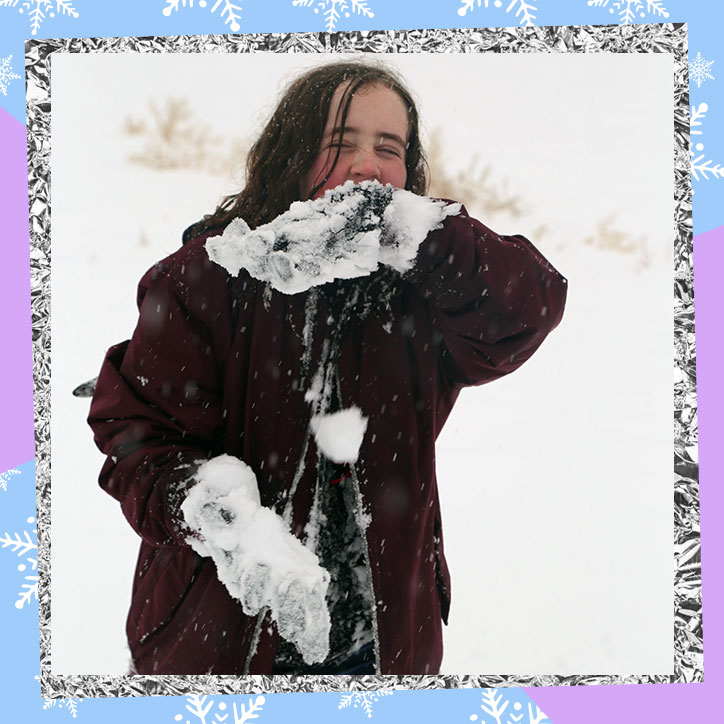 SNOW BUNNY: Is there anything better than a snow day? No school, no homework – just pure fun! From building snowmen to going sledding, the possibilities are endless when sparkling flakes fall from the sky!
"I love being able to see snow!", shared actress Marion Van Cuyck. It's clear to us she's super serious about living her best snow bunny life! Check out this vid of Marion snow tubing with her fam!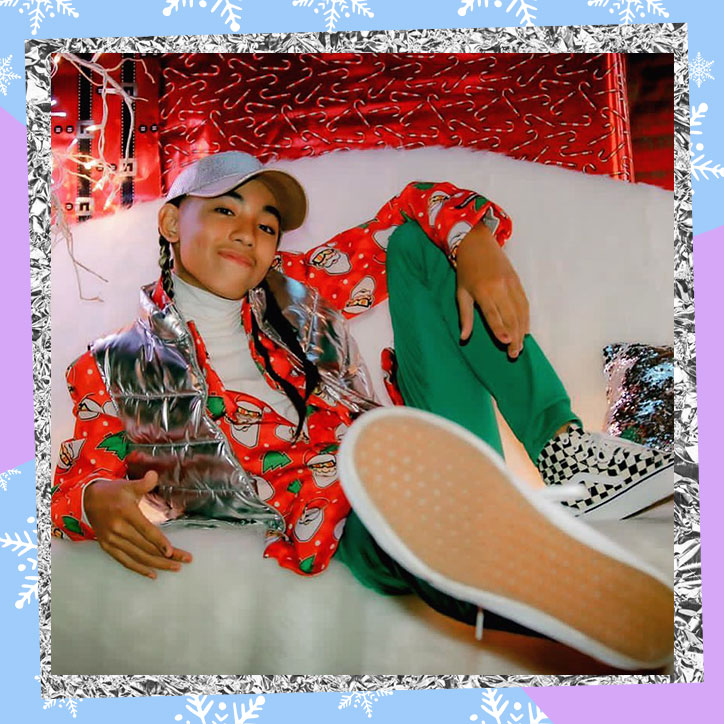 FAMILY CHEER: Wintertime brings chilly, darker days, which means more time spent inside. FUTUREPOP performer Maceo Sicam loves relaxing at home, making memories with the people he loves most.
"What I love most about winter is that I get to spend a lot of time with my family and relatives, we always play fun games and watch holiday movies. I love the cold weather, it brings a nice breeze, and I get to wear my cozy jacket when I go outside. Most of the time, I stay inside – I really love winter because it's a great time to relax in the house and cherish the happiest moments with the family."
Puzzles, movie nights, crafting, reading, and video games are a few of our fav indoor activities – how about you?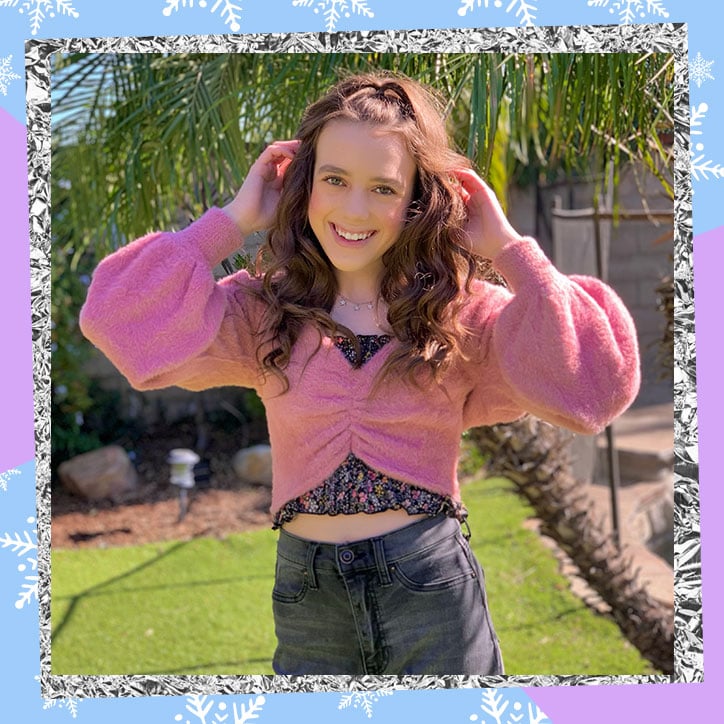 WINTER CUTE: Bring on the sweaters, fluffy coats, and earmuffs! Chilly weather brings the need bundle up, and influencer Symonne Harrison uses winter as a style opportunity!
"I like to keep warm and stylish through the winter months! My grey denim jeans are a winter wardrobe essential for me. I love pairing them with a soft fuzzy sweater for a cozy and cute look!"
BIG DREAMS: 2020 wasn't exactly the best year for crushing goals and personal growth, and if you didn't manage to accomplish must last year – you're not alone. Actress and Run the World singer Hayley LeBlanc is putting last year behind her and dreaming big in 2021!
"My wish for the New Year is to continue to grow my relationships with my friends and family, develop more music, and pursue bigger acting opportunities!"
We LOVE this mindset! If 2020 dulled your sparkle, set some new goals, and shine bright this year!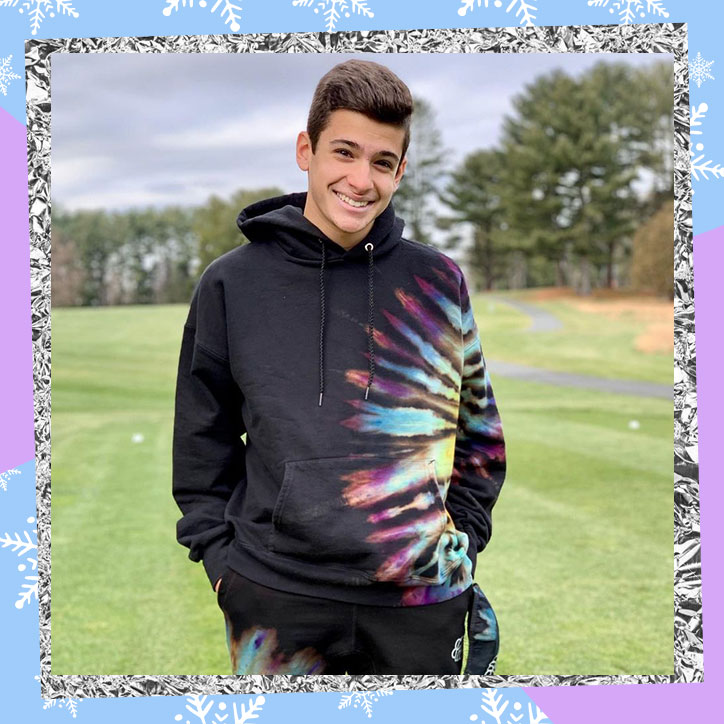 FAMILY TIME: Dance sensation Jacob Rassi is ready to get back out there, make his mark, and reconnect with family he hasn't been able to see during quarantine.
"My wish for the new year is to continue spending quality time with family. I also wish everyone stays healthy and we are able to start traveling again. I really miss my family who lives out of state and being able to train for dance around the country."
Here's to all of us being able to reunite with the people we're missing this year!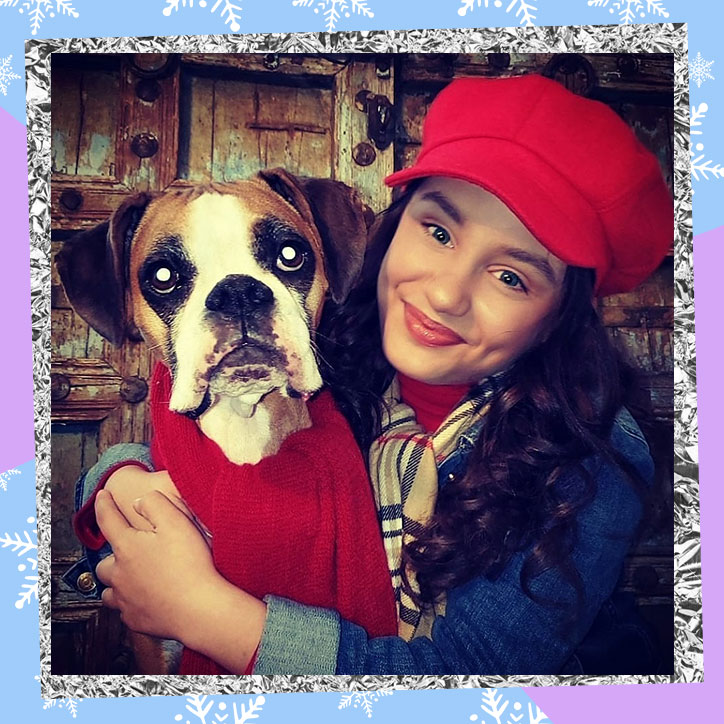 WINTER BESTIES: Who else thinks winter is the perfect time to bond with their furry friends? From crisp winter walks to snow days spent snuggled up on the couch, triple-threat Izzie Florez knows how to make the most of winter.
"My favorite winter memories ALWAYS include, long walks & snuggles, with my best friend, Daisy!"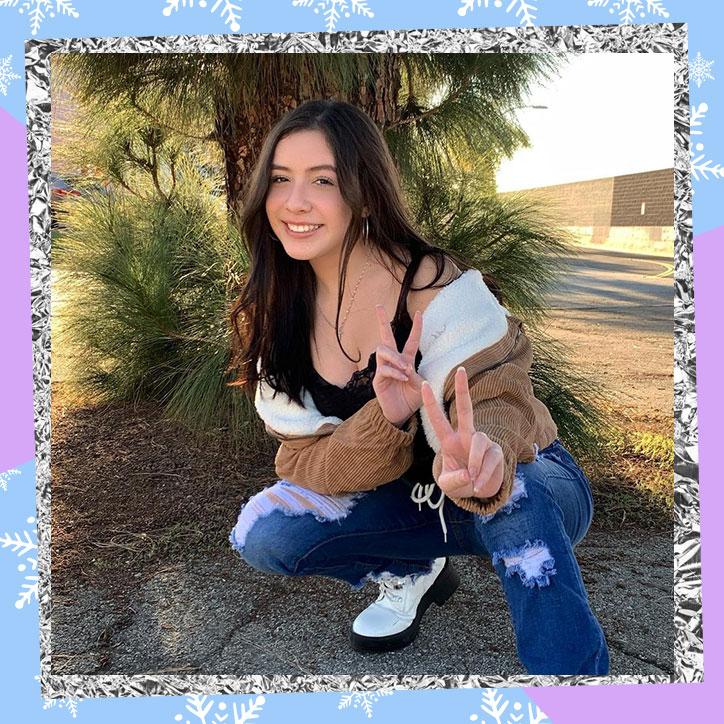 FASHION FAVS: Jaleena Rodriguez seriously knows how to capture a winter vibe! From iconic fits to channeling positive energy through crystals, this talented dancer is here to keep those winter blues away – and look good doing it!
"I absolutely love winter fashion! Nothing beats dressing up in cozy sweaters and boots. I love expressing my style in winter. I don't know if it's the Latina in me, but my accessories need to speak volumes. I'm big on spreading positive energy, so I always wear my crystal chain and bracelets for protection and to keep away negativity. One of the best feelings in the world is being in a warm sweater and drinking hot cocoa! All the winter vibes!"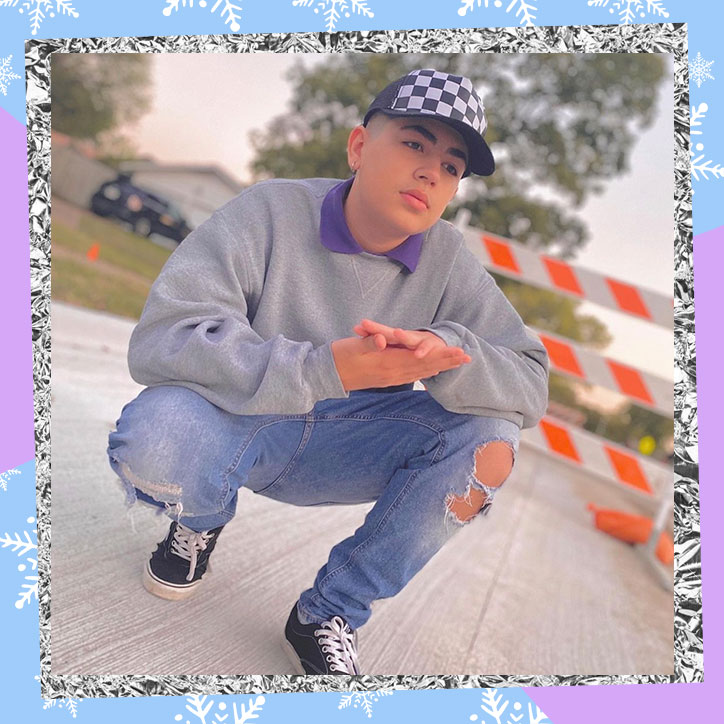 HOODIE HAPPINESS: TikTok king Kaydin Fritcher's winter vibe is cozy and simple – comfort is key. He told YAYOMG! "My winter style consists of mostly hoodies or sweatshirts with jeans or sweatpants. I also am into cargo pants because they are definitely comfortable. I also have a drawer full of beanies that I like putting with what I'm wearing that day."
Throw in some cute pajama pants and Uggs, and we're totally on board with cold-weather style. From warm peacoats to adorable scarves, it's easy to stay on-trend all winter long!
Looking for a good book to curl up with during the chilliest season? We think you'll love Clues to the Universe, and we happen to be giving away a copy!