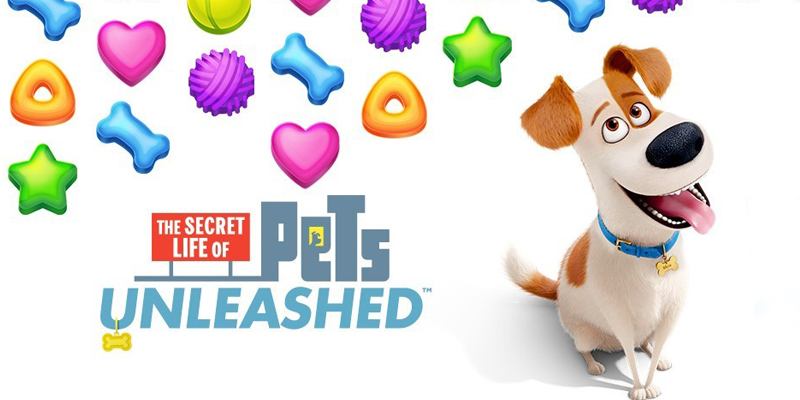 The Secret Life of Pets: Unleashed
"The Secret Life of Pets: Unleashed" combines everything you love about Match-3 games with the super quirky animals from Illumination Entertainmet upcoming flick "The Secret Life of Pets". The movie doesn't hit theaters until July 8th, but you can start getting to know Max, Leonard, Chloe, Gidget, and the rest of the furry gang now by playing the game!
"The Secret Life of Pets: Unleashed": Gameplay Trailer:

If you've ever played Candy Crush, Bejeweled, or pretty much any other Match-3 game that's ever existed, you'll find "Unleashed" really easy to pick up. Match the different colored pet toys together to make matches, unlock power-ups, and complete puzzles.
Sounds like what you're used to, right? That's where the fun comes in. There's lots of really unique puzzles and challenges along the way – like helping raise the volume on Leonard's speakers so he can rock out and helping Gidget take a relaxing bath – complete with a cucumber eye mask, all of which happens before your eyes at the top of the screen.
There's different goals in each level, such as matching a certain amount of a specific color item or earning a certain score, keeping things fresh and interesting on each level.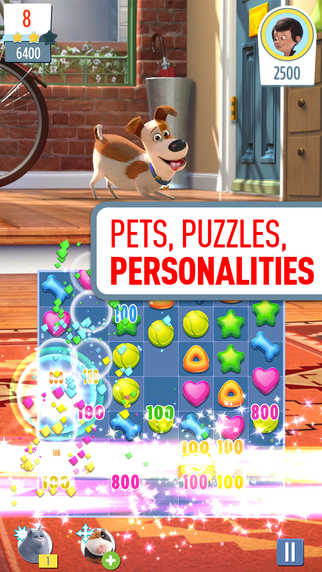 The power-ups and boosts cause lots of on-screen chaos (in a good way!) that help you get through the board more quickly. Match 4 of the same colored toys in a square to create a parakeet, who does more than just sit there and look cute. When you match a parakeet, it'll fly across the screen and knock out another item. Making "T" and "L" shapes also unlocks helpful boosts like the Blast Ball, which explodes all items in it's path. Match 5 items in a row to unlock the Rainbow Ball, which destroys all of the same color toy you match it with.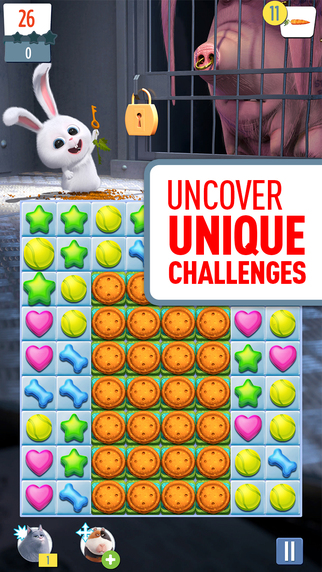 There are also character specific moves you can buy with coins, like Chloe's Laser Smash, which brings Chloe out chasing the laser pointer, letting you choose a specific item for her to knock out of the way. These types of power-ups can be purchased during the level, letting you strategize and get the upper hand (paw?). Every few levels you'll unlock a new "Secret Life of Pets" character, letting you get to know each of the mischievous pets from the movie. When you reach the goal on each level, you'll unleash the pets, and that's when things go really crazy!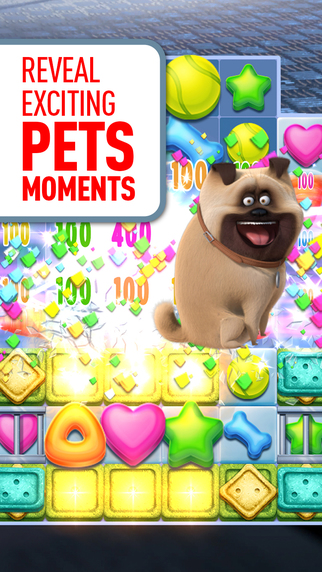 These aren't the only things you can do though. Matching power-ups with other power-ups will give you even stronger boosts and other hidden combos will unlock Pets Moments like Gidget flying in on an eagle and knocking out every item on the board! The game has a ton of personality and it really helps bring the movie to life in the palm of your hand. You'll even get to play fetch with Max once a day to unlock your Daily Reward! We really appreciate that while there are in-app purchases, they're not really necessary to make the game fun.
"The Secret Life of Pets: Unleashed" is now available (for free!) for iOS and Android Devices. All in all the game is super fun and is a really fresh take on the whole Match-3 thing.