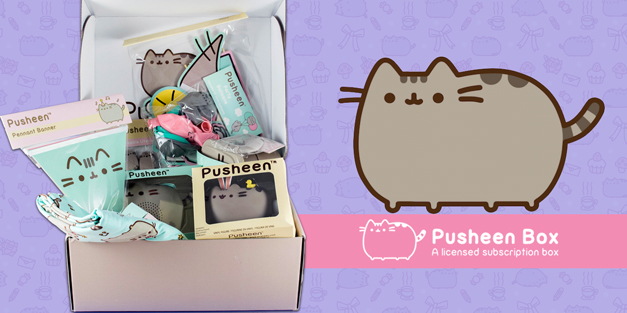 The Pusheen Box is Packed With Maximum Cuteness
Obsessed with Pusheen? Who isn't, really? Did you know that a Pusheen Subscription Box exists and it's filled with adorably exclusive goodies? It totally does! Here's the proof: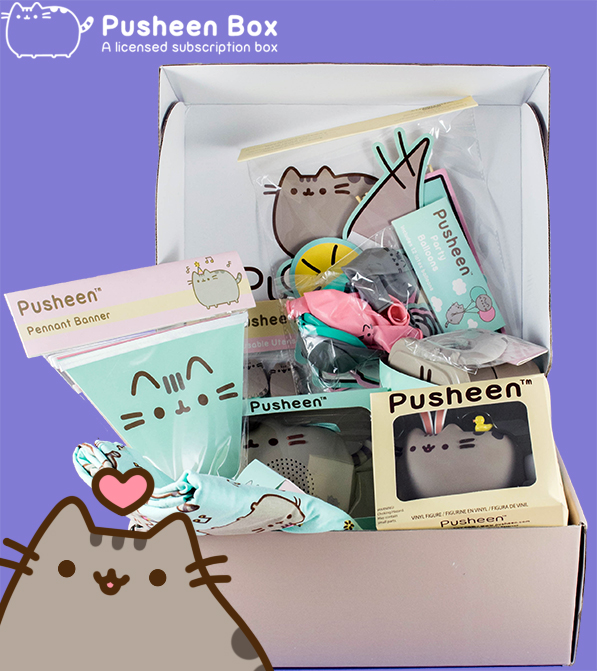 Like we mentioned in our Animal Jam Box review, the Pusheen Box is curated by the amazing folks at CultureFly. They recently shared the Spring box with us so we could tell you guys all about it. Like their other amazing subscription boxes, everything you'll find inside the Pusheen Box is either totally exclusive to the box or is a rare pre-release item. That means your box will be overflowing with super unique Pusheen items that you can't find in stores. (OR you'll receive the item before everyone else has a chance to buy it.) All the items in this Spring box are lovely pastel shades that match perfectly with Pusheen's fur and laid back attitude. The items in the boxes can be anything from clothing, toys, stationary, electronics, and more.
Something we really love about CultureFly's boxes is that you get a TON of stuff and the items are all excellent quality. Each box is carefully chosen and created to match the theme and/or the season of the box. The theme of the Spring Pusheen Box is Let's Party, and the items in the box definitely do a great job of bringing the fun. Keep on reading to find out what was inside the Spring box and how you can get a Pusheen Box of your own!
Pusheen Box – Spring 2017 Unboxing:

Bunny Pusheen Vinyl Figure:
Look at the cuteness. Stare at it with your eyeballs. We'll definitely be keeping our bunny Pusheen figure on display all year long, not just at Easter. LIVING for that donut confetti? It's from The Confetti Bar.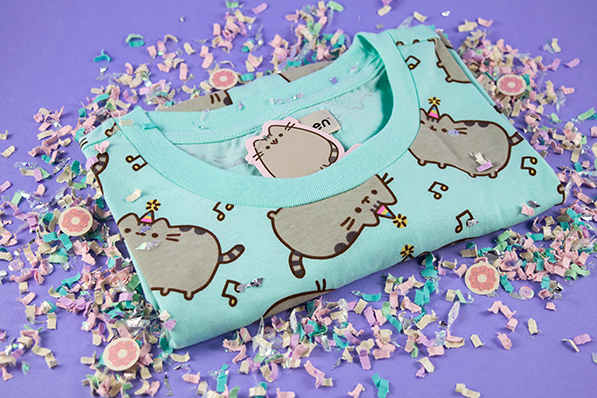 Party Shirt:
This is definitely our new go-to tee for every party. Just like Pusheen, you'll bring the cute and every single time you wear this super soft shirt. You can also bring quite a few other items founds in the Spring box.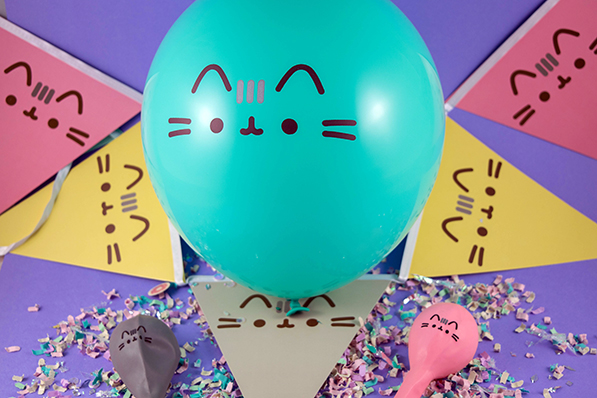 Pennant Banner and Balloons:
Whether you're celebrating a birthday, a good report card, or just your unwavering love of Pusheen, these party decorations can help you celebrate any occasion. We hung up our banner above the toy shelf in our office so we can party with Pusheen every day.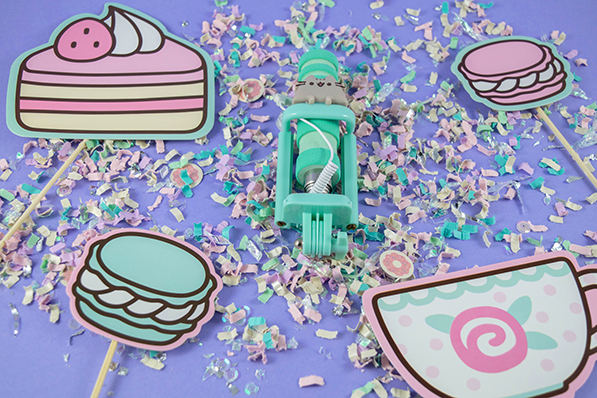 Selfie Stick and Photo Props:
While these adorable items can certainly be used separately, we think they're a perfect match when paired together. Toss out your old selfie stick, when you've got one with Pusheen on it, all other selfie sticks will just seem boring and lame. The photo props are super cute and super delicious. As you can see, there's lots of tasty desserts, but not pictured are Pusheen bunny ears and a top hat. We fully intend to Pusheen-ify every selfie we take from this point forward.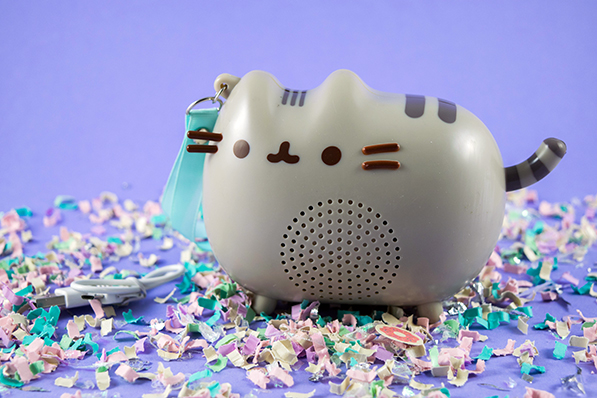 Portable Speaker:
First you brought the party with your awesome new tee and decorations, now it's time to bring the noise! This box seriously knows how to party. Even though it was included in the Spring box, this Pusheen speaker is definitely a must-bring on beach and pool adventures this Summer. What do you think Pusheen's favorite party song would be?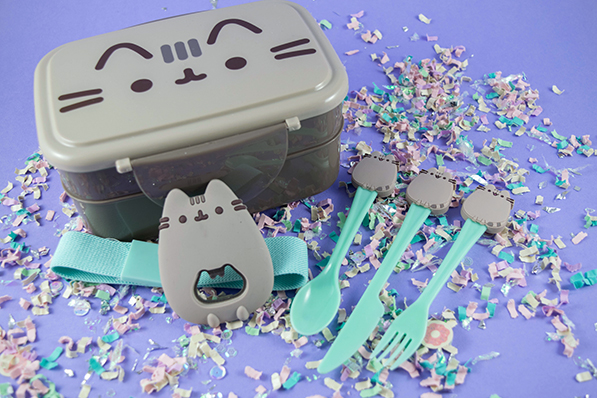 Bento Box, Utensils, and Bottle Opener Magnet:
Stash your meals in this bento box or stash other cool secret things inside. We don't care! We vow to never eat another meal without these precious utensils. That is, unless we get Pusheen level lazy and forget to wash them. (This is definitely going to happen)!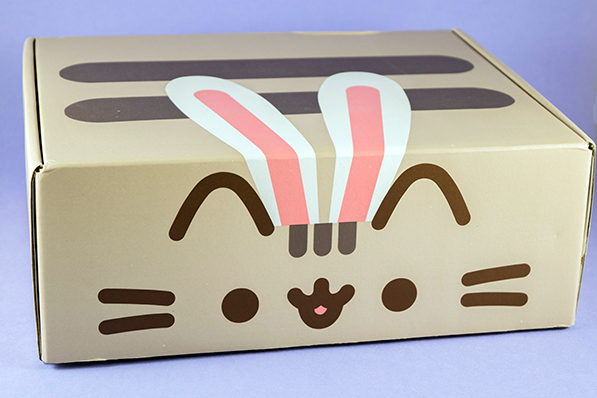 Like what you see? You can't get this specific box anymore, but they're now taking orders for the Summer box. It'll be shipping in mid-July and it's sure to be filled with serious cuteness. We did some internet sleuthing to see what came in the 2016 Summer box and it did not disappoint, so we've got high hopes. The Pusheen Box is available in two subscription models: A Quarterly subscription of $43.95 or a Yearly Subscription of $39.95. (Plus shipping and handling). There's 4 new boxes every year, and they ship in December, April, July, and October – one for every Season!
If you're like us and don't want to miss another box, ask your parents and head on over to the Pusheen Box site. Pusheen not your thing? CultureFly also makes an Animal Jam Box that we just reviewed and their very first Shopkins Box ships in late June!
Note: We received this product for free from CultureFly in exchange for a fair and honest review. We were under no obligation to write a positive review.