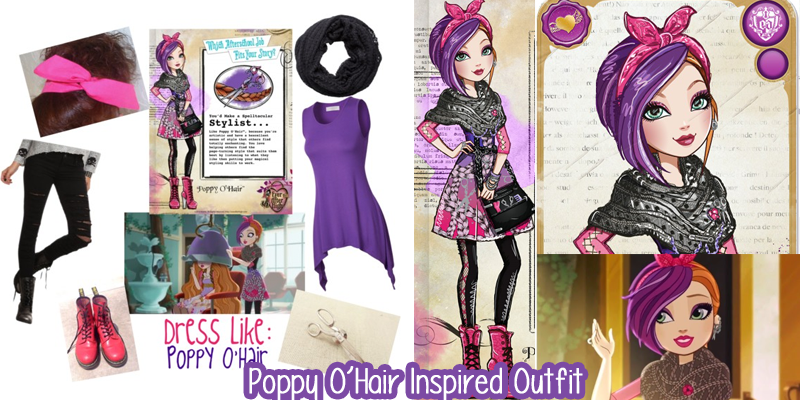 Poppy O'Hair Outfit
Poppy O'Hair is one of the most stylish girls at Ever After High, so we decided to show you guys how to rock a totally hexcellent Poppy O'Hair outfit!
In case you're not familiar with Poppy, she is the daughter of Rapunzel, so you know she's all about the hair! She's got a twin sister named Holly who is a Royal and Poppy is a Rebel. She works at the Tower Salon as her after school job, and keeps everyone in the Village of Book End looking totally fabulous.

Rocking a Poppy O'Hair outfit is pretty simple! The key element of Poppy's outfit is the big gray scarf, so make sure to get one of those. They're perfect for the upcoming fall weather, so you'll look fabulous AND stay warm!
Poppy's outfit has a purple and pink dress with lots of hair braids on it – which is probably pretty hard to find, so we went with just a simple purple top. Odds are, you have one in your closet already!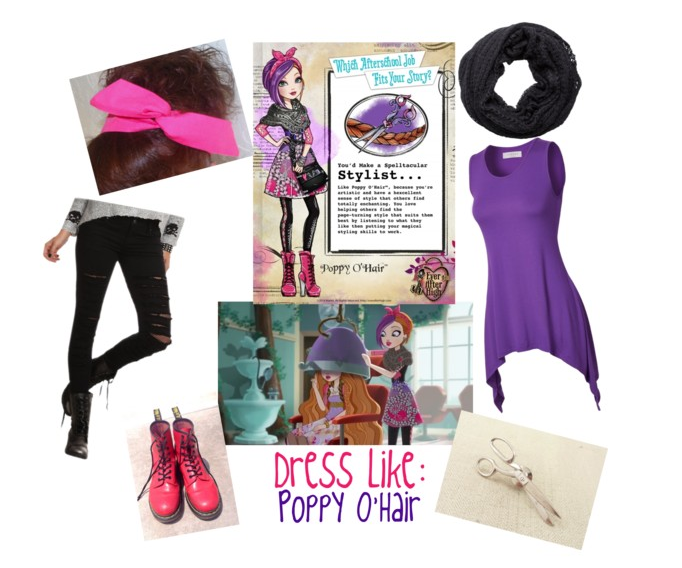 A regular pair of black leggings will do, but if you want to really go all out for your Poppy O'Hair outfit, try some ripped black jeans or leggings. The ones we picked even have fishnet!
Finally, throw on some pink boots, and some really cool hairstylist inspired accessories, like a scissor ring, and top it all off with a hot pink dolly bow, and you're all set! The perfect Poppy O'Hair outfit! To see our outfit up close, check out our Polyvore page!