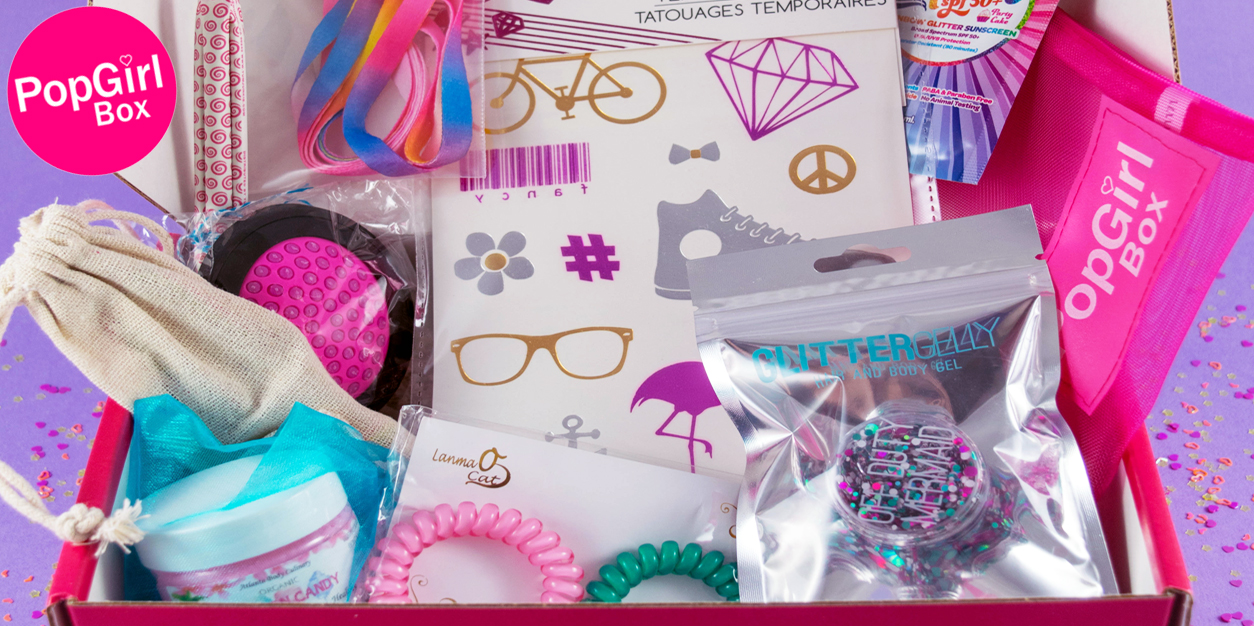 Celebrate Summer Fun with the June PopGirl Box
Note: We received this box for free from PopGirl Box in exchange for a fair and honest review. All opinions are our own; we were under no obligation to give a positive review.
PopGirl Box day has become one of the most exciting days at YAYOMG! HQ. We've been hooked on PopGirl Box from the very start, but it's quickly grown to become one of our absolute favorite subscription boxes. The themes are always so much fun, and the items inside are super on point. A perfect mix of adorable, sparkly, useful, and sweet.
We know the PopGirl Box team puts a TON of love and care into curating the items for their boxes, and they often include items from brands you already love like Fashion Angels and Ooly to new favorites, like the Sunshine and Glitter sunscreen item found inside this month's box.
The theme for June is SUMMER FUN, and we have to agree – everything inside this box is guaranteed to make your Summer a little more exciting and give you a ton of sparkle and flair. Keep on reading to see what we discovered in this box of summery goodies and scroll all the way down for our EXCLUSIVE $5 off code!
PopGirl Box Unboxing – June 2018 – Summer Fun: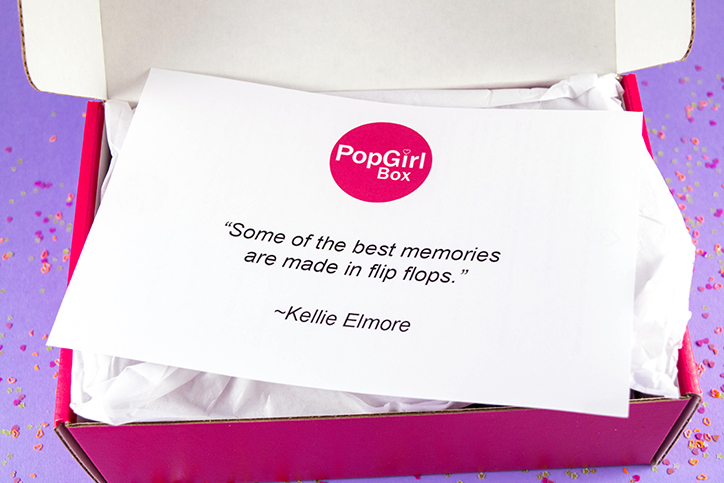 As you dive into your box of surprises, the first thing you'll come across each month is a quote to inspire you. Since all your hard work throughout the school year as paid off, this month's quote is all about relaxing and making Summer memories.
Whether you're headed on a family road trip, packing up for Summer camp, or just spending your days kicking it in the backyard, one thing is for certain – "Some of the best memories are made in flip flops." – Kellie Elmore

Exclusive PopGirl Signature Pool Pouch:
This PopGirl Box pool pouch is exciting for a few different reasons. It's a great place to stash all your Summer necessities, like sunblock, lipgloss, your phone, and cash for boardwalk treats, but it also lets you show off your PopGirl pride! Who knows, maybe you'll discover a fellow PopGirl at the beach or the pool this Summer! Instant besties!

Neon Pura Vida Bracelet:
This colorful bracelet is super cute and very lightweight, which makes it great for those hot and sticky days outside. It's got the vibe of a friendship bracelet, but since it's made by Pura Vida, you know it's also high quality and will last you all Summer long! If you're not familiar with the brand, Pura Vida means "pure life," and their goal is to encourage people to enjoy the little things in life.
These bracelets are handcrafted with lots of love, and they also do LOTS of good and make a difference in the world. They donate lots of their proceeds to support different charities, and many of their bracelets are made so you can show your support for various causes in a way that's much cuter than usual rubber bracelet.

SeaStar Sparkle Glitter Sunscreen from Sunshine and Glitter:
Sunshine and Glitter is one of our favorite new brands, so we were thrilled to see a sample of their product in our PopGirl Box. They're known for their lines of scented, sparkly sunscreens, allowing you to look and smell fabulous all Summer while also protecting your skin with natural ingredients. The sample we found in our box smells almost good enough to eat – ours was a fragrant Party Cake scent that will definitely has us craving cupcakes.
Even though the sunscreen itself is thick and white, once it's all rubbed in, all your left with is a shimmery clear layer of sparkly goodness! With SPF 50+, you can feel safe heading out on your sunny day adventures when you wear this sunblock. They also make glittery hair detanglers, after-sun gel, bug repellants, and more!

Colorful Phone Cord Hair Ties:
Throw back to a time when phones had cords and busy signals and your friends actually had to call your house and talk to your parents to see if you were down for Summer hangs. Just thinking about it makes us thankful those days are pretty much behind us. Whether you use these adorable phone cord hair ties to tie your hair up in a perfect high pony or just rock them on your wrist to accessorize, one thing is for sure – you're going to look totally awesome!

Off Duty Mermaid Hair/Body Glitter from Fashion Angels:
Okay, this is maybe the best body glitter we've ever encountered, and we grew up in the 90's! This Off Duty Mermaid glitter gel is bold, vibrant, and stays put for HOURS so you rock mermaid vibes all day. We've never seen such big, chunky pieces that stay in place so well. This is the kind of stuff you want to rock for a big event, like going to your first concert, hitting up a fireworks show, or performing in your summer camp talent show!

PopGirl Brush and Mirror Set:
This fold-up brush and mirror set fits perfectly into a small bag, like your new PopGirl Box pool pouch. Seeing as we're always trying to find a way to bring less stuff to the beach with us, we think this is an absolute staple for detangling your hair after a day at the beach or pool. It also fits nicely inside a clutch for those essential hair touchups on the go.

Bright Rainbow Shoelaces:
We LOVE rainbows, so we were excited to find these super cute neon rainbow shoelaces in our box. Lace these through your favorite pair of sneaks to kick them up a notch.

Cotton Candy Organic Whipped Soap from Atlanta Body Culinary:
THIS. STUFF. SMELLS. SO. GOOD! We've never been tempted to eat soap before, but this cotton candy scented soap smells good enough to eat. The best and most important part is that it's made from good ingredients too. The PopGirl Box team is always careful to include skincare and beauty products that are made from ingredients that are safe for sensitive tween and teen skin. It's one of the reasons we love them so much!

Insta Ink Temporary Tattoos by Style.Lab:
Summer means shorts, tanks, tees, and bathing suits – which means you have plenty of bare skin to cover in these metallic temporary tattoos. With adorable foil designs like flamingos, hashtags, and pineapples, you'll look fabulous all summer long. From our favs at Fashion Angels!

Watermelon Pixie Stix:
Stuck inside during a Summer thunderstorm? These sugary Pixie Stix will make your day sweet with their tasty watermelon flavor.

HOW DO I SUBSCRIBE?:
– Grab an adult and head to the PopGirl Box website, POPGIRLBOX.COM.
– Use our code YAYOMG when you check out for $5 off your first box!
Cost Per Box: $29.00 + S/H. The boxes ship out monthly, and you can cancel at any time.
What Do You Get?: Each month you'll receive a new box with a new theme. Each box contains 6-8 surprise items worth over $50 in value! According to the website, items can be anything including: "jewelry, hair accessories, beauty products, school supplies, sweet treats, and the latest swag for young girls!"
The June box is sold out, but the July box is on sale now. Be sure to make your purchase before June 25th to lock in your spot for the I HEART AMERICA box. It's sure to be packed with star-spangled accessories and red, white, and blue pride!
Want to see what you missed out on in previous boxes? Click here to see our other PopGirl Box unboxings!