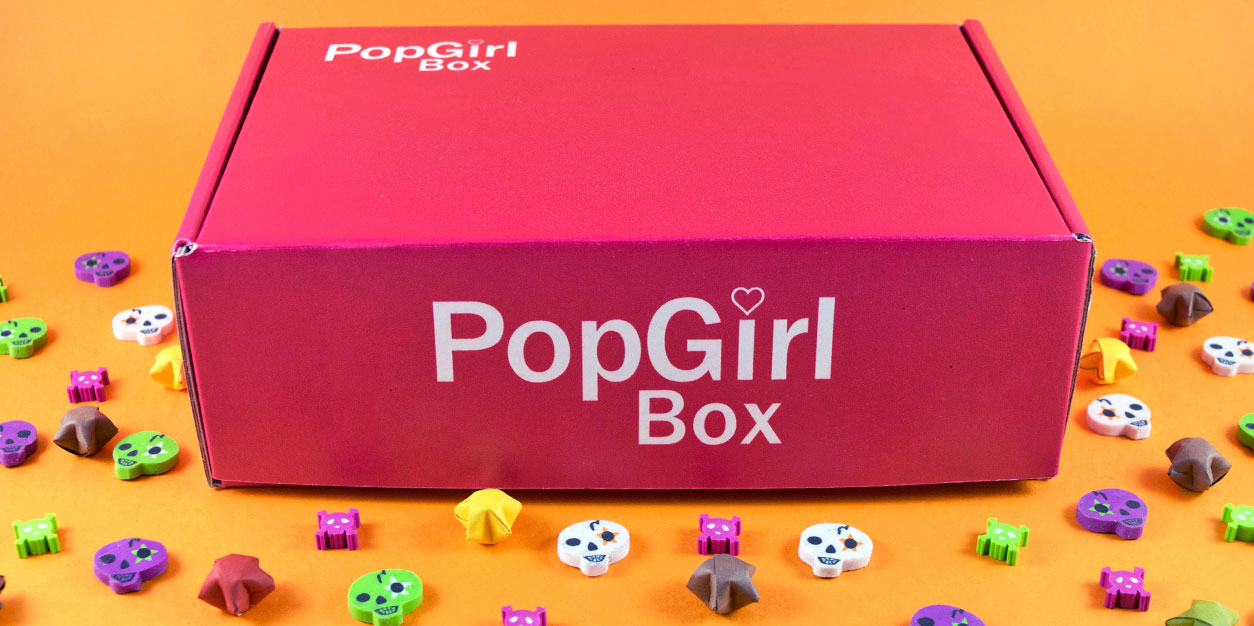 The October PopGirl Box Brings the Tricks and Treats
Note: We received this box for free from PopGirl Box in exchange for a fair and honest review. All opinions are our own; we were under no obligation to give a positive review.
Is there anything more exciting than when the PopGirl Box arrives on your doorstep? We think not! Since we've already hung our Halloween decorations, started binge-watching our favorite Halloween movies, and started noshing on Halloween candy, we couldn't wait to see what was in store for the TRICK OR TREAT PopGirl Box! Rather than going with a spooky twist, the PopGirl team filled this box with awesome trick or treating essentials.
From cute accessories to fun beauty products, you'll find everything you need to perfect your costume, hit up a Halloween party, and relax after a long night of trick or treating. Our favorite part is that pretty much everything in this box can be enjoyed all year long, so when the spooky festivities have come to an end, you can still look totally fabulous.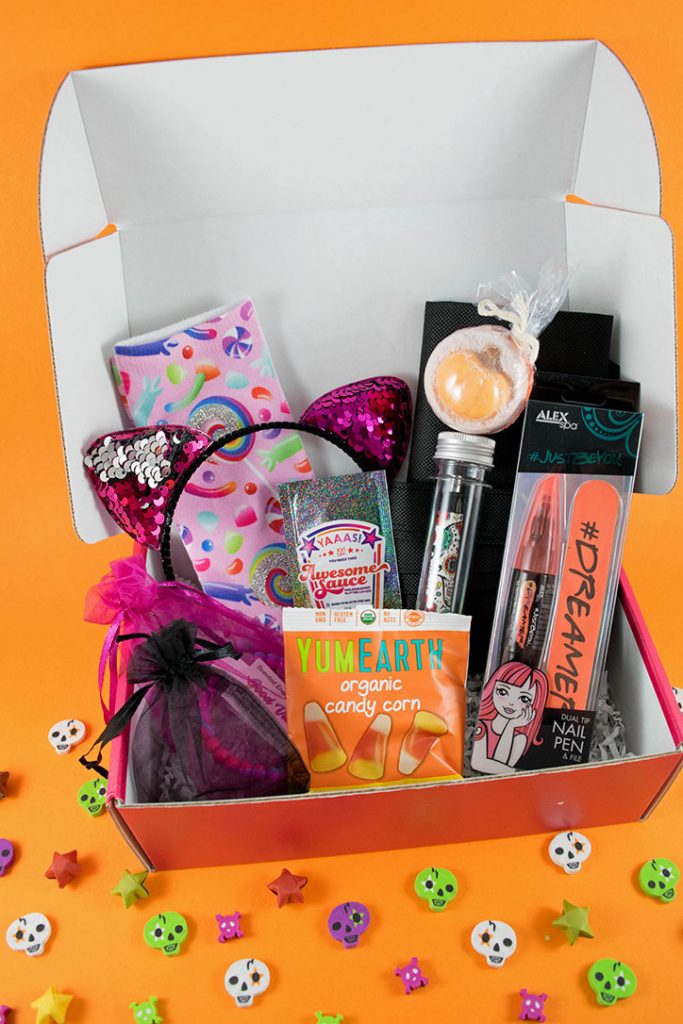 Want to save $5 off your first PopGirl Box? Use our code YAYOMG when you check out! Now, on with the unboxing!
PopGirl Box Unboxing – October 2018 – Trick or Treat: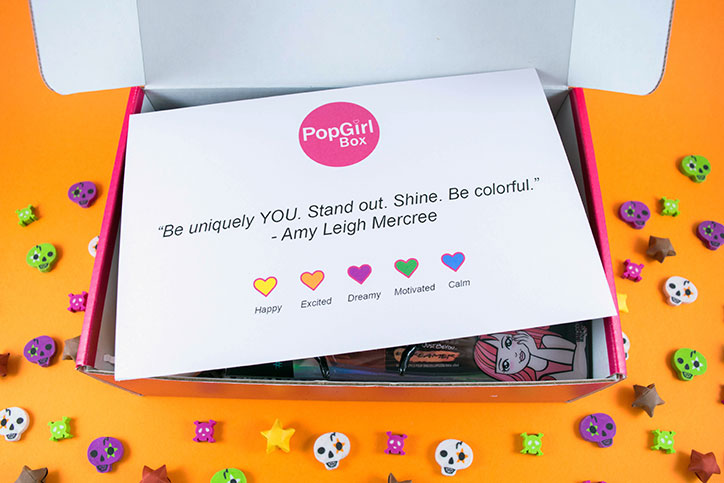 This month's quote is one that isn't just true on Halloween, but all 365 days of the year. "Be uniquely YOU. Stand out. Shine. Be colorful." We couldn't agree more, Amy Leigh Mercree! It's always best to be yourself, and we love how the PopGirl Box helps you express your most authentic self and inspired you to shine bright. You might be wondering what those colored hearts are, don't fret – they'll come in handy later so keep on reading.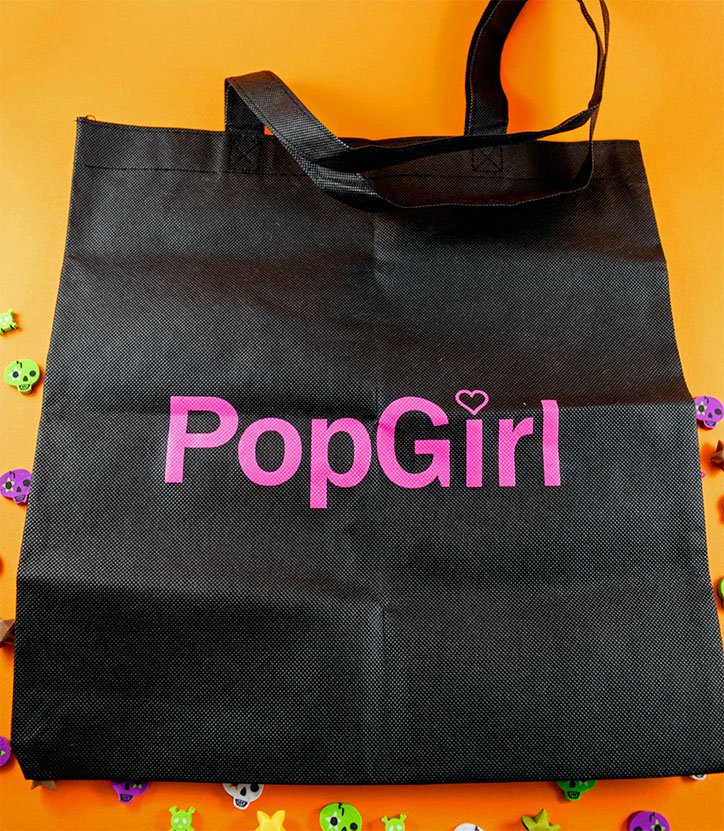 PopGirl Tote Bag:
Not only does this PopGirl tote allow you to wear your PopGirl pride everywhere you go, it's super sturdy for all your candy stashing needs! Bring it with you when you head out trick or treating and see if you can spot anyone else rocking the same bag!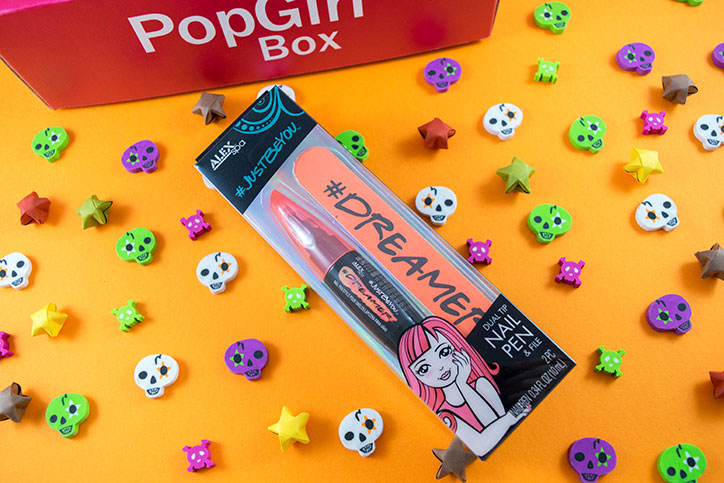 #JustBeYou Nail Pen and File from Alex Brands:
This dual-tip nail pen makes it easy to create intricate nail art designs. One side is your typical nail polish brush and the other has a fine tip – great for perfecting your Halloween manicure!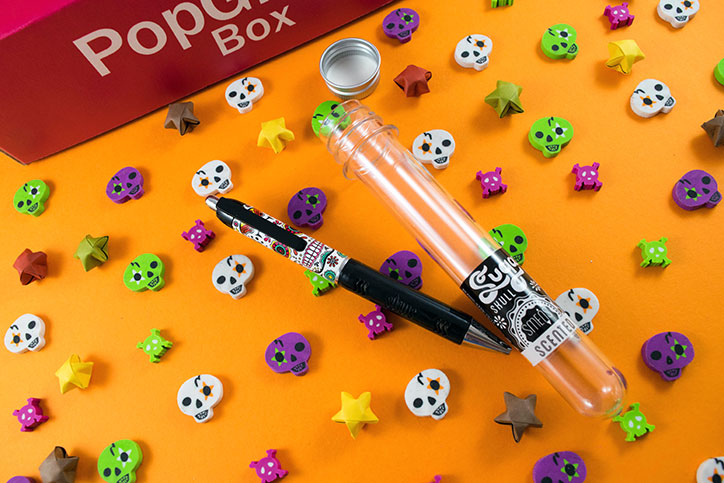 Sugar Skull Scented Pen from Scentco:
You can never have too many pens, especially when they're this cute! Rock this deliciously scented sugar skull pen as your go-to all through October to get in the spooky spirit.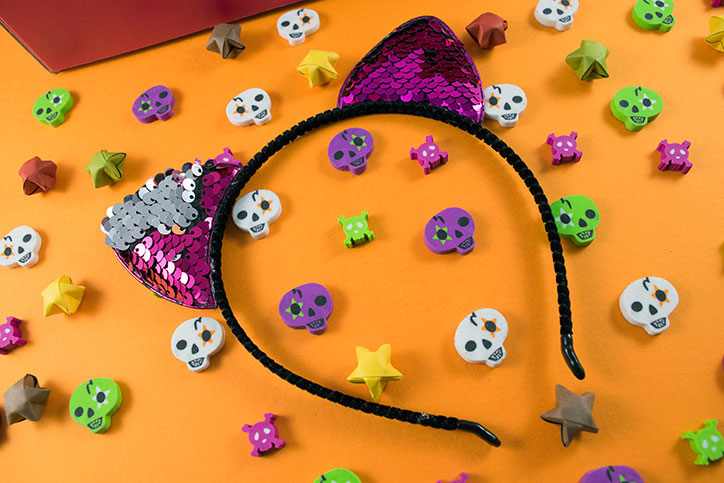 PopGirl Pink Sequin Cat Ear Headband:
Need a last minute costume? These adorable reversible sequin cat ears are absolutely purr-fect for wearing to a Halloween dance or spooky party.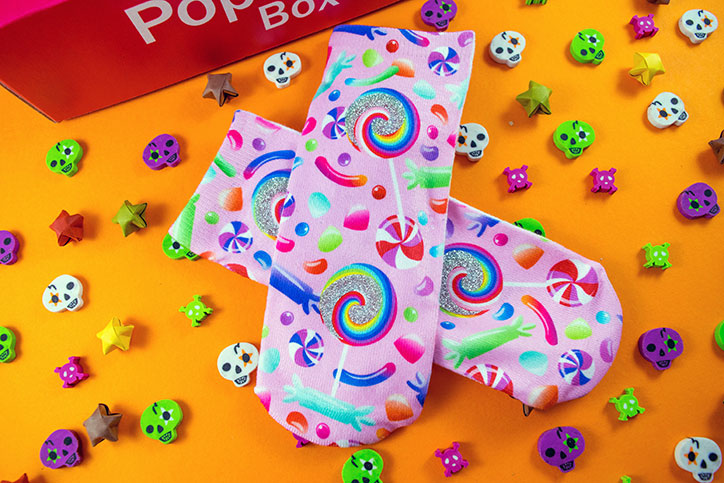 Up your sock game with these sparkly candy socks! Wear them trick or treating to summon ultimate good-candy vibes for maximum treats.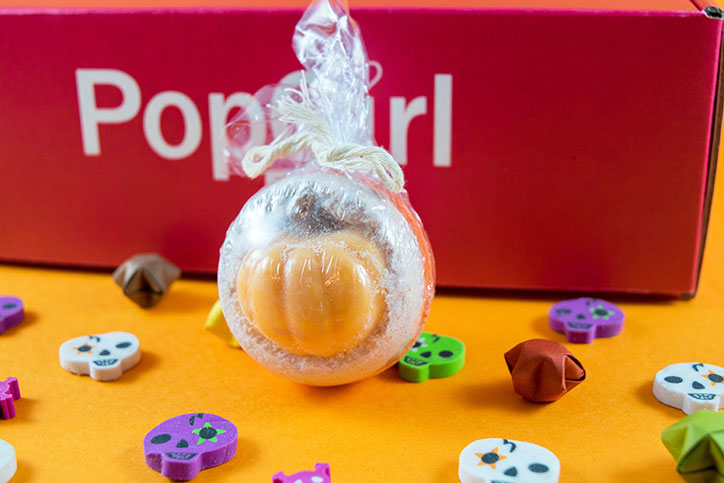 We can't even express how incredible this bath bomb smells! As soon as we opened the box, we got a whiff of the delectable aroma and it instantly gave us fall vibes. Relax in the tub with this adorable pumpkin bath bomb after a long night of tricks and treats!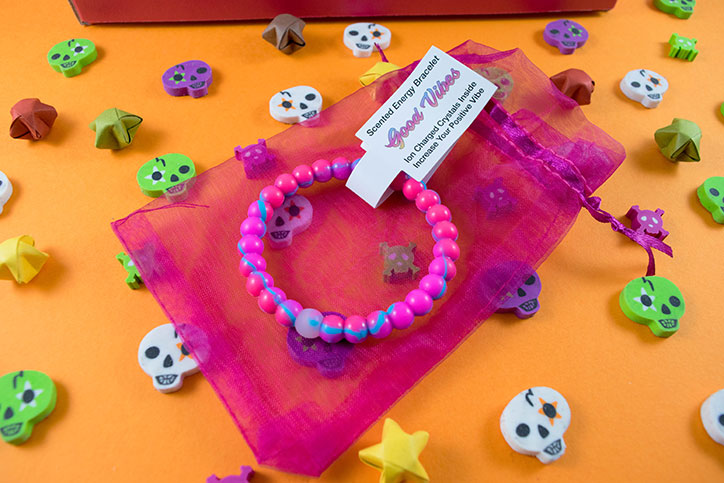 Good Vibe Energy Bracelet from American Jewel:
This scented bracelet isn't just cute, it's positively charged to help bring positivity and good feels. Wear it anytime you're having an off day to find balance.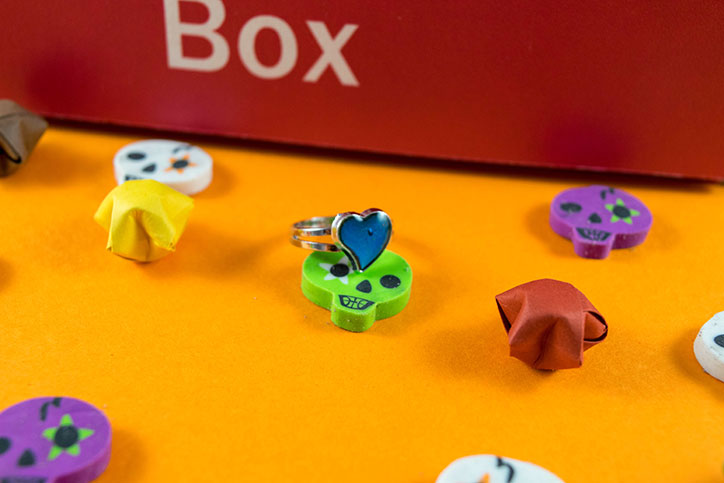 PopGirl Heart Shaped Mood Ring:
Remember those colorful hearts we mentioned earlier? They're your guide to decoding all your moods on your brand new mood ring! Be sure to wear it wherever you go to see how it changes. It also makes it super easy for planning a mood tracker for your bullet journal.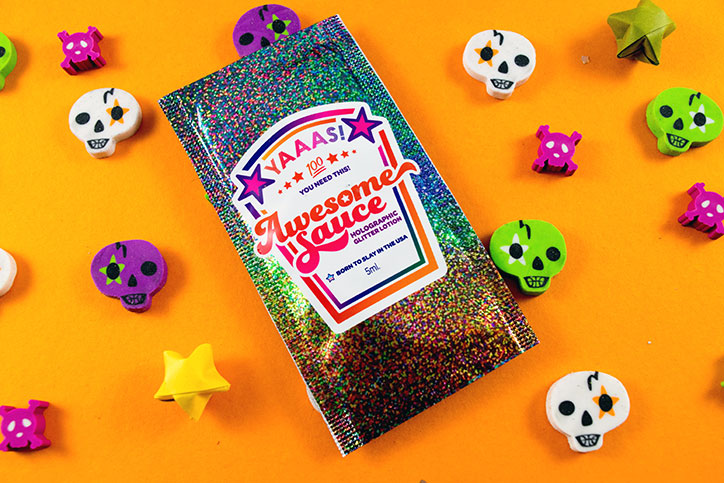 Glam up your Halloween costume or any ordinary outfit with this Awesome Sauce glitter lotion! Sparkle bright!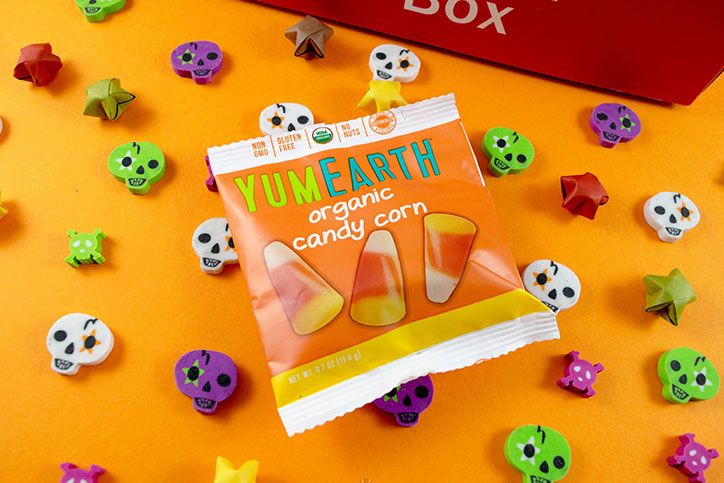 This tasty candy corn is made with organic ingredients and is safe for most diets. It's gluten free, peanut free, and swaps the chemicals for more natural sugars and sweeteners.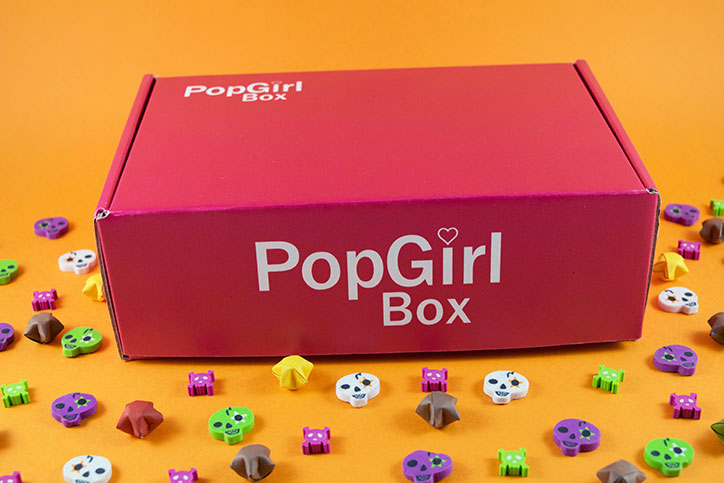 HOW DO I SUBSCRIBE?:
– Grab an adult and head to the PopGirl Box website, POPGIRLBOX.COM.
– Use our code YAYOMG when you check out for $5 off your first box!
Cost Per Box: $29.00 + S/H. The boxes ship out monthly, and you can cancel at any time.
What Do You Get?: Each month you'll receive a new box with a new theme. Each box contains 6-8 surprise items worth over $50 in value! According to the website, items can be anything including: "jewelry, hair accessories, beauty products, school supplies, sweet treats, and the latest swag for young girls!"
This October TRICK OR TREAT box has already sold out, but the November FRIENDSGIVING box is on sale now. We can't wait to see what adorable autumn goodies await us!
Now that you're in the Halloween spirit, tell us your zodiac sign and we'll pair you with your spooky bestie!