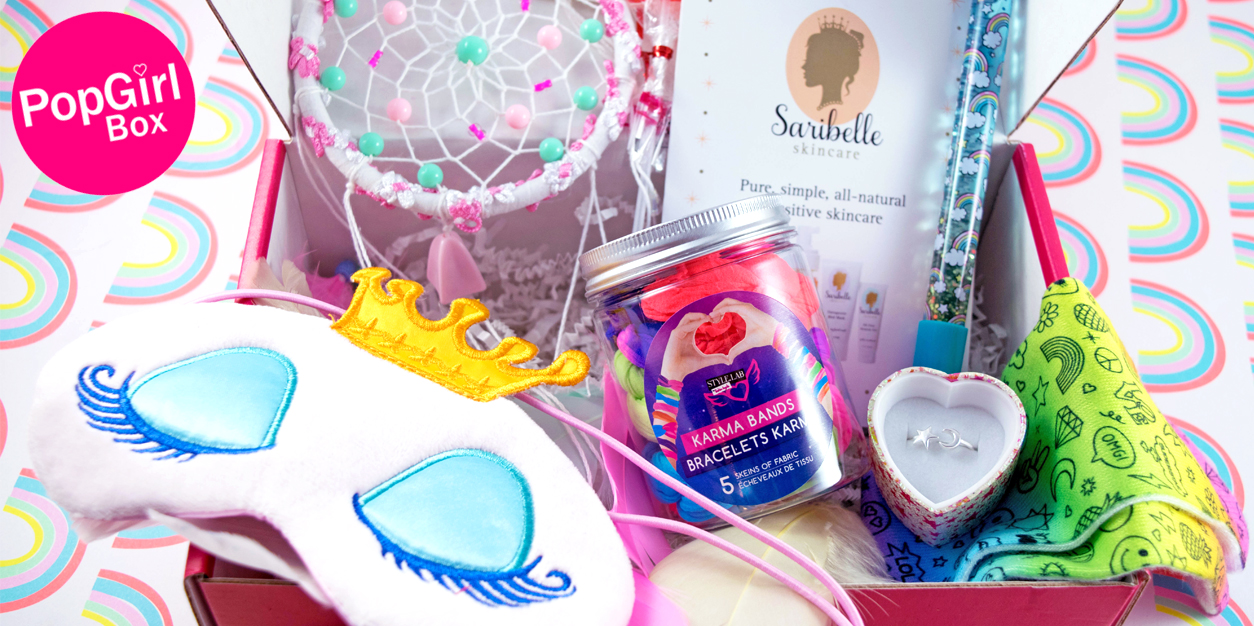 Dream Your Biggest Dreams with the May 2018 PopGirl Box
Note: We received this box for free from PopGirl Box in exchange for a fair and honest review. All opinions are our own; we were under no obligation to give a positive review.
With Summer right around the corner and the end of the school year on the horizon, it's the perfect time to focus on YOU. With more free time on your hands, it's a great time to pick up where you left off on all those ideas and dreams you've been putting off while busy with your schoolwork. Learning to draw, catching up on your favorite books, starting a business, inventing something cool.
Whatever your dreams may be, it's never too late to follow them, and that's what the May 2018 PopGirl Box is all about! The Dream Big theme is reflected in each item in the box, reminding you to follow your heart, go after your goals, and make lots of wishes.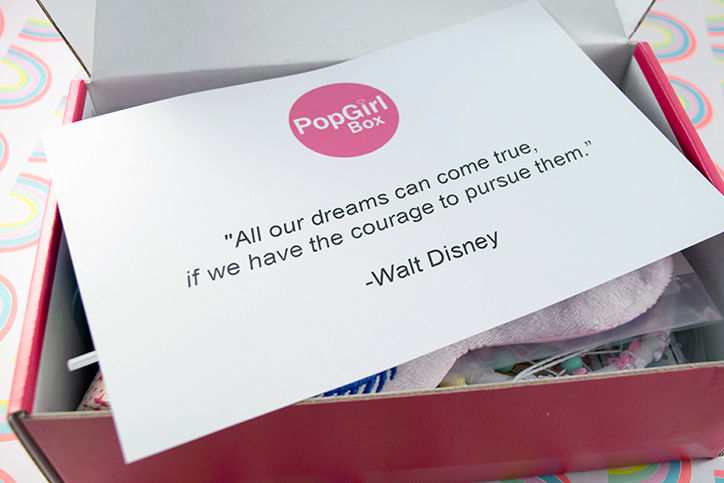 Thank you so much to Pam and Annabel for sharing this month's box with us, we're always so excited when it arrives at our office! Each PopGirl box kicks off with a quote, and this month's quote is by one of the world's most iconic dreamers, Walt Disney!
Keep on reading to see all the goodies we found inside our May Dream Big box as well as our exclusive discount code for $5 off your purchase!
PopGirl Box Unboxing – May 2018 – Dream Big:

Silver Moon and Star Ring:
Digging into our PopGirl Box, we couldn't resist grabbing this shimmering heart-shaped gift box first. We just knew there would be something special inside, and we were right! This adjustable star and moon ring is adorable and perfect for reminding you to make your wishes and dreams come true.

Princess Sleep Mask:
Getting a good night's sleep is an essential step on the journey to achieving your goals. Block out the haters and look totally fabulous while dreaming those big dreams with this soft and cozy princess sleep mask!

Karma Bands from Style.Lab:
Each of these stretchy neon bands can be mixed and match to create your own karma bracelets. Each of the colors has a special meaning. Wear purple for happiness, pink for love, orange for creativity, green for friendship, and blue for good luck. Pair different colors together for a burst of good karma for you and your friends.

"Dream Big" Decal:
Feeling uninspired? Stick this metallic Dream Big decal in a place you look at often to remind you that you can do anything you put your mind to! We suggest your laptop, mirror, or planner, but you can stick it pretty much anywhere. The arrow decal can be positioned below the words like how it's laid out in the image above or you can cut it out and place it separately for two cute, shiny decals.

Rainbow Glitter Pen by Fashion Angels:
We're super obsessed with this super fun rainbow glitter pen! We've been using ours for YAYOMG! planning since YAYOMG! is our biggest dream, but you can use it to plan out your next project, write in your dream journal, or just relax as the twinkling stars flow from top to bottom.

PopGirl Dream Catcher:
Is this not the most gorgeous dreamcatcher you've ever seen? Ours is hanging up in our office already, but you can hang yours over your bed, next to your desk, or anywhere you want positive, relaxing vibes to flow.

"Doodle Icon" Socks by Living Royal:
How fun are these socks?! The bright rainbow colors are great for Summer, and the cute doodles are sure to inspire you!

Therapeutic Mud Mask by Saribelle Skincare:
One of the most important parts of following your dreams is taking a moment to pause and take care of yourself! That's why the PopGirl Box included this Saribelle Skincare mud mask, so you can practice a little self-care on the road to kicking butt! Saribelle was created with sensitive young skin in mind, and all their products are all-natural and plant-based.

Reach for the Stars Lollipop:
This star-shaped lollipop was almost too cute to eat! After snapping these shots, we immediately rewarded ourselves for all our hard work on this unboxing review by devouring this delicious sweet treat!

HOW DO I SUBSCRIBE?:
– Grab an adult and head to the PopGirl Box website, POPGIRLBOX.COM.
– Use our code YAYOMG when you check out for $5 off your first box!
Cost Per Box: $29.00 + S/H. The boxes ship out monthly, and you can cancel at any time.
What Do You Get?: Each month you'll receive a new box with a new theme. Each box contains 6-8 surprise items worth over $50 in value! According to the website, items can be anything including: "jewelry, hair accessories, beauty products, school supplies, sweet treats, and the latest swag for young girls!"
The theme for June is Summer Fun, but since the PopGirl Box is in high demand right now, it's already sold out! If you want to get in on the fun, subscribe by June 25th in order to receive the July I Heart America box.
Trying to pick the perfect subscription box for your personality? Click here to see all our favs!