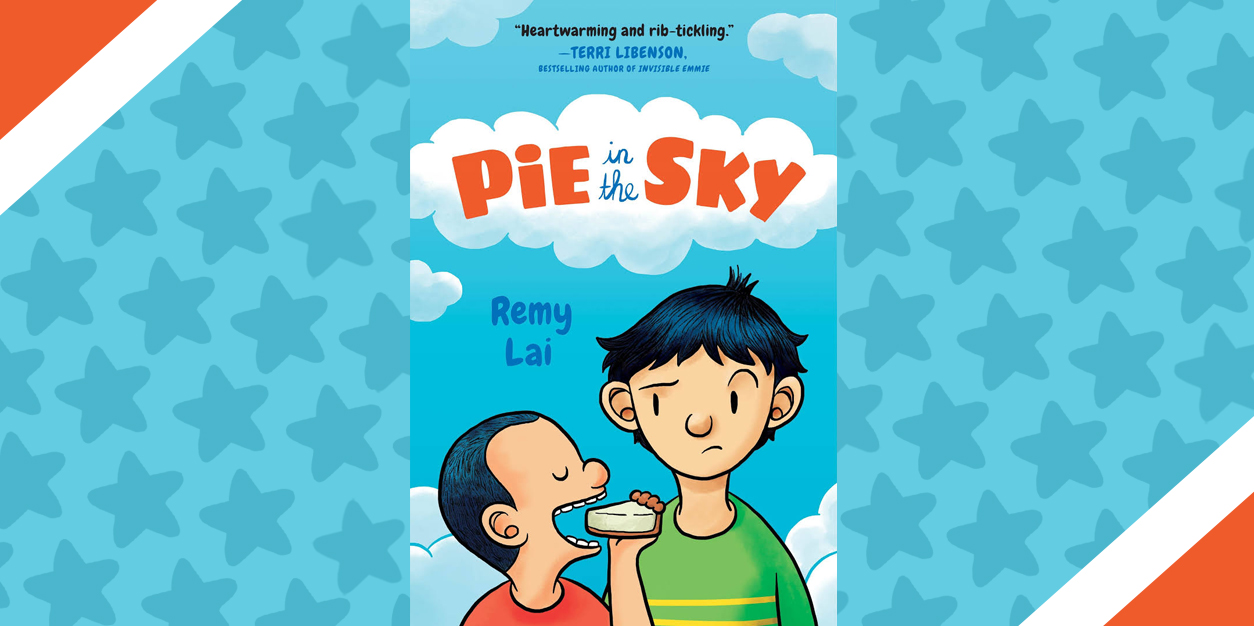 Jingwen's Rules for Making Cakes: A Pie in the Sky Minicomic
It's never easy being the new kid in a strange place. Whether you're the new kid in a school full of kids who already know each other or you recently moved to a new place, it's easy to feel completely overwhelmed and alone.
In Remy Lai's new book, Pie in the Sky, Jingwen and his family have just arrived in a new country. He doesn't speak the language and to say he's having trouble adjusting to his new life in Australia is an understatement.
Jingwen doesn't always feel at ease at home, either. He has an annoying little brother to deal with and often feels weighed down by the loss of his father. The one thing that gives him hope that everything will be okay? Baking cakes. The problem? His mother has banned him and Yanghao from using the oven while she is at work, so that makes things tricky, but Jingwen will find a way to make it happen – just like he'll find his way through this hard time.
This relatable story is everything a good cake should be – it's super sweet and gives you all the best feels. Plus – it's super funny!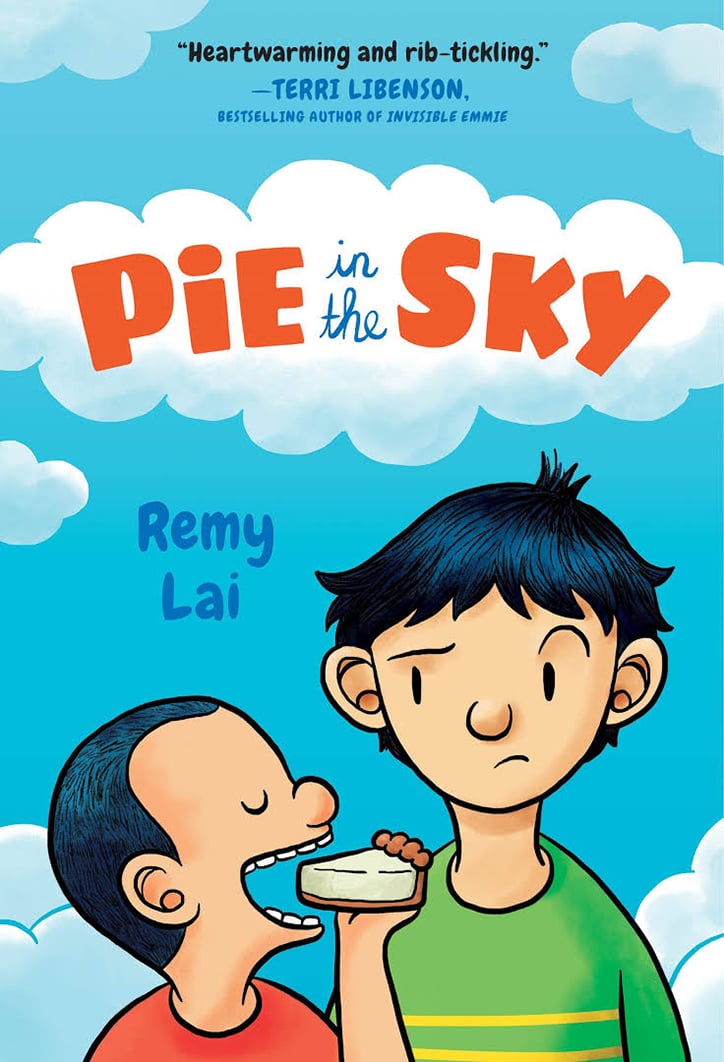 When eleven-year-old Jingwen moves to a new country, he feels like he's landed on Mars. School is torture, making friends is impossible since he doesn't speak English, and he's often stuck looking after his (extremely irritating) little brother, Yanghao.
To distract himself from the loneliness, Jingwen daydreams about making all the cakes on the menu of Pie in the Sky, the bakery his father had planned to open before he unexpectedly passed away. The only problem is his mother has laid down one major rule: the brothers are not to use the oven while she's at work. As Jingwen and Yanghao bake elaborate cakes, they'll have to cook up elaborate excuses to keep the cake making a secret from Mama.
Told in prose and graphic novel elements, this middle-grade novel is about a boy's immigration experience, his annoying little brother, and their cake-baking hijinks!
Pie in the Sky
AUTHOR: Remy Lai
PUBLISHER: Henry Holt & Co
DATE: May 14, 2019
As an extra special peek into Pie in the Sky, author Remy Lai has penned a special letter for all of you. She has also created an EXCLUSIVE minicomic for YAYOMG! where Jingwen shares his wisdom about making cakes.
A Letter from Author Remy Lai:
If you're a new kid in a new country with a language you can't speak, I want you to know that it will be okay. At first, you might feel like you've landed on Mars and that it's impossible to make friends because you understand no one and no one understands you. But I'm telling you that you will learn the language and you will make new friends. You might still miss your old home sometimes, but you will be okay.
You don't have to trust me on that just because I told you so. I speak from experience. As a kid, I moved from Indonesia to Singapore and had to learn English. Like Jingwen in Pie in the Sky, at first, I couldn't even put together simple English sentences. And now, here I am, telling you what to do like an annoying, know-it-all adult.
You will find ways to cope with a new experience. Maybe you'll be like Jingwen, who loved baking cakes with his father. He decides to bake the elaborate cakes his father had planned to include on the menu for his bakery—even though Jingwen's mother has banned him and his little brother from using the oven. Also, if you're a kid who likes cakes, just like Jingwen and his little brother, I want you to know that once you're an adult, you can eat all the cakes you want, even right before dinner.
If you're a kid who has lost a family member, like Jingwen lost his father, I'm sorry. You won't stop missing them. But you will be okay. If you're a kid who has an annoying sibling who annoys you, Jingwen understands you. His brother keeps bugging him and worse, when they fight, their mom always scolds Jingwen just because he's the older one.
As someone with four siblings, I have something very important to tell you. I want you to know that . . . I'm sorry, but your siblings will annoy you forever. But they'll also make you laugh. And they may even help you adapt to Mars.
Now, Jingwen would like to share with you some advice about making cakes.
Rules for Making Cakes: A Pie in the Sky Minicomic: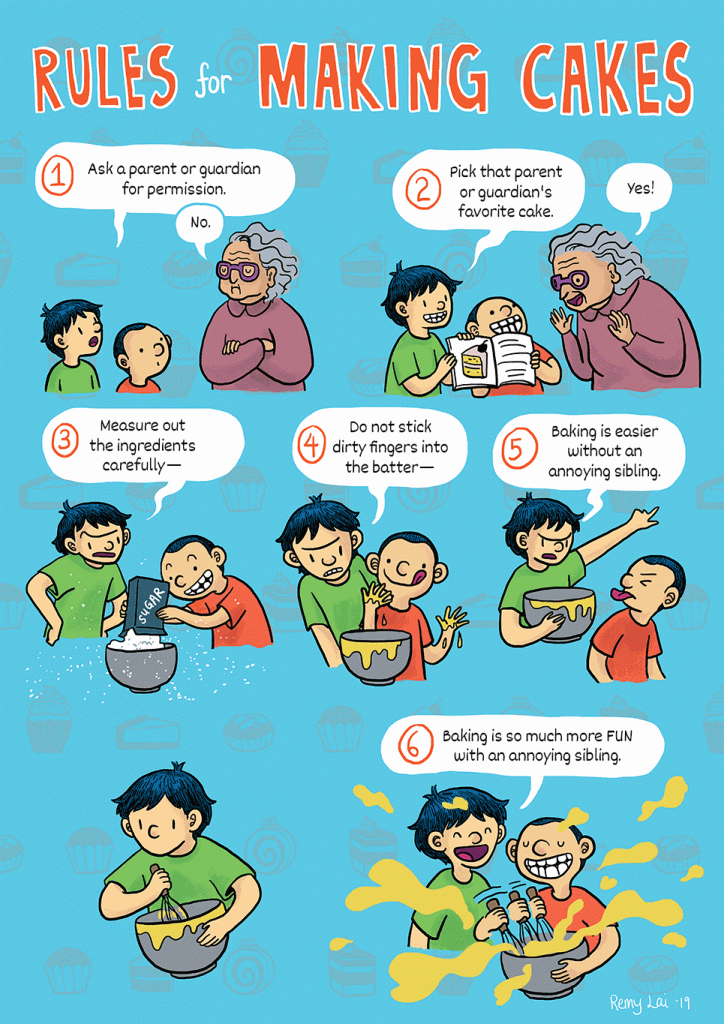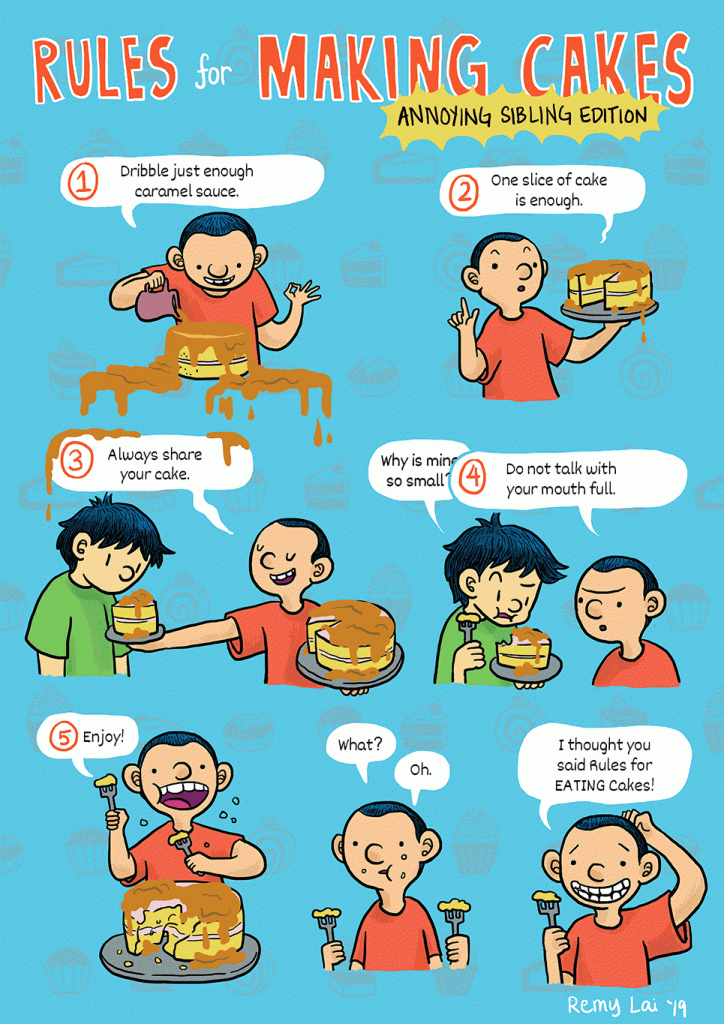 Pie in the Sky is out today from Henry Holt & Co. Want to read even more minicomics based on your favorite graphic novels? Click here!