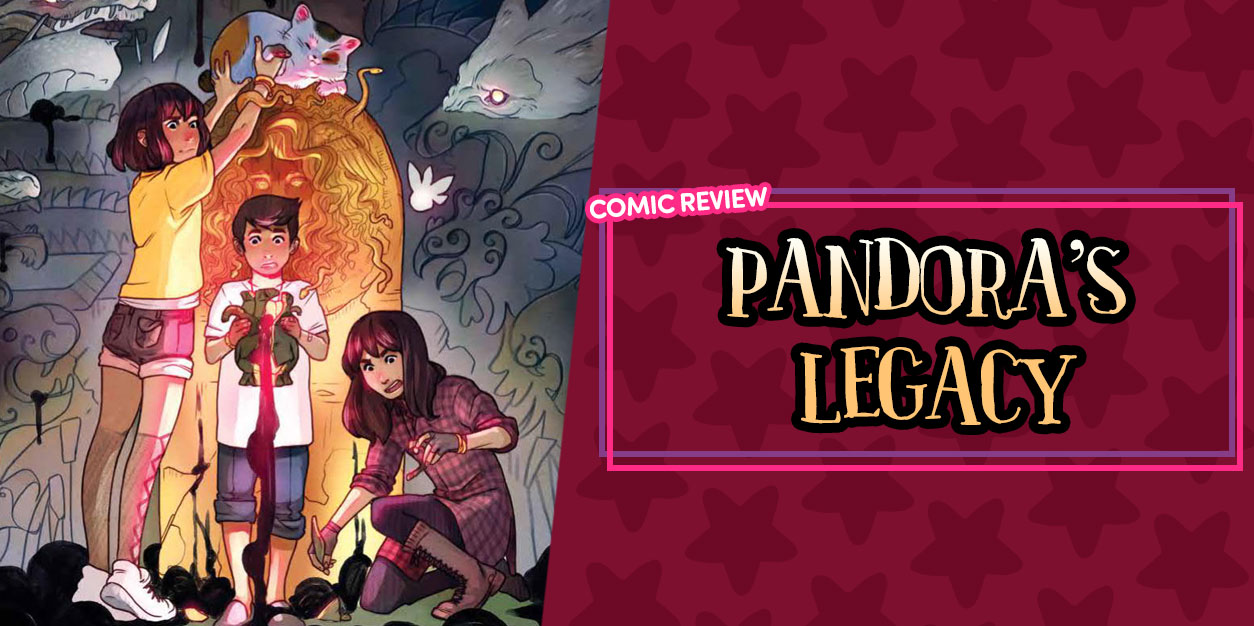 Pandora's Legacy: Thrilling Adventure, Mystical Creatures, and Family Secrets
Sibling adventures, capturing mystical creatures, and ancient family secrets – that's what Pandora's Legacy is made of. This new graphic novel from writer Kara Leopard and artists Kelly and Nichole Matthews is an exciting read that shines a light on Greek Mythology in a fresh and modern way. When the story begins, we find siblings Charlie, Janet, and Trevor on vacation at their grandparent's house. Things quickly turn from ordinary to life-changing after their cat Po chases after a butterfly and leads them deep into the woods.
The trio find themselves smack in the middle of a dark, mysterious shed full of old artifacts. When they accidentally knock over and break an old jar, they don't just unleash centuries-old magical monsters, but an important family secret. It turns out that Charlie, Janet, and Trevor are actually descendants of Pandora and their family has been guarding the old relic and the monsters trapped inside for centuries.
Pandora's Legacy is a thrilling read perfect for anyone who loves fantasy stories based on mythology, playing Pokémon Go, or big-hearted laugh out loud sibling moments. Check out the preview below, courtesy of BOOM! Studios.
Pandora's Legacy – PREVIEW:
As you can see from the preview, the story gives off classic 80's adventure vibes, paving the way for an exciting journey ahead. It's not all throwbacks, though. Charlie, Janet, and Trevor must capture all the creatures they've set free – using a magical cellphone, giving it the feeling of playing Pokémon Go with your friends. They'll face danger and heart-racing suspense at pretty much every turn. These three kids must work together to send these monsters back to where they came from before it's too late.
Despite all the fast-paced action, the story has such a warm, snuggly vibe to it. Sprinkled with humor and lovely artwork, you'll feel like a part of the family, adventuring alongside these kids as they try to set things right and piece together the secrets of their family history that have always been right in front of them. We love stories with kids who are so much braver than they realize, and Charlie, Janet, and Trevor are courageous, resourceful, and ready for any challenge that comes their way.
Even though things tie up pretty neatly, we'd love to see more even adventures featuring these characters. Ready to get your read on? Pandora's Legacy is now available at comic shops and bookstores from KaBOOM!, an imprint of BOOM! Studios.
Pandora's Legacy OGN SC
Publisher: KaBOOM!, an imprint of BOOM! Studios
Writer: Kara Leopard
Artist: Kelly & Nichole Matthews
Letterer: Mike Fiorentino
Cover Artist: Kelly & Nichole Matthews
Price: $9.99

SYNOPSIS:
What starts out as a typical family vacation to Grandma and Grandpa's house quickly erupts into supernatural mystery and peril when three siblings accidentally break an old, mystical jar hidden deep in the woods, revealing they are descendants of Pandora and their family has been tasked for generations with protecting the very jar they just broke…

As magical monsters pour out of the fractured relic and run amok, Charlie, Janet, and Trevor must find a way to capture all of the creatures in order to save their family—and potentially the entire world—before it's too late.

Writer Kara Leopard ([Super]Natural Attraction) and illustrators Kelly & Nichole Matthews (Jim Henson's Power of the Dark Crystal) weave an otherworldly tale about finding help in the unlikeliest of places, learning the truth about your family history, and most importantly of all, talking cats.

If you're looking for more stories steeped in mythology, we recommend Charlie Hernández and the League of Shadows!