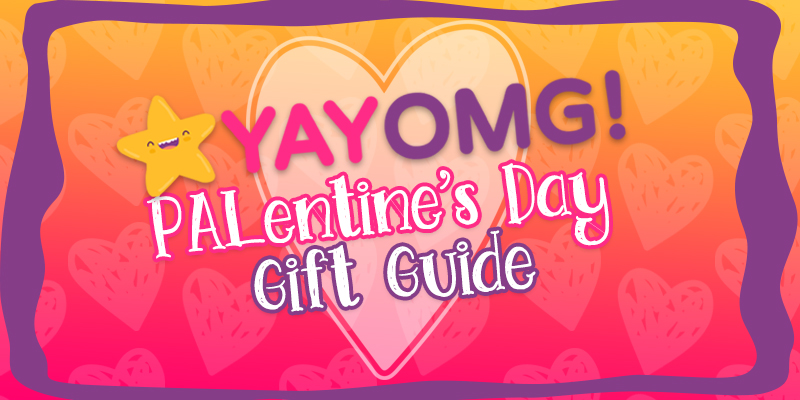 PALentine's Day Gift Guide
Valentine's Day doesn't just have to be about couples. In fact, sometimes Valentine's Day is even more fun when it's spent sharing a slice of pizza with your besties. Sure – it's always nice to have a boyfriend or girlfriend, but it definitely doesn't have to be your number one priority. Your friendships are the most important relationships you'll ever make and surrounding yourself with people who support you and encourage you is super important.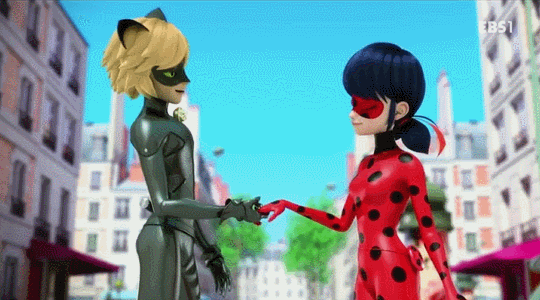 That's why we put together this PALentine's Day Gift Guide – to help you celebrate the people in your life who are always there to make you laugh, high-five you, and hug it out when things aren't so great. That can be anyone from your BFF to your sister to your boyfriend and anyone in between. (Heck, you can even buy these gifts for birthdays or just because – they don't need to be VDay related.) If there's someone you love and appreciate, we've got you covered.
YAYOMG PALentine's Day Gift Guide: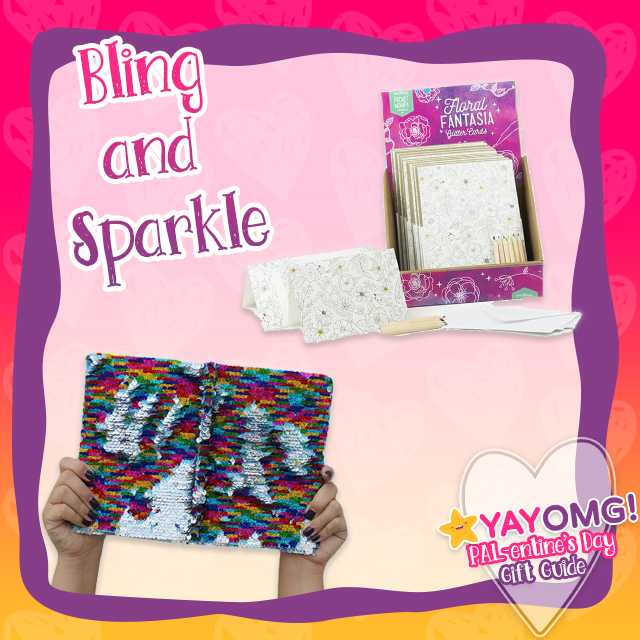 Bling and Sparkle –
These gifts are the perfect match for the girl in your friend group who lives for glitter. If you know someone who's always sparkling their way down the hall like they're walking a red carpet, these gifts should totally make their day!
Floral Fantasia Cards from Seedling:
These pretty cards are a great way to give a handmade gift. Each card has a lovely floral coloring page design on the front and comes with a set of mini colored pencils so you can totally customize it. Each flower has a small pop of sparkles in the center that really helps it stand out and shine! At just $4.99 each, you can easily make one for each of your friends.
Magic Sequin Journal from Fashion Angels:
If you're Insta-crazy, you've probably seen the Magic Sequin videos that have become popular in the past few weeks. The sequins those videos are made from? The Magic Sequin accessory line from Fashion Angels! We've posted about them before, but in case you missed it – they're journals, backpacks, and pencil pouches that add a glittery pop of flair to any outfit. They aren't just pretty, they're pretty darn addicting to run your fingers through. You might have a hard time giving these away!
Girl Power –
Do you have a friend who's totally fierce, fiesty, and ready to show the world what she's made of? Is she always attending protests and fighting for what's right? These are the perfect gifts to please her inner feminist!
Goldie Vance: Volume 1 from BOOM! Studios:
When you think of Girl Power, you probably think of someone who's spunky, curious, and totally amazing, right? Well that's Goldie Vance in a nutshell. She's a bi-racial teen detective who's not afraid to take it a little too far or break the rules for the sake of a case. The story is a fast-paced mystery adventure with tons of soul and retro-inspired art. We've been loving this series for awhile now, so it was an obvious choice for our list. Give this to a friend and then make sure to borrow it afterwards. You won't regret it.
Women in Science by Rachel Ignotofsky:
We've gushed about this book before, but if you've got a ferociously smart friend with a passion for science, they need a copy ASAP. It's filled with facts and stories of 50 female scientists who helped shape the entire field. The book is filled with gorgeous illustrations of each woman and every page just oozes greatness. It's sure to inspire and become an instant fav.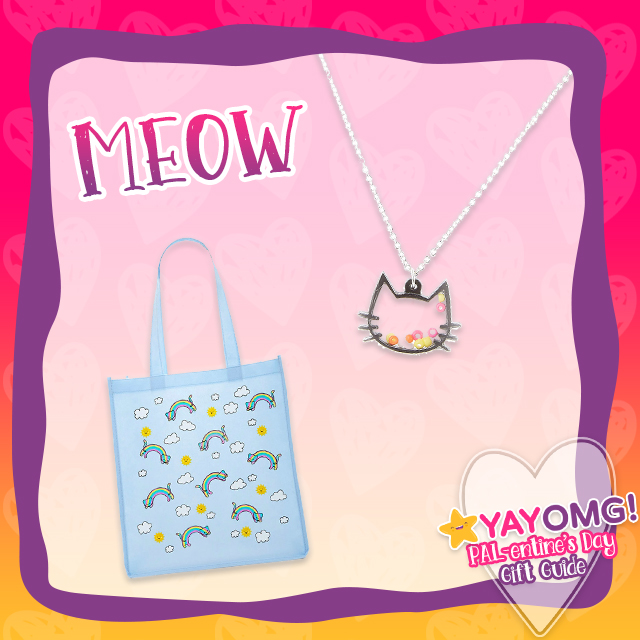 Meow –
We've all got that one friend who's always cancelling plans to stay home and hang with her cats. We're totally on board with that (and do the same!), so we picked out some great cat themed gifts for you to give this VDay.
Black Cat Shaker Necklace from Claire's:
We're a little obsessed with shaker stuff right now, and Claire's is definitely the go-to place to shop for them. (Seriously – they've got shaker backpacks and notebooks, necklaces and earrings. So good.) For the self-proclaimed cat lady in your life, we picked out this awesome necklace. Whoever wears it will be able to boldly parade their love of cats around wherever they go! (Their furry friends will love watching the beads shake around inside, too.) Do you have 2 cat-loving besties? Grab two and they can wear them as matching best-friend necklaces!
Rainbow Cat Tote Bag from Forever21:
Not only is this tote bag covered in rainbow cats, it only costs $1.90. It seems like a total no-brainer. F21 has a slew of other graphic totes with pizza slices, unicorns, and pretty much anything else you can think up – making them a great bag to stash all these gifts in. For under 2 dollars, they're cheaper than actual gift bags and totally re-useable. A solid purchase, indeed. Meow.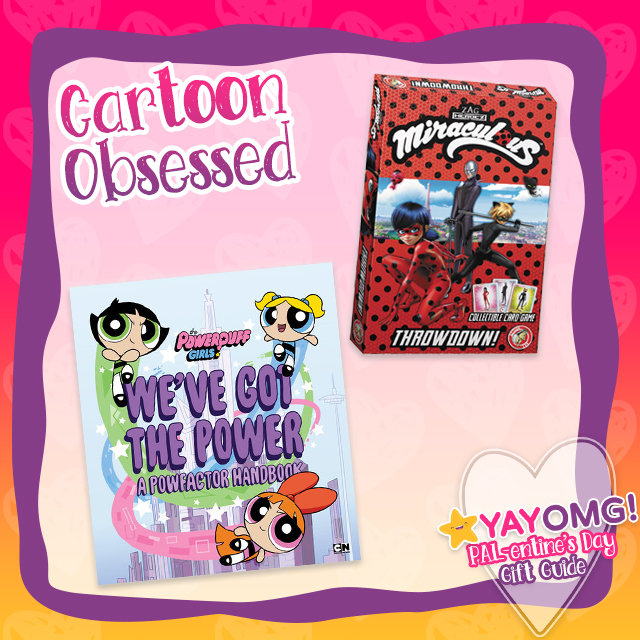 Cartoon Obsessed –
If your BFF races home after school to catch the latest episodes of Powerpuff Girls, The Loud House, or Star vs. the Forces of Evil we've got some great gift ideas they'll totally love.
We've Got the Power: A Powfactor Handbook by Christa Roberts
Each page of this book is filled with fun activities and tips on how to life your life like a Powerpuff Girl. You'll find out if you're most like Bubbles, Buttercup, or Blossom and learn how to tackle each day with a kick-butt attitude. If your friend likes this gift, there's a bunch of other great interactive PPG activity books you can get them for their birthday and other upcoming holidays!
Miraculous Throwdown Game from Action Lab:
Spots On! Claws Out! This exciting tabletop card game is exactly what your Miraculous-loving friend needs. (Bonus points if you play together!) If you've got a friend who won't stop obsessing over "Adriennette" and "Lady Noir", you can guarantee that this will be $14.99 well spent. In this game you'll step into the shoes of Ladybug, Cat Noir, or Hawk Moth. Using Kwamis and special attacks, you'll take on your opponents in an epic battle. If your friend already has a copy of this game, you can get them a booster pack to help them build out their decks to help them become truly Miraculous!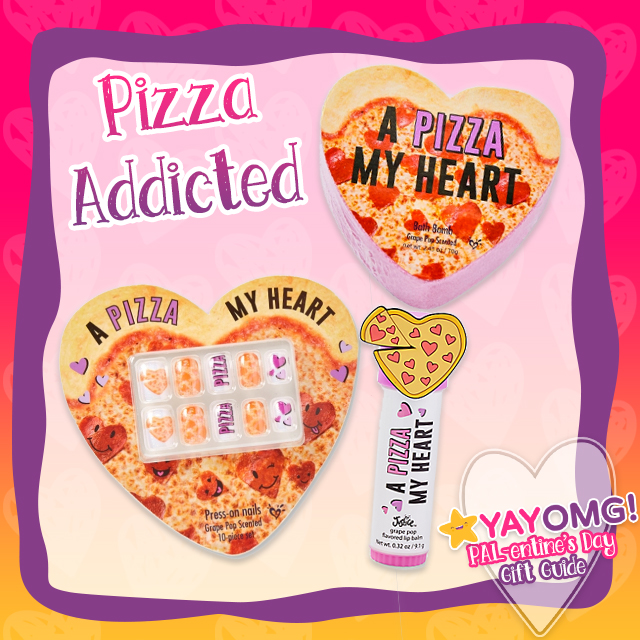 Pizza Addicted –
Pretty much everyone loves pizza, but we all know that one person who's just totally pizza crazy. We picked these out with them in mind!
Pizza Press On Nails, Pizza Bath Bomb, and Jumbo Pizza Lip Balm from Justice:
Give your friend a pizza your heart with these deliciously fun pizza inspired beauty products! Each of the 3 items we picked are grape scented (because pizza scented would probably be kind of gross, TBH) and you can buy them all separately or together. If you buy all 3, it's only 10 bucks! Pretty rad deal.
While you're at Justice, pick up the shimmery pizza-shaped bronzer and a pizza make-up bag to complete the set. You know you want to!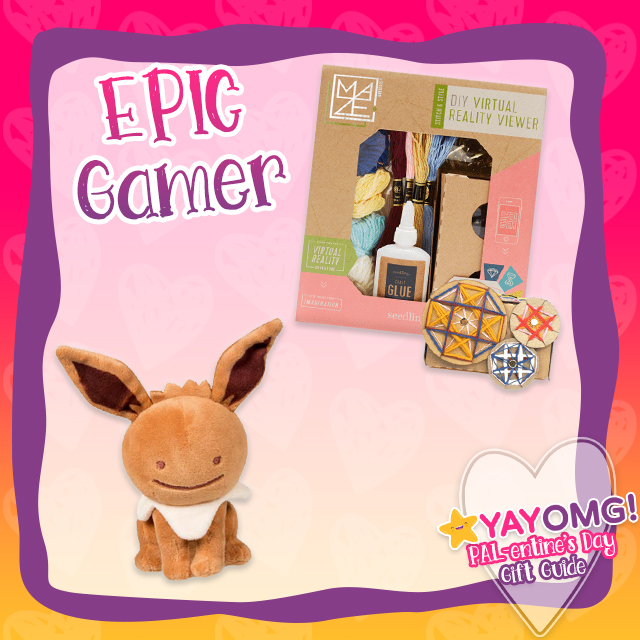 Epic Gamer –
Top your gamer pal's friendship leaderboard with these awesome gaming inspired gifts! No seriously, they'll love them.
Ditto Eevee Plush from Pokémon Center:
If you're not a Pokémon Master yourself, you might be wondering why this Eevee looks so funny. If you've got a Poké-crazy friend, they'll be able to explain it to you while gushing with glee over it's cuteness. Trust us on this one. These Ditto plushies are new releases and come in both plush and keychain form. Pikachu, Clefairy, and Bulbasaur, as well as other Pokémon characters are now available in Ditto form.
DIY Virtual Reality Viewer: Stitch & Style from Seedling:
This DIY kit will let your friend get hands on with the creation of their gaming device. The kit includes everything required to build a cardboard VR viewer and bring it to life with colorful stitching. Once your friend has put it all together, they can stick their phone inside, hold it up to their face, and get their game on. It works best with the MAZE app and DIY Marble Maze from Seedling, but also works with any Google Cardboard compatible apps. To learn more about the MAZE VR Collection, check out our review!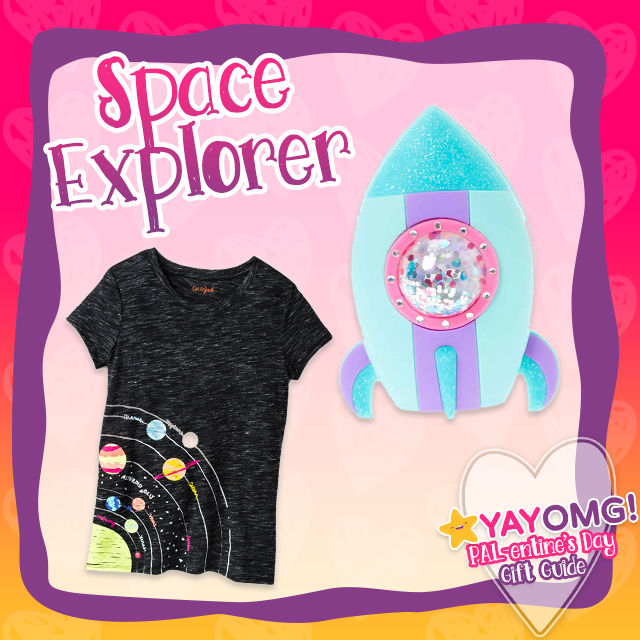 Space Explorer –
Does your bestie spend all their time gazing through their telescope or re-watching Cosmos? Are they hoping to become the next Neil deGrasse Tyson? These gifts will celebrate and encourage the astronaut we know they can be!
Planet Tee from Target:
Your friend may be a future astrophysicist or NASA employee, but for now they need something to wear to the Science fair. They'll definitely think you're out of this world if you snag them this tee!
Rocketship Jelly Coin Purse from Claire's:
Every future astronaut needs a rocketship to help them explore the stars, the universe, and beyond. This glittery rocketship coin purse will only help your friend explore giving exact change, but it's a good start. Plus, it's just so cute!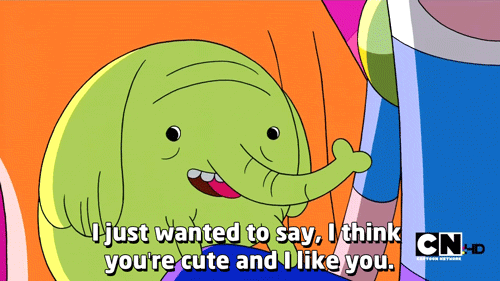 Now that you've got the perfect PALentine's Day Gift Ideas lined up, it's time to pick out the perfect Valentine's Day look!