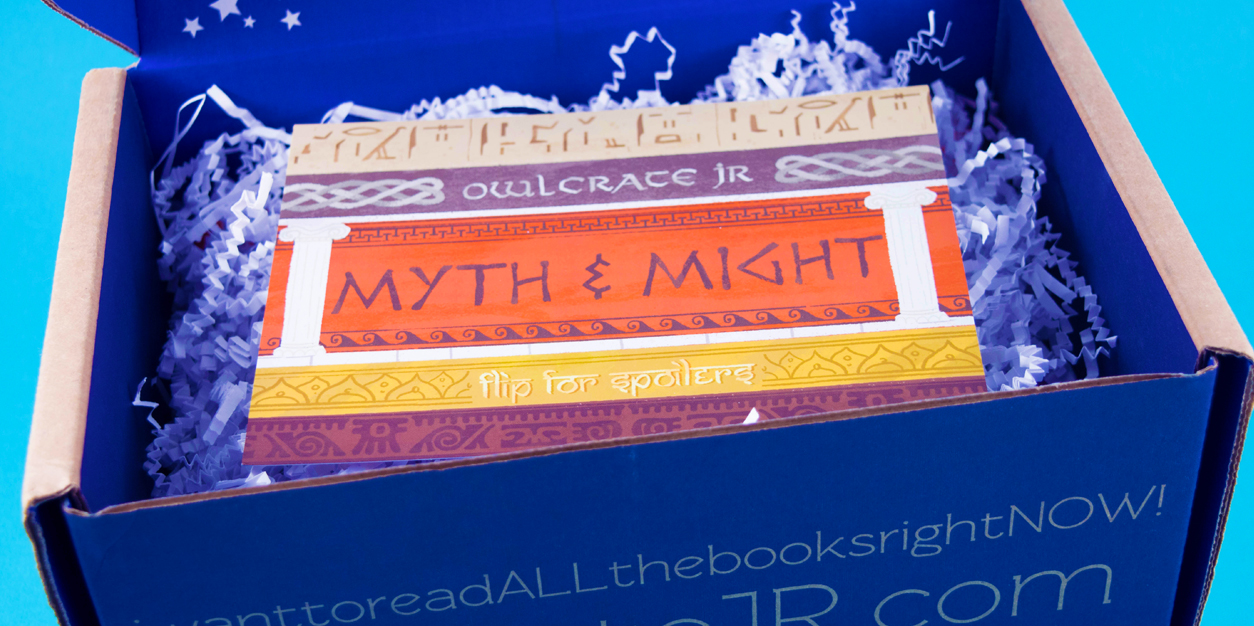 OwlCrate Jr.'s MYTH AND MIGHT Box Takes Readers on a Mythological Journey
Just because we are no longer OwlCrate Jr. Reps doesn't mean that we're done gushing about them! In fact, we were thrilled to see so many brand new reps selected this time around. OCJR reps are some of the most creative bookish minds out there, and with every month's box, their photo ideas get better and better. The only difference is that we don't have a discount code to share with you guys anymore, but that just means you'll have to check out one of the new OwlCrate Jr. reps on Instagram and use one of their codes if you're looking to subscribe!
We're a little behind on our unboxing, but better late than never, right? The OwlCrate Jr. theme for April was MYTH AND MIGHT, and featured a variety of different mythologies. Each item in this box felt so perfectly curated, which is one of the reasons we love this subscription so much – the team puts so much thought and love into every single box.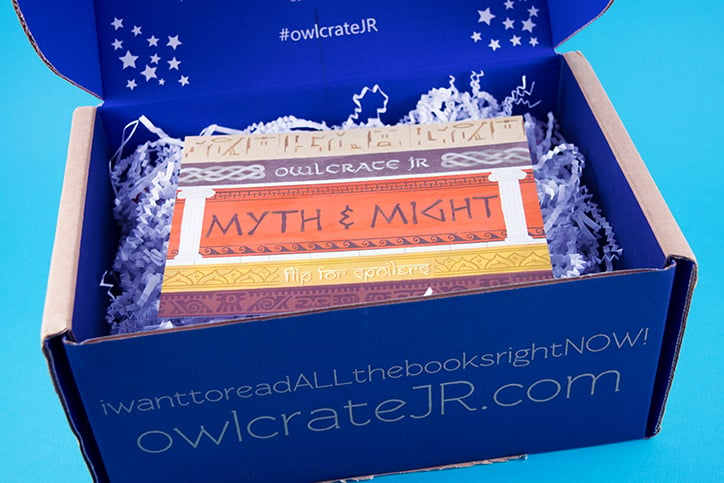 The book included in the MYTH AND MIGHT box is one we've been looking forward to and one that's been getting a lot of buzz lately. It's Aru Shah and the End of Time by Roshani Chokshi. If this first book is any indication of how fantastic this new series will be, readers everywhere are in for such a treat! Ready to see all the bookish goodies we discovered in this box? Keep on scrolling!
OwlCrate Jr. Unboxing – Myths and Might – April 2018:

BOOK OF THE MONTH: Aru Shah and the End of Time by Roshani Chokshi:
This month's book has been flying off the shelves and receiving high praise, and it's all for a good reason. Aru Shah and the End of Time by Roshani Chokshi is an exciting first in a new series featuring a totally relatable heroine, teaches Indian mythology and culture, and takes readers on a thrilling, page-turning adventure. Included along with the book you'll find a signed bookplate, a personal letter from the author, and a "Don't Wake the Sleeper" sleep mask. We thought the sleep mask was such a clever choice and really suited the story!
ABOUT THE BOOK:
"Twelve-year-old Aru Shah has a tendency to stretch the truth in order to fit in at school. While her classmates are jetting off to family vacations in exotic locales, she'll be spending her autumn break at home, in the Museum of Ancient Indian Art and Culture, waiting for her mom to return from their latest archeological trip. Is it any wonder that Aru makes up stories about being royalty, traveling to Paris, and having a chauffeur?
One day, three schoolmates show up at Aru's doorstep to catch her in a lie. They don't believe her claim that the museum's Lamp of Bharata is cursed, and they dare Aru to prove it. Just a quick light, Aru thinks. Then she can get herself out of this mess and never ever fib again.
But lighting the lamp has dire consequences. She unwittingly frees the Sleeper, an ancient demon whose duty it is to awaken the God of Destruction. Her classmates and beloved mother are frozen in time, and it's up to Aru to save them.
The only way to stop the demon is to find the reincarnations of the five legendary Pandava brothers, protagonists of the Hindu epic poem, the Mahabharata, and journey through the Kingdom of Death. But how is one girl in Spider-Man pajamas supposed to do all that?"

Percy Jackson and the Olympians Pillowcase:
It seems like with every box we decide that there's one item that's our "favorite ever in OwlCrate Jr. history," but they just keep one-upping themselves with seriously great goodies. This Percy Jackson inspired pillowcase is a super soft place to rest your head each night and pairs perfectly with your brand new sleep mask!

Junior Genius Guide to Greek Mythology:
This super fun guide to Greek Mythology is a great way to get to know Zeus, Medusa, Poseidon, and Athena lots of other iconic Gods, Goddesses, and notable moments throughout Greek Mythology. There are tons of super fun illustrations, quizzes, and activities, and general goofiness that'll make you laugh while learning. Written by Ken Jennings, Jeopardy! genius and illustrated by the amazing Mike Lowery, this guide is sure to fill your brain with lots of useful knowledge.

Norse Mythology Activity Sheet:
Fuel your newfound love of all things mythology with this Norse Mythology Activity Sheet! Color in a courageous Valkyrie on one side, and complete a Norse Mythology word search on the other!

Deity Pocket Mirror:
Inspired by the mythology in the book, this colorful pocket mirror features Ganesh, Lakshmi, and Indra, three of the most important deities in Hinduism. Stash it in your bag so you can look great on the go and show it off to everyone you know.

Romulus and Remus Sticker:
This month's sticker features a gorgeous illustration of Romulus and Remus, the mythological brothers who founded the city of Rome.
WHAT'S NEXT?: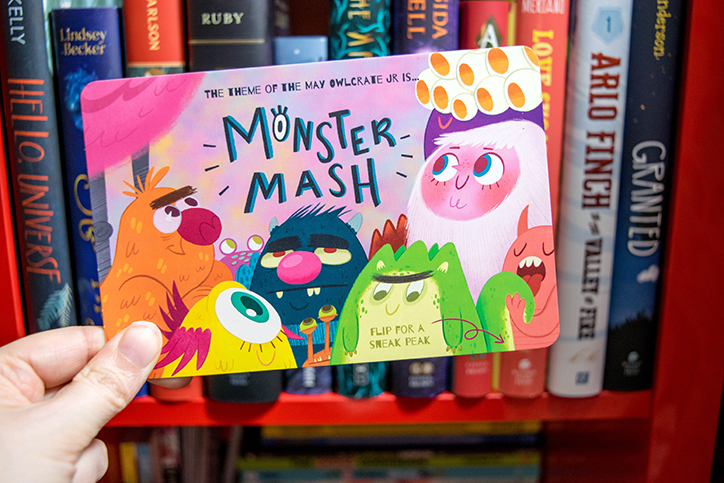 The theme for May is MONSTER MASH! Here's what subscribers can expect:
"What kind of creepy creatures do you suppose live deep beneath the ground? You'll find out soon, brave reader! Our May book pick is an upROARious adventure, full of surprises, danger, and (you guessed it) MONSTERS! This box is perfect for fans of The Spiderwick Chronicles, Fablehaven, and The Hero's Guide to Saving Your Kingdom."
Since we're a little behind in posting our April review, please note that the May MONSTER MASH box has already sold out and that the June HIDDEN GEMS box is now on sale. If you'd like to purchase a box you missed, head to the OwlCrate Jr. website.
HOW DO I SUBSCRIBE?: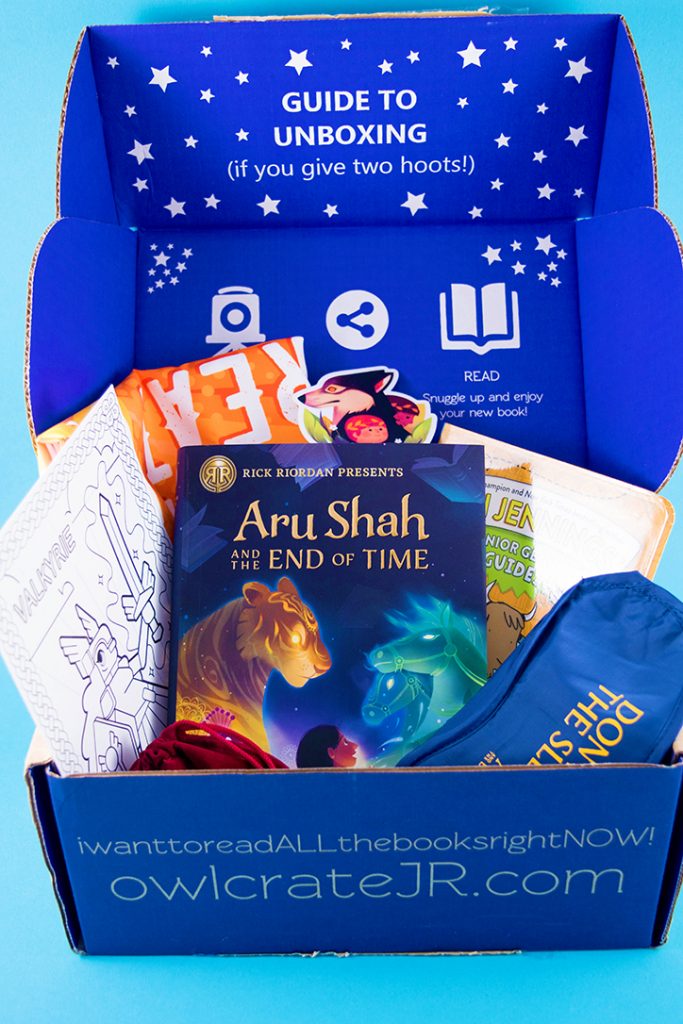 Grab your favorite adult, and head to owlcratejr.com!
Cost Per Box: $27.99 + S/H, 3 month and 6 month pre-paid subscriptions also available!
What Do You Get?: "A magical delivery featuring a brand new middle grade novel, exclusive goodies from the author, and 3-5 unique and usable items built around that month's theme that encourages curiosity, creativity, and imagination!"
Need even more books in your life? Here are all the books, graphic novels, and comics releasing in May!