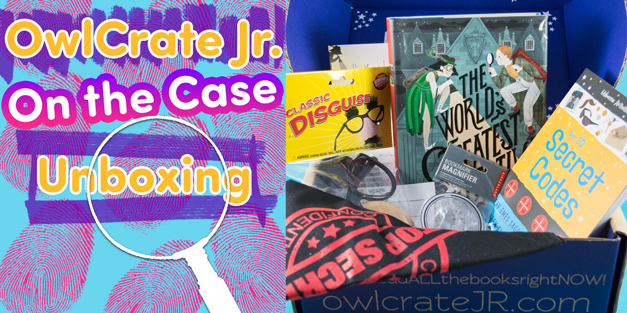 Crack the Case With the OwlCrate Jr. May 2017 Box
One of our favorite moments every month is when the mailman shows up with our OwlCrate Jr. box. Each month is like a mystery we get to uncover when we open our crate and dig inside. That's why we thought the theme of On the Case was such a perfect fit for this month.
This box is packed with mystery, suspense, adventure, and all the tools you need to get your sleuth on. OwlCrate Jr. is a monthly subscription box for middle grade readers that includes a brand new book and lots of other goodies each month. Here's what you'll find inside the May box.
OwlCrate Jr. Unboxing – On the Case – May 2017 Box: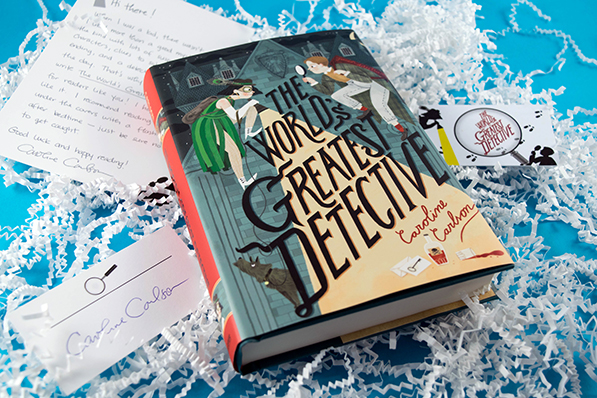 Book of the Month: The World's Greatest Detective by Caroline Carlson:
About the Book:
Caroline Carlson, author of the Very Nearly Honorable League of Pirates series, returns with The World's Greatest Detective, a story of crime, tricks, and hilarity for those who know that sometimes it takes a pair of junior sleuths to solve a slippery case.
Detectives' Row is full of talented investigators, but Toby Montrose isn't one of them. He's only an assistant at his uncle's detective agency, and he's not sure he's even very good at that. Toby's friend Ivy is the best sleuth around—or at least she thinks so. They both see their chance to prove themselves when the famed Hugh Abernathy announces a contest to choose the World's Greatest Detective. But when what was supposed to be a game turns into a real-life murder mystery, can Toby and Ivy crack the case?
This book is one we've been personally anticipating, so we were super excited to find it inside the box. We mentioned in our YAYBOOKS! May Roundup earlier this month along with a ton of other amazing new reads. In addition to the book itself, you'll also find a handwritten note from the author, an autograph, and a World's Greatest Detective membership card. Be sure to carry it with you everywhere you go. We put ours in our wallet as soon as we signed the back. Don't want to risk getting caught without it!
Since the theme of the month is On the Case, all the goodies inside will help you channel your inner detective like Toby and Ivy from the book.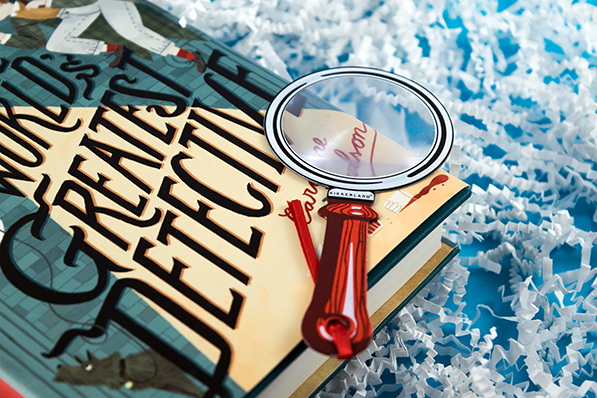 Bookmark Magnifying Glass from Kikkerland:
We may be in the age of high tech gadgets, but sometimes it's important to go back to the basics. Use this magnifying glass to help you read small print, uncover clues, and hold your page while you're reading. No great detective ever leaves the house without their trusty magnifying glass.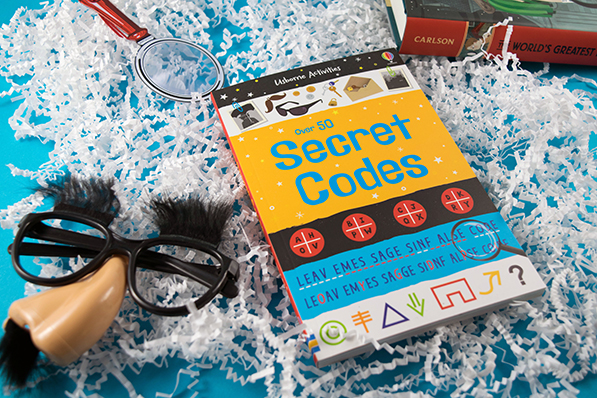 Secret Codes Book from Usborne:
Surprise! This OwlCrate Jr. comes with not just one book, but two! This Secret Codes book will help you perfect your code cracking and other important sleuthing skills. There's over 50 fun activities to solve. It's great to bring along with you on boring stakeouts.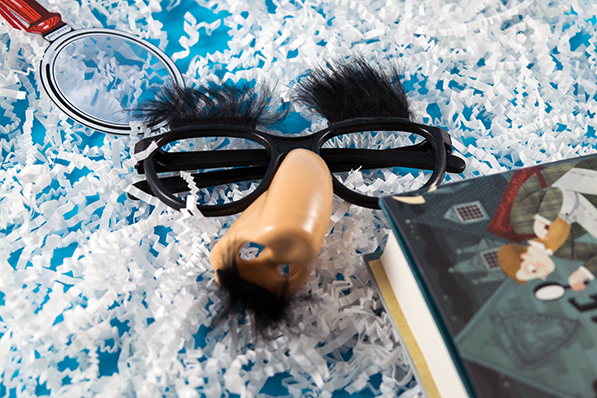 Classic Disguise Glasses from Accoutrements:
Even the sneakiest and best spies in the world find themselves in a sticky situation from time to time. That's why it's important to have a good disguise. Or at least one that's easy to carry around with you. Pop these on when you think you might get noticed so you can make a quick getaway! The kid in us was delighted when we found a pair of these silly glasses in our box!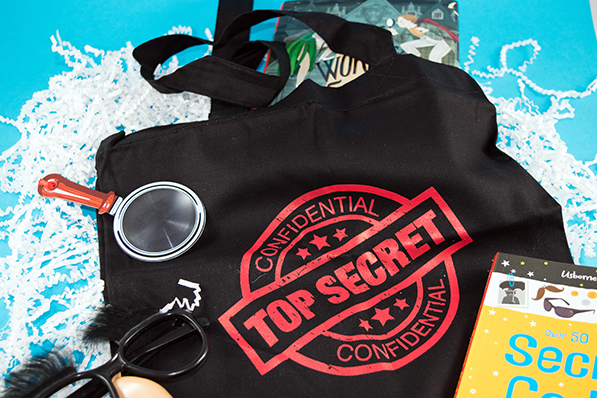 Top Secret Tote Bag from OwlCrate:
The amazing folks at OwlCrate knew that you guys were gonna need a way to stash all your new books and detective gear, so they put one right in the box for you. This awesome tote lets everyone know that what you've got inside is totally confidential so they'll keep their hands off! We love when our subscription boxes come with great useable items, and this tote definitely qualifies.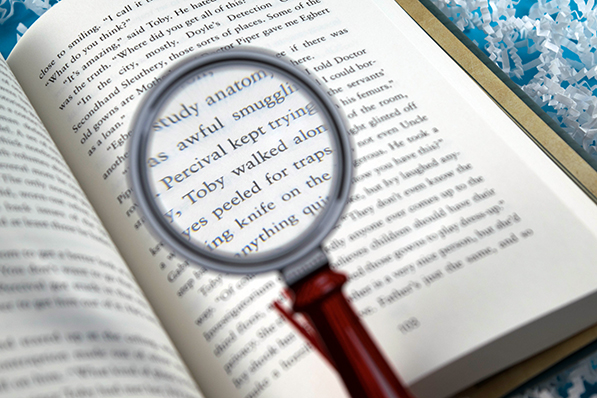 Ready to solve the case? At the bottom of your box under all that fun crunchy confetti you'll find a card with a sneak peek of the June theme.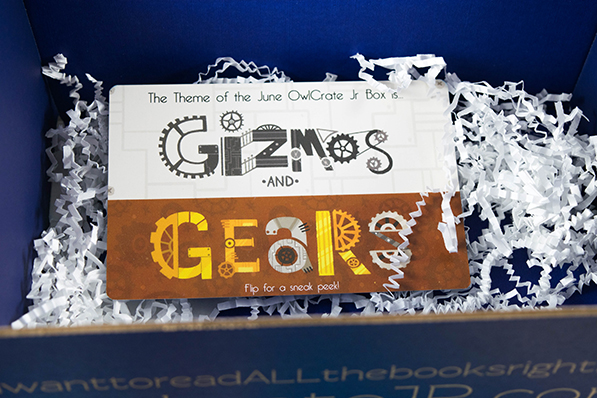 The theme of the month is going to be Gizmos and Gears! We know a lot of you guys are crafters, tinkerers, and budding scientists, so if you're not signed up for OwlCrate Jr. yet, it seems like a good time to start. We have a feeling the goodies in this box are going to be some of the best yet.
From the card insert:
"Do you like to tinker with machines and spend your time designing brilliant new inventions? Do you often notice puzzling things that other people walk right past? Then stay sharp, readers, because the June book is right for you!"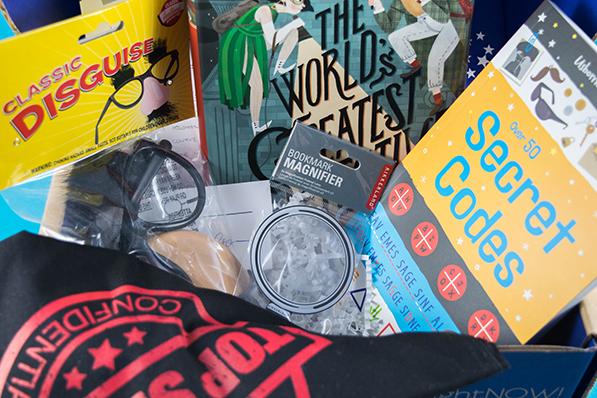 Now that we're 3 months into our OwlCrate Jr. subscription, we've got to say, it's definitely one of the very best subscriptions out there. They've been picking some seriously FANTASTIC books for these boxes and all the additional items just keep getting better and better. It's one we're truly excited to receive each month and it's totally worth the price. Plus, convincing mom and dad to buy you a book box shouldn't be a hard at all! Ready to subscribe? Grab your favorite adult and head over to OwlCrate Jr. website to sign up. Your first box will be the Gizmos and Gears box in June.
Want to see what you've missed in the other OwlCrate Jr. boxes? Check out our March and April unboxings!