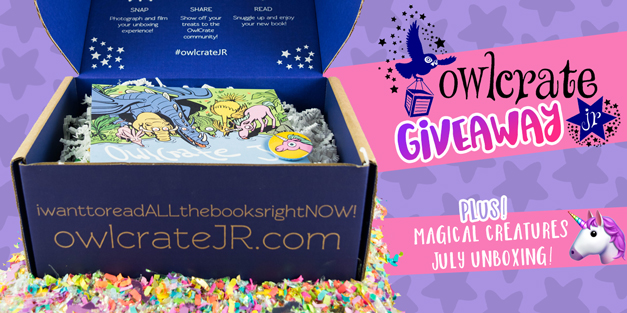 OwlCrate Jr. Giveaway + Magical Creatures Unboxing
This month we have more than just our usual unboxing for you guys, we've also got an OwlCrate Jr. Giveaway! The amazingly generous folks at OwlCrate Jr. sent us an extra Magical Creatures box to share with you guys! That's not all – they've also selected us to be an official OwlCrate Jr. Rep for the months of July-September, which means our boxes are hashtag FREE PRODUCT (don't worry though, it won't influence our opinion of the boxes – we promise!).
More importantly, it also means we're able to give you guys a sweet discount! Sign up for an OwlCrate Jr. subscription and use the code OMG15 for 15% off your purchase! We hear parents love discounts, so when you're asking for permission to purchase, be sure to hook 'em with the promise of sweet deals! Want to enter the giveaway but keep the goodies spoiler free? Scroll all the way to the bottom of this post until you find the entry form. For those of you who are here for the unboxing and ready to be spoiled and delighted, keep on reading!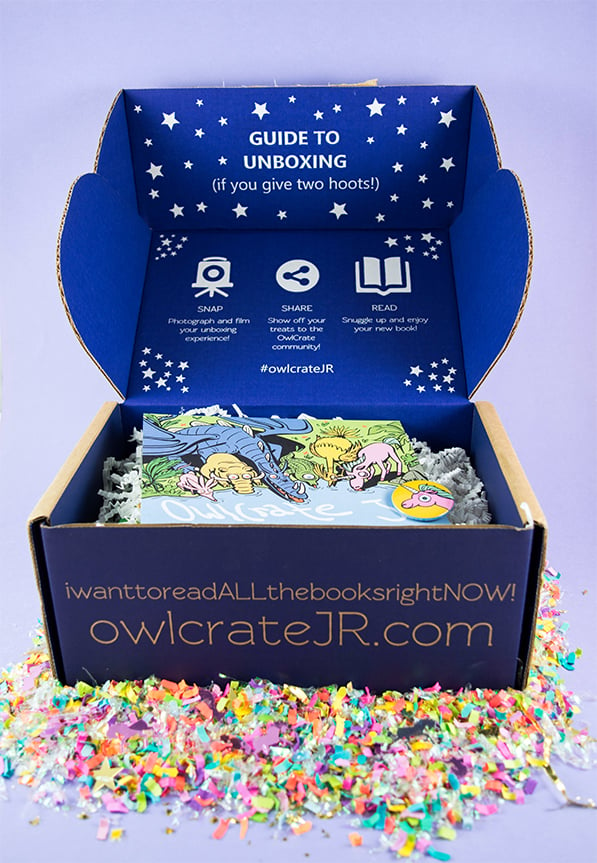 This month's OwlCrate Jr. box transports subscribers to an enchanting place where unicorns and other magical creatures roam free. Give the tinkering side of your brain you needed for last month's Gizmos and Gears box a rest and get ready to be swept away by magic and fantasy.
With Summer slowly slipping away and the routine of school right around the corner, you'll definitely love the remarkable escape from reality that the OwlCrate Jr. Magical Creatures box brings. The July box is packed with even more goodies than usual, making this one extra special.
Ready to find out what's inside?
OwlCrate Jr. Unboxing – Magical Creatures – July 2017:

Book of the Month: The Unicorn in the Barn by Jacqueline K. Ogburn:
About the Book:
When a vet clinic opens up next to Eric Harper's house, the last thing he expects to find in their barn is a unicorn! Now he has to help bring her back to health, as well as keep her secret safe! The Unicorn in the Barn is a beautiful story all about animals, empathy, and family.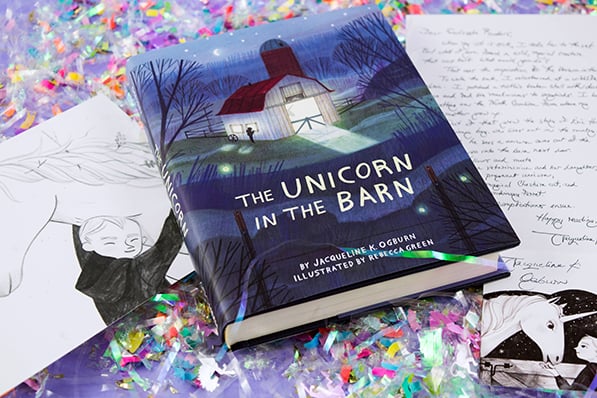 Also included you'll find an illustrated autograph card and handwritten note from the author as well as an exclusive (and totally gorgeous) print by Rebecca Green, the artist who illustrated the book. The story boasts themes of kindness and caring of animals and is sprinkled with a bit of magical realism.
The magical creatures you'll find in this book will have you in awe, wishing that you could encounter them in your own backyard. Readers who love an emotional fantasy story or hope to one day become a veterinarian will find so much to love about this fantastic read!

Unicorn Poop from Toysmith:
This moldable sparkly unicorn poop combines the best of the magic of unicorns and the stretchability of slime without having to pull out the glue and make a mess. This lovely pile of pink, glittery goo can be stretched, molded, squished, shaped, and bounced. So magical!

3D Colorables: DIY Fantastic Dragon from Ooly:
Struggling to find magical creatures in your town? Don't worry – you can create one of your own with this super cool kit from Ooly! Color the design using crayons, makers, or colored pencils and then use the straw to blow up your creation. Voila! A real dragon just for you. Give it a name and take it with you on tons of adventures.

Owl Bag Tag from mudpuppy:
Keep the OwlCrate spirit with you wherever you go by attaching this colorful Owl Bag Tag to your backpack or luggage. It's totally adorable will protect your stuff while you're out searching for mythical creatures, traveling the world, or acing your next math text.

Creature Catcher Patch from Erin Gibbs:
Show off your love of all kinds of creatures by ironing this patch to your favorite vest or backpack. By rocking this cute gnome patch, you're making a promise to always treat creatures with care.
If you're a fan of Fantastic Beasts and Where to Find Them, you absolutely know what this tricky little creature is all about. Nifflers are cute and gentle, but they have an affinity for stashing shiny things in their pouch. Stick this to your laptop or your locker and show off your Potter pride.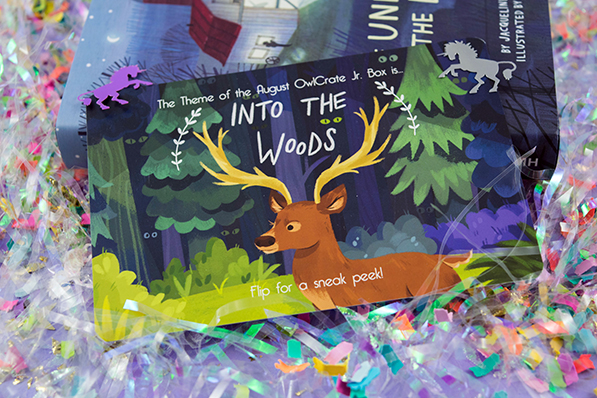 What's next for OwlCrate Jr. subscribers? The theme for August is Into the Woods and it promises an exciting romp through a forest filled with ancient magic.
From the Card Insert:
"Join the courageous heroine of our August book on an enchanting journey through the woods. Be careful, readers things aren't always what they seem deep in the forest… an ancient kind of magic lives there! This story is perfect for fans of Harry Potter and Diana Wynne Jones – it is sure to keep you under it's spell from beginning to end!"
Want to win a box of your own so you can get down with the Magical Creatures? We're giving away one of these sold out boxes! This is one of your only ways to get your hands on this particular box if you aren't already an OwlCrate Jr. subscriber. Here's how to enter our OwlCrate Jr. Giveaway!
Owlcrate Jr. Giveaway: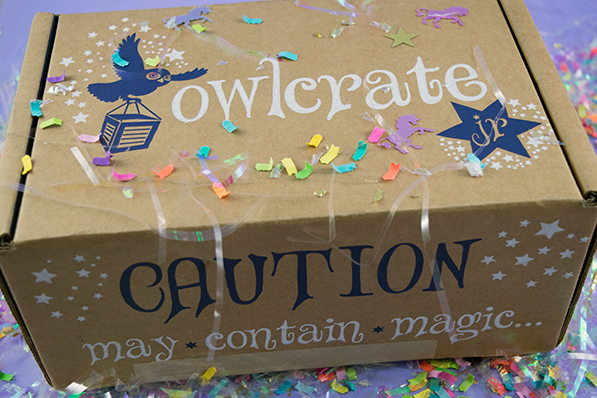 WHAT DO I WIN?:
– One (1) Unopened OwlCrate Jr. Magical Creatures Box. This box originally shipped to subscribers in July 2017 and is now sold-out. Your box will contain the same items featured in this post.
HOW DO I ENTER?:
Just fill out the form below by August 8th at 11:59pm EST. Giveaway begins on 7/26/2017 at 2pm EST and ends on 8/8/2017 at 11:59pm EST.
You must be 18 or older to enter. If you are under 18, you'll need to get permission from your parent/guardian to enter and again if you win. Please provide THEIR email address when entering below. If chosen as a winner, you'll need to provide contact info where we can reach your parent/guardian if you win. Be sure to read the fully detailed rules HERE before entering.
THIS GIVEAWAY HAS ENDED AND THE PRIZE HAS BEEN CLAIMED.
Know someone else who'd love to win this amazing box of middle grade reads and exciting goodies? Be sure to share this giveaway with them and tell them to enter!
To see what you've missed in other OwlCrate Jr. boxes, click here to check out our other unboxings!
Note: We received this product for free from OwlCrate Jr. as a part of their OwlCrate Rep program in exchange for a fair and honest review. We were under no obligation to write a positive review.