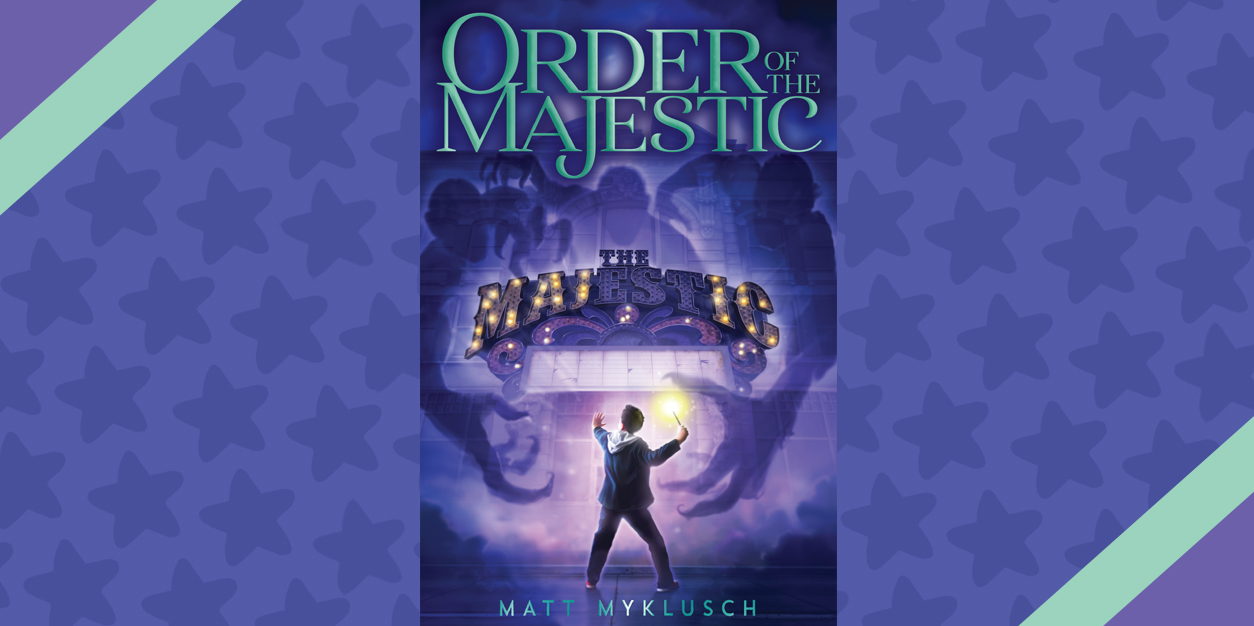 7 Fun Facts About Order of the Majestic + GIVEAWAY!
What would you do if you discovered that magic exists, but that there isn't much of left? Would you be brave enough to step up and save it or would you shy away? That's the position twelve-year-old Joey Kopecky finds himself in Matt Mkylusch's new novel, Order of the Majestic.
Filled with incredible magic lore, ancient societies, and riveting adventure, Order of the Majestic is the perfect read for anyone who's ever wanted to be swept away from reality into a world where magic truly exists.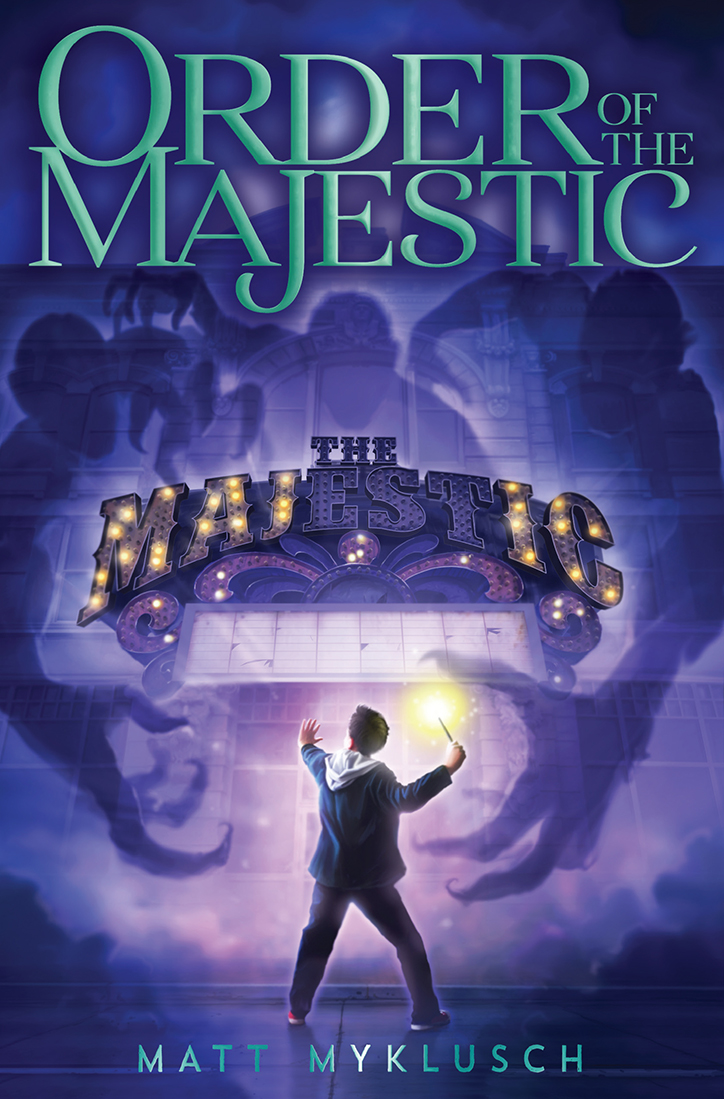 Fans of Brandon Mull and James Riley will love this action-packed, accessible fantasy story about one kid's journey to discover magic as he's caught up in an epic battle between two powerful ancient orders.
Twelve-year-old daydreamer Joey Kopecky's life has been turned upside down. After acing a series of tests, he's declared a genius and awarded a full scholarship at a special (year-round!) school. He's understandably devastated, until he takes one last test, and the room around him disappears, replaced by the interior of an old theater.
There, Joey meets the washed-up magician, Redondo the Magnificent, and makes a shocking discovery…magic is real, but sadly, there isn't much left in the world. It may be too late to save what little remains, but for the first time in his life Joey wants to try—really try—to do something big. Soon he's swept up into a centuries-old conflict between two rival societies of magicians—the Order of the Majestic, who fights to keep magic alive and free for all, and the dark magicians of the Invisible Hand, who hoard magic for their own evil ends.
The endless battle for control of magic itself has reached a tipping point. For Redondo and the Order to survive, Joey must inherit the lost legacy of Harry Houdini. Will he prove himself worthy, or will the Invisible Hand strike him down? The answer will depend on Joey's ability to believe, not just in magic, but in himself.
Order of the Majestic
AUTHOR: Matt Myklusch
PUBLISHER: Aladdin
DATE: May 7, 2019
We're honored to share that author Matt Myklusch has shared seven fascinating facts about Order of the Majestic. Read on as he gives you an extra special peek into the inspiration behind the story and what you'll encounter as you turn the pages.
PLUS – we've teamed up with Simon & Schuster to give away a copy of the book to ONE lucky winner!
Author Matt Myklusch Shares 5 Fun Facts About Order of the Majestic:
FACT #1:

Order of the Majestic cast a spell over me. I didn't want to write this book. I HAD to write it. The idea was so powerful it took over my brain, forcing me to set aside the book I was going to write and work on Order of the Majestic instead. That means you HAVE to read it. Not just for the great story, characters, action, humor, and the amazing magical world you'll discover when you do . . . but for that poor unfortunate book that got pushed aside. The one that must now spend the next few years, waiting around in the back of my brain, hoping it gets another chance to make the jump from idea, to work-in-progress, to full-fledged book.

If you don't read Order of the Majestic, that unlucky, would-be book that just missed its shot is going to feel even worse. Can you live with that? I don't think you can.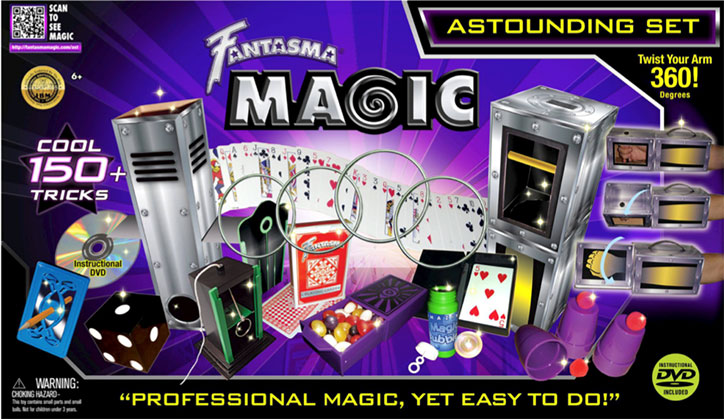 FACT #2:

This book is based on a true story. (Sort of). It all started when I was playing with a store-bought magic set with my son. He was 5-years-old at the time. One of the tricks involved twisting your hand all the way around on your wrist in a full 360-degree turn. I told my son I'd show him how to do it and he pulled his hand back, afraid to try. He didn't want me going anywhere near his hand. That's when it dawned on me — he thought the magic was real. Of course he did! When we are young, we believe in magic. But, then we get older, and we lose that ability. What if we could hang onto that belief? Wouldn't that be great? And, what if that belief in the impossible was the key to actually doing the impossible? This book answers that question.
FACT #3:

Everyone loves magic. Don't even try to deny it. 100 million Harry Potter fans can't be wrong. On some level, we all want to escape to some place magical. We all want to believe there's something fantastic waiting out there for us. Something wondrous and amazing, a new world to explore…an adventure beyond our ordinary, everyday lives. This book is for every kid who's still waiting for their Hogwarts letter. You'd better believe I'm one of them, and so is this book's main character, a boy named Joey Kopecky.

Joey is an expert on Harry Potter, Star Wars, the Marvel cinematic universe, and more. He'd choose to live in any one of those imaginary worlds over the real world any day of the week. When Joey comes in contact with a very special magic set, he discovers that magic is real—but only if you believe in it. Fortunately, he's got a big imagination. This is his big chance, and he doesn't let it slip away.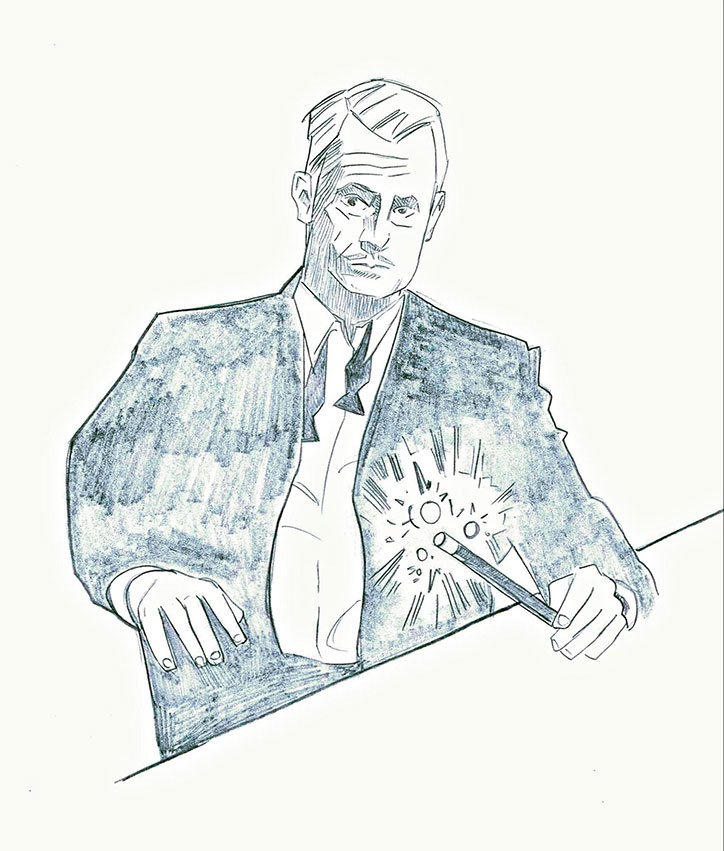 FACT #4:

This book has some of my favorite characters that I have ever created. I already told you about Joey Kopecky, but you don't know about Redondo the Magnificent, the master magician who's going to teach Joey magic (and at the same time, refuse to teach him anything).

Redondo is a scandal-scarred, washed-up celebrity magician who was huge in the '80s. For some reason, he has spent the last 20 years hiding out in the run-down-and-ruined Majestic Theatre (which just happens to exist in another dimension). He might be hiding out there because he got his last assistant killed in an on-stage accident. Or, it might be because he's on the run from a secret society of evil magicians called The Invisible Hand. Or, it might be both.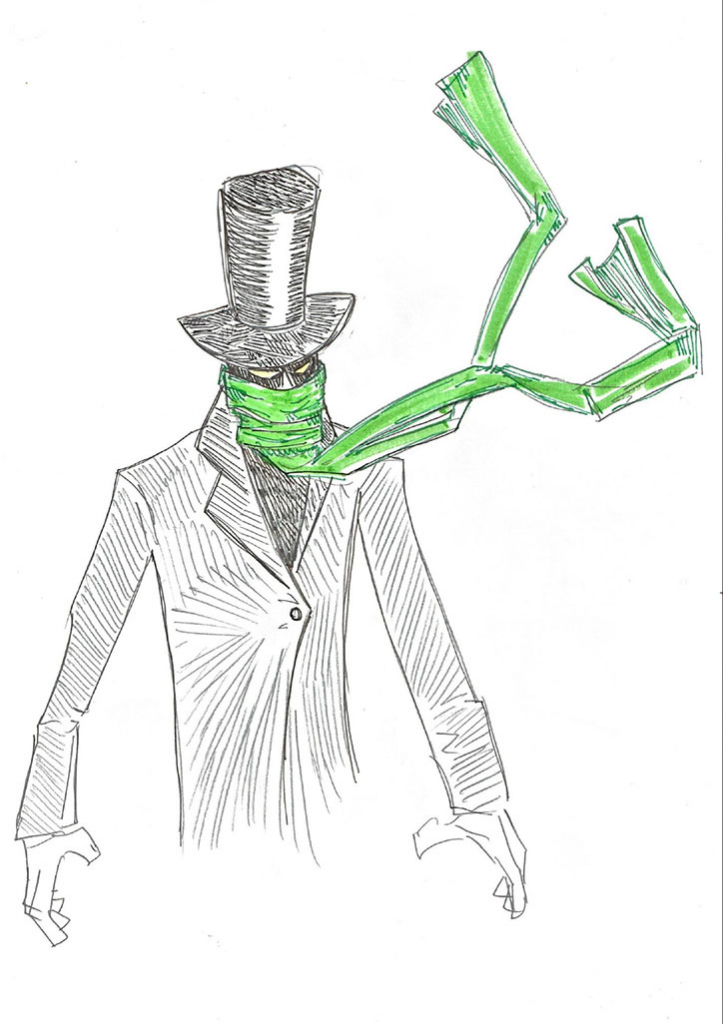 FACT #5:

Redondo's real job went beyond performing magic tricks on stage. He used to lead the Order of the Majestic, a group of powerful magicians dedicated to keeping magic alive in the world. Years ago, magic used to be everywhere. Back in the age of Merlin, magic floated through the air like the breeze. But, something happened to lock magic away and cut off our access to it. There's precious little magic left in the world today. Just as kids stop believing in magic when they grow up, the world stopped believing in magic as it got older too. Part of that is because magic can be hard to find in our grim and gritty reality, and part of that is because the Invisible Hand is rounding up all the world's remaining magic items and selfishly hoarding them.

When our story begins, this creepy dude in the top hat and scarf, and other evil magicians like him, are poised to seize total control over the world's dwindling supply of magic.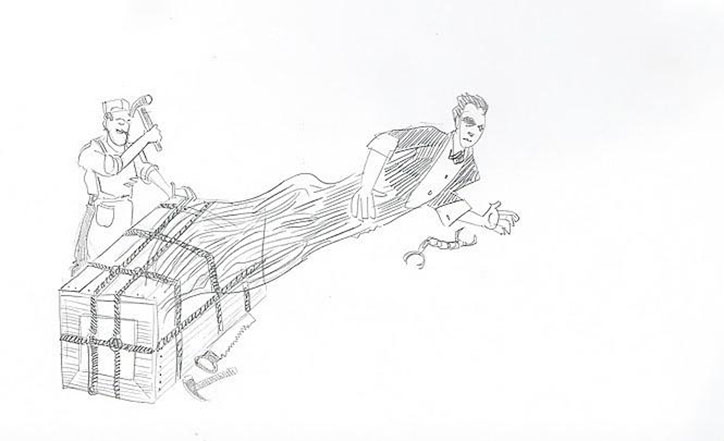 FACT #6:

Harry Houdini, the greatest magician of the last 100 years, and the last, truly "world famous" magician, once led the Order of the Majestic. At the peak of his powers, Houdini was the most famous man in the world because night after night, and show after show, he did the impossible. And, he did it so well that people everywhere had to wonder if magic was real. Today, Redondo wields Houdini's wand. It's the most powerful magical object in the world — and the most coveted. It's time for Redondo to pass the torch.

Joey, of course, wants to inherit the wand, but he might not be ready for the responsibility and danger that comes with it.
FACT #7:

This book is important to me because we all need magic—and magicians—in our lives. Magicians are people who remind us that nothing is impossible. That the world is full of wonder, and that we are capable of more than we realize. If we want to make the world a better place, we need to understand that our only limit is our imagination. But, it's hard for adults to think like that. If anyone is going to save this crazy world, it won't be the grown-ups who have messed it up and lost sight of its magic. It's going to be the next generation. Kids like Joey who want a better planet and a better future, because they are the ones who have to live through it.

I can't wait for you to meet Joey and his friends. People like Janelle Thomas, a 13-year-old genius in the field of physics who just might be the next Einstein. Shazad Hassan, a young boy from the secret city of Jorako whose family is dedicated to finding and preserving lost magical items. And Leanora Valkov, who travels the world with her family performing in magic shows, hiding magic in plain sight, and inspiring people to believe. Their adventure is just beginning, and you're invited to come along. If you want to join the Order of the Majestic, all you have to do is believe. (Well, that and read the book).
Order of the Majestic Giveaway: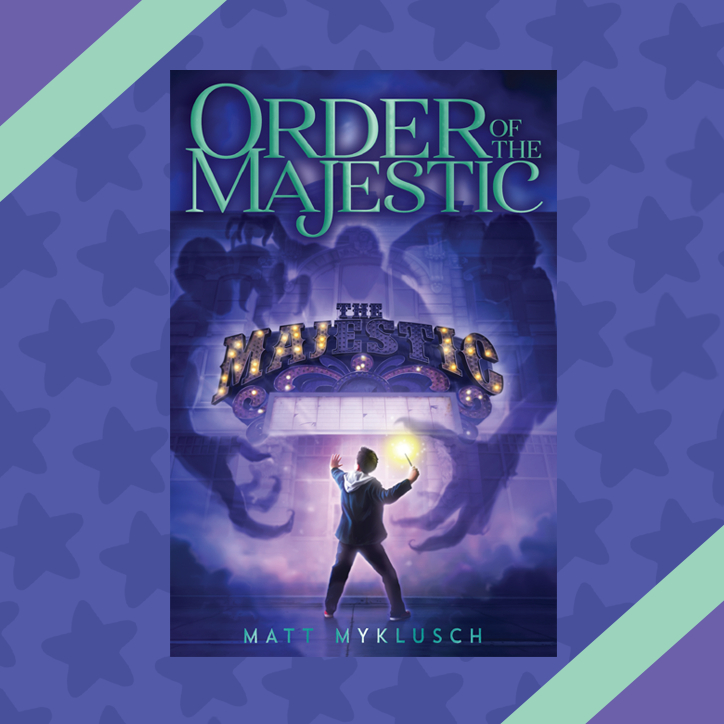 WHAT DO I WIN?:
ONE lucky winner will receive a copy of Order of the Majestic by Matt Myklusch. Prize generously provided by Simon & Schuster/Aladdin.
HOW DO I ENTER?:
Grab a parent or guardian and have them fill out the form below by May 20, 2019 at 11:59 pm ET.
Giveaway runs from 5/06/19 at 02:00 pm ET through 5/20/19 at 11:59 pm. Open to US residents ONLY. Be sure to read the fully detailed rules HERE before entering.
THIS GIVEAWAY HAS ENDED AND THE WINNER HAS BEEN CONTACTED.
*You must be 18 or older to enter. Please, only ONE entry per person. If selected as a winner, we will provide your parent/guardian with an affidavit to confirm that you are a valid winner who has permission to win. They will be REQUIRED to sign and return the affidavit to YAYOMG! to claim your prize. Prizes will not be mailed out without signed parental consent.
Looking for another thrilling adventure to help you escape reality? We think you'll love The Door at the End of the World by Caroline Carlson.