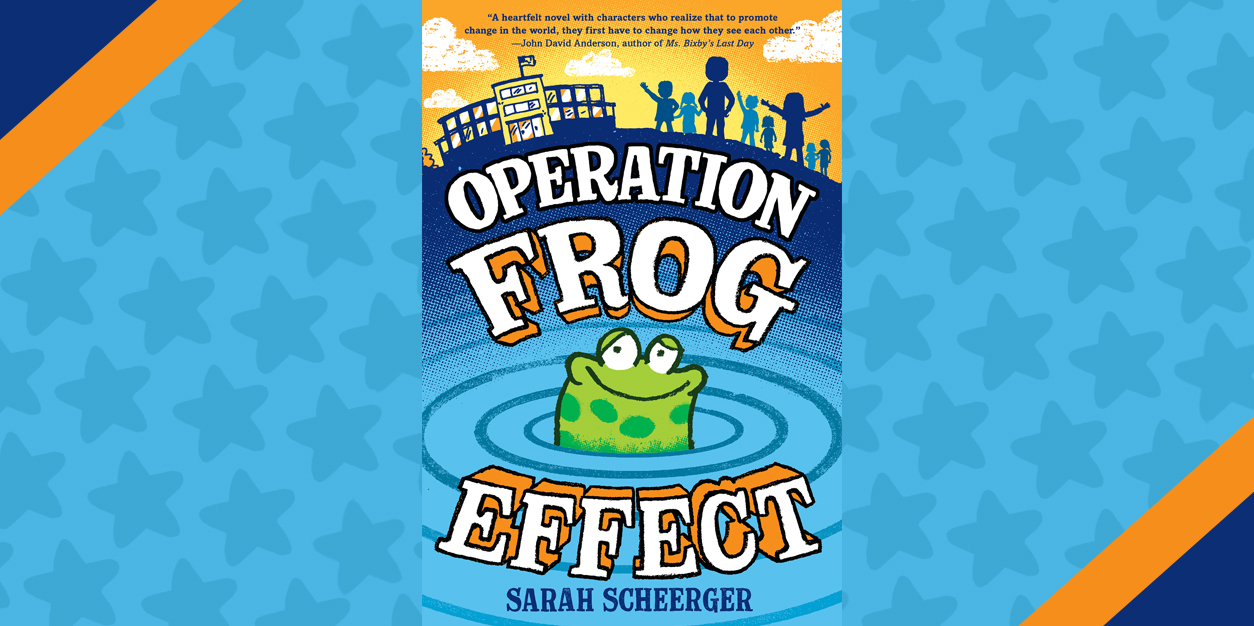 Operation Frog Effect: Interview with Author Sarah Scheerger
Most years, we remember our teachers as the people who stand in front of the class, teaching us the things we need to know in order to pass the test. Looking back on all the teachers you've had over the years, there are likely only one or two who truly stand out. The ones that went above and beyond to make everyone feel heard or who had fun ways of teaching the things we need to know, both in class and in life.
Operation Frog Effect by Sarah Scheerger is about one of those teachers. Her name is Ms. Graham, and she's made it her mission to teach her class important life lessons about diversity, kindness, and the issues that affect her students both inside and outside the classroom. She allows her students to help make the homework policy and the rules of the class. She uses her lessons to teach the kids about themselves and each other, even though everyone doesn't always get along. But after one of her class assignments goes wrong, the students must put their differences aside to help save their teacher from losing her job.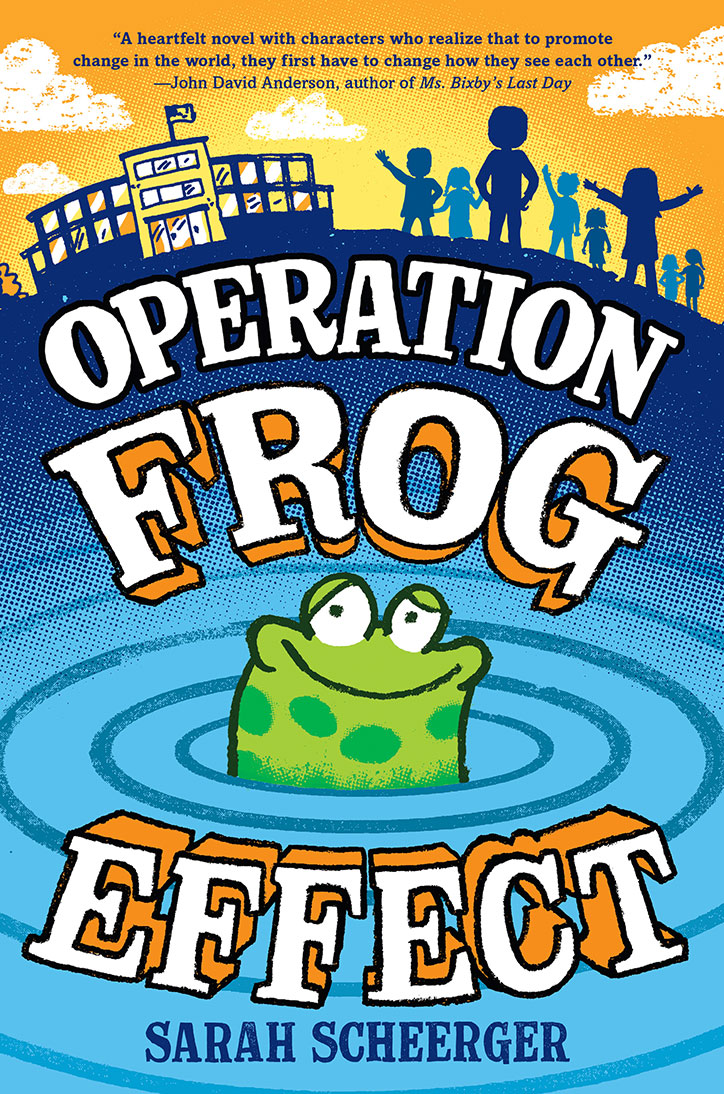 If one small act can create a ripple across the universe . . . what happens when a whole group of kids join together and act?
Told in eight perspectives–including one in graphic novel form–Operation Frog Effect is perfect for fans of Andrew Clements, Rob Buyea, and Sarah Weeks, and for anyone who wants to make a difference.
Hi–
It's us, Ms. Graham's class. We didn't mean to mess things up. But we did. We took things too far, and now Ms. Graham is in trouble–for something we did. We made a mistake. The question is, can we fix it? Ms. Graham taught us that we get to choose the kind of people we want to be and that a single act can create ripples. So get ready, world–we're about to make some ripples.
Sincerely,
Kayley, Kai, Henry, Aviva, Cecilia, Blake, Sharon, Emily (and Kermit, class frog)
Everyone makes mistakes. But what happens when your mistake hurts someone else? Told in eight perspectives–including one in graphic novel form, Operation Frog Effect celebrates standing up and standing together, and tells the unforgettable story of how eight very different kids take responsibility for their actions and unite for a cause they all believe in.
"A heartfelt novel with complex characters who realize that to promote change in the world, they first have to change how they see each other."–John David Anderson, author of Ms. Bixby's Last Day
Operation Frog Effect
AUTHOR: Sarah Scheerger
PUBLISHER: Random House Books for Young Readers
DATE: February 26, 2019
Operation Frog Effect totally gets the ups and downs of school life. It's funny and honest, but most of all, it reminds us that even when we're all in the same class or having the same experiences, it isn't always the same for everyone and that we all have a different story. We all see the world through our own unique eyes and carry our experiences, both good and bad, with us into everything we do.
That's why we were so excited to chat with author Sarah Scheerger about her inspirations behind the book, her life-changing teacher, and the advice she has for her readers.
Operation Frog Effect: Interview with Author Sarah Scheerger
Tell us a little about Operation Frog Effect and what inspired you to write this story.

SARAH SCHEERGER: It's written from 8 diverse points of view, including one in graphic novel format, one written like a theatrical script, and one in poems.Operation Frog Effect follows the lives of 8 fifth-grade students and their out-of-the-box teacher. Ms. Graham challenges the students to think for themselves and find a way to make a difference in the world. The students participate in fun classroom activities (like an egg drop competition), and social experiments (are you smarter if you can whistle?) and they rescue a loveable pet frog (Kermit). When the students take their "social issues" assignment too far, there are real-life repercussions. They learn how to stand up for what they believe in, use their voices, and figure out who they are and who they want to be.

This story was inspired by a few different things. One was my fourth-grade teacher, Mr. Nubling. Looking back, he used creative and unorthodox means to teach us about ourselves and the world. He did all this within a supportive classroom culture in which we felt accepted and appreciated. I remember one day my bestie and I tied our shoelaces together for fun. At some point, Mr. Nubling noticed and asked us to un-tie our shoes for safety reasons. But at no moment did I feel disciplined, demeaned, or in trouble. I felt completely understood, like it was okay to make a mistake every once in a while.

I'm also inspired by my work as a school-based counselor. While all my characters are completely fictional, I'm just inspired by kids in general. I don't think we give kids credit—in my opinion, our youth are wise, resilient and strong. I learn from the students I work with every day.
We loved the way you told the story through eight different perspectives.

SARAH: Why thank you! I had so much fun with this story. I loved getting to know each character and the nuances of his/her personality. Henry makes me laugh. Hopefully, he makes you laugh too.

I have one more fun thing to share. Penguin Random House made an audio book with nine different actors narrating. Since one-eighth of the book is in graphic novel form, I had the chance to work with a producer to help convert that eighth into text that could be narrated. It was so much fun. If you have a chance, take a listen.
Which character(s) would you have wanted to be friends with as a kid?

SARAH: Great question. Emily is the closest to my true voice. Although the characters and situation are fictional, my best friends did go to a private school in 6th and I went to public. I missed them terribly. It took me some time to find a new peer group.

I think I would have been friendly with Sharon, but I'd have been closest with Cecilia, Aviva, and Emily. I'd have been a little intimidated by Kayley. And at that age, I didn't spend much time hanging out with boys. I certainly had crushes, but I was the shy type, and I didn't really interact with them much. By high school, many of my closest friends were boys.
Ms. Graham is a creative, supportive teacher who teaches her class so many valuable life lessons. Did you have a teacher (or mentor) in your life who inspired you the way Ms. Graham inspires her class?

SARAH: Yes! Mr. Nubling. In truth, I had multiple kindhearted teachers who made a difference in my life. I think because I was shy, I could have easily flown under the radar. But I had several teachers who helped me out of my shell and made me feel like I mattered. I'm sure I had a range of teachers in my youth… but I mostly remember the "good ones", who helped me find my voice and my confidence.
What was your biggest middle school struggle?

SARAH: Friends! For sure. I did wind up finding "my people" part-way through middle school, but it took me awhile. I was searching for the deep meaningful kind of friendships I remembered from elementary school. Also, I had a difficult time speaking up for myself. I felt pretty insecure. I'm not sure I came off that way, but I felt that way inside.

If you had to select one quote from Operation Frog Effect to dazzle a potential reader to pick up your book, which one would you choose?

SARAH: It's difficult to pick one. But if I had to, it'd be this: "You get to choose what kind of person you want to be."
What are you hoping readers will take away from the story?

SARAH: I hope readers laugh out loud. In the midst of my characters' light-hearted banter, I hope they see their strength and wisdom. That they understand that every action (or lack of action) creates ripples. I hope they see that by speaking up, standing up, and working together, they can make the world a better place. I hope they're inspired by the idea that today's youth are the leaders of tomorrow.
What are a few of your favorite middle grade reads of the moment?

SARAH: I'm drawn to realistic fiction, particularly stories that make me feel a strong emotional connection to and empathy for the characters. I loved Front Desk by Kelly Yang. Wonder is an all-time favorite (isn't it everyone's?). I'm in the middle of The Benefits of Being an Octopus and I'm devouring it! I loved Val Hobb's Defiance. I'm also a fan of realistic fiction graphic novels, like Shannon Hale's Real Friends.
Is there anything you can share about what you're working on next?

SARAH: Yes! I'm revising a Young Adult Novel. Here's the elevator pitch:

When Cayenne turns 18, she learns that her long-dead mother left her a series of messages before her death; that her aunt, who raised her, has the same gene mutation that caused her mother's breast cancer, and that living life to its fullest comes with particular challenges when death runs in your DNA. Cayenne learns what it means to truly live, what it means to be a woman, and what it means to truly love.
Do you have any words wisdom you'd like to share with your readers?

SARAH: These are things I could have benefited from hearing myself as a young woman. It gets better. You always have a choice. You're stronger than you know. Don't give up on friends. The good ones are out there.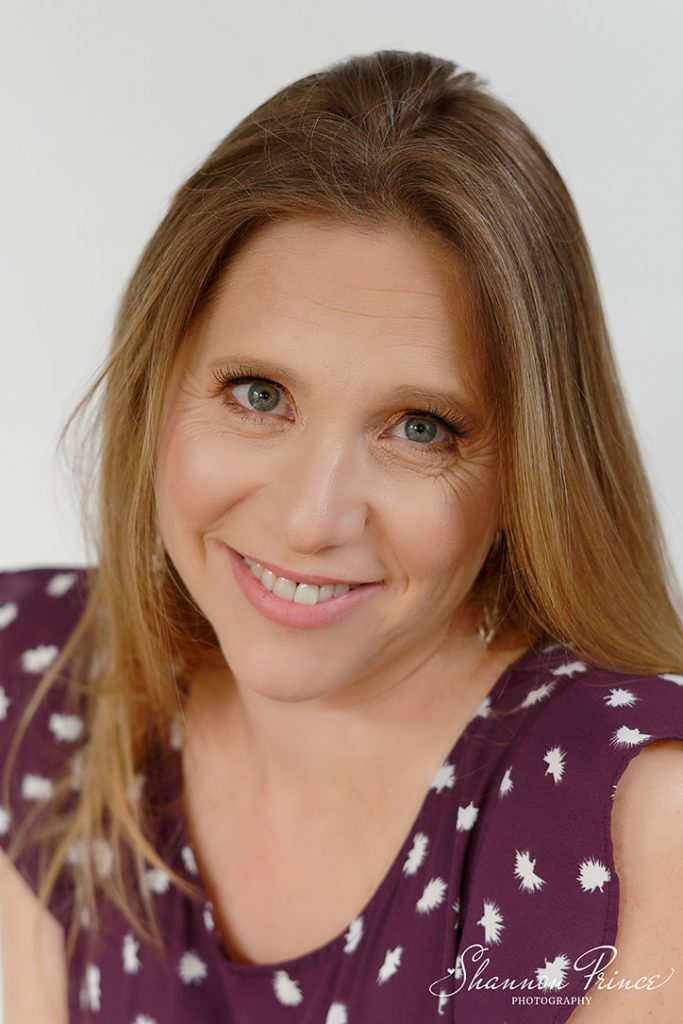 Want a chance to meet Sarah Sheerger and learn more about Operation Frog Effect? Check her out on her book tour!
March 2: "Read Across America Day" at Valle Lindo Park in Camarillo, CA
March 16: Book Launch/Fundraiser at Mrs. Figs Bookworm in Camarillo, CA
May 11 at 11am: Barnes and Noble in Ventura, CA.
Are you looking for even more ways to be swept away on a bookish adventure? Here are the 17 books we're most excited about this month!