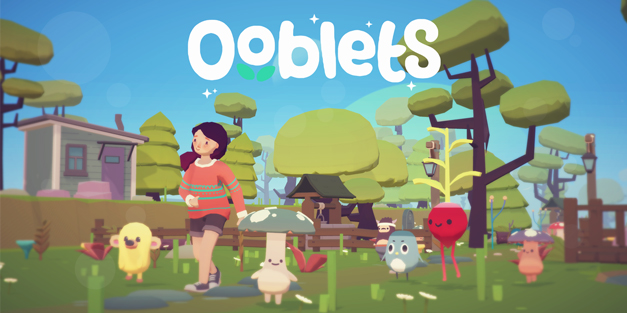 You're About to be Completely Obsessed with Ooblets
Ooblets is about to blow your mind with it's incredible whimsy and charm. Get ready to feel the hype! We're not even going to say anything else. Just watch this trailer and get ready to say "AWWWWW! I NEED to play that!" and "Look at those sweet dance moves!".
Now that you're as obsessed as we are, let us tell you a bit more about this adorably precious game.

So what's it all about? Ooblets has often been described as Pokémon meets Harvest Moon meets Animal Crossing. We haven't played it yet, but from what we can tell, that's a pretty fair assessment. It seems to mix the peaceful vibe of wandering around your Animal Crossing town with trainer battles/creature collecting elements from Pokémon with a little Harvest Moon style farming mixed in. Even though it's inspired by these 3 fantastic games, Ooblets is so clearly unique on it's own and we have a feeling it's really going to stand out from the crowd and make a name for itself.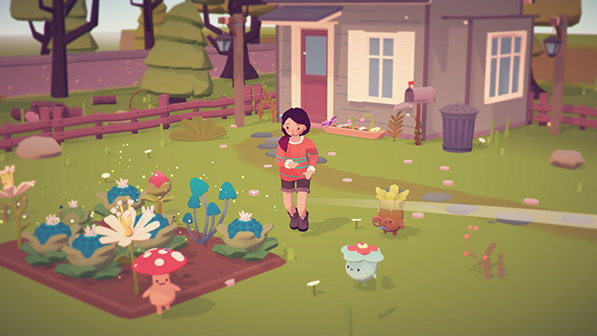 In the game, you'll get to manage a farm where you'll grow and nurture both crops and small creatures called ooblets. Each creature has their own uniquely adorable appearance as well as silly names like Shrumbo, Wigglewip, and Pantsabear, so you're definitely going to want to collect them all. Ooblets can also be customized with sunglasses, sweatbands, and other accessories. As you collect them, you'll be able to face off against other ooblet trainers in turn-based battles, explore the interesting biomes and areas of Oob, and more!
Your character can be customized as well. Buy them a them a cozy outfit or a fashionable hat from the Boutique or head over to the local stylist to try out fun new hairstyle. You'll also get to give them a home to live in and decorate with lots of furnishings. The game is bursting with townspeople to meet, places to explore, and there's always something to do. You can even join a club and gossip about other ooblet trainers. Or don't.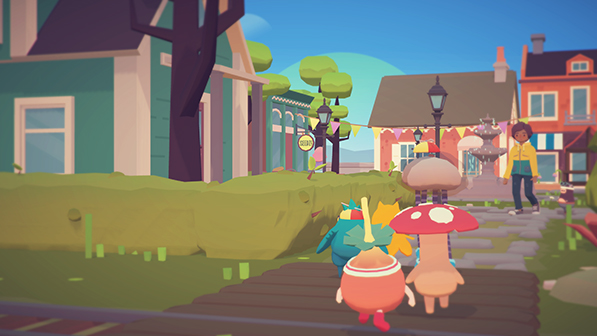 Ooblets is all about the play on your own terms, stress-free gameplay. Do as much or as little as you want whenever you feel like it. Work on the farm, run a shop, stock up on items and collectibles, and unlock new buildings in your town as you make your way through the game. In addition to all that, the game appears to have a great sense of humor, darling pastel graphics, and soothing, yet catchy music and sound effects. We're definitely hoping all that awesome dancing is a part of the game.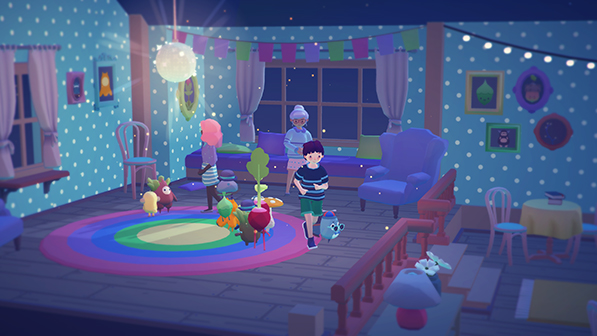 Ooblets has been having a really great week so far. Their new trailer dropped during the PC Gaming Show, their demo is playable at E3, and they've been getting a ton of press.
Creating such an ambitious and intricate game with just two people isn't easy, so we wanted to celebrate the people behind Glumberland. Rebecca Cordingley is in charge of art and programing (aka our new ladyhero) and Ben Wasser, who handles the writing and game design. We're in awe of these two, and you guys should be too. Glumberland is definitely one to watch for future adorableness and fun gaming goodness.
Ready to play? You'll have to wait a little longer. Ooblets is slated for a release in 2018 for Xbox One and Steam and is being published by Double Fine. Platforming more your style? We think you'll enjoy Super Lucky's Tale!