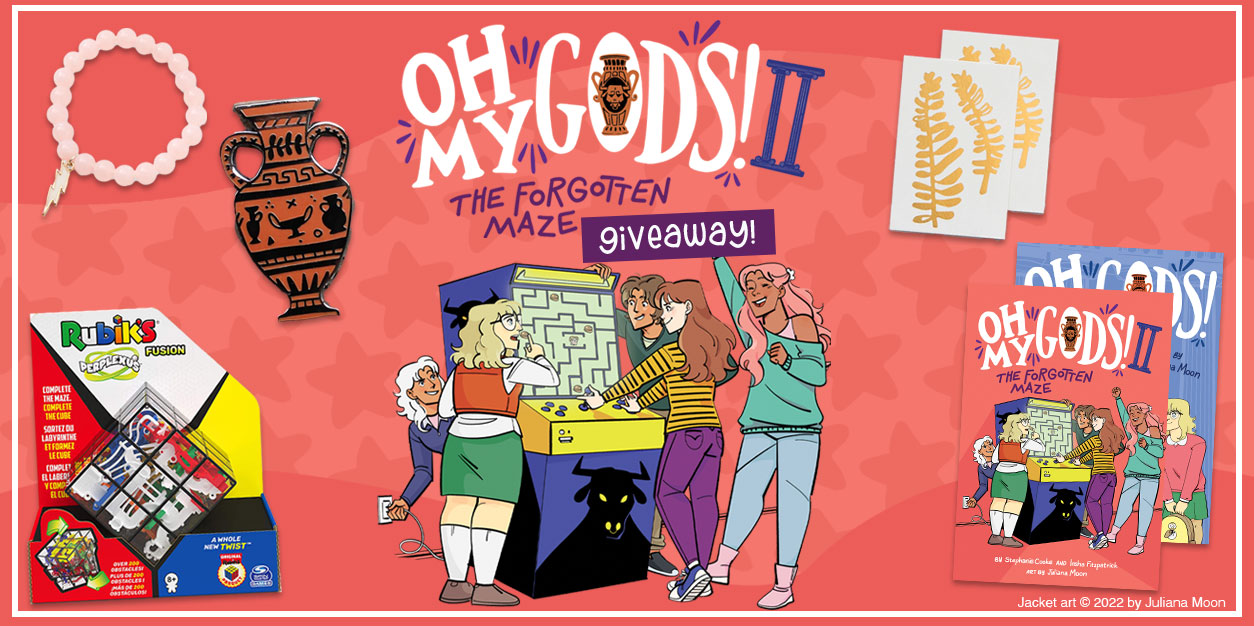 Navigate the Halls of Mt. Olympus Junior High in Oh My Gods! The Forgotten Maze + GIVEAWAY!
NOTE: This post is sponsored by HarperCollins.
At Mt. Olympus Junior High, the students are gods and goddesses, and there's never a shortage of divine drama, mysteries to solve, or mythology-inspired puns!
In Oh My Gods! by Stephanie Cooke and Insha Fitzpatrick, Karen's life was turned completely upside down. After her mom lands a new job, Karen says goodbye to her comfortable life in New Jersey and moves to Greece to live with her dad. Not only does she discover that her dad is both the Mayor and the Principal of her school, it turns out he's actually Zeus – and she's a demigoddess! A new town means a new school, which is tough enough for any kid to navigate, let alone a school full of gods and mythological creatures. Thankfully, after managing to avoid being accused of turning the other students to stone, Karen eventually finds her way, and her place amongst a squad full of deities.
The Forgotten Maze picks up with Tina becoming the editor of The Chariot and asking all her friends to join the newspaper with her. Dita will be penning the love column, and The Fates will dish out the horoscopes – but Karen isn't sure what a girl from New Jersey has to offer in a paper written by and for the kids of Mt. Olympus.
In this epic sequel to middle-grade graphic novel Oh My Gods!, Karen and her new friends descend into a forgotten maze beneath Mt. Olympus Junior High in search of an online troll by the name of M1N0T4UR. For fans of Raina Telgemeier and Kayla Miller.
When Karen moved to Mt. Olympus, she certainly didn't expect to start junior high with a bunch of gods and goddesses—let alone discover she's a demigoddess (who doesn't yet know her powers)!
Having recently joined the school newspaper, Karen decides to investigate a mysterious online troll that goes by the moniker M1N0T4UR. This leads her to a treacherous maze beneath the school where Karen and her friends must complete a set of phases to leave the labyrinth.
The stakes are higher than ever and a wrong move could lead to some terri-BULL consequences in this a-maze-ingly action-packed, fast-paced, pun-filled companion to Oh My Gods!.
Oh My Gods! The Forgotten Maze
AUTHORS: Stephanie Cooke & Insha Fitzpatrick
ILLUSTRATOR: Juliana Moon
PUBLISHER: Clarion Books
DATE: April 5, 2022
Being a gamer, she offers to review her favorite online game, HØLØHŪNTĒR, but after a mysterious online troll named M1NoT4UR crashes her private game, she knows she's got her story. Determined to uncover their identity and get to the bottom of things, she chases the scoop down to the basement underneath the school. There Karen and her friends are faced with a HØLØHŪNTĒR-inspired labyrinth set up by M1NoT4UR that will put each of them to the ultimate test. Filled with awesome illustrations by Juliana Moon and high-stakes adventure, you won't be able to resist this hilarious mythological read!
Ready to get your hands on this epic read? You're in luck! We teamed up with our friends at HarperCollins for an Oh My Gods giveaway. We're giving one lucky winner a chance to snag a copy of these seriously LOL-worthy graphic novels and a few other goodies inspired by the stories!
Ready to enter? Grab your favorite adult and have them enter below for your chance to WIN!
Oh My Gods! The Forgotten Maze Giveaway: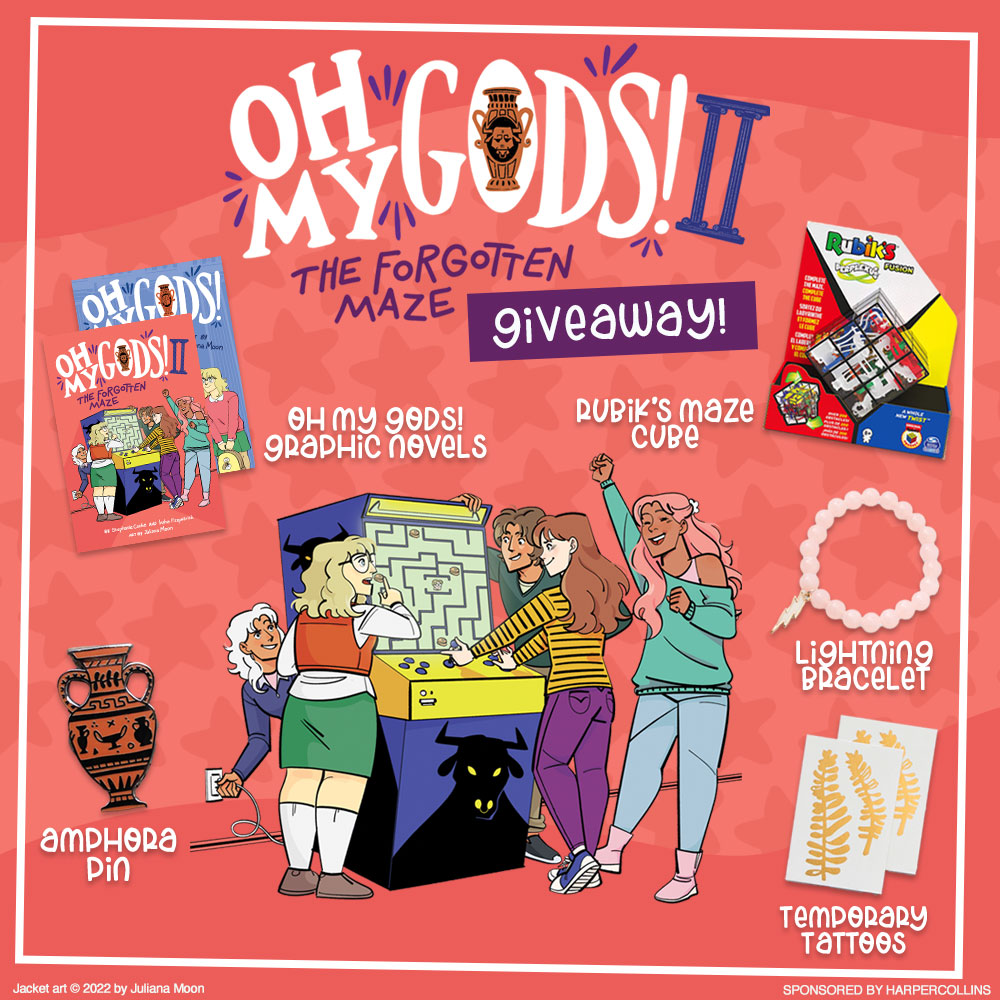 WHAT DO I WIN?:
ONE lucky winner will receive a Oh My Gods! The Forgotten Maze Prize Pack that includes:
– ONE (1) copy of Oh My Gods! by Stephanie Cooke, Insha Fitzpatrick, & Juliana Moon
– ONE (1) copy of Oh My Gods! The Forgotten Maze by Stephanie Cooke, Insha Fitzpatrick, & Juliana Moon
– ONE (1) Rubik's Perplexus Fusion Maze Cube from Spin Master
– ONE (1) set of Lightning Bolt Beaded Stretch Bracelets (2-Pack) from Claire's
– ONE (1) set of Gold Branch Temporary Tattoos from Tattly
– ONE (1) Greek Amphora Enamel Pin
*Prizes provided by HarperCollins & YAYOMG!
HOW DO I ENTER?:
Grab a parent or guardian and have them fill out the form below by May 6, 2022 at 11:59pm ET.
Giveaway runs from 04/06/22 at 10:00 am ET through 05/06/22 at 11:59 pm. Open to US residents ONLY. Be sure to read the fully detailed rules HERE before entering.
THIS GIVEAWAY HAS ENDED AND THE WINNER HAS BEEN CONTACTED.
You must be 18 or older to enter. Please, only ONE entry per person. If selected as a winner, we will provide your parent/guardian with an affidavit to confirm that you are a valid winner who has permission to win. They will be REQUIRED to sign and return the affidavit to YAYOMG! to claim your prize. Prizes will not be mailed out without signed parental consent.
Need to find out who's behind all the terri-BULL trolling? Oh My Gods! The Forgotten Maze is now available from HarperCollins!