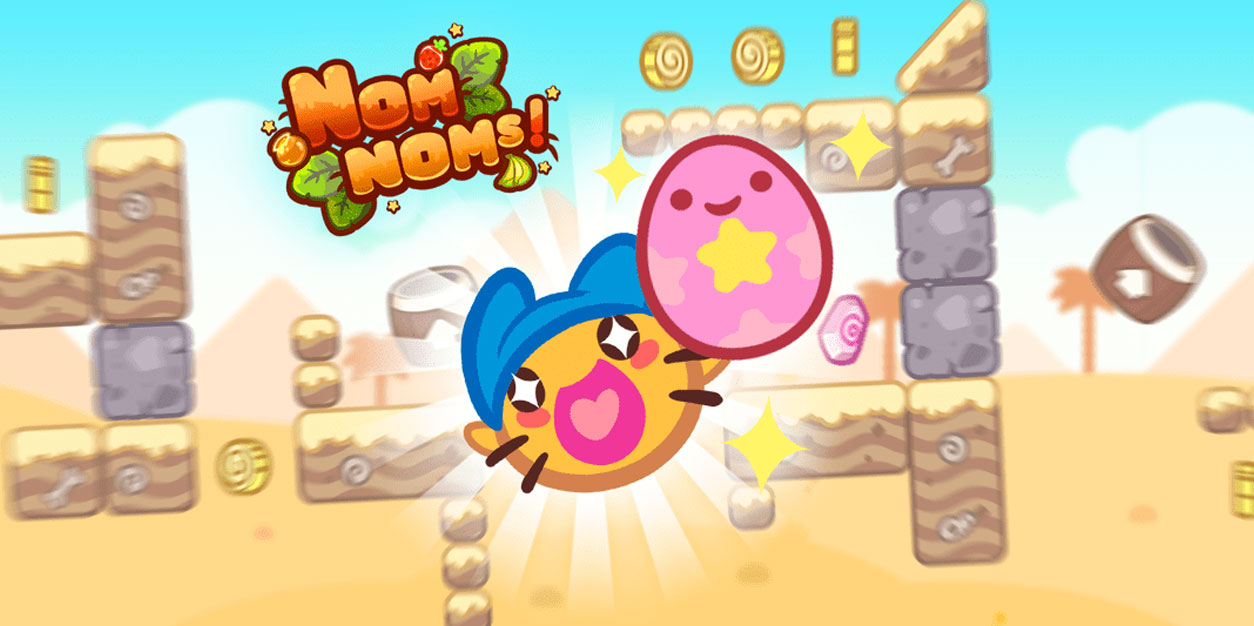 NomNoms is the Cutest Slingshot Adventure Ever
NOTE: We received a complimentary review code and in-game currency for NomNoms from HyperBeard in exchange for a fair and honest review. All opinions are our own; we were under no obligation to give a positive review.
HyperBeard has done it again! This time, they've collaborated with developer Jettelly for an adorable game called NomNoms!
NomNoms are cute creatures who love to eat! (Same, TBH!) Their food, called NOMS, are stored inside surprise eggs. One day, an evil witch shows up and steals all of the eggs, hiding them throughout the world. Determined to fill their bellies, the NomNoms embark on an adventure – and they need your help to reunite them with their tasty treats!
Our NomNoms Review: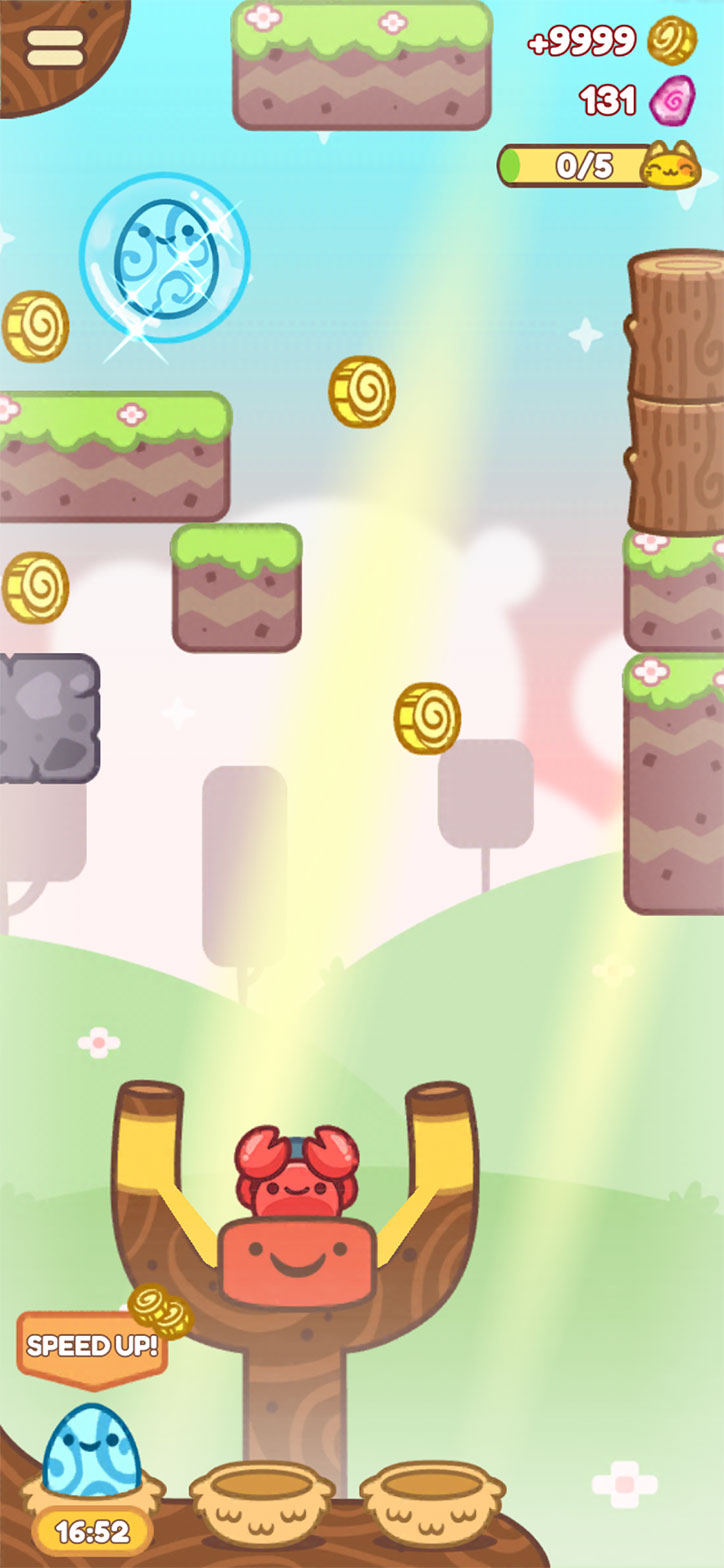 Super Fun Gameplay:
NomNoms is similar in a lot of ways to Angry Birds, but with much less destruction. Players use a slingshot to fling Meowza through lots of colorful levels collecting eggs and gathering coins. Bounce off the walls, break down obstacles, and shoot out of spinning cannons as you make your way through each level.
There are no lives, time limits, or negative consequences in NomNoms. You can take as much or as little time as you need to complete each stage. A level is considered complete once you've gathered up the egg, but if you're a perfectionist, you can try to collect the coins and gems hiding throughout the stage as well. If you do, the Lucky Cat will bless you with a coin bonus!
Once you obtain the egg, you can hatch it and discover the adorable Nom hiding inside.
Hatch and Collect: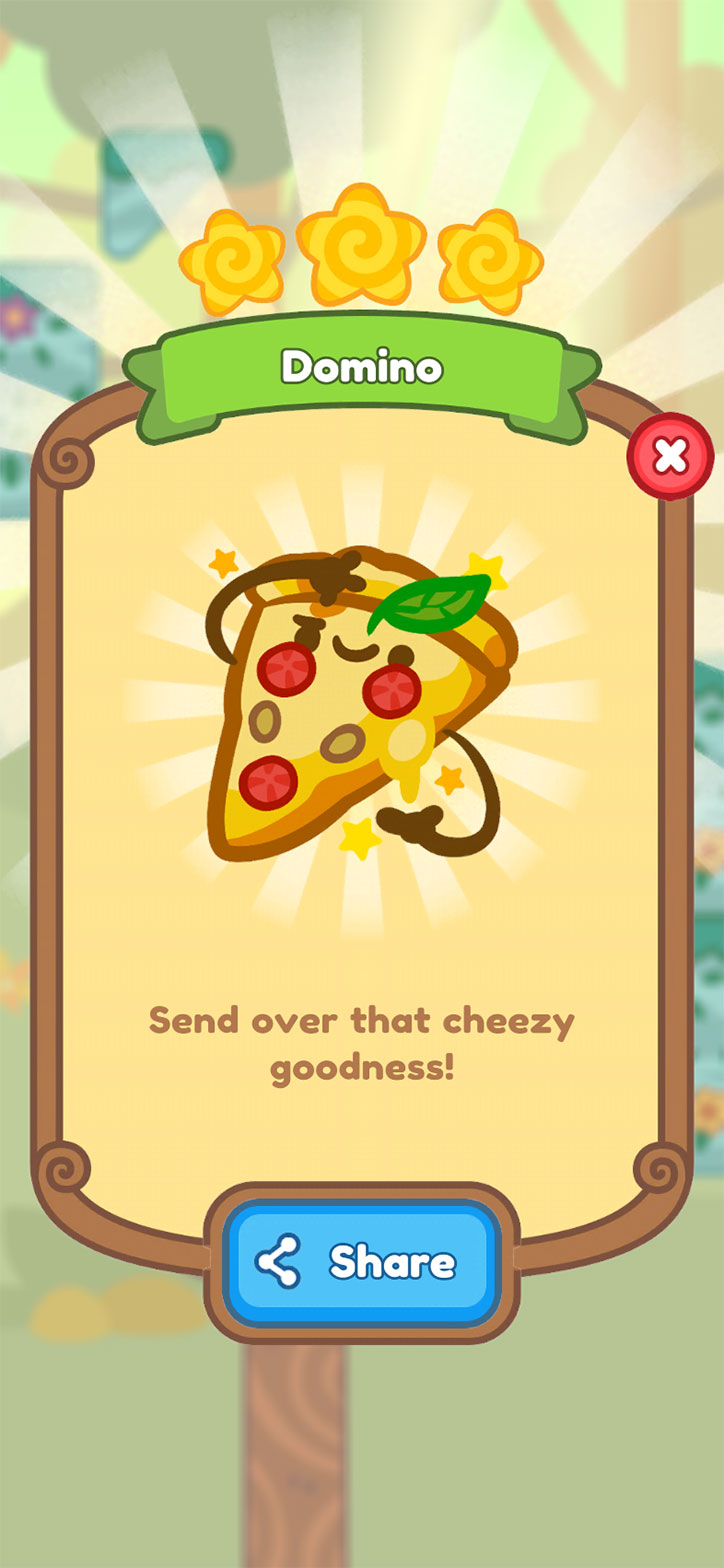 All this flinging and soaring around the levels has to be for something, right? A HyperBeard game wouldn't be complete without collecting – and that's exactly where hatching comes in!
The eggs you collect are either blue, gold, or purple – signifying the rarity of the food hidden inside. Similar to Clawberta, when you collect an egg, it will sit in a slot at bottom of the screen waiting to be hatched. Once it's ready, give it a tap, and you'll discover the kawaii food that was hiding inside. In true HyperBeard style, all 144 foods you'll collect have pun-ny names and descriptions.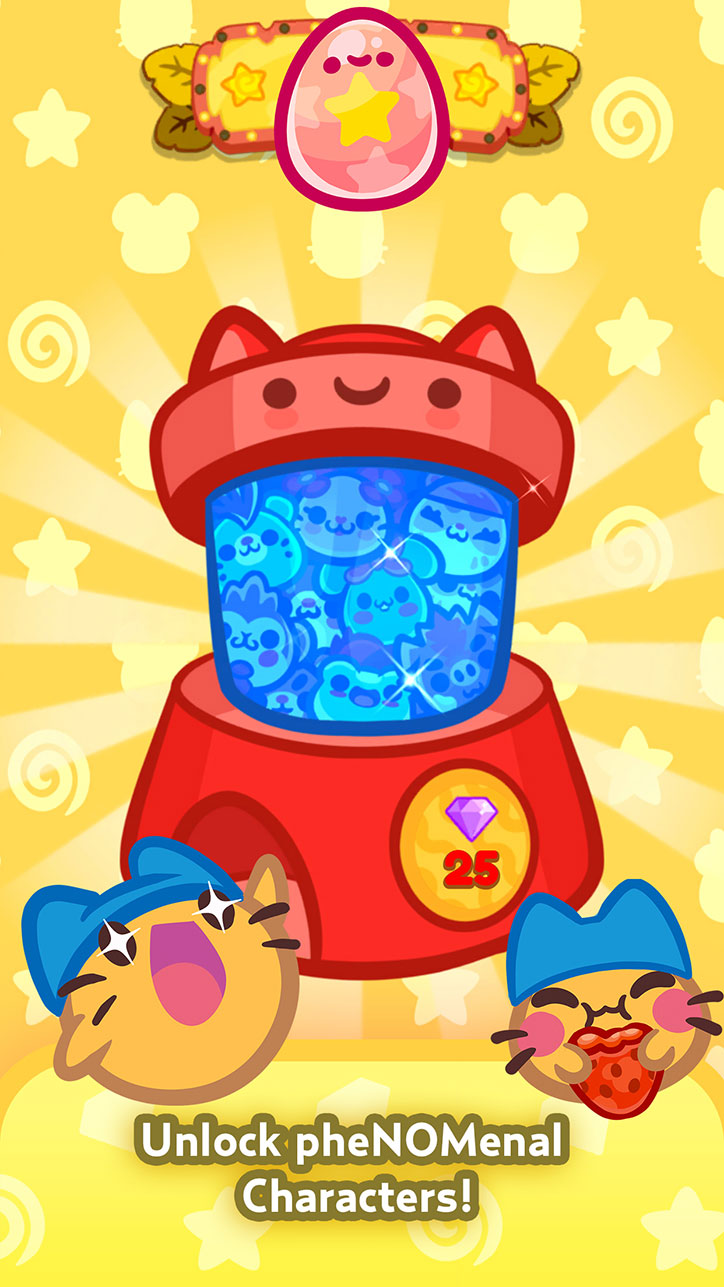 Meowza, the default NomNoms character, is pretty cute – but they have lots of friends, too! For 25 crystals, you can use the toy machine to unlock a new friend that you can use in-game. Our favorite to play with is Cangry the crab.
New Worlds to Discover: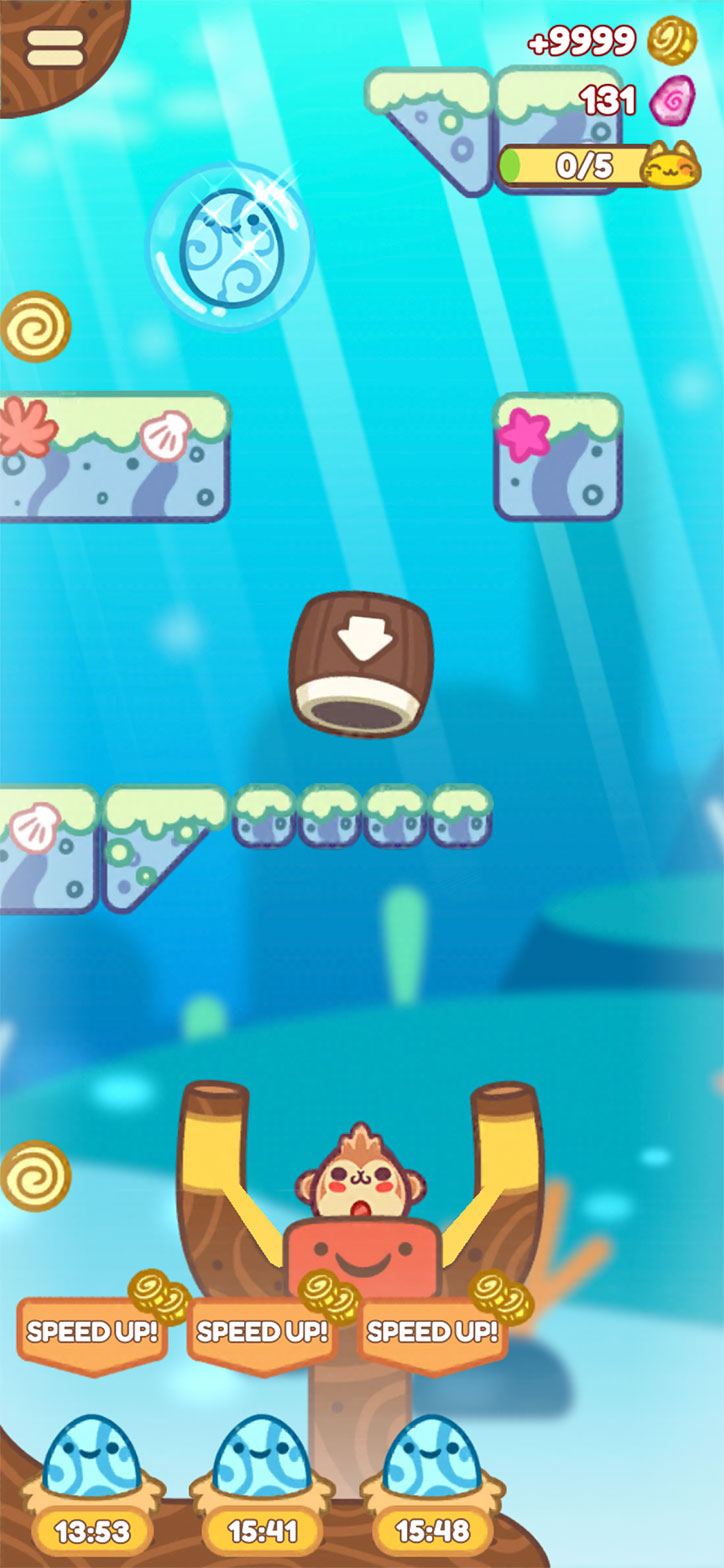 Right now, there are two worlds you can play through. The starter world is filled with grassy locales, colorful forests, and beachy areas. For 100 crystals, players can unlock the Deep Ocean worlds, with aquatic underwater settings, two more Noms to unlock, and 36 new foods to find.
Sometimes the egg will be in a pretty obvious spot, other times you'll have to use the slingshot to shoot yourself into a hidden part of the level to find it.
If you think the graphics are cute in this game, be sure to turn your sound on! The music and utterly adorable sound effects really bring the whole experience to life! It's clear how much heart went into creating NomNoms, the game oozes charm from start to finish.
Our Thoughts: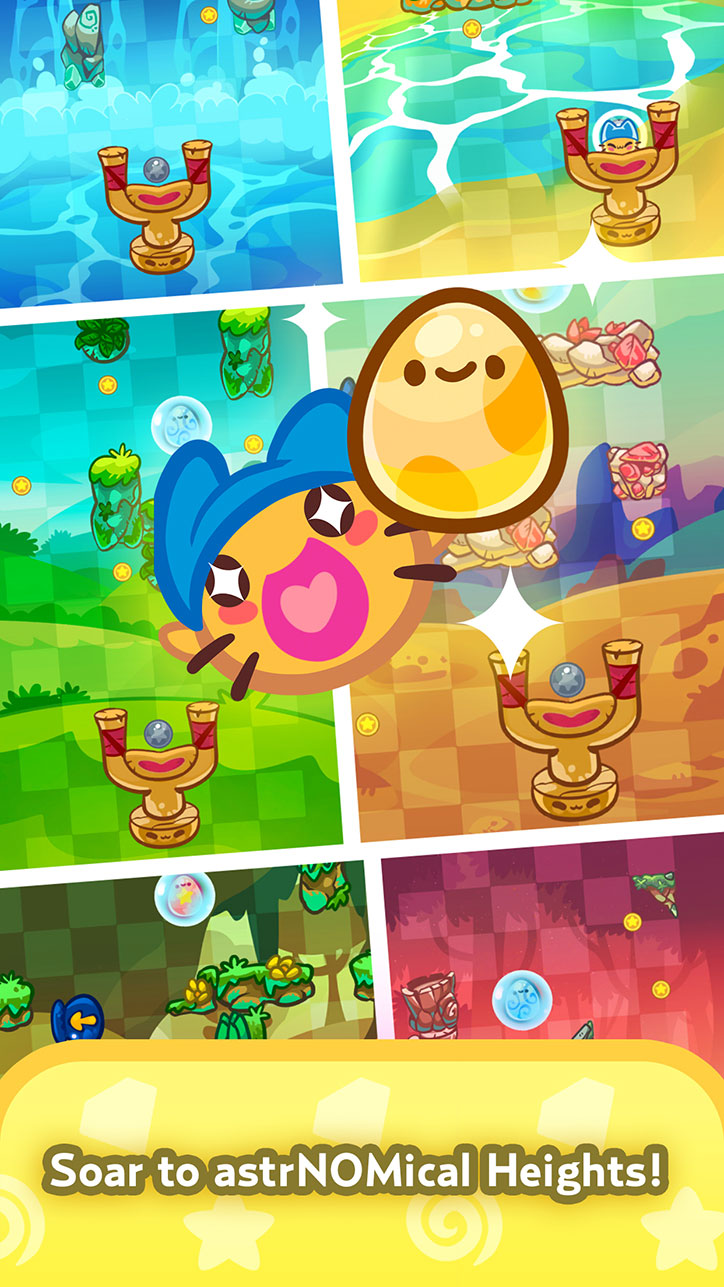 All in all, we loved it! It's a simple game to learn and a great way to relax after a hard day. We think it's a great choice for anyone who loves cute, simple games like we do. Most of the levels are pretty easy to breeze through, but some of them will definitely stump you!
Plus, there are so many different levels to play, you'll get hours of fun out of NomNoms! We're already clamoring for updates! Ready to play? NomNoms is now available for FREE on iOS and Android.
In need of more cute games to play? We recommend BunnyBuns and Axolochi, two of HyperBeard's other recent titles.