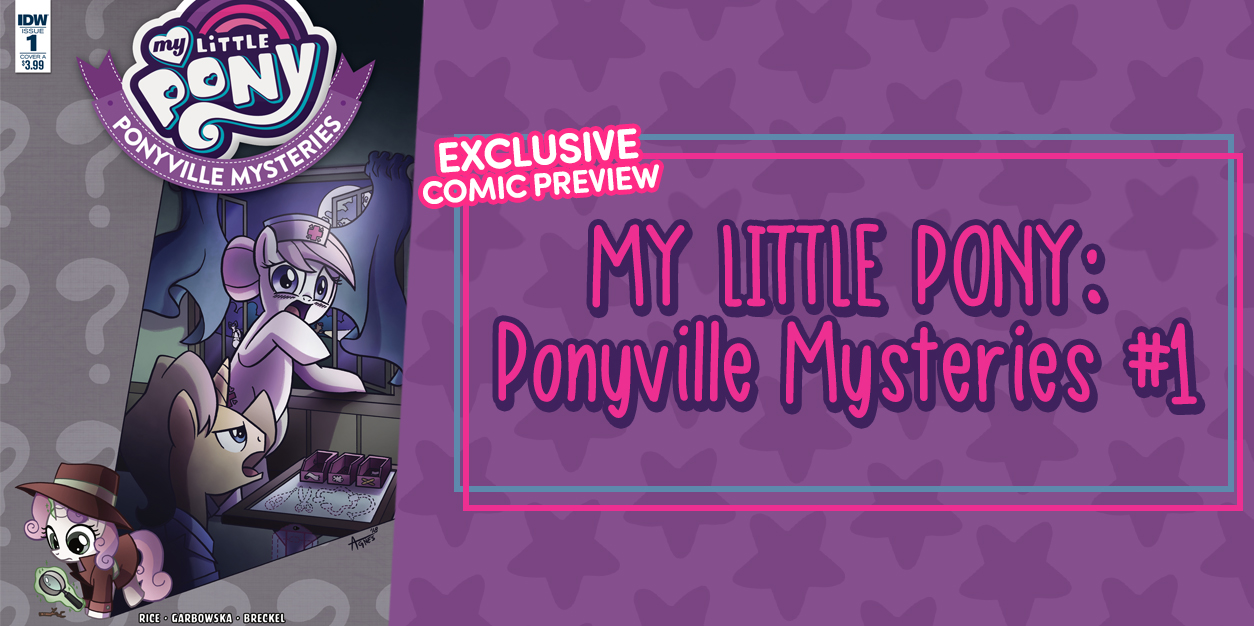 EXCLUSIVE Preview: My Little Pony: Ponyville Mysteries #1
Cutie Mark Crusaders Apple Bloom, Sweetie Belle, and Scootaloo are back in yet another exciting adventure! My Little Pony: Ponyville Mysteries is a brand new comic series from IDW Publishing that follows the Cutie Mark Crusaders on lots of mystery-solving adventures. The first issue hits comic shops on May 30th, and we're so excited to EXCLUSIVELY preview the issue for our YAYOMG! readers.
In My Little Pony: Ponyville Mysteries #1, Sweetie Belle, Apple Bloom, and Scootaloo are volunteering in a hospital and have put their mystery solving days behind them, or so they thought! When supplies start to go missing from Ponyville Hospital, they're quick to jump on the case – and to conclusions! When they wrongly accuse a suspect who has been loyal to the hospital for years and cost him his job, they'll have to work together to figure out how to solve the case and get their pony friends their jobs back. It's a great kick-off to a new series, and we're super excited to see all the crime-solving, detective action the Crusaders take on in future issues. If you're a Friendship is Magic fan, you'll love the special appearance from Fluttershy!
EXCLUSIVE PREVIEW My Little Pony: Ponyville Mysteries #1:
Just like the other My Little Pony comics, Ponyville Mysteries brings the cuteness, the laughs, and lots of adorable artwork. It's a ton of fun to read and attempt to solve the mysteries alongside your favorite ponies.
Writer Christina Rice captures all the silliness, fun, and friendship you're looking for in a My Little Pony story, and we think it's a really great pick for someone just starting to read comics for the first time. Sometimes getting started reading comics can be intimidating or you might not know where to start, but series like My Little Pony: Ponyville Mysteries are a great way to draw in both new readers and hardcore fans looking to see their favorite pony characters on all new adventures.
My Little Pony: Ponyville Mysteries #1
FC • 32 pages • $3.99
Publisher: IDW
Writer: Christina Rice
Artist: Agnes Garbowska
SYNOPSIS: Welcome to a new series of mystery and intrigue! The Cutie Mark Crusaders discover their inner detectives and solve crimes nopony else can! Will they be able to discover who is stealing supplies from Ponyville hospital and get their schoolwork done at the same time?
Bullet points:
A brand-new miniseries full of mystery and adventure!
A sister series to the popular "My Little Pony: Ponyville Mysteries" prose books!
Covers include Agnes Garbowska (a), Philip Murphy (b), Andy Price (ri-a), Brenda Hickey (ri-b)
We can't get enough of all the incredible art and colors, both throughout the panels of the issue as well as all the fun variant covers. My Little Pony comics always seem to draw in such impressive and talented creative teams who love the source material and do an excellent job of making comics feel just as alive as their animated counterparts.
Loving My Little Pony: Ponyville Mysteries? We think you'll love the My Little Pony: Legends of Magic series, which tells the tales of some of the most legendary ponies in Equestria history!