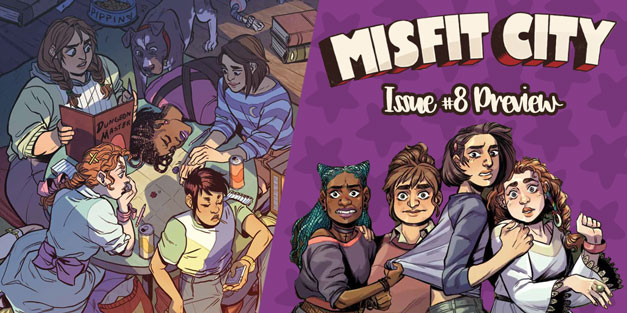 Misfit City #8: Finding Treasure, Uncovering Secrets, and Saying Goodbye
When you love a comic so much that it hurts to say goodbye, it may feel sad, but it's honestly a really good thing. It means your connection to the characters and the story was so special that it's hard for you to let go. It means that the writers, illustrators, and the entire team behind the comic went above and beyond to deliver you an amazing read. That's how we feel about Misfit City #8.
It's bittersweet. We're so happy our girls are finally getting some answers, but we're super sad that we won't get to go on any more monthly adventures with Wilder, Dot, Macy, and Karma. Don't even get us started on saying farewell to Pippin. What? Don't act like you've never been emotionally attached to a fictional animal before.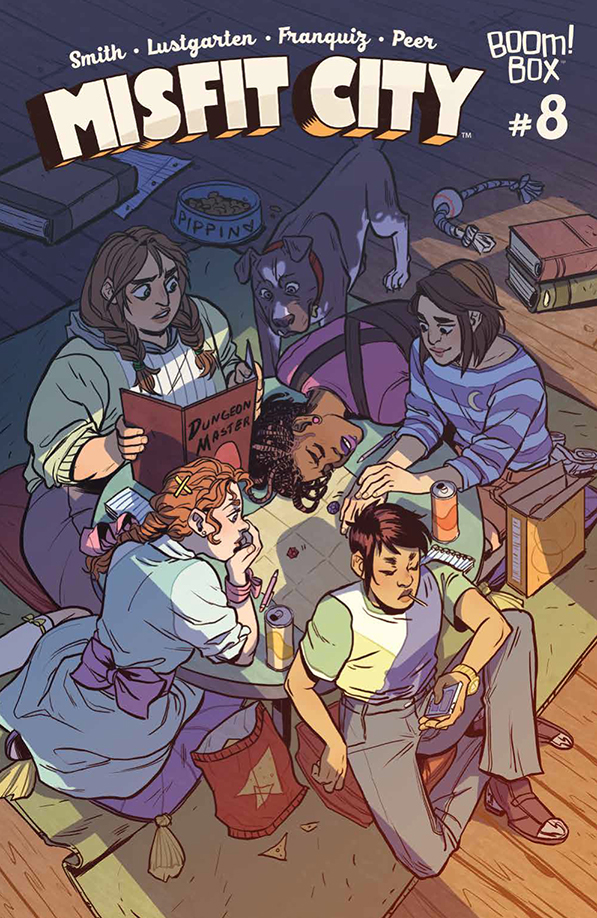 The good news? We can re-read these eight delightful, girl-power packed issues any time we want and BOOM! Studios actually released a paperback volume that collects the first four issues this week, with a second on the way in 2018. Plus, Misfit City #8 doesn't even hit shelves until next week, so those of you who haven't been blessed with flipping through final pages yet still have something to look forward to. We suggest a full series re-read and a fist full of holiday cookies over winter break.
Until you're able to get your hands on a copy on December 27th, enjoy the preview below.
PREVIEW – Misfit City #8:
Even in Misfit City's final moments, it keeps the reader on the edge of their seat. Will the girls reach the island before the Denbys? Can Wilder's mom be un-cursed? Is the treasure even real? Will Pippin do something extraordinarily adorable and helpful? (SPOILER: Yes!)
We'll let you guys read this one for yourselves, but we do have something special for you instead of our typical review.
What We'll Miss Most About the Misfit City Squad: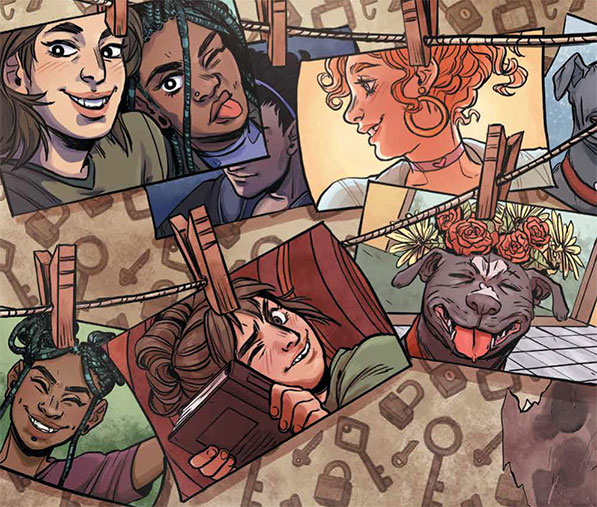 WILDER:
Her drive, inspiring activism, and never-give-up-even-if-she-doubts-herself-and-stuff-gets-dangerous attitude.
DOT:
Her love of reading, the seemingly endless pool of knowledge crammed inside her brain, and her spot-on delivery of hilarious facial expressions.
MACY:
She's effortlessly cool, yet still insecure. She'll never let a crush come between friends. Oh and her musical prowess.
KARMA:
Her impeccable sense of style, her tarot reading skills, and her ever-optimistic view of the world.
PIPPIN:
Literally everything, but mostly the time she wore a Halloween costume. And the time she won at poker.
Misfit City #8
Publisher: BOOM! Box, an imprint of BOOM! Studios
Writers: Kiwi Smith and Kurt Lustgarten
Artist: Naomi Franquiz
Cover Artist: Naomi Franquiz
Price: $3.99
Synopsis: Final Issue! The girls are mere steps away from discovering the truth about Black Mary, but there's more going on than they realize…
Looking for a new series to love now that Misfit City is coming to an end? Browse through some of our favs here.