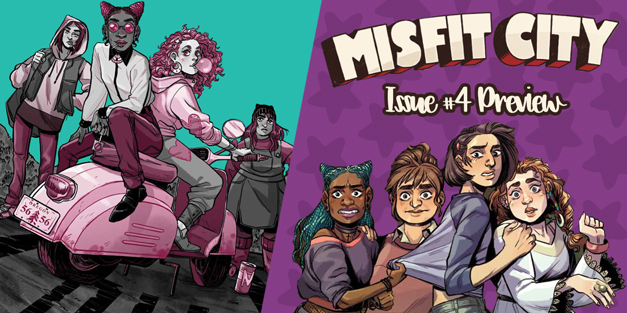 Misfit City #4: Shuck Fest, Totem Poles, and Friendship Tension
Holy Goldie Vance! Misfit City #4 hits comic shops this week, and things are well, INTENSE. When we last left Wilder, Karma, Dot, and Macy, things got a little crazy. Dot was possessed by the spirit of Black Mary during a seance and this issue picks up right in the midst of all that intensity. Thankfully our girl Dot is okay, but the mishap leaves our favorite friend group with a bit of tension between them. The girls part ways to get ready for the annual Cannon Cove Shuck Fest, but they each begin to uncover some important information that leads them back together. Tons of important progress is made towards discovering the treasure, but that doesn't mean things will be easy for our girls. The Denby twins are getting closer and closer and time is not on their side.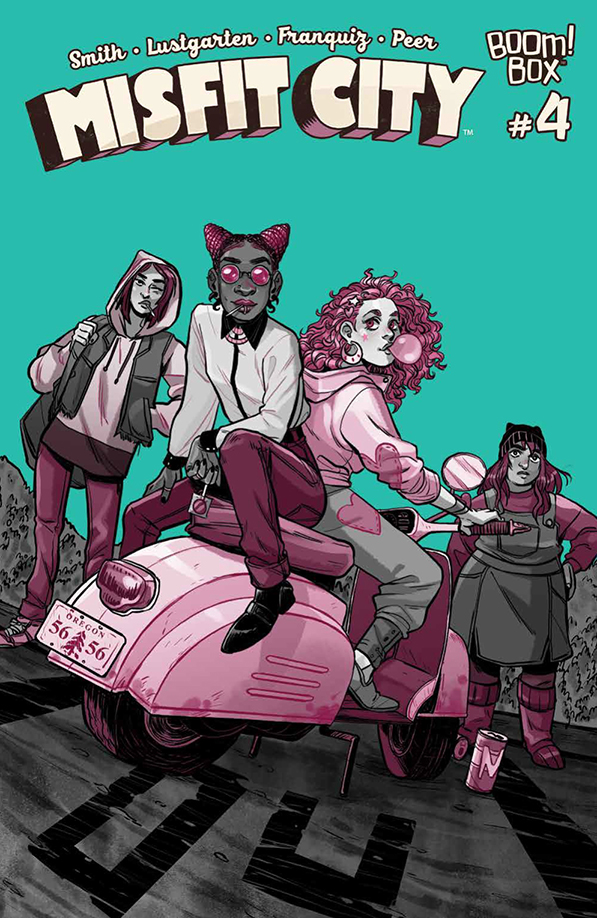 You'll have to read it for yourself to get the whole story and see how the adventure heats up, but we've got a preview for you right here. Can we just all take a moment to swoon over the cover for this issue? High fives all around for Naomi Franquiz! Check out a few pages of the issue below, courtesy of our buds at BOOM! Studios.
PREVIEW: Misfit City #4:
As always,
Misfit City
manages to trigger our imaginations, and this issue is no exception. Reading this comic always feels more like it's playing out as a cartoon or adventure movie rather than just still panels on a page. We really wanted to shine a light on
Brittany Peer's
amazing color work on this series, but especially this issue in particular. She captures the the gloomy vibes and tension really amazingly in this issue, it hits in all the right ways. There's a few panels where a storm rolls in and you can just
feel
the wind blowing and chill in the air as you read. Plus, there's a
Goldie Vance
reference in this issue, which had us totally fangirling.
We can't wait to see what Macy, Karma, Dot, and Wilder get into next time! You can get your hands on a copy of Misfit City #4 in comic shops on August 16th!
Misfit City #4
Publisher: BOOM! Box, an imprint of BOOM! Studios
Writers: Kiwi Smith and Kurt Lustgarten
Artist: Naomi Franquiz
Cover Artist: Naomi Franquiz
Price: $3.99
Synopsis: Wilder and Macy are fighting, but the creepy Denbys are on their trail and time is running out to solve the mystery of Black Mary!
Need more comics to pick up when you hit the comic shop this week? We're loving Hyper Force Neo, an awesome high-energy graphic novel featuring retro arcades, pizza, and ordinary teens turned robo-heroes! On the fence? Check out the Creator Commentary that writer/illustrator Jarrett Williams shared with YAYOMG!