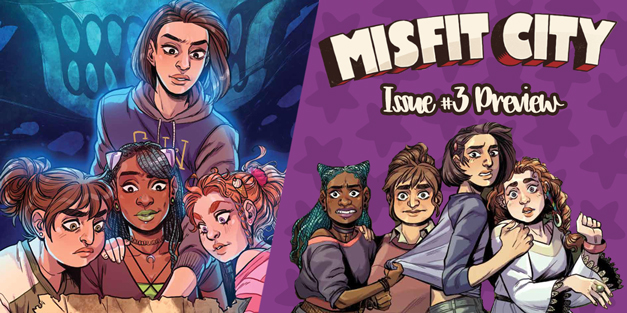 Misfit City #3 – Séances, Close Calls, and Crushes
The ladies of Misfit City are back and the stakes are higher than ever! The Denby Siblings are hot on their tail, the police are piecing things together, and the treasure hunt has taken a turn for the dangerous. (And is starting to lurk in crime territory.)
The story continues in this issue pretty much where it left off in the last. The girls are safe, thanks to Macy's brother swinging by to pick them up, and they're chatting about what happened. They're also bringing up Wilder's crushes – awkward! Macy is feeling a little wary after all that's happened and is reconsidering the whole treasure hunting thing. She's got a show at Shuck Fest to prepare for and really just wants to focus on her music and be done with all the drama.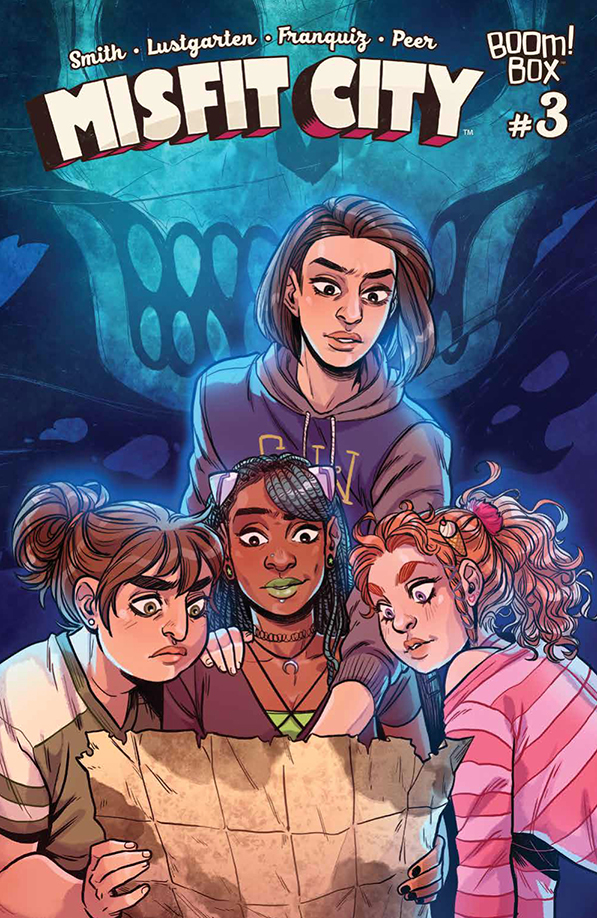 Of course, Wilder makes a big discovery, causing the girls to head out and hunt once more. Karma suggests a séance which totally seems to work – a little TOO well. The end of the issue is a total cliffhanger that'll have you wishing you could trade in an entire month of your Summer vacation to fast forward to August and pick up Issue #4.
Misfit City never fails manages to bring the excitement, adventure, and keep readers on the edge of their seats. More importantly, there's a LOT of booty jokes. SO many booty jokes. And a Harry Styles reference. And Pippin rides in a bike basket. Oh and the cover is totally gorgeous. Do we even need to spend time trying to convince you guys to read this series at this point? The book really just sells itself, so onto the preview pages, courtesy of our buds at BOOM! Studios.
PREVIEW – Misfit City #3:
Ahh, nothing like a group of friends crammed into the backseat of a car trying to cover for what they've been up to. Awkward. Plus, things just get more intense from there! Misfit City #3 hits comic shops on July 12th. Want to know the thought process behind writing and illustrating a comic? Creators Kiwi Smith, Kurt Lustgarten, and Naomi Franquiz shared some Creator Commentary with us for Issue #1!
Misfit City #3
Publisher: BOOM! Box, an imprint of BOOM! Studios
Writer: Kiwi Smith and Kurt Lustgarten
Artist: Naomi Franquiz
Cover Artist: Naomi Franquiz
Price: $3.99
Synopsis: The friends are only a few steps away from uncovering treasure and long-buried secrets, but if they can't keep it together Wilder might just be left without her team.
We thought we had friend group envy while reading Coady and the Creepies, but Karma, Wilder, Dot, and Macy are just like the cutest friends ever. We want to be a part of the squad and go treasure hunting and borrow everything from their closets and get into near-death situations with them. Their friendship always just feels so REAL. Plus, we really want to pet Pippin, obviously.
For more awesome comics to pick up on your next trip to the comic shop, click here!