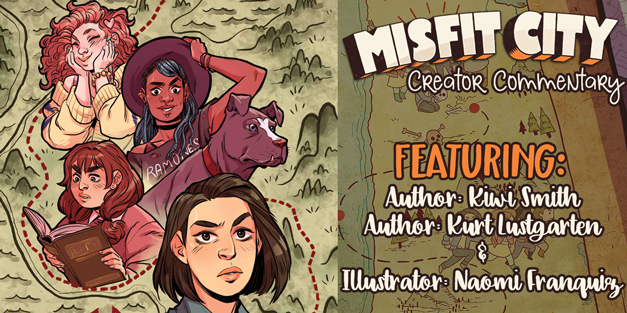 Creator Commentary: Kiwi Smith, Kurt Lustgarten, and Naomi Franquiz Talk Misfit City #1
For those of you not in the know, Misfit City is a fantastic new comic series from BOOM! Box, an imprint of BOOM! Studios.
Misfit City is all about small town life, adventure, friendship, and lots of lady power. It's been compared to the fun of The Goonies with the vibe of Gravity Falls. If you ask us, that's maybe the greatest compliment of all time and one of many reasons to adore this new series.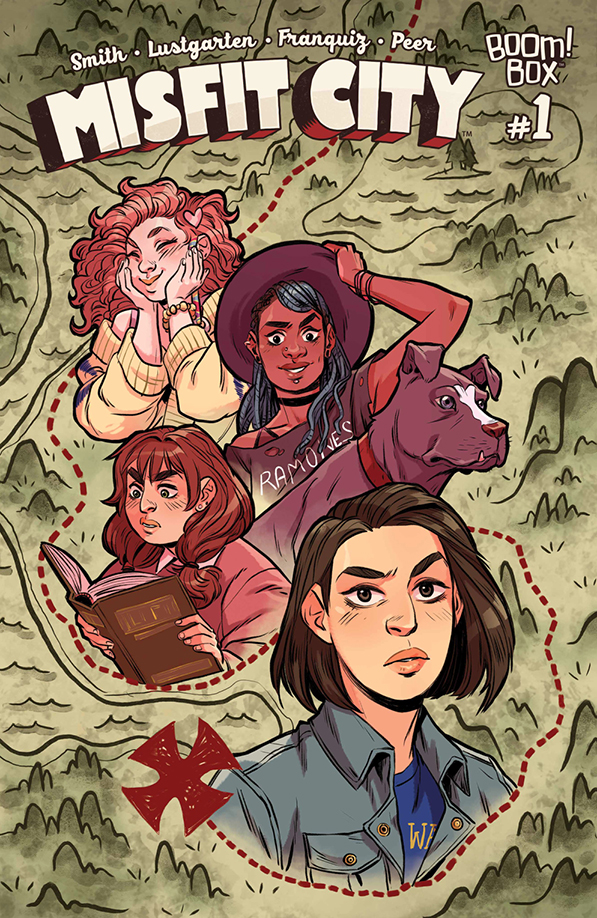 Wilder, Dot, Macy, and Karma are four friends living in a small town where nothing ever happens. Well, except that The Gloomies, a beloved kids' adventure movie was shot there back in the 80's and it's always overrun with tourists. When the girls stumble upon a centuries-old pirate map drawn by someone named Black Mary they decide to head out and see where it leads. There might just be a real treasure hidden somewhere in this tiny Pacific Northwest town afterall!
It'll have you craving a thrilling adventure with your besties over summer vacation for sure. You'll also want to steal all their outfits because they look rad as heck panel after panel. Every single cover for this first issue is pure magic, drawing you in like "Hey, look at these rad girls. What are they up to? I want to hang out with them – wait is that a treasure map?!" We live for unique stories and interesting characters that make you feel like you're part of the gang while you read it, and that's exactly Misfit City.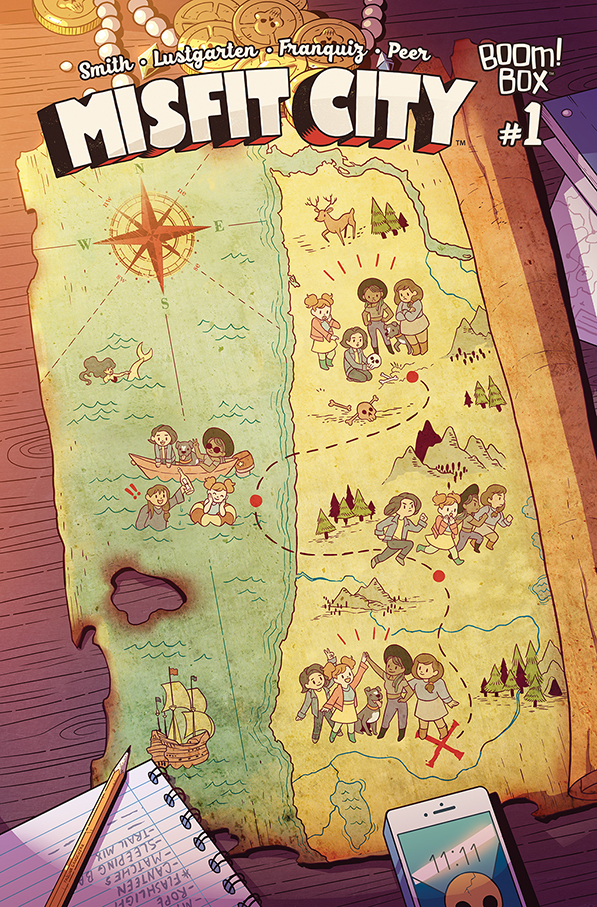 We're SO excited (and totally fangirling) to bring you guys an exclusive peek into the first issue, complete with commentary from the series creators Kiwi Smith, Kurt Lustgarten, and Naomi Franquiz. They've shared their creative account of working on the story, explaining their thought process while bringing this issue to life.
If you've ever watched a movie with the cast commentary turned on or a behind the scenes video about how your favorite show was made, it's like that – but for comics! Check out the creator commentary for pages 8-13 of Misfit City #1 below.
Misfit City #1 – Creator Commentary from Kiwi Smith, Kurt Lustgarten, and Naomi Franquiz:

KIWI SMITH & KURT LUSTGARTEN (Writers):
In this sequence from Misfit City #1, the girls discover the secret treasure map that will launch them on their adventure. We also meet the villainous Denby siblings who will be dogging their steps the whole way. The sequence begins with Millicent and Luther Denby ranting about their inheritance, and this was one of those signature moments where [artist] Naomi [Franquiz's] character designs once again blew us away. In the script we tried to keep our character descriptions focused more on attitude, letting Naomi find the physical features to match. She didn't disappoint.

The final panel on this page is one of our favorites from the entire issue. The icy look that Millicent cuts the attorney's way is heightened by a sort of subtle lens flare, as if a set of high beams just swung across your sight line. As far as character intros go, this panel tells you everything you need to know about Millicent in a single frame.
NAOMI FRANQUIZ (Illustrator):
This first issue was all about introductions and character exploration, especially on this page introducing the antagonists in the series. With that in mind, I definitely wanted a back-and-forth to make it feel more like a conversation to really establish their personalities. It's my favorite page, though—Brittany Peer's colors and lighting are so amazing, and the Denby siblings look like a couple of spindly, disgruntled ravens. That poor mousy lawyer, though—he deserves nicer clients.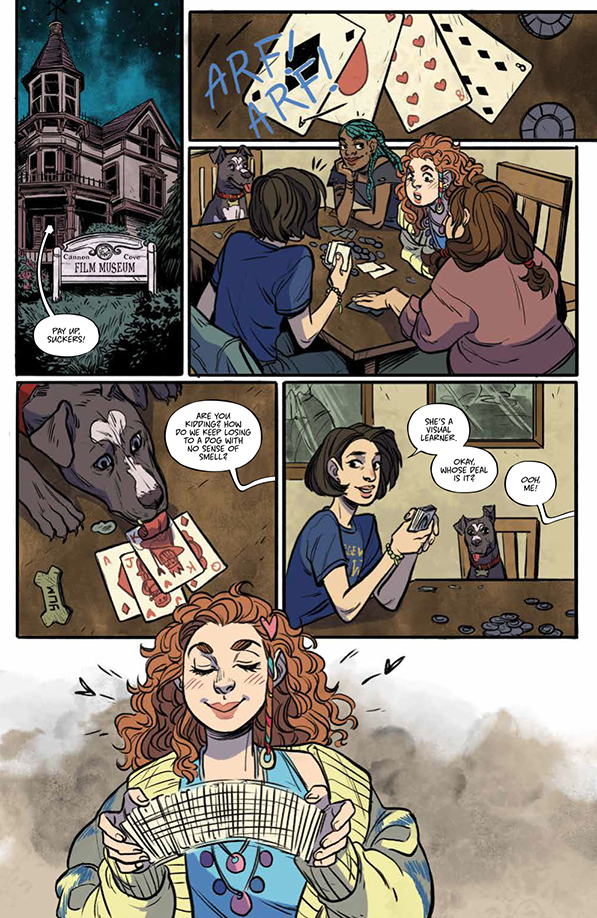 KIWI/KURT:
Poker night is our first chance to see all the girls together, and especially to see just how shrewd a player Pippin is. We didn't initially plan on Pippin being a card sharp, or even being in the game, but as we were writing it just felt like a natural way to spice up a scene that is essentially a portrait of small town ennui.
Additionally, constantly losing to a card-playing dog gave us some subtle undergirding for Macy's irritation later when the girls break away from the game. Macy can't walk away from the table after a dog just took all her money! Another surprise/set-up here is Karma's facility with the cards. It might seem to come out of left-field that she's an ace card manipulator, but in subsequent issues you'll learn that she does tarot readings and such at her parents' new-age book/crystal shop in town. Hence, she's a pro. Naomi highlights that beat beautifully by letting Karma float at the bottom of the page, free of any borders, which is essentially how Karma moves through life.
NAOMI:
In hindsight, I should've drawn the girls playing poker using snacks as chips. Real poker is played with Ritz crackers, obviously. Admittedly it was a bit awkward drawing the conversation with them all at the table without making it look too much like the table-spinning basement chats in "That '70s Show."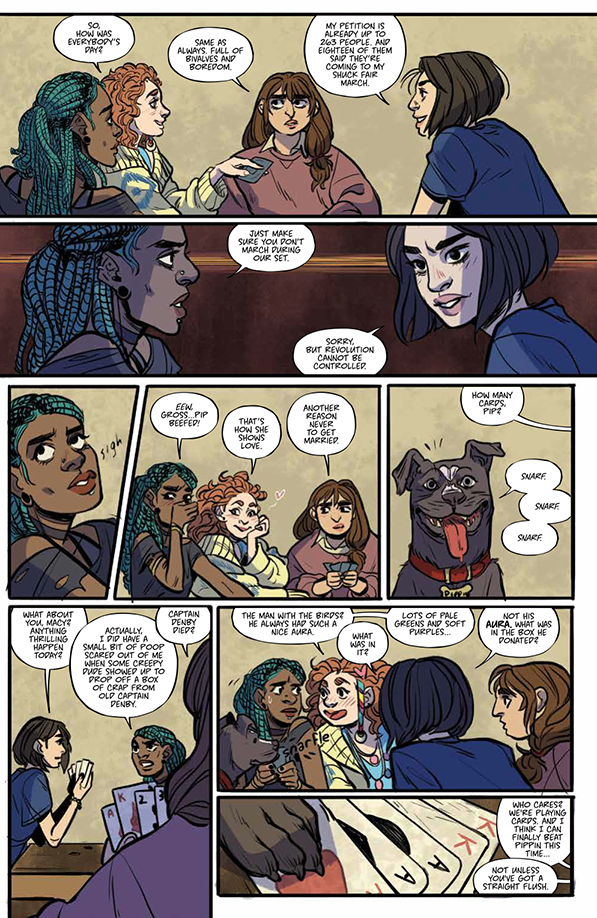 KIWI/KURT:
Being a first issue, we realized we'd have to lay a lot of groundwork introducing the world, the characters, and especially their dynamics. This is a tight group of friends but there are natural conflicts among them that can and will often be used for dramatic effect. You can particularly sense the conflict between Wilder and Macy here because of Naomi's progression in the first two panels. The top panel is full tier and shows the whole group having a conversation we can imagine they've had a hundred times before. Next, Naomi stays in that same full tier size, but we've zoomed in on a point of friction between Wilder and Macy, underscoring some of the conflicts to come.

NAOMI:
There are a lot of ways to handle pages that are all dialogue and little action, but my favorite way is focusing on character expressions and reactions. Even if there are characters in the panel that aren't speaking, it's a fun way to show a bit of personality from the cast and keep it reactive.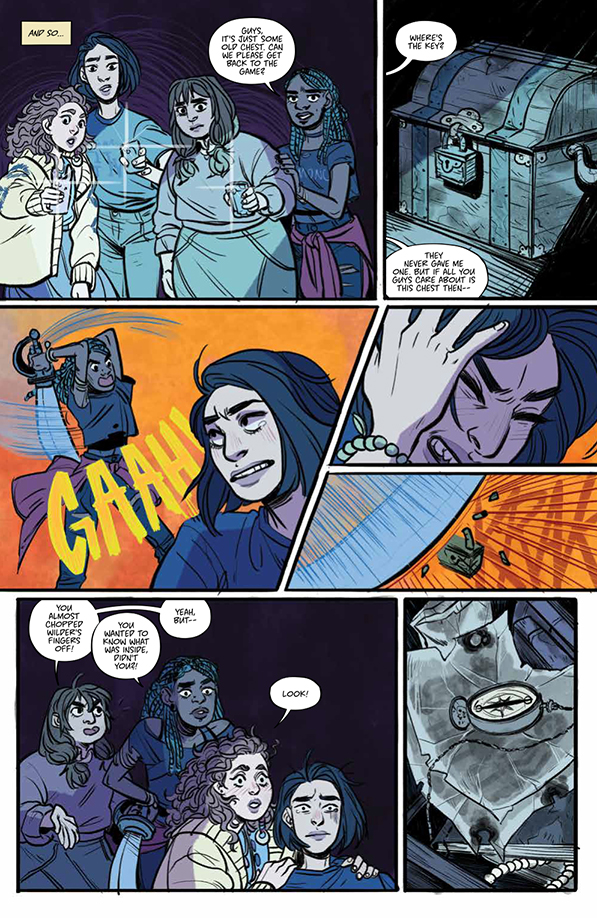 KIWI/KURT:
Naomi really captures the feel of a classic '80s kids adventure movie with the very first panel. Here, too, we see Macy's annoyance with this side quest start creeping in, setting her up to be the counterpoint to Wilder's call to adventure. The color work by Brittany Peer on this page is absolutely wonderful.
NAOMI:
My favorite thing about this page is that stripe of high-energy orange in the middle panels. It takes the scene from zero to a hundred really fast for a quick beat of a moment, which fits the jolt Wilder got from that scare. I went through about 50 different expressions for Wilder and Karma in the sixth panel.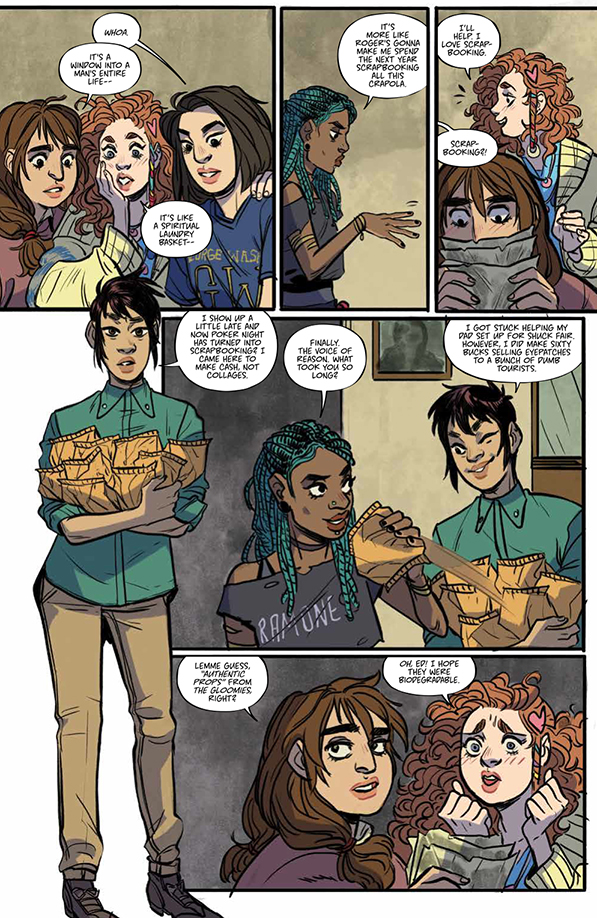 KIWI/KURT:
Here we get to meet Ed, the hustler of the bunch. She might technically be the "fifth wheel" of the group, but she's also devastatingly cool—kind of like Ryan Lambert's character Rudy in "The Monster Squad." Naomi made a great choice giving Ed a strong, full frame intro that shows her as both a large presence but also in her own space, separate from the rest of the girls. In the script, we specified that Ed enters with a few bags of chips but Naomi turned that into a bunch of small bags instead —which speaks directly to character. Ed hails from a wealthy family and even though she could have easily gone out and bought a few big bags, we can imagine she just scooped these up while helping her dad set up for Shuck Fair. It's subtle, but it speaks to the fact that Ed loves the grift and this is one of those nice surprises a creative artist brings to the story.
The color work on this page combined with specific character pairings in each panel does a great job of reinforcing certain internal allegiances. For instance, Macy and Ed share a similar worldview, and they also share a panel and color scheme.
NAOMI:
Kiwi and Kurt give me WAY too much credit on this page, haha. I totally misread the script and didn't stop to think that maybe Ed got a couple of party-sized bags of Lays for poker night. Plus, the image of Ed shaking snacks out of a vending machine or sniping them from a snack table somewhere was just hilarious to me. She's not being cheap—she's being frugal. There's totally a difference. She and Macy are totally the realists and skeptics of the crew, though, so I do find myself drawing them as sort of reflections of each other throughout the series.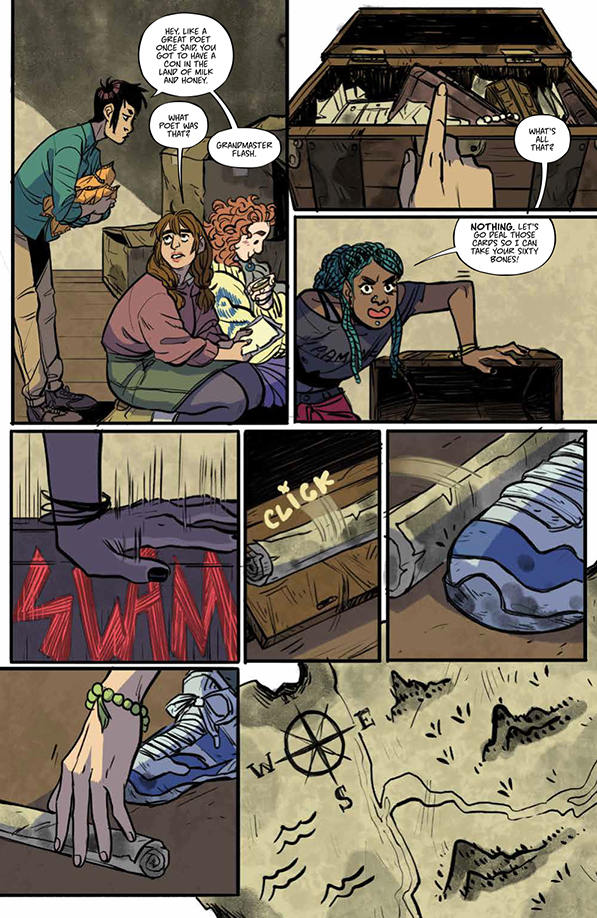 KIWI/KURT:
Some Grandmaster Flash lyrics further Ed's point of view, but the focus of this page was revealing the map via a secret compartment. This was one of those moments in the script where we were wondering how to pull off this beat and again, Naomi found a way. There's no dialogue in the lower half of the page, just a smooth rendering of action broken into perfect little bits to serve up the map that sets our heroes' quest in motion.
NAOMI:
Ed quotes Grandmaster Flash. Be still, my heart. I feel like she'd appreciate Rick Ross, too—every day she's hustlin', after all. This was another awkward page for me, though. I went through a lot of different thumbnails trying to figure out the best way to get the quick beats of this bit, with the secret compartment opening. It works, but as usual I'm still criticizing myself. I could draw Wilder's dirty sneakers all day, though.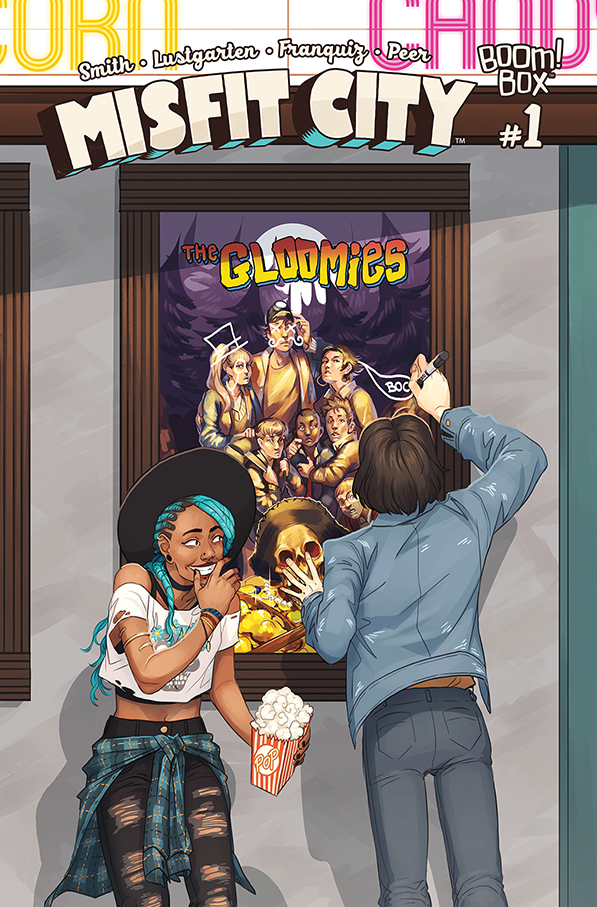 Wasn't that completely amazing? Now that you're officially obsessed with Misfit City, be sure to pick up the issue at your favorite comic store to find out what happens next. The story continues to unfold in June when Issue #2 releases, and we'll be sure to share some preview pages.
Endless thanks to BOOM! Studios for setting this all up and to Kiwi, Kurt, and Naomi for taking the time to share the inner-workings of your exceptionally creative minds with our readers and Misfit City fans everywhere.
For more insight into the comic universe, don't miss our interview with Sam Sykes and Selina Espiritu, creators of Brave Chef Brianna!