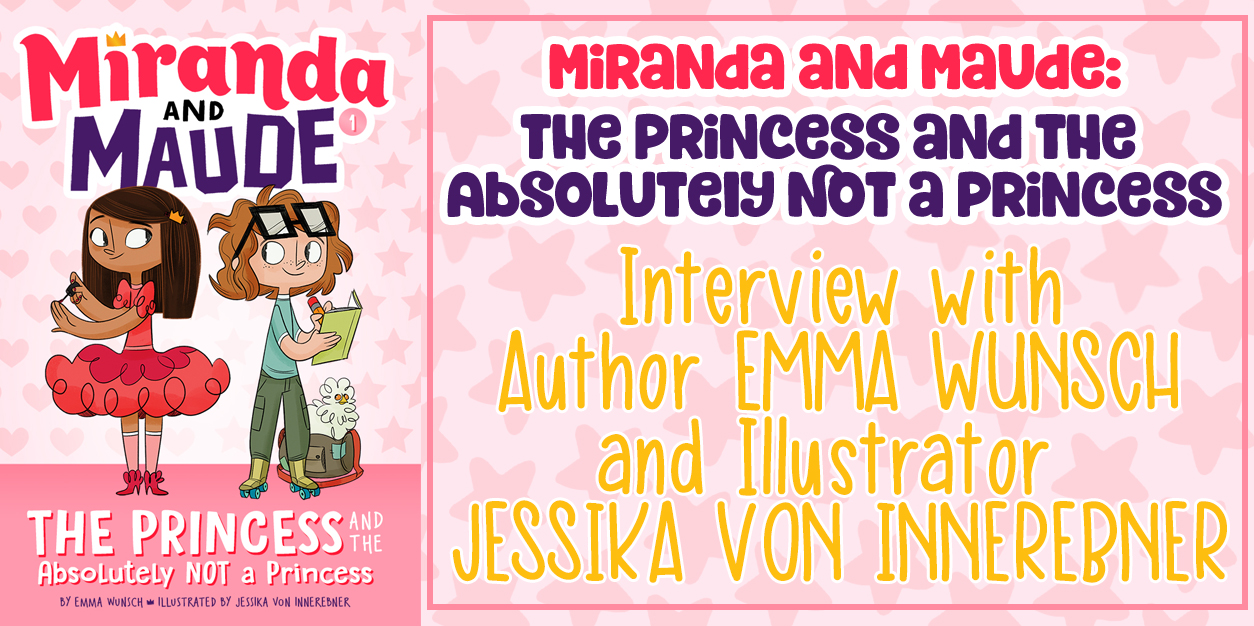 Miranda and Maude: Interview with Author Emma Wunsch and Illustrator Jessika Von Innerebner
Miranda and Maude couldn't be more different. Miranda is a princess who has always been homeschooled and loves to spend her days around the castle performing her royal duties. Maude enjoys caring for animals and always fights to make sure that everything is fair for everyone. When Princess Miranda arrives at her first day of school, she feels completely out of place and wishes she was anywhere else. The principal is too loud, there are SO many rules, and it seems like everyone is whispering about her.
Maude tries her best to include Miranda by offering her some of her hard-boiled egg sandwich and a handkerchief after she sneezes, but Miranda thinks Maude is kind of strange and declines her offers. After Miranda ends up inviting everyone in the class to her royal birthday party except Maude, Maude starts a birthday boycott that changes everything!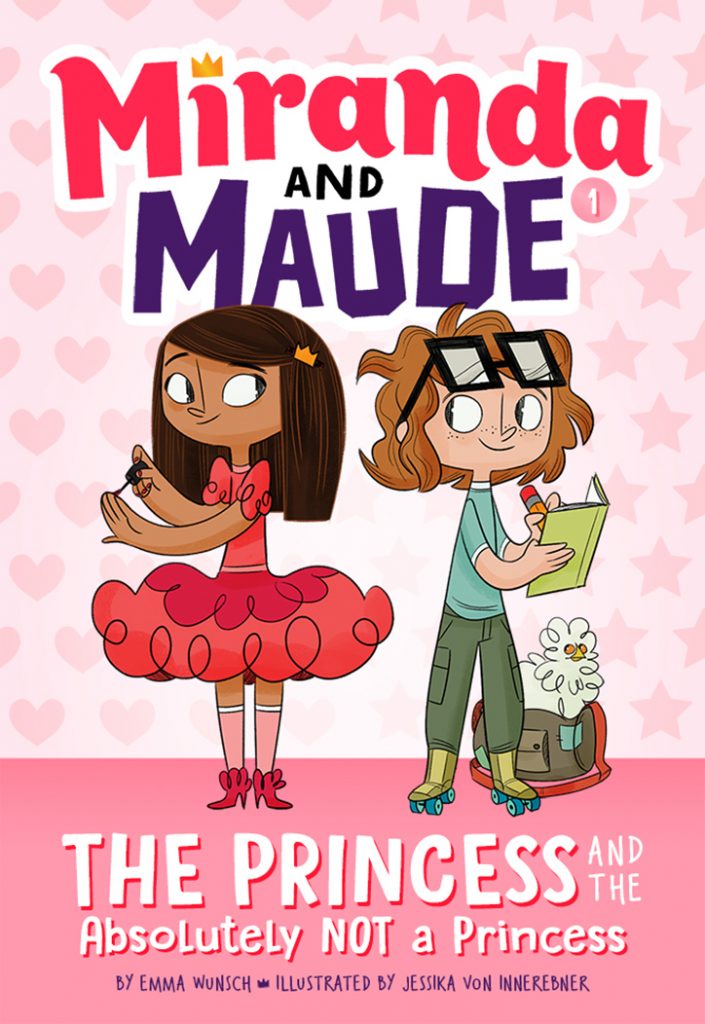 SYNOPSIS:
A princess and a revolutionary form an unexpected friendship in this charming illustrated chapter-book series, perfect for fans of Judy Moody and Clementine!
Princess Miranda does not want to go to school. She wants to shoe shop, plan parties, and decorate the castle.
Maude cannot wait for school. She loves rules and social justice and getting good grades. She also loves hard-boiled eggs, much to Miranda's dismay.
When a tense first week of school results in Maude getting excluded from the Royal Birthday Party, Maude decides she's found her first fight for social justice: a birthday boycott.
Miranda and Maude reminds us all never to judge someone we don't know, just because they are different than us. Everyone has their own situations and stories that make them who they are, so instead of judging people right off the bat, we should put in the effort to get to know them and learn those stories. We absolutely loved this book, it is super funny, extremely sweet, and left us so excited for the next books in the series. We can't wait to see what Miranda and Maude get up to next!

Rather than a typical interview where we ask the questions, we thought it might be fun to have author Emma Wunsch and illustrator Jessika Von Innerebner interview EACH OTHER! They worked together on bringing Miranda, Maude, and all of their adventures to life, so who better to interview them than each other? Find out what they have to say about working on the first book in the Miranda and Maude series and their opinions on hard boiled eggs below!
Miranda and Maude: The Princess and the Absolutely NOT a Princess – Interview with Emma Wunsch and Jessika Von Innerebner:

EMMA WUNSCH: Hi, Jess! My first question is what tools do you use to illustrate?
JESSIKA VON INNEREBNER: Hi, Emma! I paint and draw using Photoshop and a Cintiq tablet. It's like drawing on paper, but I draw on a screen and have hundreds of brushes and colors at my fingertips. It's small and portable so I can travel the world and create while on the road!
EMMA: Can you describe the process of one of the illustrations in Miranda and Maude?
JESS: Sure! First, I read the whole story so I know what's going on; then I look at the "call out" for each illustration. This is a description of what you (or the Abrams art team) want me to draw. Let's say you ask for a dancing chicken. My imagination kicks in and I sketch out that chicken. Then send it back to see if you have any suggestions. From there I move to final art and repeat the process with all the other illustrations in the book.
EMMA: I know you'd draw a great dancing chicken, but what's something that's challenging for you to draw/illustrate?
JESS: Oh man, I find bicycles hard to draw. A horse riding a bicycle is even harder!

EMMA: I apologize if I put a bike riding horse in the next Miranda and Maude. ? Who/what are the authors/illustrators/books you liked as a kid?
JESS: I absolutely loved Bill Pete books as a kid, his stories and illustrations captivated me! But one book that stood out above all books was Cloudy with a Chance of Meatballs. The idea of food raining from the sky blew my mind!
EMMA: My last question is my most important! On a scale of 1 to 10 (with 1 being a Miranda and 10 being a Maude) where do you fall on the hardboiled egg scale?
JESS: I skew more towards Maude at a 7. A good hardboiled egg with avocado on toast is quite delicious! And now I have some questions for you!
EMMA: I'm ready! Ask away, my friend!
JESS: Where did your idea for this series start?
EMMA: I got the idea when I was trying to get my then three-year-old to brush her teeth. Since she loved the Disney princesses, but didn't love brushing her teeth, I made up a story about a princess named Miranda Rose who loved pink and lived in an enormous castle. To my amazement, while listening to my story, my daughter not only brushed her teeth, she got into bed! I told Princess Miranda stories for about a week, but I discovered that even stories that are just a way to get a child to brush her teeth need plot. So, one night, instead of a princess story, I told my daughter about a girl named Maude who lived close to Miranda's castle. But unlike Miranda, Maude hated pink and really liked. . . hard boiled eggs. After years of telling my two daughters Miranda and Maude stories, I decided to write them down. Oh, and that daughter just turned 10(!) and is long past her princess days. She really likes pandas and graphic novels now.
JESS: Of the two main characters, I think I'm more of a Maude. I can be stubborn and a fighter, and I also love the idea of living in a boat/tree house. Which character do you identify most with?
EMMA: Originally, I identified more with Maude. The princess was just because my daughter liked them. As the world of Miranda and Maude has grown, I've come to relate more to Miranda. She might be a princess, but she's also quiet and kind of shy, which is how I was as a kid. I very much remember how hard it is to be the new kid in school. And although I identify with Maude's messiness, I wish I had Miranda's ability to be neat and organized. I also wish I had the princesses' ability to choose and place furniture. When it comes down to it, I'm a little bit Maude and a little bit Miranda.

JESS: Maude is so passionate about fighting for a cause. Is there a cause you're passionate about?
EMMA: Living in the United States, at this time, I feel like there's a new cause to get passionate about every day. I'm a member of the American Civil Liberties Union and donate to my local NPR station and Planned Parenthood. I try to be involved in my local community. I'm a member of my town's library board and I try to participate (with my family) with local clean-ups and other charitable events.
JESS: So, do you like hard boiled eggs as much as Maude?
EMMA: I don't think anyone likes hard boiled eggs as much as Maude! I'm fine with hard boiled eggs, but I don't find them all that exciting. Maybe I'm a 6.5 to your 7. But maybe I should have one on avocado toast and get back to you.
JESS: My last question is about Maude's favorite chicken, Rosalie, whose breed is Frizzle. What made you choose to give Maude a Frizzle chicken?
EMMA: If only I'd known so many years ago, I could've given her a bicycle riding horse! Just kidding! I just love chickens—I don't have any, but I think they're such fun to watch. Originally, Rosalie was an Onagadori chicken, which a Japanese breed with extremely long tails. The problem was I kept forgetting how to spell Onagadori so I decided to make Rosalie a Frizzle, which I think suits her better. Maude often has messy hair so I like the idea that her chicken might too. As an added bonus, I don't have to look up how to spell Frizzle every time I write it.
Want to take a peek inside the book to check out some of the story and the super cute illustrations? Click here to head on over to the Abrams website for a sneak peek!
Looking for even more books to read? Have no fear! Our August YAYBOOKS! Roundup has arrived and is overflowing with 30+ new books and graphic novels releasing this month!