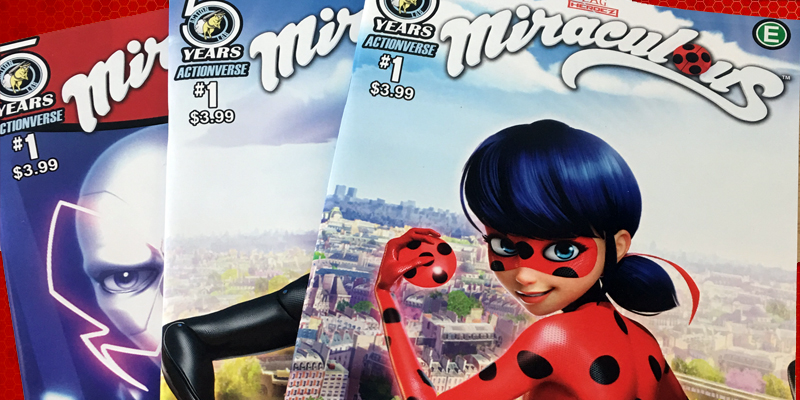 Spots On! The Miraculous Comic Book Has Arrived!
Spots On, Miraculous Fans! Issue #1 of the Miraculous comic book from Action Lab hit shelves today!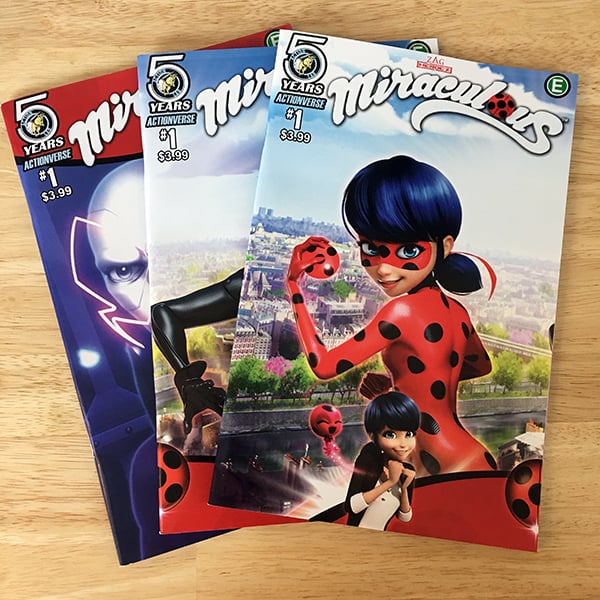 If you're a total Miraculer like us, you've probably been following the news about Action Lab's new Miraculous Ladybug comic for a few months now, and it's finally here! We really walked into Midtown Comics this morning, picked our issues off the shelves, hugged them, and brought them to the register with a giddy bounce in our step. Okay, we're obsessing a little – but it's so exciting! (Yes we picked up all 3 variant covers, obviously.)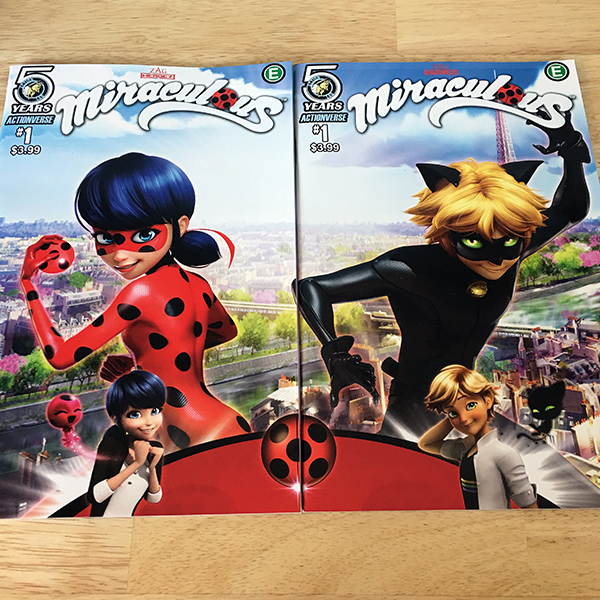 If you're new to the Miraculous series or have no idea what the heck we're obsessing about – here's a quick recap: Marinette is a student and aspiring fashion designer from Paris, France who's totally sweet, a great friend, and has a big crush on her classmate Adrien. The only problem? She's totally awkward. She's the ultimate teenage girl who's completely relatable to anyone who's ever been an awkward mess. (Stop lying, you know you have).
Marinette has a big secret, though. She's actually a kick-butt crime fighting superhero called Ladybug! Whenever danger is lurking nearby, Marinette transforms into Ladybug and kicks a bunch of bad guy butt to save the day. There's another crime fighter in town named Cat Noir, who's actually Adrien (Marinette's crush) in disguise! The two of them have no idea about the other's identity, but when they're in costume, they've got magical chemistry. (Except for when they don't and they bicker like an old married couple!)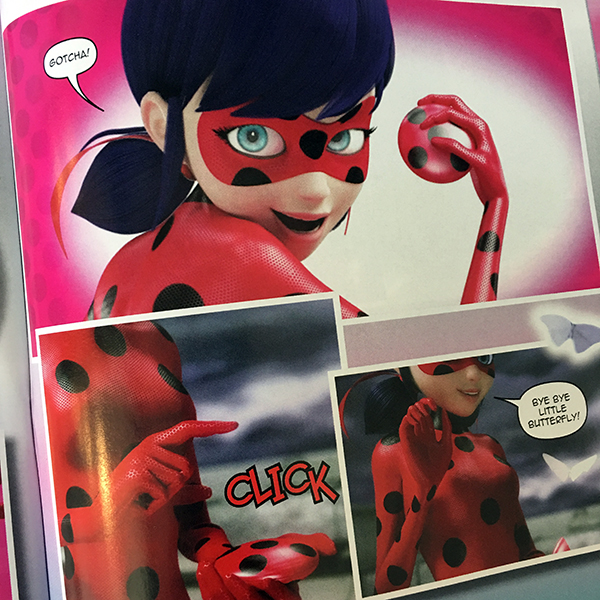 Miraculous is exciting, diverse, and just a really fun show overall. It's funny, it's emotional, it keeps you on the edge of your seat. There's always secrets to uncover, mean girls to take down, bad guys to beat up, and more teen drama and awkwardness than a day at your own school. It's seriously great. If you haven't seen the show, you can catch up on Nick.com or just read the brand new Miraculous comic book, as it follows the same storyline as the first season of the show. Thomas Astruc (the show's creator and all around nice guy) and the rest of the talented team at Zag Entertainment are working hard to bring us Seasons 2 and 3 of the series as we speak, so you've got some time to become obsessed before it starts airing again.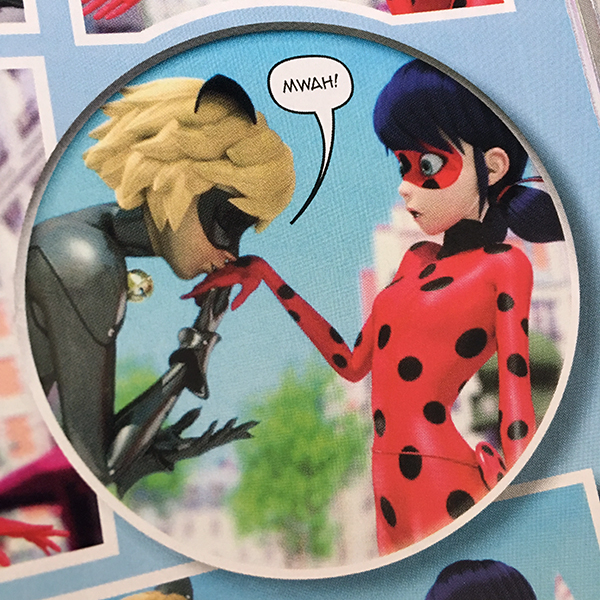 So, onto the comic. If you're already fan of the show, the Miraculous comic is a great collectors item. It's sort of in line with a Disney Cinestory, how those use imagery and storylines from the movies they're based on. The Miraculous comic does the same. Issue #1 follows the same plot as "Stormy Weather", which is Episode 1 of the tv series. It gives you an introduction to Marinette's double life, as a student, aspiring fashion designer, and of course – Ladybug, as she teams up with Cat Noir to take down Weather Girl.
Even as fans who've seen the show more times than we'd like to admit, it was definitely still pretty exciting to read it in comic form. Plus, there's so many great stills from the series, it's almost like having a Miraculous yearbook in the palm of your hands. If you're new to the series, you've got nothing to worry about, as all the storylines in each issue will be brand new to you.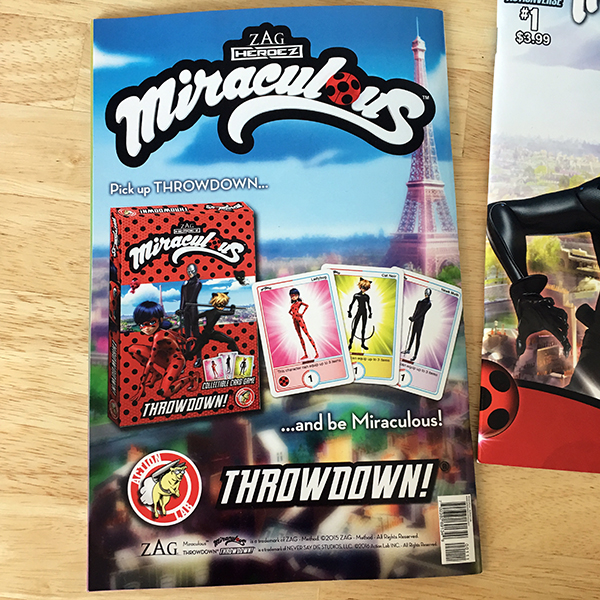 There's good news for Miraculous fans, though. Back in March at C2E2, Action Lab announced they will be releasing TWO Miraculous themed comics, so there's a chance that the 2nd series will feature original storylines and brand new adventures. Plus, they're also releasing a collectable card game called Miraculous: Throwdown in August, where you'll be able to play as Ladybug, Cat Noir, or Hawk Moth. You'll use the cards to equip your character, use special attacks, and call upon help from the Kwami in order to take down your opponent. There will also be Booster Packs released so you can build up your deck and trade with your friends. Pretty cool. SDCC 2016 is in just a few weeks, so hopefully we'll hear more info then! In the meantime, why not take our quiz to find out if you're a Ladybug or a Cat Noir?