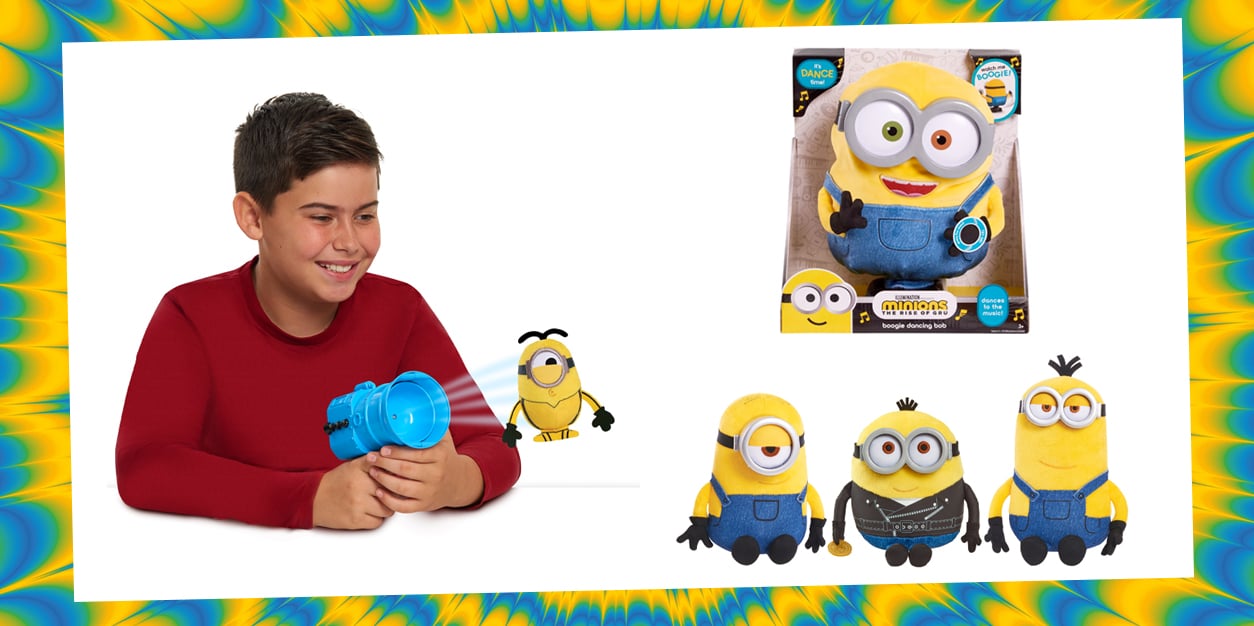 Party Like a Minion With Our Minions: The Rise of Gru GIVEAWAY
NOTE: We teamed up with Just Play for this Minions: The Rise of Gru Giveaway. All opinions are our own; we were under no obligation to give a positive review. Giveaway prizes provided by Just Play.
You may have to wait until next summer to see Minions: The Rise of Gru on the big screen, but thankfully the Minion inspired antics can start now!
The new film is set in the 1970s, and Gru is just a 12-year-old kid living in the suburbs. He dreams of growing up to be a nefarious supervillain like his favorite evildoers, the Vicious 6. After they fire their leader, he hatches a plan to join their squad, but as usual for Gru, things don't exactly go his way. This daring adventure is filled with LOLs, total mayhem, and a look into how Gru and the Minions pull off their first-ever mission together!
Bob, Stuart, Kevin, and the rest of their adorable yellow buddies are pretty much the masters of fun, which is why we teamed up with our friends at Just Play to help you party like a Minion! Enter below for your chance to win a Minions: The Rise of Gru Prize Pack overflowing with hilarious Minions toys to keep you laughing all summer long.
3 Must-Have Minions: The Rise of Gru Products:
Ready for a seriously good time? Here are some of the awesome Minions products inspired by the movie that you can snag this summer – or if you're lucky, in our Minions: The Rise of Gru Prize Pack!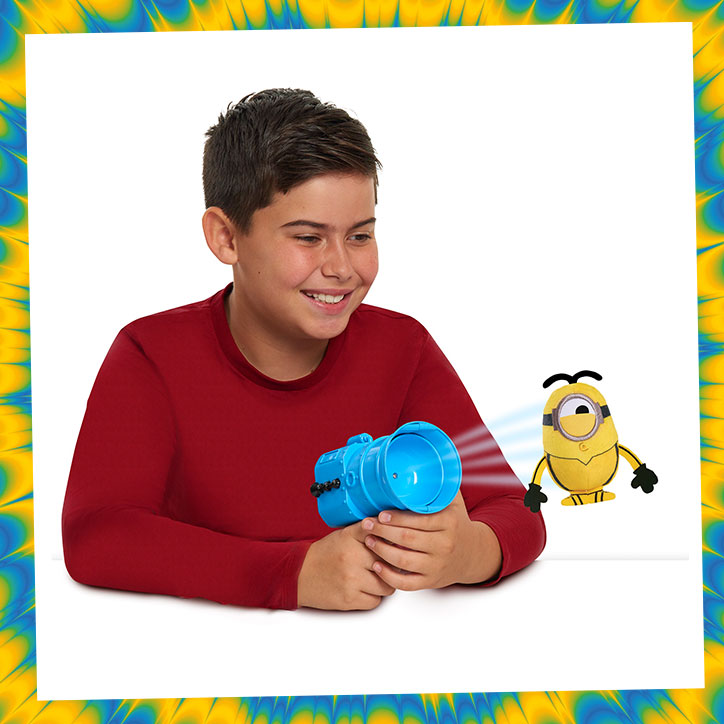 Fart Blastin' Minions Surprise:
Minions know that farts are ALWAYS funny, which is why we're totally loving this miniature fart blaster!
The Fart Blastin' Minions Surprise comes with a super small plush that you can launch through the air using the epic fart blaster invention from the movie. There are 8 collectible characters to find and collect, and yes – fart sounds ARE included!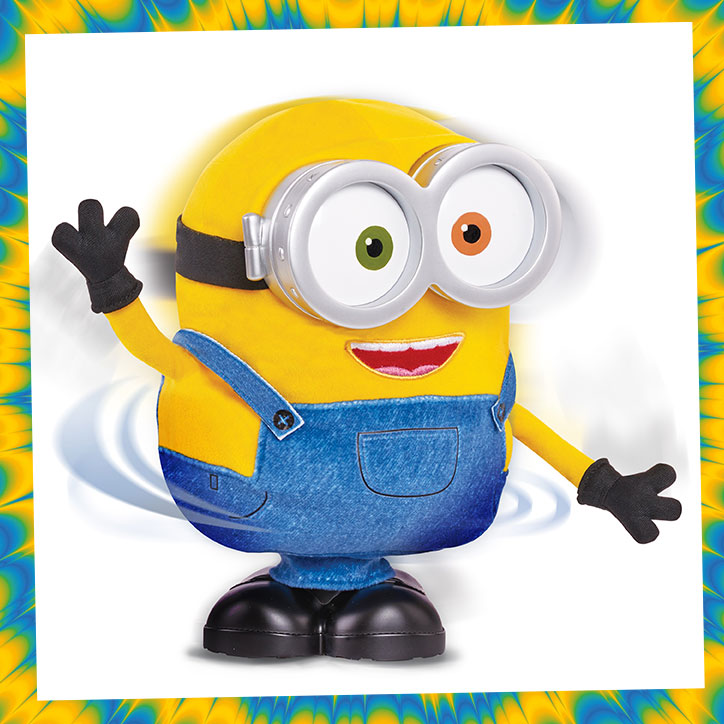 Boogie Dancing Bob:
It's party time! You've stocked up on snacks, turned the music all the way up, and are ready to hit the dance floor. The only thing missing is Boogie Dancing Bob, and he's ready to get his groove on!
Press his hand and get ready to watch him dance, twist, and of course, shake his booty! Anytime you're feeling down, just press Bob's hand and have an epic dance party worthy of a Minion. Bonus points if you wear yellow!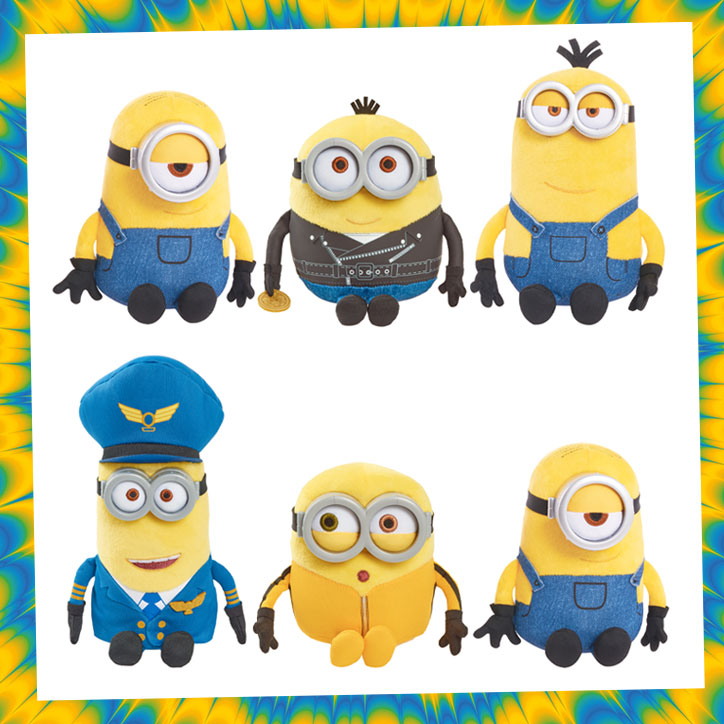 Minions: The Rise of Gru Small Plus 3-Pack Bundle:
Since your party needs guests, we suggest filling the room with the silliest squad in town – Kevin, Bob, Stuart, and Otto!
These super cute plush are sold in packs of 3, so you can choose between a set featuring Stuart, Pilot Kevin, and Kung Fu Bob or go with Stuart and Kevin in their iconic overalls and the newest Minion, Otto, in a cool biker jacket!
Each of their outfits can be seen in Minions: The Rise of Gru, so you'll be able to see them in action on the big screen next summer!
Minions: The Rise of Gru Giveaway:
WHAT DO I WIN?:
ONE lucky winner will receive a Minions: The Rise of Gru Prize Pack that includes:
– ONE (1) Fart Blastin' Minions Surprise
– ONE (1) Boogie Dancing Bob
– FIVE (5) Minions: The Rise of Gru Small Plush Toys (You will receive Pilot Kevin, Kung Fu Bob, Biker Otto, Kevin, and Stuart)
*Prizes generously provided by Just Play
HOW DO I ENTER?
Grab a parent or guardian and have them fill out the form below by June 11, 2020 at 11:59pm ET.
Giveaway runs from 05/28/20 at 01:00 pm ET through 06/11/20 at 11:59 pm. Open to US residents ONLY. Be sure to read the fully detailed rules HERE before entering.
THIS GIVEAWAY HAS ENDED AND THE WINNER HAS BEEN CONTACTED.
You must be 18 or older to enter. Please, only ONE entry per person. If selected as a winner, we will provide your parent/guardian with an affidavit to confirm that you are a valid winner who has permission to win. They will be REQUIRED to sign and return the affidavit to YAYOMG! to claim your prize. Prizes will not be mailed out without signed parental consent.
Looking for stuff to keep you busy this summer? Check out the latest edition of HEART EYES where we dish on 13 things we think you'll swoon over this season!