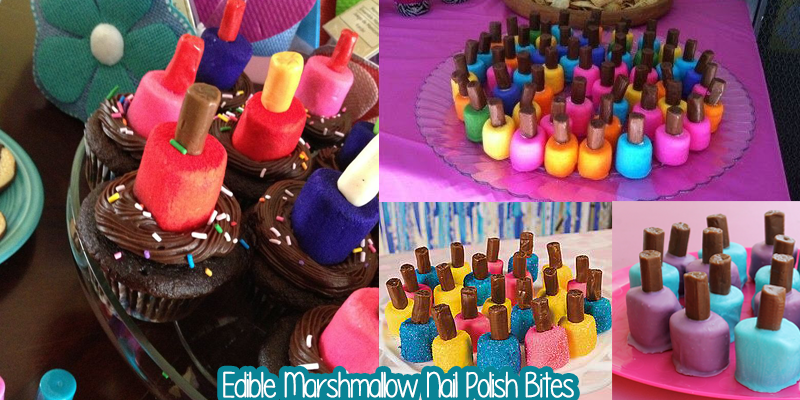 Edible Marshmallow Nail Polish Bites
These Marshmallow Nail Polish Bites are totally adorable and super simple to make!
Whether you want to make them as tasty treats for your next birthday party or show up at a friend's sleepover with them and be deemed the coolest kid of the night – one thing is for sure – you'll totally impress all of your friends! You can even make these Marshmallow Nail Polish Bites as a fun nail polish party activity so you and your besties can all do each other's nails and then make these together and gossip about who's going to marry Harry Styles!
Here's how to make Marshmallow Nail Polish bites!
You'll need:
– A bag of your favorite marshmallows
– A bag of Tootsie Rolls (or a jumbo sized bag, if you want to snack on them while you work!)
– Toothpicks
– Vanilla Frosting
– Food Coloring
Optional:
– Sprinkles, edible sparkles, and any other adorably delicious decorations!
Recipe:
– Mix vanilla frosting and food coloring together. If you want to make multiple colors, make sure to have a few bowls of vanilla frosting separated out so you can add food coloring to each of them. For super bright, fun, colors, try NEON food coloring.
– Take your marshmallow and swirl it around in the frosting. Use a butter knife to smooth it out if there are any bumps.
– Stick half of a  toothpick into the bottom of a Tootsie Roll, and then stick the other half into the top of your colored marshmallow.
– Voila! You're finished! If you want to add sprinkles or any other decorations, add them now! You can eat them right away or sit them down on some tin foil for a few minutes to harden a bit before eating.
Super cool, right? Some people use the spray on food coloring which looks really awesome, but it's definitely messy!
Will you make these Marshmallow Nail Polish bites for your next party? If you do, make sure to let us know! We'd love to see them!