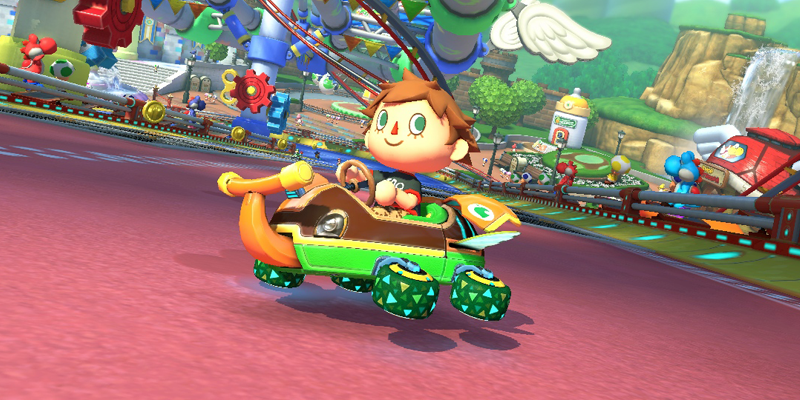 Mario Kart 8: Animal Crossing DLC
Throw your red caps in the air and jump in your favorite kart because the new Animal Crossing DLC pack for Mario Kart 8 is completely flippin' awesome! The DLC that came out 4/23 comes with 3 new characters, 8 new tracks (two Cups), and 4 new vehicles. Even if you're not able to get the DLC pack, there's still updates you can get your hands on! You'll also be able to unlock new racing suits using your your amiibo and the 200CC mode are both available in the new MK8 game update!
Here's the breakdown of what you'll find in the new MK8 Animal Crossing DLC:


New Characters:
Villager (You can choose boy or girl, just like in Animal Crossing!), Isabelle, and Dry Bowser.

New Cups:



Crossing Cup:
Baby Park from the GameCube (An amusement park themed course that's great for a quick and easy race!)
Cheese Land from the Game Boy Advance (The most delicious track in this DLC pack!)
Wild Woods (A brand NEW track that's a twisty-turny forest filled with Toads and Shy Guys. It's maybe one of the best new tracks in this DLC!)
Animal Crossing (Another NEW track, based on the greatest game in the history of gaming! Okay – maybe that's a little extreme, but it's super cute and the seasons change each time you race on it. And the coins are Bells instead of regular coins!)

Bell Cup:
Neo Bowser City from the 3DS (Just like the one from MK7, now on the big screen with even better graphics. Raindrops still included.)
Ribbon Road from the Game Boy Advance (Just wait until you see what they've done with this track. It's one of the best updated tracks Nintendo has ever done in any Mario Kart. It's VERY Toy Story and we're VERY excited about it!)
Super Bell Subway (Yet another NEW track! It's basically like Toad Turnpike if it were underground, in the subway!)
Big Blue (A new track inspired by F-Zero. Expect it to be crazy fast! Especially if you turn on the new 200CC mode!)

New Vehicles:
Karts – Streetle and P-Wing
Bikes – Bone Rattler and City Tripper
The racing suits you'll be able to unlock in the new update with your amiibo are:
Toad, Bowser, Wario, Rosalina, Villager, Pikmin and Olimar, Sonic, Mega Man, and Pac-Man! To get these suits, you'll just need to download the game update! (and of course, own the necessary amiibo!)
We're really into rocking the Villager racing suit paired with the City Tripper bike for the full Animal Crossing experience!
Now that you've had a few days to race on them…which track from the Mario Kart 8: Animal Crossing DLC pack is your favorite?
[socialpoll id="2268503″]