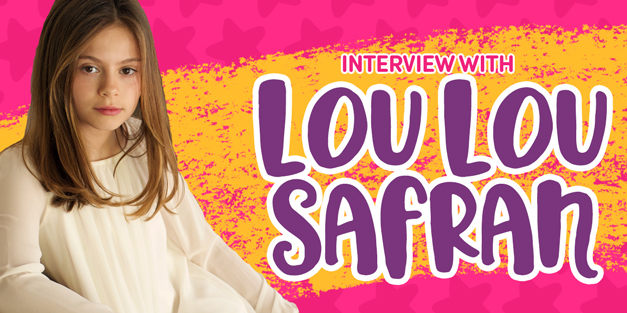 Get to Know Lou Lou Safran
Lou Lou Safran is one of the coolest 11 year olds we've ever talked to. She's a spirited old soul and totally wise beyond her years. Lou Lou loves classic rock, old movies, and she's spending her Summer along the Gold Coast of Australia. Having parents in the music and film industry, Lou Lou is no stranger to the creative arts.
She stars as one of the girls in the orphanage in the upcoming horror flick Annabelle: Creation, but since our YAYOMGers aren't exactly hitting up R rated movies, we wanted to give you a chance to get to know Lou Lou's unique personality in a different way.
Keep on reading to see what Lou Lou had to say about about what it's like to audition for a film, her love of ukulele, and her endless list of favorite bands.
Get to Know Lou Lou Safran: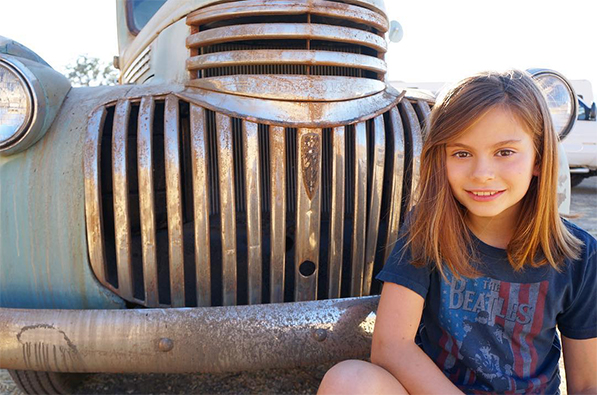 YAYOMG!:

What inspired you to get into acting at such a young age?
LOU LOU SAFRAN:
I think I was 4 when I knew I wanted to act. I played a little part in my
Mom's
music video
Big Wave
out in the Mojave Desert and it was all so fascinating. My parents are in the music and film industry, so I have always been surrounded by the arts and all sorts of fascinating creative people. We have traveled all over the world to different movie sets, they've taken me to concerts, theaters and operas and I'm sure that has lots to do with it as well.
YAYOMG!: Some of our YAYOMG! readers also dream of acting. Can you share what it's like to audition for a film?
LOU LOU: Auditions can be pretty intimidating, especially if you really want the part. The pressure is on but you can't show it. You have to calm the nerves and deliver the best possible reading. The Annabelle: Creation audition was almost as scary as the Annabelle doll, because I really wanted this part badly. But it's mostly the suspense that kills you. You tape your audition and send it in, or do it in person in front of the casting director, and then all you can do is wait to hear back. When I finally heard I got the part, I couldn't contain my excitement!!!!
YAYOMG!: We heard that you love the movie Clue (us too), if they were to remake it someday, which character would you want to play?
LOU LOU: Oh I would love to play Mr. Green, originally portrayed by Michael McKean. Yes, I know he is a man, but I could pull that off with a little mustache or something or Mr. Green could become Miss Green, even better!
YAYOMG!: Besides being an actress, do you have any other big dreams for your future?
LOU LOU: I dream of being a musician too! I want to inspire people with melodies and lyrics, sometimes making them happy, sometimes sad. I wish to make people aware of all the good and the bad things that humanity is doing, the animals in zoos, trash in the ocean, the landfills and global warming. It is my dream for people to stop killing everything, including each other and to care for our beautiful planet.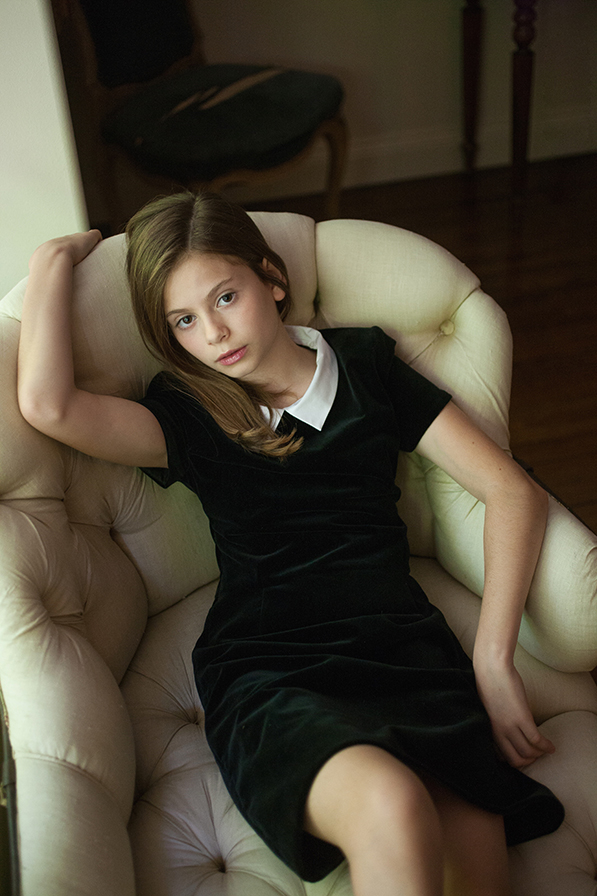 YAYOMG!:

We hear you work with a few fantastic charities, can you tell us more about your charity work and why it's so important to you?

LOU LOU:
There are three organizations that I am nuts about, who do incredible work in the
Los Angeles
area:
Animal Tracks (@animaltracksinc)– an amazing group of trainers and animal carers who rehabilitate wildlife and release it back into nature. Those animals that cannot be released forever stay at their beautiful center in Agua Dulce and help educate the public who come to tour AC. They also bring their animals to events and special presentations.
Project Angel Food (@projectangelfood) – brings food and love to those who are too sick to shop and cook for themselves. I am too young to volunteer in the kitchen, but I can fill and decorate goodie bags for our clients, who on their birthdays get a meal and a gift delivery. It can really make somebody's day.
A Sense of Home (@asenseofhomeorg) – a project that creates homes for youth who aged out of the foster system. We help build a sense of community around them. We show up on weekends with a truck full of furniture and get to work. It's very hands on which I love and we tell stories, sing songs and bond afterwards. The other day I was helping assemble an IKEA bed and it was almost impossible!
If you are curious and would like to get involved please check them out, you will be inspired!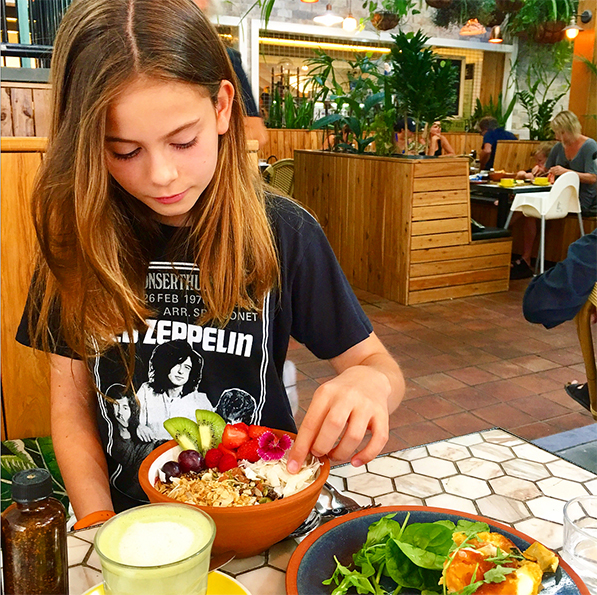 YAYOMG!:

On your Instagram, you can almost always be seen wearing a classic band tee. Who are some of your favorite bands, both old and new?
LOU LOU: It's incredible you noticed that, thank you! All of my coolest t-shirts are created by my uncle Mick. He is a rock'n'roll musician (check out his band Burn This Song, they really rock!) and his company Supersonic Soul Machine makes rare and limited edition rocker Ts.
I am obsessed with music and I listen to it all the time, or I'm playing it on the piano or my new uke. I love Arctic Monkeys, The Last Shadow Puppets and any project of Alex Turner's and Miles Kane's. My turtles are named after them. I am nuts about Eddie Vedder, especially his ukulele songs, Chris Cornell, Radiohead, Burn This Song, the Beatles, Bruce Springsteen, Goldfrapp, Thievery Corporation, Brenna Whitaker. I love exploring new bands and sounds all the time and there's nothing better than a live concert of an artist you love. I got to see Radiohead at the Santa Barbara Bowl this Summer and Sigur Ros with the LA Philharmonic at the Walt Disney Hall and they were both mind-blowing.
YAYOMG!:

Speaking of music you recently got a Ukulele. Have you learned how to play any songs yet? What's a song you hope to learn?

LOU LOU:
I desperately want to learn
Eddie Vedder's
"Without You"
and all his other Ukulele Songs. But it's a toughie and might have to wait a little. First thing I learned was the
SpongeBob
song 😀 You gotta start small sometimes. Then I learned the
Jeff Buckley
version of
"Hallelujah"
and
Bruno Mars'
"You Can Count on Me."
It's a work in progress. I'm putting them all up on my YouTube channel for all to have a laugh and maybe pick up a ukulele too.
YAYOMG!:

Now that you're wrapped on your movie Annabelle: Creation, what's next for you?
LOU LOU: I am about to shoot a horror short with two young girl directors, which is going to be a super fun project. That is all I can share for now.
YAYOMG!:

Any big Summer plans?
LOU LOU: I am on the Gold Coast in Australia for the Summer. I have been bird watching, body surfing, and learning to rock climb. My two best friends Audrey and Annabelle just came to visit me from LA and we've been having one long sleepover, playing on the beach all day, and watching movie marathons every night.
I'll be here until August and then back to LA for the Annabelle: Creation premiere which I am soooo excited for! Can't wait to see all the girls again and our Annabelle 'family'. After that I'm off to Poland to see my Grandparents.
YAYOMG!: What's a quote that inspires you that you'd like to share with our readers?
LOU LOU: My Mom wrote a song for me when I was little called For Lou Lou and I love the lyrics so much. The chorus goes:
'promise me you won't let the world change you
you are the love and always will be
let your spirit guide you
and forever stay free'
I sing on it too and sound so little on it!
I also love this bit from Roald Dahl's "The Twits":
"A person who has good thoughts cannot ever be ugly. You can have a wonky nose and a crooked mouth and a double chin and stick-out teeth, but if you have good thoughts they will shine out of your face like sunbeams and you will always look lovely."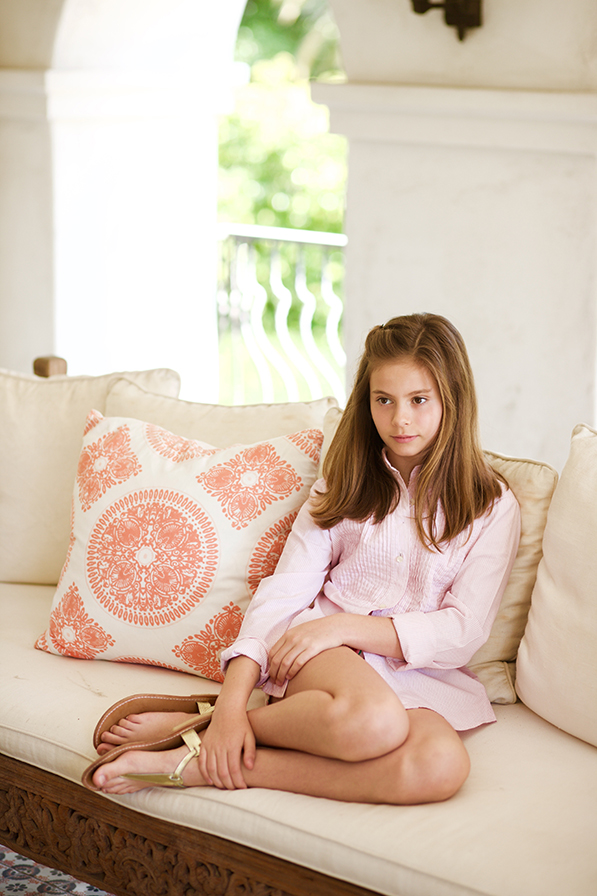 Lou Lou is pretty awesome, don't you think? She's on the rise and we can bet you'll be seeing her in everything super soon. Until then, get to know other awesome girls, by checking out our other interviews!
Photo Credit: Igor Drozdowski, @loulousafran