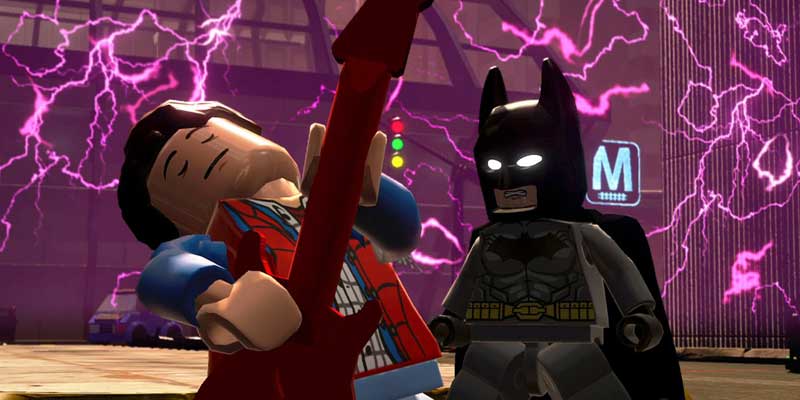 LEGO Dimensions Adventure Worlds
In the least surprising turn of events pretty much ever, everything is awesome in the world of LEGO! (and about get even awesomer!) As if LEGO Dimensions wasn't already shaping up to be one ridiculously fun game, they've just announced Adventure Worlds – an open-world section of the game that is unlockable using minifigs from all the different LEGO Dimensions add-on packs. Adventure Worlds is completely separate from story mode, so this game just got TWICE as huge and TWICE as awesome! There will be 14 unlockable Adventure Worlds to start, but as new brands team up with LEGO and more add-ons are released, there will likely be more and more to unlock!
Check out the LEGO Dimensions Adventure Worlds game trailer.
The most exciting part about Adventure Worlds is the ability to mash up all the different characters and locations from all the available brands. As long as you own the minifigs, you can dream up crazy combinations like putting Wyld Style into the world of Back to the Future, Marty McFly into Middle Earth, and pretty much any other combination you can think of! Imagine putting Gandolf in Gotham?! Poor old guy won't know what hit him! We want to bring Unikitty into literally every single world. Unikitty is going to be fighting so much crime in the DC Comics World. She's going to meet the Wizard of Oz. And she's definitely going for a ride in the Delorean!

With the LEGO Dimensions Starter Pack, you'll have access to the Adventure Worlds for Lord of the Rings, the LEGO Movie, and a world based on DC Comics from the moment you get your hands on the game – since the pack comes with the Wyld Style, Batman, and Gandalf minifigures. The game also introduces X-PO, your witty robot Adventure Worlds guide who will be bringing the LOLz in true LEGO style. You won't have to wait too much longer to play, since the game releases next month – September 27th!
Extend your ride on the LEGO Dimensions hype train by checking out our other post, outlining story mode, add-on packs, and more!