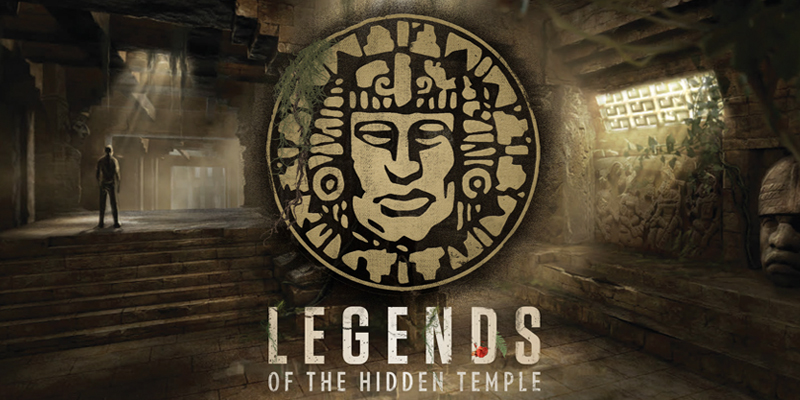 5 Reasons You Should Be Excited About Legends of the Hidden Temple: The Movie
At SDCC last week, Nickelodeon was all about the nostalgia. Their booth was basically a 90's kid dream come to life, and they finally showed the world a sneak peek of the trailer for "Legends of the Hidden Temple: The Movie" and shared some info during a live panel. It seems like we're in for a great blend of adventure and nostalgic moments (we also love how it LOOKS like it's from the 90's), featuring a ton of throwbacks to the game show for the OG fans. You can check out the trailer here.
Here's 5 Reasons You Should Be Excited About "Legends of the Hidden Temple: The Movie":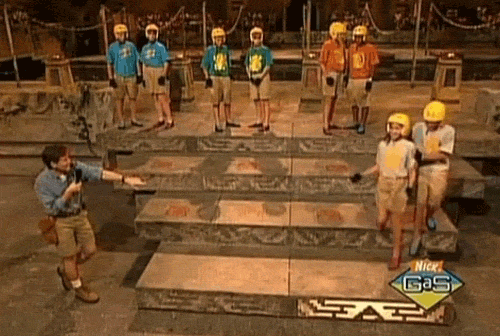 1. It's based on a 90's Nick Series:
Most of you weren't even alive when "Legends of the Hidden Temple" was a thing – but let us "olds" assure you, it was kinda really awesome. There were physical challenges, history/geography trivia, and of course, the infamous Temple (Complete with somehow impossible to put together 3 piece Silver Monkey statue!). It was the kind of show that made you want to pay attention in school so that you could get on the show, teach the other contestants a thing or two about assembling that monkey and avoiding temple guards, and win yourself a trip to space camp. It really was awesome, and there's just not game shows like it anymore. Thankfully, they've been airing it on The Splat occasionally, so you can pretty easily check it out if you're interested.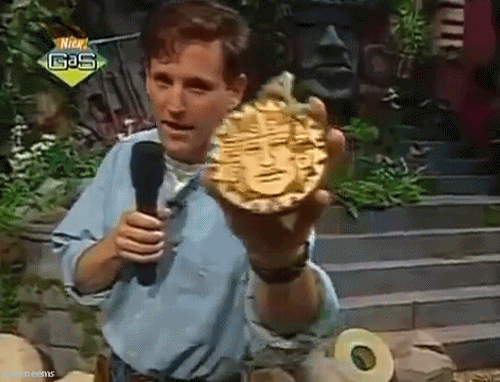 2. Kirk Fogg and Olmec are back:
Kirk Fogg was the host of the original game show, and in the movie, he'll be hosting a live show at the Hidden Temple Park that the movie is set in, and it looks like he's just as much of a delightful goober as he's always been. Hooray! Olmec doesn't get much face time in the trailer, but we know he'll absolutely be making a rock pun or two in the flick. He just HAS to. If you're not familiar with Olmec, he was the keeper of the legend and the narrator/commentator of the show.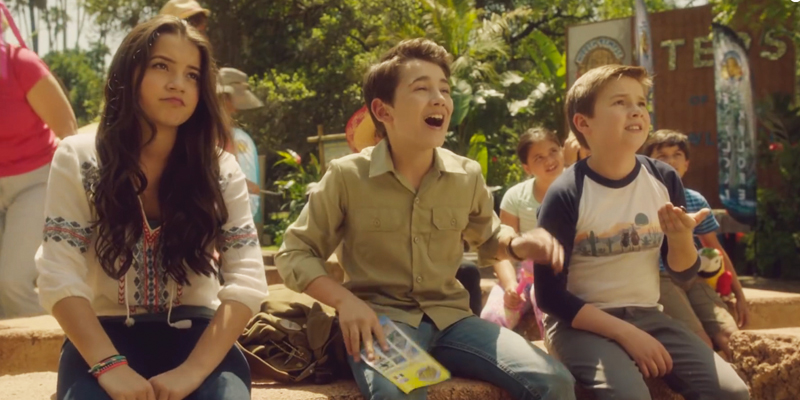 3. Isabela Moner is in one of the leading roles:
Isabela plays Sadie, and is the sister to the other main characters, Noah and Dudley. It's always exciting to see Nickelodeon embracing their stars, especially ones as cool as Isabela Moner. Between fans of "100 Things To Do Before High School" and fans of the original "Legends of the Hidden Temple", we think this flick will draw a huge audience!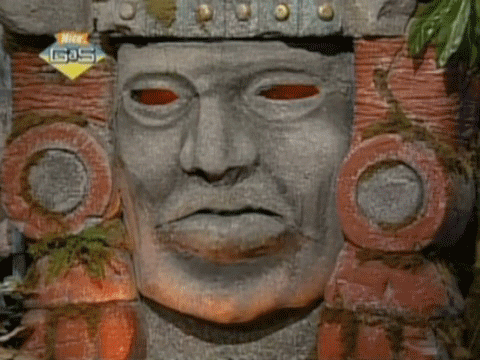 4. It's going to be a really fun adventure:
They're basically taking the concept of the 90's game show and turning it into an Indiana Jones meets Jurassic Park-esque adventure, starring kids. Sadie, Noah, and Dudley are on a family trip to the Hidden Temple Park and are finding things to be kinda lame. They end up breaking away from the tour and doing some exploring of their own, only to find themselves smack dab in the middle of the hidden temple they believed to only be a legend. In order to escape and make it out alive, they'll need to team up to make their way through puzzles, obstacles, and a slew of creepy temple guards.
You don't have to have seen a single episode of the game show in order to watch this movie, but if you have seen it, it seems to have a lot of references and tidbits that are a great throwback – so much so that your parents might even want to watch this one with you!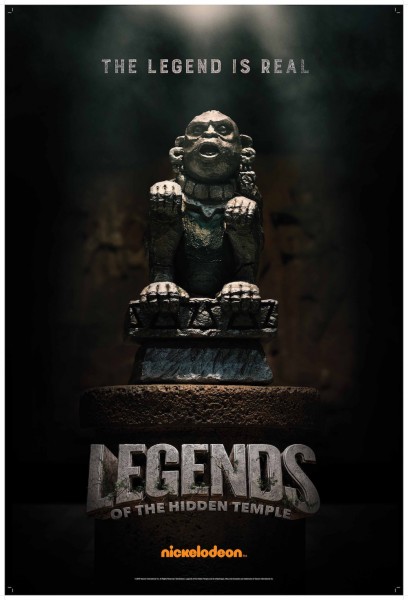 5. It could lead to more 90's Nick Revivals:
If the "Legends of the Hidden Temple" movie is popular, it'll show Nickelodeon that the world is ready for more 90's Nick revivals. So far all that's confirmed other than "Legends" is the "Hey Arnold" movie, but we'd love to see a modern-day version of "Doug" or maybe a reboot of "Rugrats" with the kids of the babies from the original cartoon. (We'd also accept a Reptar spin-off, TBH.)
It totally baffles us that "Are You Afraid of the Dark" hasn't been rebooted yet. It's been ages since Nick has had a solid spooky show, and that one is the best of the best!
Sounds like it's gonna be pretty darn legendary all around. Will you be watching when it airs this Fall? The choice is yours and yours alone!