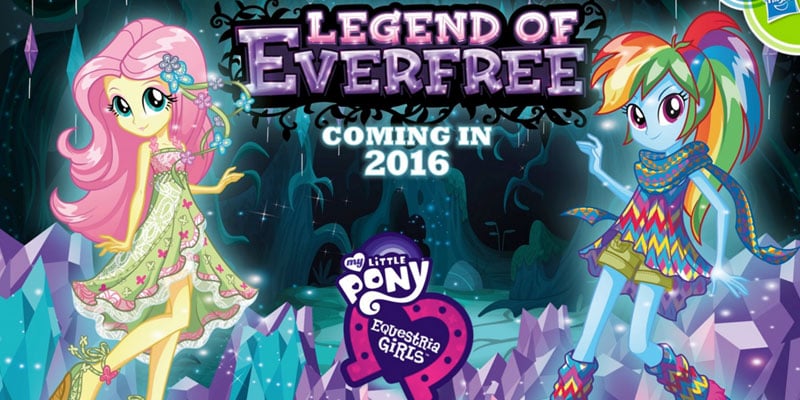 Everything We Know So Far About Equestria Girls: Legend of Everfree
Toy Fair hit NYC this weekend, and it's one of the biggest events of the year in terms of toy reveals, and the Equestria Girls got a huge announcement from Hasbro! They're getting another movie called My Little Pony Equestria Girls: Legend of Everfree, and it will follow the Mane 6 as they leave the halls of Canterlot High and head into the great outdoors to Camp Everfree.

There isn't too much info on the film just yet, but we do know that Camp Everfree is on the verge of being shut down, so the Equestria Girls use their new super abilities to host a "Crystal Gala" in order to save the camp. There's also a brand new character named Gloriosa, who you can see in the photo above. We're not sure yet how the girls get their new abilities, but we're definitely looking forward to finding out when the movie hits Discovery Family and Netflix this Fall!

Since this movie has an outdoorsy camp theme, so do the girls outfits! They'll be rocking lots of colorful, summery styles with tribal prints and florals, unlike anything we've really ever seen them wear before. The three lines of dolls are the "Geometric Assortment", which are the patterned styles you see above. The "Boho Assortment", which are the comfy, casual camp looks. And of course, the fancy "Crystal Gala Assortment". Each of the dolls comes with a code that lets you unlock special goodies in the Equestria Girls app, and we're sure the app will see an update as the release date of the movie and new dolls approaches.
Other MLP news out of Toy Fair include a new "Dance Party" line of the Equestria Girls Minis, an "Explore Equestria" line of ponies, and probably the coolest ones of all – the "Guardians of Harmony" line!
We'll keep you guys posted with more info on Legend of Everfree as it is released!