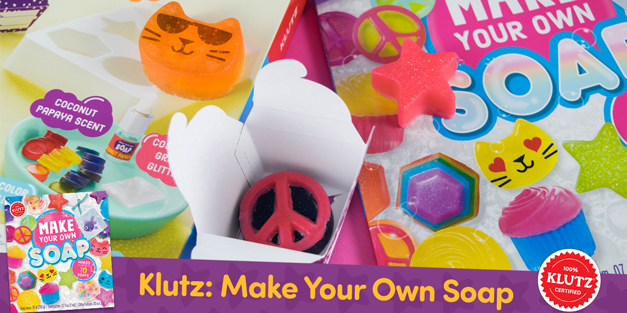 The Klutz: Make Your Own Soap Kit is Totally Soap-Tacular
Whether you're into colorful fizz or scented bubbles, we can all agree that crafting your own soaps and bath bombs is super trendy right now. (And super fun!) That's why we were so excited to discover the Klutz: Make Your Own Soap kit. This kit takes soap making and makes it really easy for kids, beginners, or even expert soap makers by putting everything you need right in the box.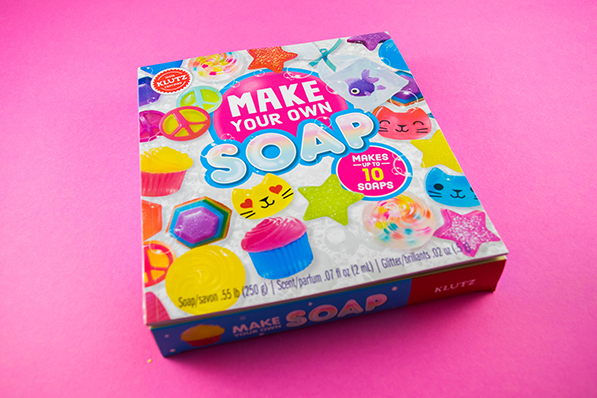 Like all Klutz products, it also comes with a colorful book filled with fun project ideas like emoji faces, glittery cats, and layered rainbows. It's also sprinkled with a bunch of Science facts about why soap makes bubbles and the chemistry behind why soap works. As you guys know, we kind of stink at crafting, but this kit is so easy to do, our creations came out totally soap-tacular!
Let's get started with what you'll find inside your Klutz: Make Your Own Soap Kit: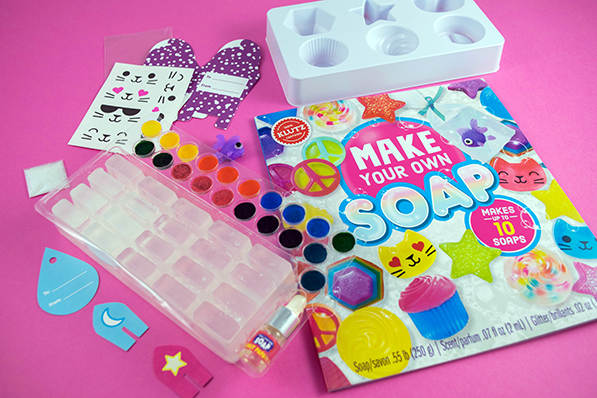 – A 36 Page Book, complete with 6 fun project ideas and lots of fun soap facts
– 20 Blocks of clear soap base
– 20 Color tablets
– 1 Packet of cosmetic grade glitter
– 1 Dropper bottle of Coconut Papaya fragrance
– Soap mold with 6 shapes
– Emoji style soap stickers
– Toy fish
– Clear cellophane bag
– A cute gift box and gift tag
– 2 paper boats
– Ribbon
That's a whole lot of stuff! Depending on which ones you choose, you'll be able to make 7-10 projects from the book using those items. To get started, you'll want to read through all of the instructions on the first few pages that detail soap-making safety as well as two ways to melt your soap. Since this project includes hot soap and microwave/stove-top use, you'll want to recruit an adult helper. Getting melted soap on your skin can burn, so always be careful and let an adult handle the melting and pouring steps.

To get started, pick a project from the book. Most of the projects require 1-3 clear soap blocks and 1-3 color tablets. We started with the Galaxy Star, so we added 2 soap blocks and 2 pink tablets in our glass measuring cup, and popped in in the microwave for 10 seconds. You may need to adjust this time depending on how quickly your soap is melting – for us, we found 12 seconds worked best, but for you it might be less.
You never want your soap to bubble or boil, just melt down. It's okay if there's a few solid chunks in there when you pull it out, that's why you mix it before you pour it!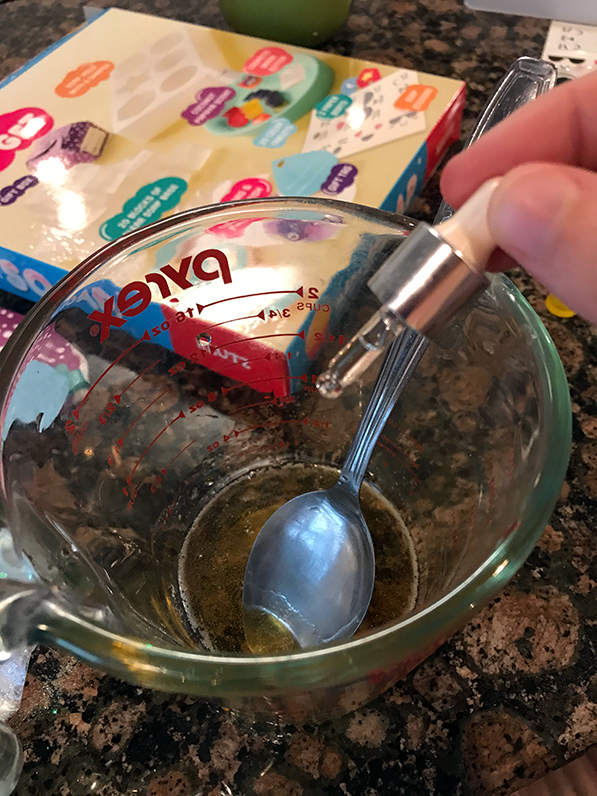 Once you're all melted down and liquid-y (don't let it get thick!), you can decide if you want to add glitter and scents. Since we were working on the Galaxy Star, we mixed in a little bit of glitter before pouring into the mold. It's okay if the mixture in the mold looks a little wonky, like you can see in these pictures. Once they've cooled and you pop them out, they look how they're supposed to on the top and sides. The bottoms of your soaps will rarely be 100% perfect, and that's okay.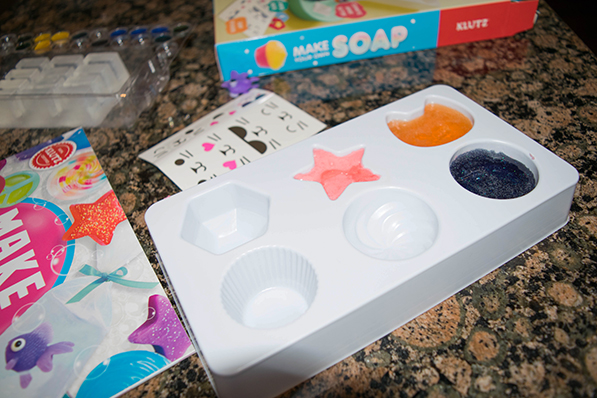 While we were waiting for our star to cool, we decided to get started on the Emoji Cat. If you only have one glass measuring up, you'll need to rinse it out before starting a new project. Thankfully this is really easy because it just melts and bubbles away with warm water. It's soap, afterall! We also attempted the Peace Sign project so that we could try our hand at layering. Each project starts off with the same basic process. Melt down and color your soaps, add glitter/scent, pour into the mold, let it cool. It's that simple.
Some of the projects like Fishy Fun and Cupcake are a little more complex, but once you're an expert at making the basic soaps, you'll definitely be able to handle the rest.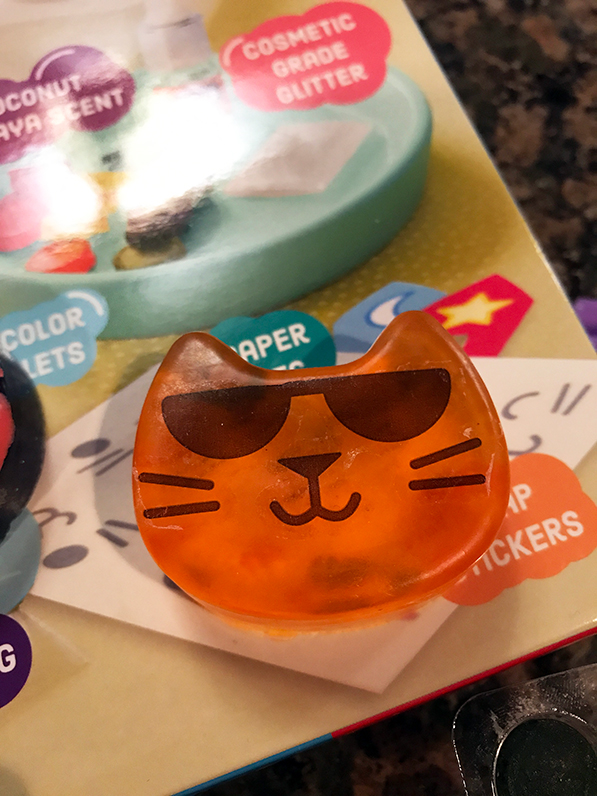 Since we had 30+ minutes to spare while waiting for our creations to cool, we decided to read about the chemistry of clean. Did you know? Soap is made up of tiny molecules. Each molecule has one end that loves water and one end that hates it. That's just part of the process of why soap help makes your skin clean. You'll have to check out the Make Your Own Soap book to find out the rest! We love how soap making is basically just doing a Science experiment. Maybe your teacher will give you extra credit if you show them all the awesome soaps you made?
In addition to the fun facts, there's also a few Soap Powered Experiments for you to try, like boat racing.

Once your creations have cooled, pop them out of the molds. Ahh, soap-y goodness! We were pleasantly surprised to discover that they all came out pretty great! We tried out one of the soap stickers on the kitty, which is the same process as putting on a temporary tattoo. In fact, you can use pretty much any temporary tattoo you have lying around to sticker-up your soaps.
Giving away one of your incredible new creations? Fold up the polka-dot gift box, and you've got yourself an awesome gift.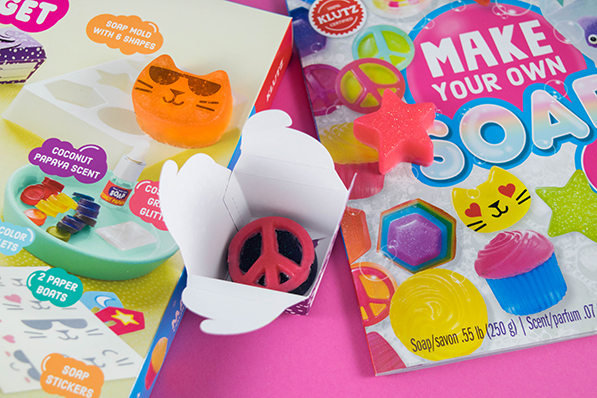 The Klutz: Make Your Own Soap kit is definitely a great DIY activity and we think you guys will love it. More into bath bombs? Don't fret – Klutz has a Make Your Own Bath Bomb kit coming out this Fall. You can get a Make Your Own Soap Kit of your own from the Klutz website for $21.99.
More into journaling? Check out our review of the Klutz: Decorate This Journal kit that teaches you how to create a decoden inspired journal that's all about YOU!
Note: We received this product for free from Scholastic/Klutz in exchange for a fair and honest review. We were under no obligation to write a positive review.