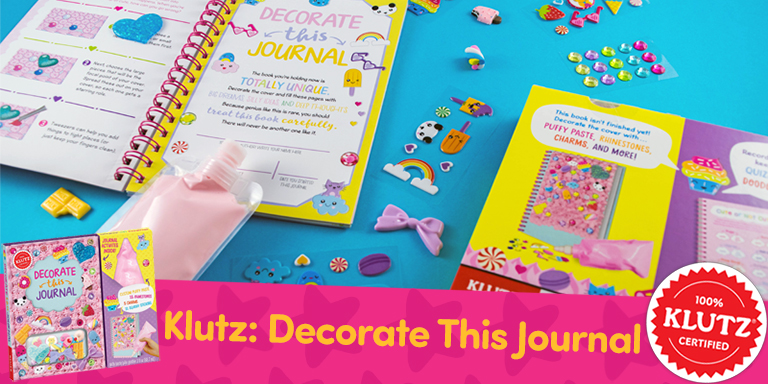 Customize the Cutest Journal Ever with Decorate This Journal from Klutz
Any fan of YAYOMG! knows that we're totally obsessed with creative journals. That's why when we first heard about the Klutz: Decorate This Journal, we knew we had to have it. Our friends Klutz were kind enough to send us one so we're here to show you guys how much fun it is to bring this journal to life.
This isn't your ordinary creative journal – it takes things a step further by having you design the cover with Puffy Paste, rhinestones, and more. It's the ultimate in creative journaling, combining your amazing DIY-skills with tons of prompts and pages to fill with facts all about YOU!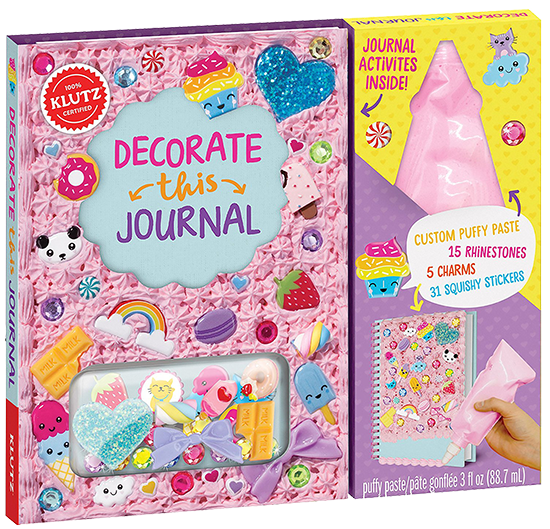 What can you expect from this ridiculously cute journaling project? Let us break it down for you. Each Decorate This Journal comes with everything you need to get started:
– A 60 page journal, complete with writing inspiration and instructions
– 1 tube of pink Puffy Paste
– A star tip
– 15 rhinestones
– 5 adorable charms
– 31 squishy stickers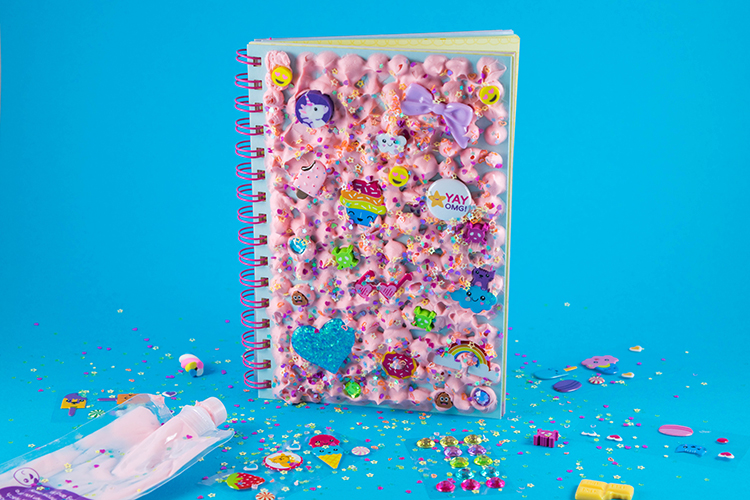 Since this journal is all about you, it's entirely up to you how to decorate it. Klutz offers up a few different ideas inside the journal on how to make designs with the puffy paste to inspire you. The craft style you'll be using is based on the Japanese trend of decoden. You may have seen lots of phone cases in this style, and there's a reason why – decoden means "decorate your phone!"
Klutz brings this adorable trend to you in a super easy and exciting way – decorating your own journal! The puffy paste looks and works kind of like frosting, you just use the packet and tip to pipe the designs onto the cover however you like. Fill it up entirely, make a pretty border, or anything else you can dream up to make it totally your own. We covered the entire cover so we had lots of space for all the charms!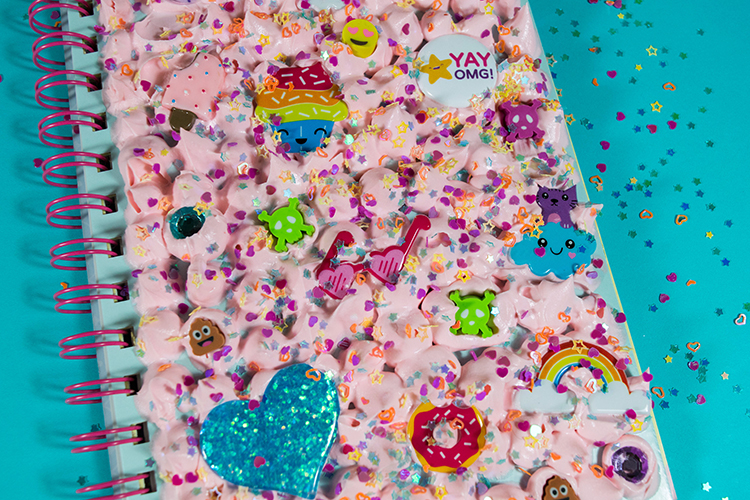 As you can see, we added in a few extra decorations of our own – including a YAYOMG! pin, some Cutie Stix, and of course – LOTS of glitter!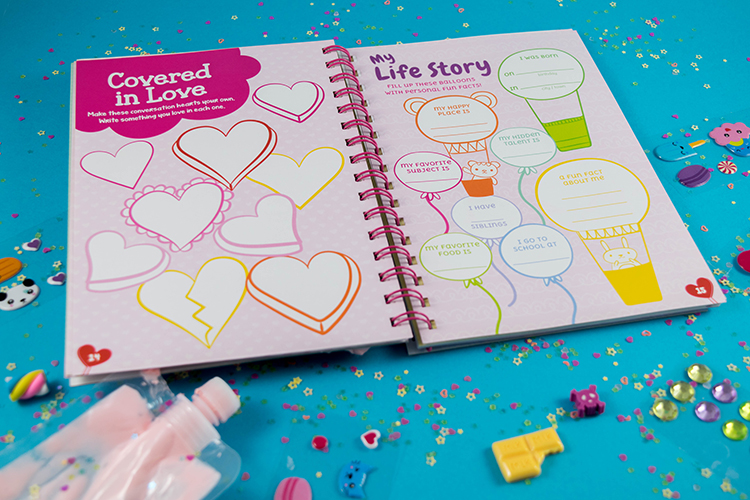 After letting your creation dry for at least 48 hours, you should be good to get your journal on! Each page of Decorate This Journal is bursting with everything from personality quizzes to doodling prompts, and lots of other things to inspire you. If you're not typically into the whole writing about your day in a diary thing (and even if you are), this is a great choice for you. This journal is more of a keepsake or scrapbook of yourself in the moment. It asks you fun questions or gives you a little activity to complete rather than asking you to write lots and lots about your feelings or your day.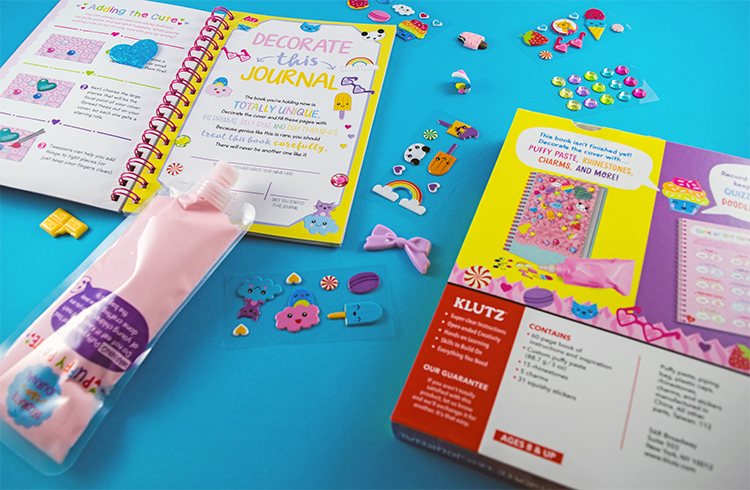 Here's a few types of activities you'll find inside:
Emoji Expressions – Draw an emoji that describes how you feel about everything from getting a makeover to learning something new in math class.
What's in My Bag – Doodle all the things you carry around inside your backpack everyday.
Cute or Not Cute – Think sloths are cute but bats are totally not cute? Show your journal how you feel by coloring in your choices.
Nail Art – Draw your own nail art, dream up your own nail polish colors, and more!
What Kind of Donut Are You? – Take the quiz to find out if you're Plain Glazed, Chocoalte Frosted, or Strawberry Sprinkles!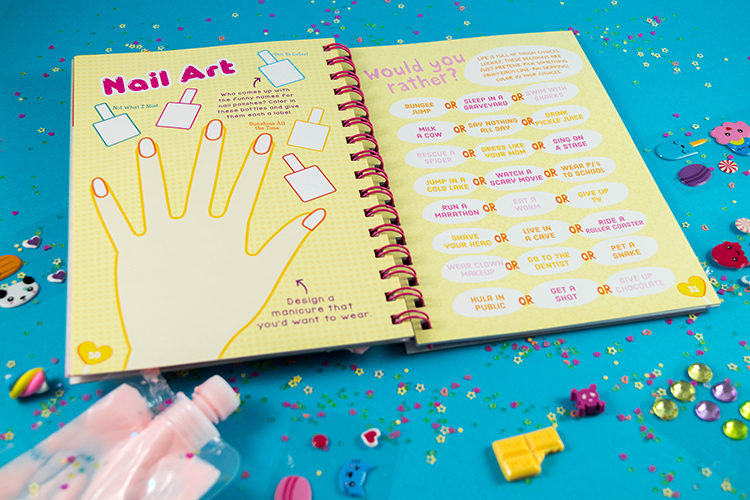 Since it's not dated, you can fill it out as quickly or as slowly as you want. Scribble your way through a few pages at once or jot down what's on your mind before you go to sleep at night. If you think this journal is right up your alley – you're in luck! It's now available from Klutz on their website, Amazon, and lots of retailers like Barnes and Noble and Target.
Journal obsessed like us? Here's some of our other favorite diaries and journals you're sure to love!
Note: We received this product for free from Scholastic/Klutz in exchange for a fair and honest review. We were under no obligation to write a positive review.