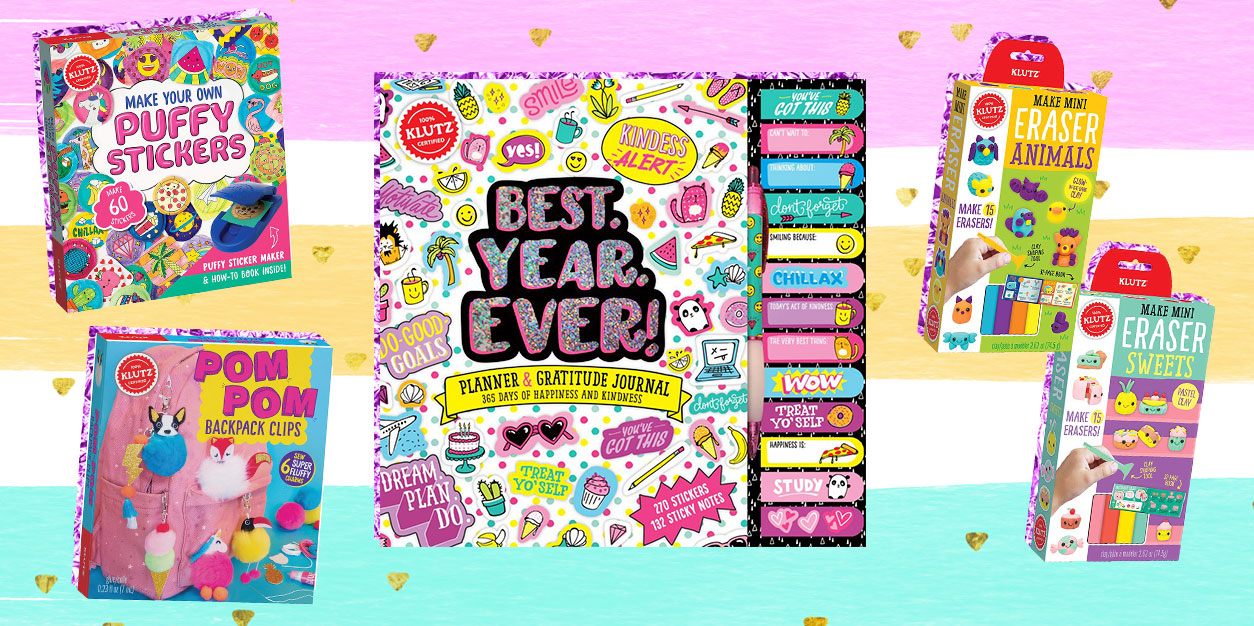 Craft the Perfect School Year With Our Klutz GIVEAWAY!
NOTE: We teamed up with Klutz for this Back to School Giveaway. All opinions are our own; we were under no obligation to give a positive review. Giveaway prizes provided by Klutz.
As Summer winds down and the school year looms closer, you've probably started thinking about all your back to school essentials. You've picked out your backpack, planned your perfect first-day look, and figured out which friends you'll be sitting with at lunch.
If you're wondering how you can make your mark and make this your most iconic year yet, why not get your craft on? With these awesome Klutz products, you can get organized, decorate, and create all the essentials to kick off this year in style.
We've teamed up with our besties at Klutz for an amazing giveaway to help you craft the perfect school year! Enter below for your chance to win the back to school prize pack of every crafter's dreams.
Here's How You Can Craft the Perfect Year: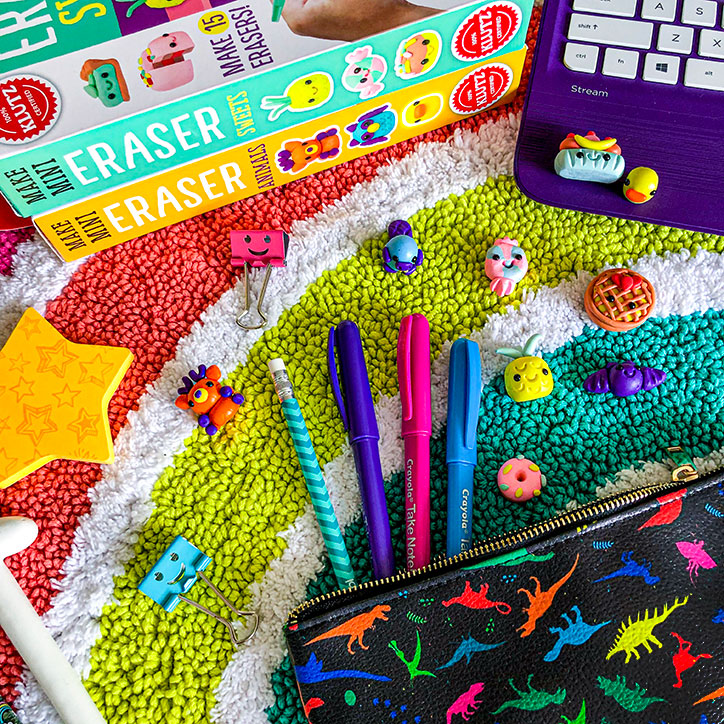 Mini Erasers Sweets & Animals:
Let's face it – everyone makes mistakes! That's why you'll need an eraser or two to remove any errors you might make on your homework. There are lots of super cute erasers out on the market, but making your own is so much more fun.
That's why we love the Mini Erasers line from Klutz. These kits come with everything you need to mold and shape your own adorable erasers. Stash them in your pencil case and make a few to share with the squad. Use them as decorations to jazz up an otherwise dull desk.
Our giveaway includes the Sweets and Animals sets, but Klutz also offers an Alien set for all of the space lovers out there, as well as a Cuties set for fans of unicorns, mermaids, and other magical creatures! There's something for everyone.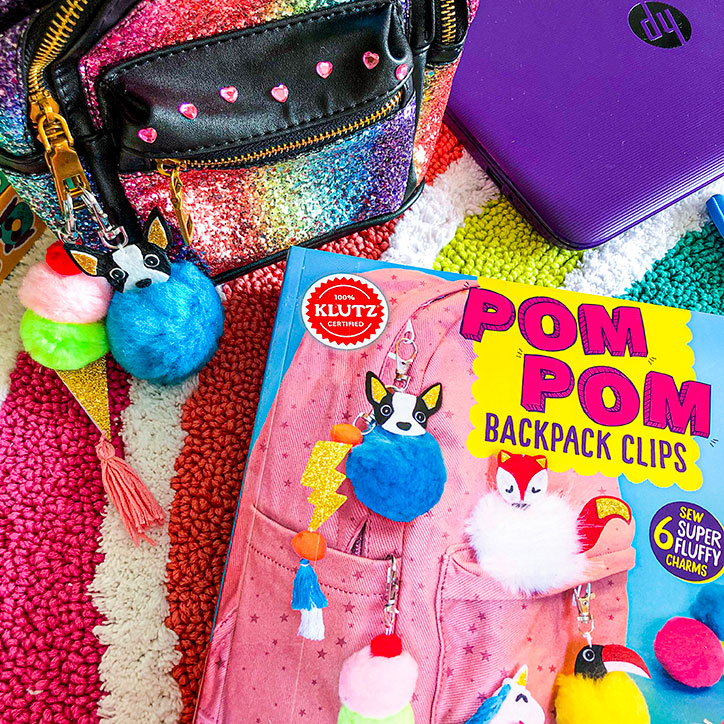 Pom-Pom Backpack Clips:
Even if you've already picked out your backpack, there's always room to make it your own. Show the world who you are by adding patches, pins, or these DIY clip-on pom poms.
Using the included colorful puffs, tassels, and felt pieces, you can create foxes, ice cream cones, and anything else you can dream up. You can sew up to 6 backpack clips with this kit, so grab your friends and invite them over for a craft day before you say goodbye to Summer.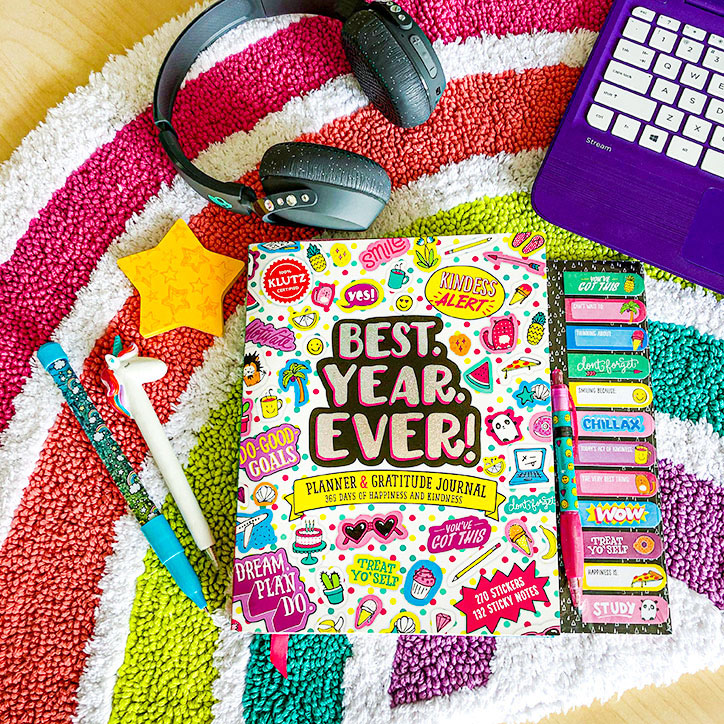 Best. Year. Ever! Planner:
If you're an avid YAYOMG! reader, then you already know that we're absolutely head over heels for this planner. Best. Year. Ever! is a step above your ordinary planner. With weekly challenges and motivational prompts, this will become your essential companion for goal setting and dream chasing.
You'll never have planner envy because every single page is vibrantly colored and brimming with emoji, doodles, and patterns. It also comes with cute stickers and sticky notes to keep you on track. Jot down your homework, add-in important dates, and fill out all of the creative activities to make this your best year yet!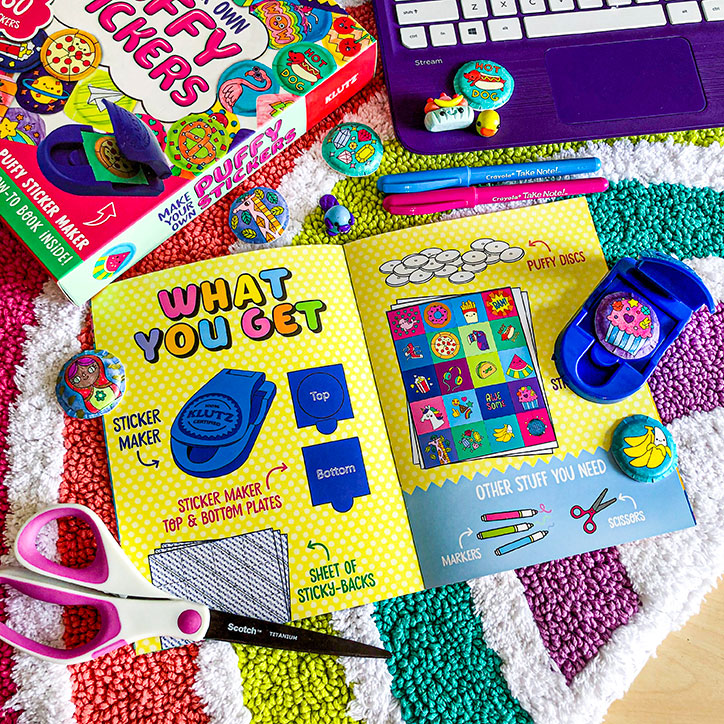 Make Your Own Puffy Stickers:
This kit makes it easy to create your own unique puffy stickers. Stick 'em to your folders, notebook, or locker!
This one IS so easy to do, even for the craft-clueless. Despite our love for DIY, we aren't always the best at making everything look as good as it does on the package. With the Make Your Own Puffy Stickers kit, you'll be an expert sticker designer in no time. There's a style for every personality, from sloths to pizzas to cacti. Since the kit comes with enough materials to make 60 stickers, you can change your mood anytime!
Klutz Back to School Giveaway: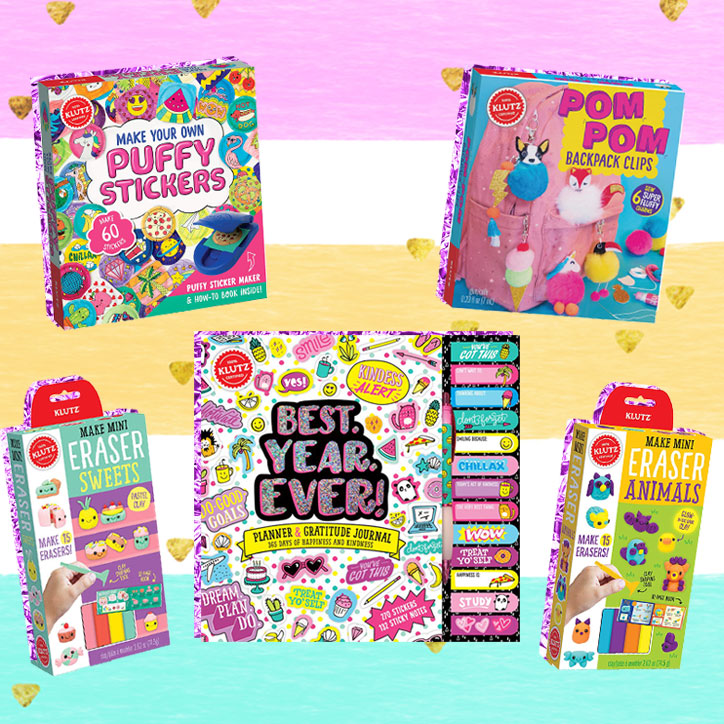 WHAT DO I WIN?:
ONE lucky winner will receive a Klutz Back to School Prize Pack that includes:
– ONE (1) Make Mini Eraser Sweets Kit
– ONE (1) Make Mini Eraser Animals Kit
– ONE (1) Pom-Pom Backpack Clips Kit
– ONE (1) Best. Year. EVER! Planner
– ONE (1) Make Your Own Puffy Stickers Kit
*Prizes generously provided by Klutz
HOW DO I ENTER?:
Grab a parent or guardian and have them fill out the form below by August 14, 2019 at 11:59pm ET.
Giveaway runs from 08/06/19 at 06:00 pm ET through 08/14/19 at 11:59 pm. Open to US residents ONLY. Be sure to read the fully detailed rules HERE before entering.
You must be 18 or older to enter. Please, only ONE entry per person. If selected as a winner, we will provide your parent/guardian with an affidavit to confirm that you are a valid winner who has permission to win. They will be REQUIRED to sign and return the affidavit to YAYOMG! to claim your prize. Prizes will not be mailed out without signed parental consent.
Does your backpack or laptop need more sparkle? Want to add gems to your hair for the first day? Keep your back to school DIY vibes by entering our Blinger giveaway!