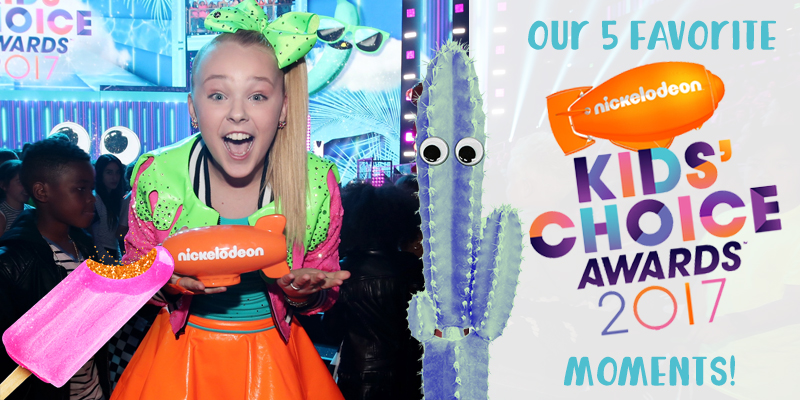 Our 5 Favorite KCA 2017 Moments
The 2017 Nickelodeon Kids' Choice Awards were this past Saturday, and it was an unforgettable night of fun! As always, the KCAs brought the LOLs, the slime, and the celebs together for one amazing event. There were so many can't-miss moments , incredible outfits, and outrageous musical performances. In case you missed it (or wanted to re-live the fun!), we picked our 5 Favorite KCA 2017 Moments for you.
Our 5 Favorite KCA 2017 Moments: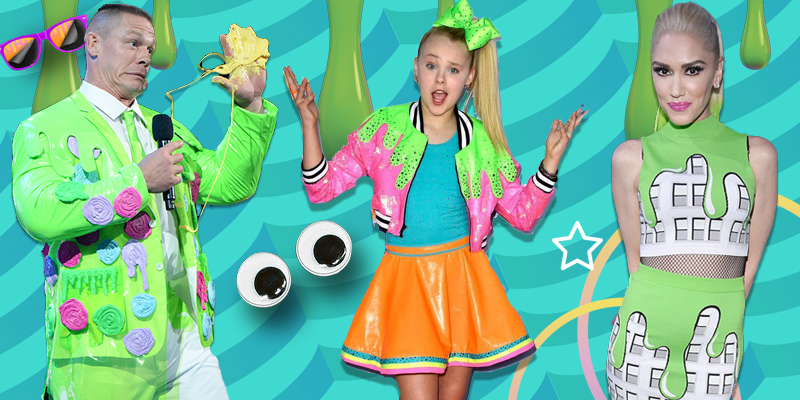 1. The amazing slime inspired outfits
Orange Carpet fashion is always fun, unique, and unpredictable, but a few celebs really took it to the next level this year. JoJo Siwa, Gwen Stefani, and John Cena showed their Nickelodeon spirit by rocking slime inspired looks. Which is your fav? Vote in our poll!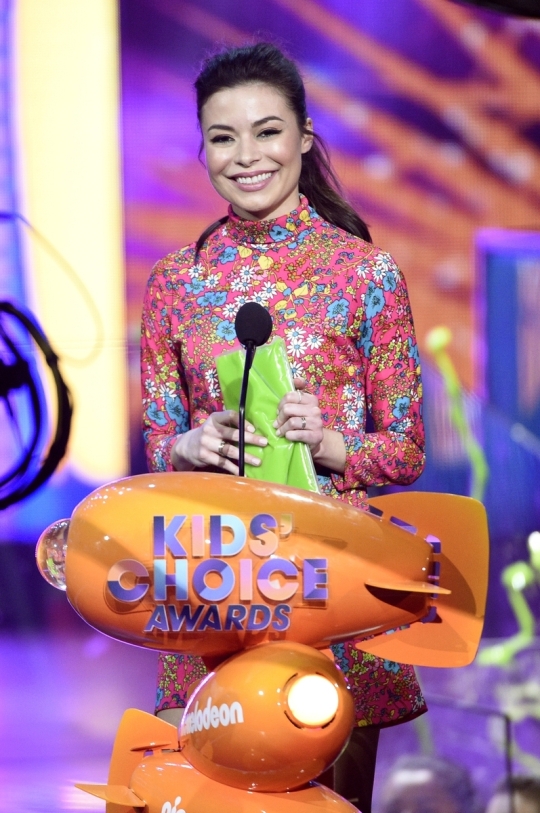 2. Miranda Cosgrove made a surprise appearance
Miranda Cosgrove brought the iCarly feels by showing up at the KCAs! She rocked the orange carpet in style and gave out the award for Favorite TV Show (Kids's Show) to the cast of Henry Danger. Miranda mentioned that reuniting with her Nickelodeon family feels like home. Since Miranda still loves Nick and Nathan Kress directs a bunch of Game Shakers episodes – can we please just have an iCarly reunion episode already?! We've got our eye on you, Dan Schneider.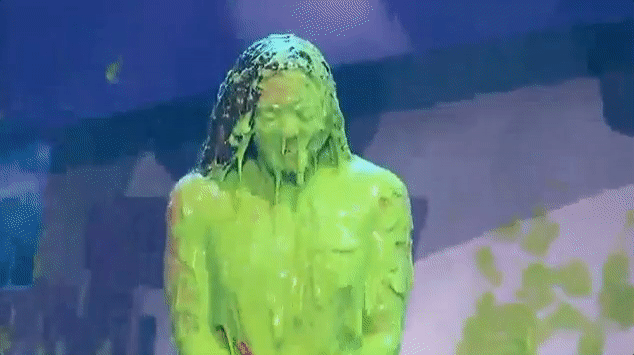 3. The epic slimings
Watching our fav celebs get slimed has always been our favorite part of the Kids' Choice Awards, so we were obviously excited to see Demi Lovato, Chris Pratt, Kevin Hart, and John Cena covered in the famous green goo! Our favorite sliming this year was definitely Demi's. That gif doesn't quite do the moment justice – be sure to take a look at Nick's highlight reel to see it in action.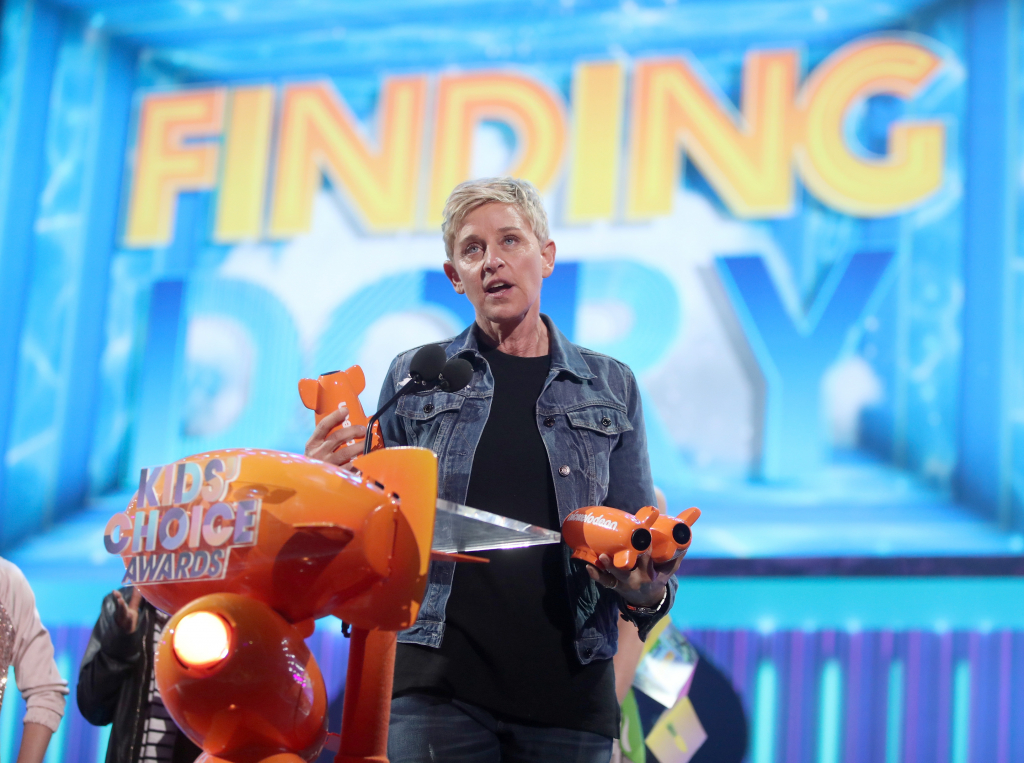 4. Ellen's big win and heartwarming speech
You can always count on Ellen to be funny, sweet, and aDORYble! When Ellen and the rest of the Finding Dory team won for #Squad, Ellen took a moment to make things extra special. She made the audience and kids watching at home take a very important oath in order to be a part of her squad. The oath: "I am good enough just as I am. I am supposed to be unique and different. I'm not supposed to be like everyone else. I promise to be kind to people. I promise to brush my teeth every day and floss."
We think that's a pretty great message and we'll definitely be repeating that one to ourselves when we're feeling down.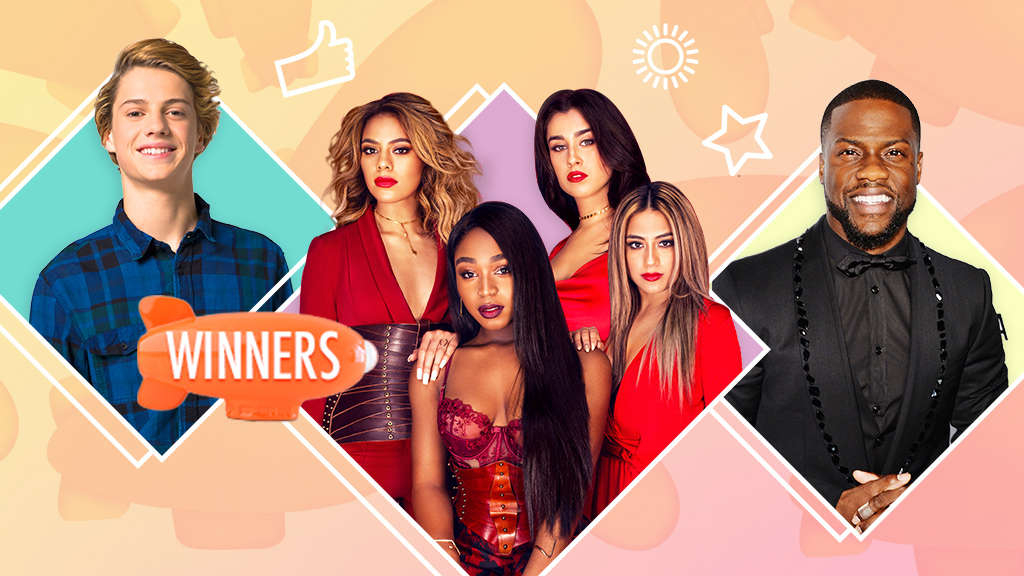 5. The big winners:
Step aside Emmys, Oscars, Tonys, and Grammys – there's no cooler award a celeb can win than an Orange Blimp. Seriously, we've seen a ton of interviews with celebs who've boasted that their KCA Orange Blimps are the best award they've ever won. (Can you blame them? Each award doubles as a kaleidoscope!) This year there were a ton of really big wins, so peep the list below in case you missed them. Congrats to all the winners!
(Spoiler alert: Don't scroll down if you don't want to know who won!)
TELEVISION
Favorite TV Show – Kids' Show
Henry Danger
Favorite TV Show – Family Show
Fuller House
Favorite Reality Show
America's Got Talent
Favorite Cartoon
SpongeBob SquarePants
Favorite Male TV Star
Jace Norman (Henry, Henry Danger)
Favorite Female TV Star
Zendaya (K.C., K.C. Undercover)
MOVIES
Favorite Movie
Ghostbusters
Favorite Movie Actor
Chris Hemsworth (Kevin, Ghostbusters)
Favorite Movie Actress
Melissa McCarthy (Abby, Ghostbusters)
Favorite Animated Movie
Finding Dory
Favorite Voice From An Animated Movie
Ellen DeGeneres (Dory, Finding Dory)
Favorite Villain
Kevin Hart (Snowball, The Secret Life of Pets)
Favorite Butt-Kicker
Chris Evans (Captain America, Captain America: Civil War)
BFFs (Best Friends Forever)
Kevin Hart & Dwayne Johnson (Bob/Calvin, Central Intelligence)
Favorite Frenemies
Ginnifer Goodwin & Jason Bateman (Judy/Nick, Zootopia)
Most Wanted Pet
Snowball from The Secret Life of Pets (Kevin Hart)
#Squad
Finding Dory – Ellen DeGeneres, Albert Brooks, Kaitlin Olson, Hayden Rolence, Willem Dafoe, Ed O'Neill, Ty Burrell, Eugene Levy

MUSIC
Favorite Music Group
Fifth Harmony
Favorite Male Singer
Shawn Mendes
Favorite Female Singer
Selena Gomez
Favorite Song
Work from Home – Fifth Harmony ft. Ty Dolla $ign
Favorite New Artist
Twenty One Pilots
Favorite Music Video
Juju on That Beat – Zay Hilfigerrr and Zayion McCall
Favorite DJ/EDM Artist
Calvin Harris
Favorite Soundtrack
Suicide Squad
Favorite Viral Music Artist
JoJo Siwa
Favorite Global Music Star
Little Mix
OTHER CATEGORIES:
Favorite Video Game
Just Dance 2017
Now that the KCA's are over, there's no need to be sad. Click here for more awesome Nickelodeon goodness.
Photo Credit: refinery29.com, nickkcapress.com, news-sentinel.com