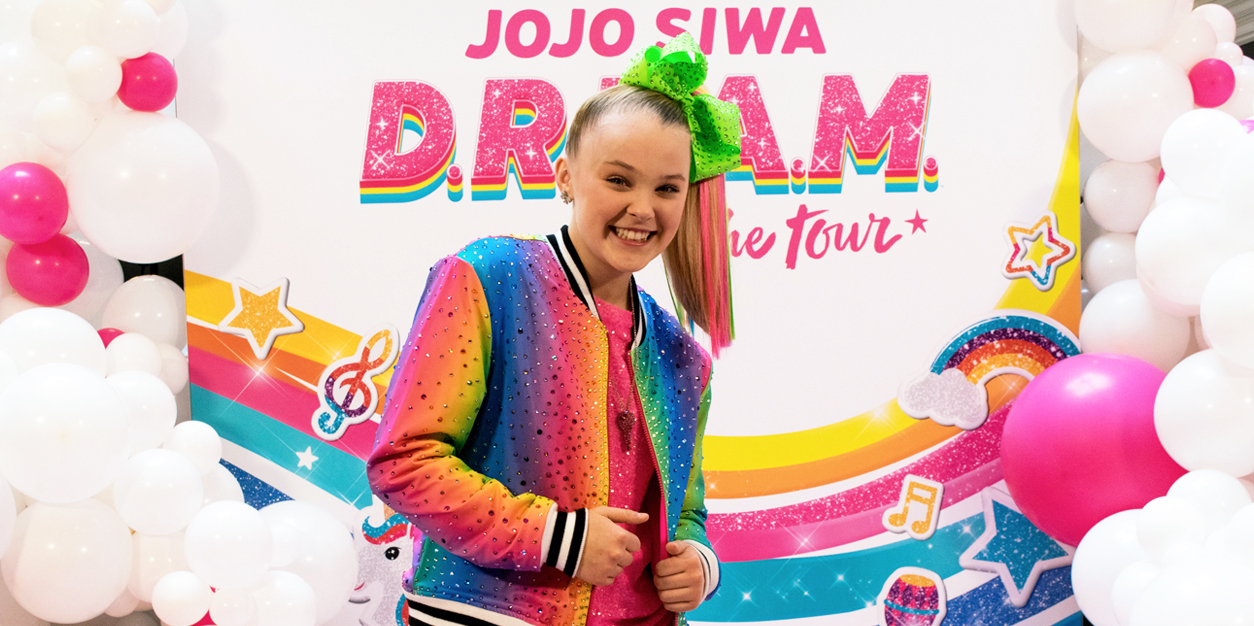 JoJo Siwa Dishes on her D.R.E.A.M. Tour, New Music, and her Biggest Dream
Walking into the Sugar Factory in NYC on Thursday afternoon was like stepping inside JoJo Siwa's brain. Everything was covered in sparkles, unicorns, and bows – it was a wonderland for all the JoJo fans in attendance. All the girls who attended the event had no idea what JoJo was about to announce, but they were all decked out in their favorite JoJo bows, merch, and accessories to support their favorite star.
The big announcement? JoJo Siwa is headed out on very FIRST tour this Summer with the help of Nickelodeon and AEG. She will also be releasing her first-ever EP, D.R.E.A.M. The Music, in just a few weeks. We were so excited to be able to chat with JoJo Siwa about all her exciting news, her musical inspirations, and her endless motivation to work hard!
JoJo Siwa Dishes on D.R.E.A.M. the Tour: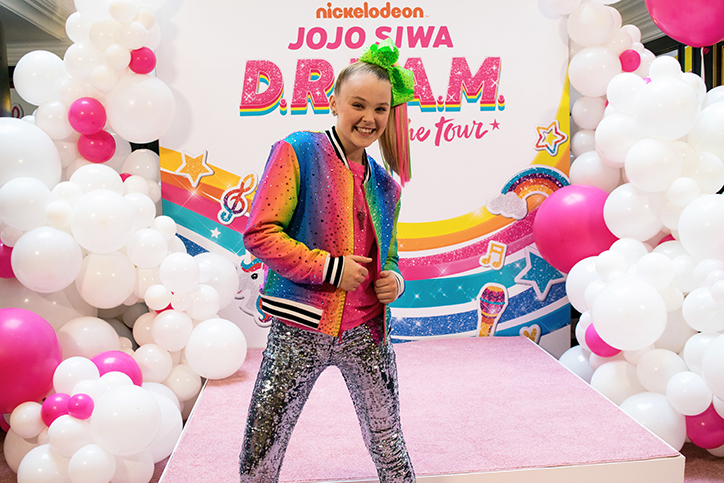 You have some very exciting news to share today! Can you tell us what it is?

JOJO SIWA: I am so excited because I'm going on tour! It's my first ever tour, D.R.E.A.M. the Tour, t's going to be epic! It's me, Nickelodeon, and AEG all working together and it's going to be radical!

Do you have any surprises planned for the tour?

JOJO: I have a million surprises planned, BUT I can't share any of them yet. I can say this – I have new music coming out specifically for the tour itself.

What is like to be able to connect with your fans in such an exciting new way?

JOJO: It's so cool, my fans are so awesome. My favorite thing in the world is to get to meet them, and perform for them and with them, that's the coolest thing ever to me. I'm going on tour – that's like the best time of my life, literally!
What is like for you when you perform and look out onto a sea of fans rocking JoJo bows and merch?

JOJO: It blows my mind every time just how JoJo they can be! At Slime Fest US, I walked out on stage and all I saw was 14,000 people all decked out in JoJo bows. I was like, I didn't know there was that much JoJo merch! I saw some shirts in the audience and was like "I haven't even seen that shirt before!". It's literally amazing.

You're also dropping your first EP, D.R.E.A.M. The Music. What can you share about your new music?

JOJO: I'm really excited for that, I haven't talked too much about the EP yet, but it's going to be super, super, super fun! It has four songs on it, which is the most I've ever released at once. I've never even released two at once, so it's a big step for me and I'm really excited to do it.

Who are some of your musical inspirations?

JOJO: GWEN STEFANI! I love Gwen Stefani, I love Bruno Mars, and I love Michael Jackson.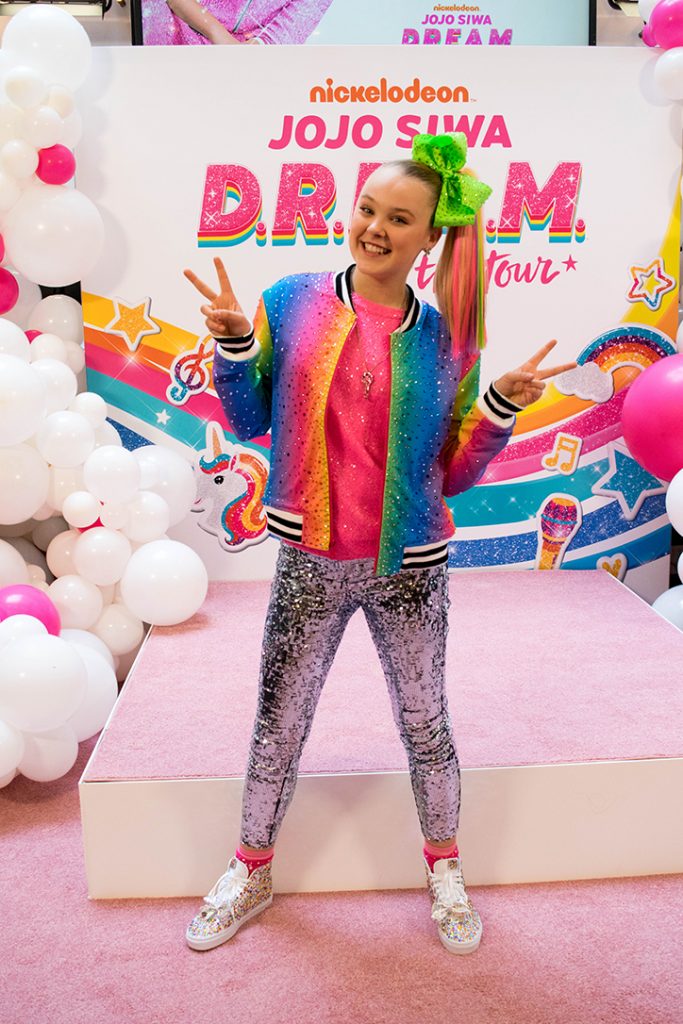 Do you have a favorite concert you've been to?

JOJO: I loved Gwen Stefani's concert, that was amazing! And Britney Spears concert was amazing too.

All of your songs are upbeat, positive, and empowering. Why is it so important to you to spread these messages through your music?

JOJO: It's important to me because a lot of kids listen to my songs. It's cool that I can put out a music video and it gets millions of views. We put out D.R.E.A.M. three days ago, and it already has over 2 million views, that's crazy! Boomerang has over 6 million views.

It's so cool to me that the wording of my lyrics like "Not gonna let the haters get their way, I'm coming back like a Boomerang," something that's kind of random to say about bullies, has a message that gets out to millions and even half a billion kids.

Who are some of your female heroes?

JOJO: I love BowBow, haha! I'd go with my mom, my mom is great and definitely BowBow, she's my hero and the cutest. And also Gwen Stefani.
It seems like every few days you're doing something different or announcing something new! How do you stay so motivated and passionate to keep going?

JOJO: Every day the past few weeks I'm like "okay – this is what's next, this is what's next, this is what's next", and my brain is like "we're really changing a lot of things at once, and we're creating a lot of things at once – are we sure we want to be going this fast – don't we want to spread this out?", but my mind and my heart are like "Nope! Doing it all at once!" It's crazy, it's cool, it's confusing, but it all works out!

When you get a chance to slow down and be just be JoJo, what do you like to do?

JOJO: I don't really like to slow down. I like to keep running and keep sprinting and continuing to do my thing. There's not that many things I like to do that aren't working – working is my passion!

But when I'm not working I love playing with BowBow, I love going indoor skydiving with my brother, I love anything boxing – I did it one day and now I love it.

Since your tour, EP, and newest single are all DREAM focused, what is your biggest dream?

JOJO: My biggest dream WAS to go on a tour, and now that's coming true! My other biggest dream would be to go on a World Tour!
Want to catch JoJo on tour this Summer? Visit JoJoDreamTour.com for a list of all her tour dates, meet and greet info, and more!