Shine Bright in the JoJo Siwa by Betsey Johnson Collection
Two iconic fashionistas have teamed up for the sparkliest collab ever!
Global sensation JoJo Siwa and fashion design icon Betsey Johnson are collaborating on a brand new clothing line! If you're a JoJo fan, you likely already have a few of her bows in your collection and some of her clothes in your closet. But unlike her previous lines, this exclusive Bloomingdales capsule collection was designed by Betsey Johnson!
Betsey's edgy, unique designs have been a force in the fashion world since the '70s, allowing women to express their personalities through their clothing and accessories unlike ever before. Since JoJo and Betsey are both known for standing out from the crowd and aren't afraid to sparkle, there truly couldn't be a better combination to represent positivity and self-expression.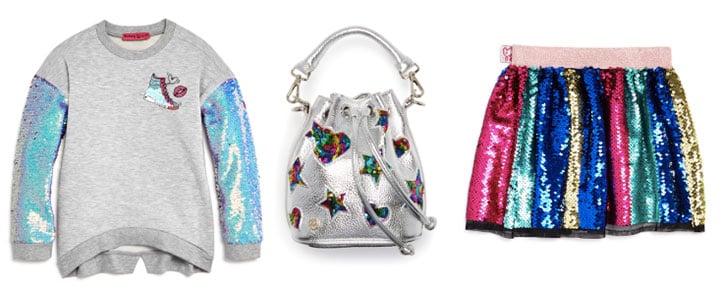 Beginning this week, the JoJo Siwa by Betsey Johnson line debuts exclusively at Bloomingdales! The colorful collection includes 18 pieces, ranging from bows and backpacks to bomber jackets and dresses.
You can shop the collection on bloomingdales.com or in-store. Here are a few of our favorite pieces from the line!
Our JoJo Siwa by Betsey Johnson Faves: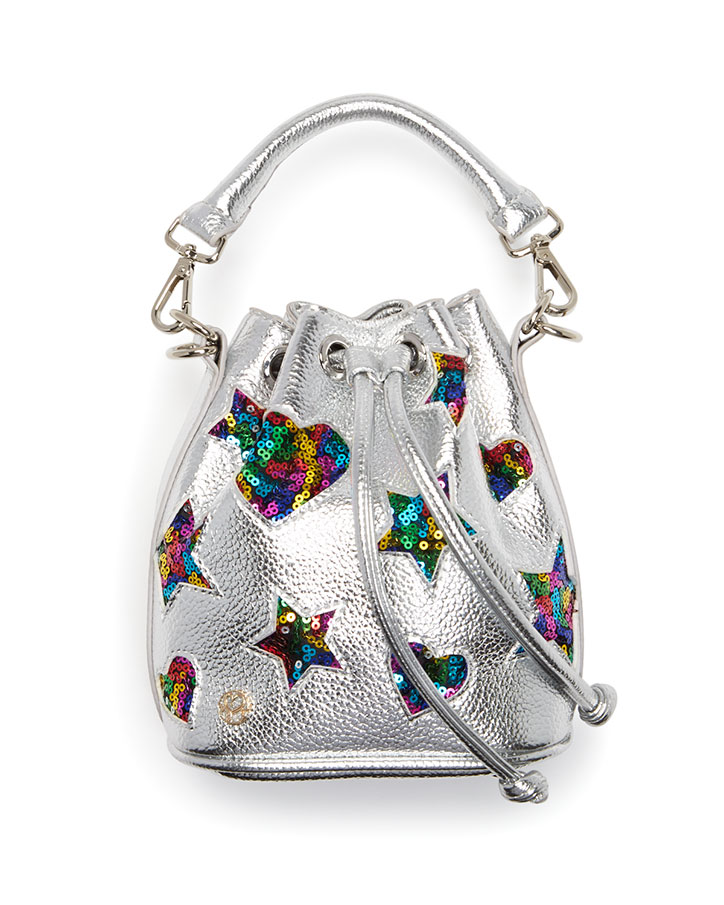 Metallic Drawstring Bucket Bag:
This metallic purse is probably our favorite piece in the entire JoJo Siwa by Betsey Johnson line. From the rainbow sequins to the glimmering silver, every aspect of this bag shines as bright as JoJo!
Fill it up with all your essentials and find your confidence as you head out for a night of fun. Whether you're headed to a birthday bash, a school dance, or a night out to dinner with your family, this bag will have heads turning, putting you in the spotlight all night long!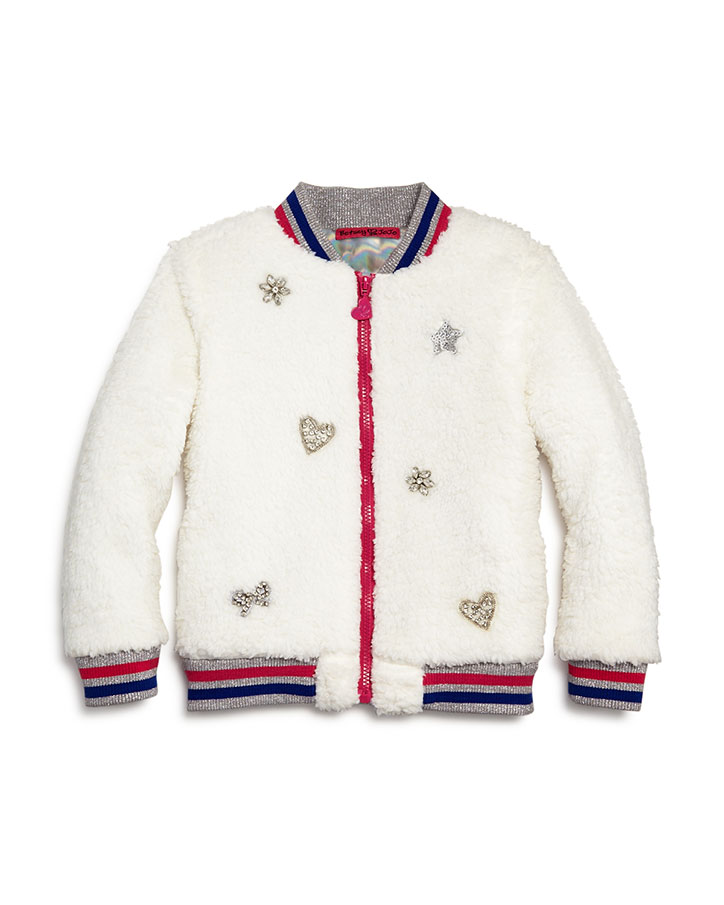 Sherpa Bomber Jacket:
This fluffy bomber is plush and cozy, the perfect choice to keep you looking fabulous this Fall. Adorned with dazzling rhinestone embellishments, we love how this jacket makes a statement without being too over the top.
We love this piece because it's glam, yet versatile. Dress it down by pairing it with your most worn-in jeans or dressed up when you rock it over your favorite dress. Either way, you'll be rocking JoJo's vibrant energy wherever you go.
Striped High Top Rhinestone Bow:
We love the cotton candy vibe of this JoJo Siwa by Betsey Johnson bow. From the retro-inspired rainbow stripes to the shimmering rhinestones, everything about this bow is bold and cheerful, just like JoJo!
The best part? The rhinestone encrusted high top sneaker in the center elevates this from an ordinary hairbow to a statement piece worthy of building an #OOTD around on more than one occasion. We have a feeling you'll be snapping a LOT of selfies while wearing this bow!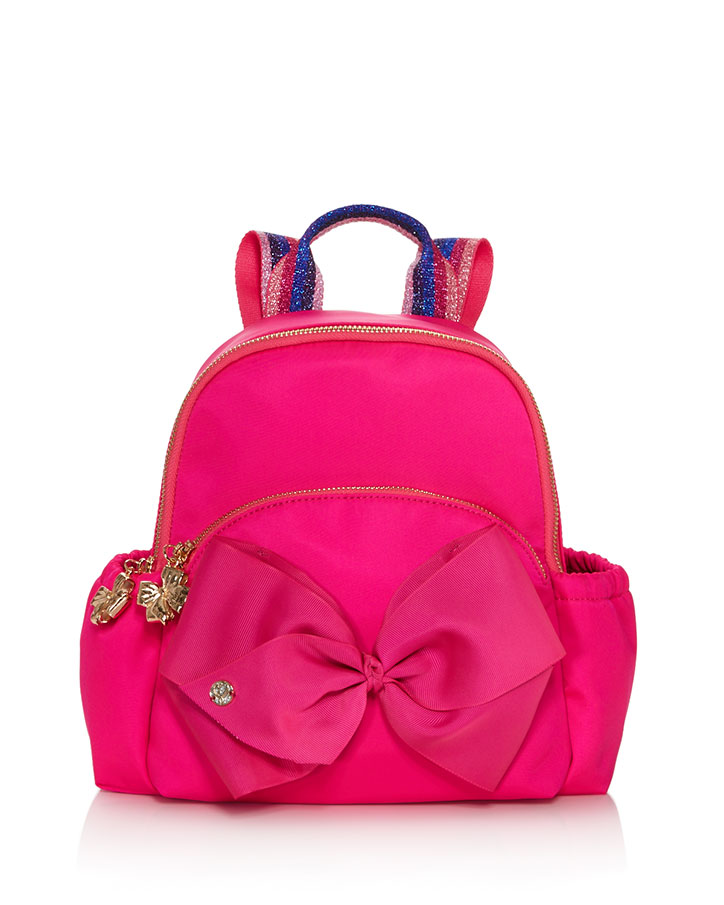 Bow Backpack:
This eye-catching mini backpack is totally chic! If you're only able to get one item from this collection, we think this is the must-have pick. First off, it's absolutely adorable, putting a glam twist on the signature JoJo bow.
The other reason we love it? This bag is classic Betsey Johnson, mimicking many of the bags Betsey has designed over the years. She is known for adding big bows to many of her designs, so it's no wonder JoJo wanted to collab with her! Whether you choose to rock it at school or only wear it out on special occasions, you can rest assured knowing you look completely fab!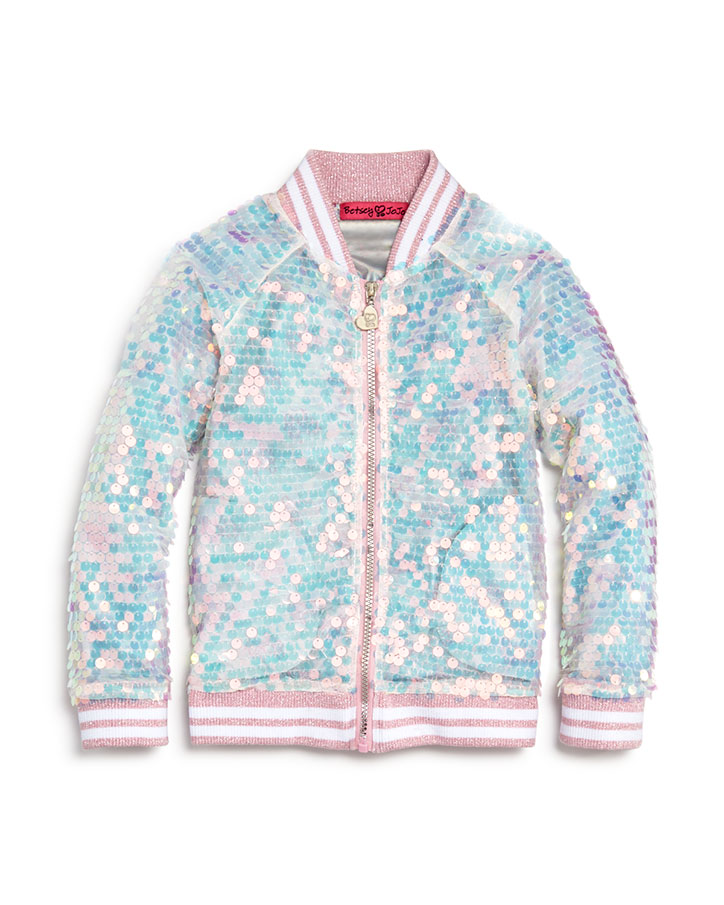 Iridescent Sequin Bomber:
We simply can't get enough of this pastel sequin bomber. It gives off such rockstar vibes, making it perfect for cheerleading practice, the talent show, or your next big dance competition.
Even if you aren't one to get your groove on, you'll feel like a total rockstar every time you zip up this totally amaze jacket. It's a great way to dazzle up your wardrobe, try something new, and take bold fashion risks. Who knows, you might just become a style icon!
Loving our picks? The full JoJo Siwa by Betsey Johnson line features 18 pieces, designed specifically to help you channel your uniqueness and love of sparkle.
Are you a JoJo Siwa fanatic? Find out which JoJo song is your anthem by taking our quiz!