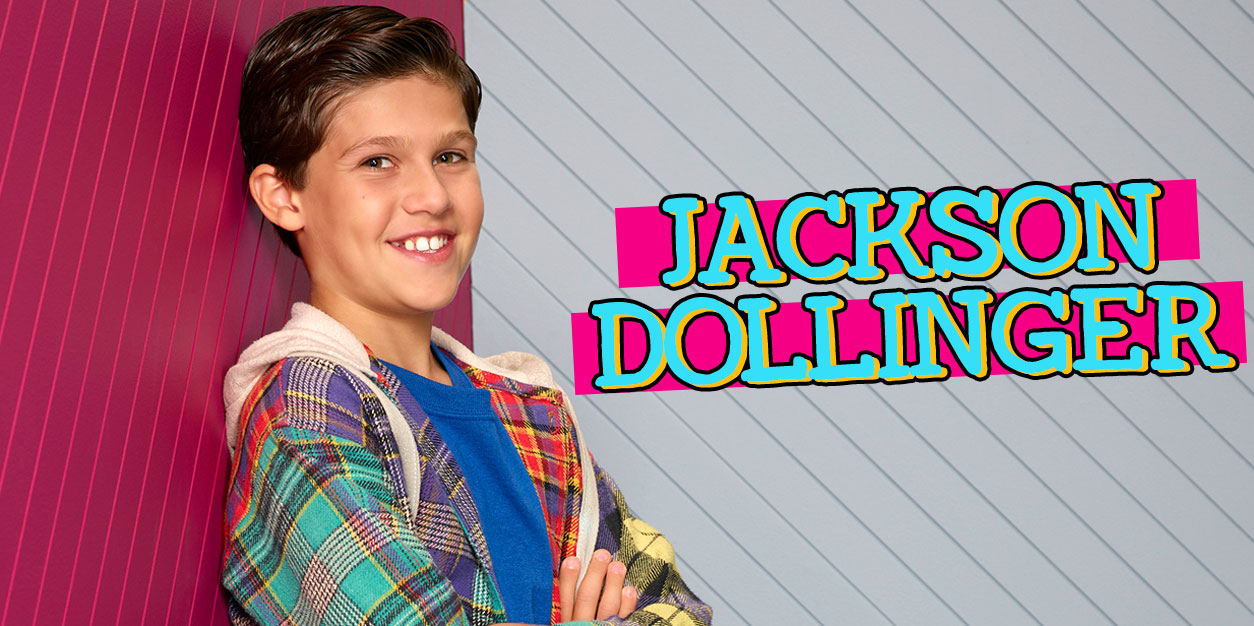 Jackson Dollinger Talks Sydney to the Max and Making a Positive Impact
Jackson Dollinger is about to become one of your newest Disney Channel favs! You can catch him on the new series, Sydney to the Max, which premieres tonight.
Jackson is a talented skateboarder in real life, in fact, it's actually part of why he landed the role. He plays the young version of Max, Sydney's dad, who was all about skateboarding back in the '90s. In addition to skating, Jackson also loves to surf, play basketball, and rocking out on the drums.
Get to know Jackson Dollinger as he shares more about his role on Sydney to the Max, his love of doing stunts, and more!
Get to Know Jackson Dollinger:

Tell us a little about your new show, Sydney to the Max! What can fans expect to see?

JACKSON DOLLINGER: It's a father/daughter sitcom that occurs during two time periods. It highlights that even though technology changes, many of the situations that teens experience don't change all that much. I think kids and parents will both really relate to the show. Fans should expect to see many funny and heartwarming moments between father/daughter, mother/son, and best friends. They can also expect to see a lot of technology that they might not have seen before.

Sydney to the Max jumps between eras, showing Sydney's life as a modern 12-year-old and her dad's life as a 12-year-old in the '90s. You play the younger version of Max. What has it been like taking on this role?

JACKSON: Playing the younger version of Max has been a blast! My character is so funny and loveable. He is being raised by a single mother, and the dynamic between them is fun. Max is trying to spread his wings, and with that, he gets himself into some pretty funny predicaments. His mom, Judy, is razor sharp and nothing gets past her.

As the '90s version of Max, do you get to use or wear any fun 90's products while filming?

JACKSON: Oh yes! The gadgets from the '90s are one of the best parts of playing a character from that period. I have used a VCR, a pager, a payphone, and more! These gadgets always spark conversation between the cast and crew as they reminisce about what it was like when they were growing up. It's great! All the clothes I wear on the show are from the '90s. They are definitely more colorful and baggier than my regular clothes. I think it's pretty cool to be in the '90s.
View this post on Instagram
Do you have any favorite moments from filming that you'd like to share?

JACKSON: One of my favorite moments from filming was during the Pilot. I got to perform my first stunt with a skateboard. I trained with a stunt coordinator, and when the time came to do the stunt, it went off without a hitch. It was so much fun. I hope to always do my own stunts!

How do you balance school, acting, and just being a kid?

JACKSON: So far, it hasn't been difficult. I attend school on set and I still play team sports, skateboard, and hang out with my friends during my free time. We often play handball, basketball, and other games at the studio during our breaks. There are always plenty of kids around to hang out with since we are a kid's show.

What show or movie would you reboot if you had the chance? What role would you most want to play?

JACKSON: Home Alone would be my choice for a movie reboot. I would want to play Kevin McCallister because he gets to set up a bunch of booby traps. It seems like that movie would have been so much fun to work on.

Top 3 favorite foods – GO!

JACKSON: Sushi, lamb chops and tacos.
How do you make a positive impact?

JACKSON: I try to make a positive impact in everything I do. I am passionate about animal rights and kid's charities. I also volunteer whenever the opportunity presents itself. One of the most memorable volunteer activities I did was host a luncheon for 75 homeless people in Los Angeles through Hope of The Valley Rescue Mission. My family bought and served the lunches and snacks and distributed toiletries to the attendees. It was such a rewarding experience. A lot of my friends from school and from my soccer and basketball teams showed up to help. We all left feeling great that afternoon.

What is your biggest dream for the future?

JACKSON: My biggest dream for the future of the Earth is to eliminate trash in the ocean and slow or stop global warming. It concerns me that in my lifetime, global warming could change life on Earth as we know it today. My biggest personal dream is to act in an action movie with The Rock and do all my own stunts.

What advice would you like to share with your fans?

JACKSON: To achieve your goals, the best thing you can do is dream big, work hard, stay focused and surround yourself with good people and don't let others discourage you from pursuing your passions.
If you loved getting to know Jackson, check out our interview with his Sydney to the Max co-star, Ava Kolker!