Hudson West on his Emmy Nomination, Dream Co-Stars, and More!
Hudson West is a 10-year-old actor who's already making waves in the industry. He's best known for his ongoing role as Jake Webber on General Hospital, in fact, he was just nominated for a Daytime Emmy Award! It's rare that someone Hudson's age is nominated for such a big award, and we were so excited that he shared his big day with us by taking over our Instagram and showing off his experience attending the big event. If you missed it, you can catch it in our Story Highlights.
Hudson has also lent his acting talents to iconic shows like Grey's Anatomy, Clarence, We Bare Bears, and Nicky, Ricky, Dicky, and Dawn. He can also be seen on the Showtime series, I'm Dying Up Here. When Hudson isn't hard at work, he loves playing sports, spending time with his friends, and riding horses. Get to know Hudson as he chats about his Emmy experience, his favorite sports, and more!
Get to Know Hudson West:
How did you get your start in acting?
HUDSON WEST: Well, I started by going to a modeling agency in Cincinnati, Ohio to possibly do print work. The agency had people from LA fly in to put on workshops, and I went to the age-appropriate workshops. I was very well behaved during classes and the owner of the agency, Jake Lang, asked me if I would go to the Expo and represent the 4 to 7-year-olds. My mom said ok, even though we didn't even know what Expo was. While at Expo, the kids got up on stage and did commercials, monologues, 2 person scenes as well as model on the runway. There were agents and managers in the audience. And they asked me to go to LA, and they wanted to represent me. It all began there, my career in acting sort of just happened!
Tell us a little about your role on the Showtime show "I'm Dying Up Here" which has its second season airing now.
HUDSON: I'm not sure I can tell you much about my character without giving too much away about the story. I don't want to get into any trouble. So I guess you will just have to watch and see!
What was it like being nominated for a Daytime Emmy Award? Tell us a little about your experience attending the ceremony.
HUDSON: I was shocked. My mom was running around the house screaming. I guess not too many kids get nominated, so it was sort of unbelievable, but in a good way! It truly was an honor. Attending the Emmys was really wonderful. It was fun getting all dressed up and meeting all kinds of other actors. I also enjoyed all of the interviews and pictures. It could be a once in a lifetime experience, so I am so very blessed to have experienced it.
You've starred in both comedic and dramatic roles. What type of character is your favorite to play and what type of role do you hope to take on in the future?
HUDSON: I really enjoy playing both types of roles. I am pretty good at drama, but like comedy too. In the future, I would like to pretty much do both roles or even more types of roles. I like to try varieties because it makes acting more challenging.
Who would be your dream co-star to act alongside?
HUDSON: I would love to work with Dwayne Johnson, Tom Hanks, Vince Vaughn, John Travolta, Steve Carell, Zac Efron, Morgan Freeman, Julia Roberts, Melissa McCarthy, Alexandra Daddario, and James Franco. I love all of their movies, so I'd be happy to work with any or all of them!
What are a few of your favorite TV shows and movies?
HUDSON: As far as TV shows, I really don't watch too many of those. I do like movies though. I like action, suspense, scary movies, and comedy. Rampage, Domestic Disturbance, Wild Hogs, Evan Almighty, 17 Again, and other films that were edited for TV.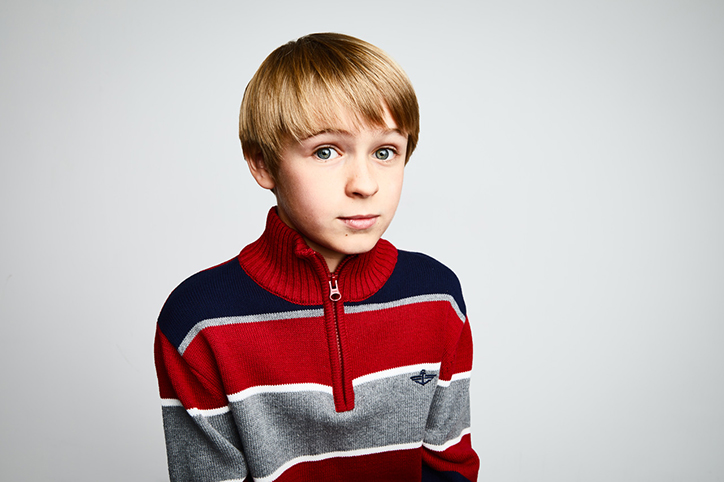 (Photo Credit: Storm Santos)

We hear you love sports! Which are your favorite sports to watch and play? Which teams do you root for?
HUDSON: I love to watch football, baseball, and hockey the most. I like the Jacksonville Jaguars for football, the Columbus Blue Jackets for hockey and LA Dodgers for baseball. I also love to play baseball and hockey.
What are some things you like to do for fun?
HUDSON: For fun I like to play baseball, ice skate, go to the movies, draw, and hang out with my friends.
Can you share a goal you have for the future?
HUDSON: I'm still a kid, so I don't really have any long-term goals right now. However, my philosophy in life is that in everything I do, I try to do my very best. I give 100% plus more and am very focused, and I committed to what I do. My goal is to be the best, kindest, humble person I can be.
Do you have any advice for other aspiring young actors?
HUDSON: It's hard work, and there is lots of competition. You have to have tough skin and be able to accept rejection. You also have to be patient, somethings just take time. It's a big commitment. I don't mean to make it sound so bad, it isn't! When you finally book something and get onset, it is amazing and so much fun! So you have to accept the good with the bad.
If you loved getting to know Hudson West, we think you'll love our interview with Mani star, Bryson Robinson!