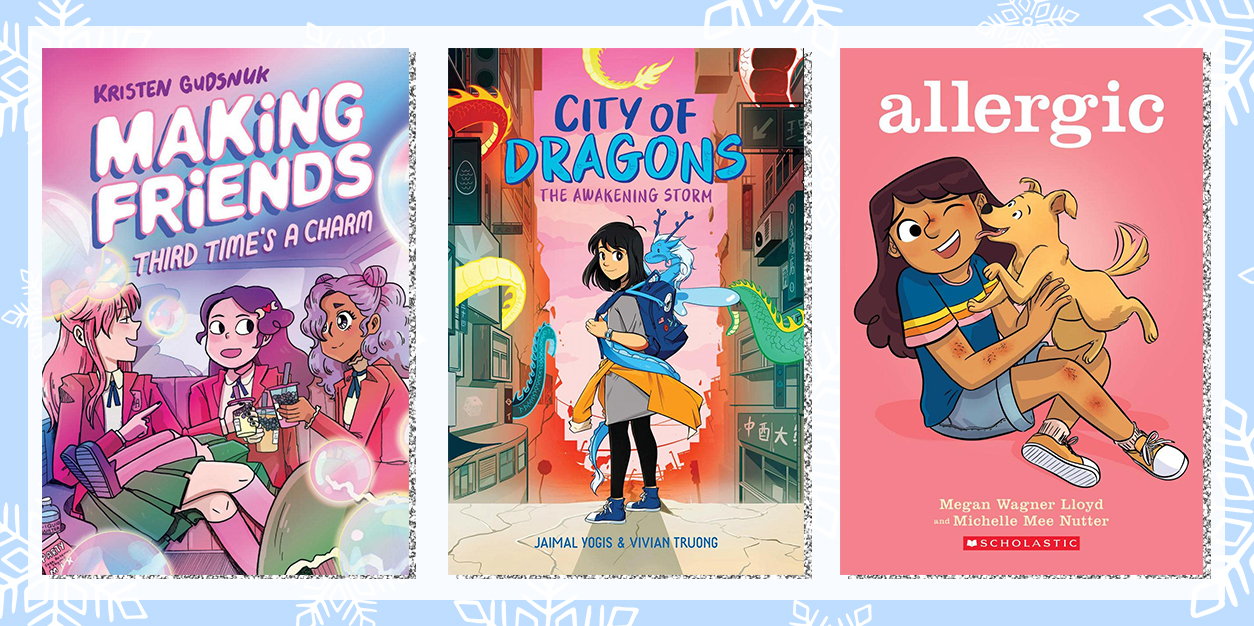 Holly Jolly Giveaways: Scholastic Graphix Graphic Novel Stash
NOTE: The items in our Scholastic Graphix Graphic Novel Stash Giveaway were provided by the brand for the purposes of our Holly Jolly Giveaways. No money was exchanged, and all opinions are our own. We reached out to these brands for this giveaway series because they create products we love.
Surprise! Just when you thought our Holly Jolly Giveaways were coming to an end, we deemed it Scholastic Saturday (yes, we have the power to make up holidays – so do you!) and we're teaming up with Scholastic to bring you TWO giveaways overflowing with amazing reads!
This first giveaway features 7 awesome graphic novels from Scholastic Graphix! These illustrated and totally iconic stories will whisk you away on exciting adventures from the comfort of your couch! Become a student at a magical school for girls, live life like an Avenger alongside Ms. Marvel and embark on a mysterious adventure filled with dragons! These 7 reads will keep you cozy and well-read all winter long and pair perfectly with sugar cookies, peppermint hot chocolates, and any of your favorite cold weather treats!
Ready to start your reading adventure? Grab your favorite adult and have them enter below for your chance to WIN!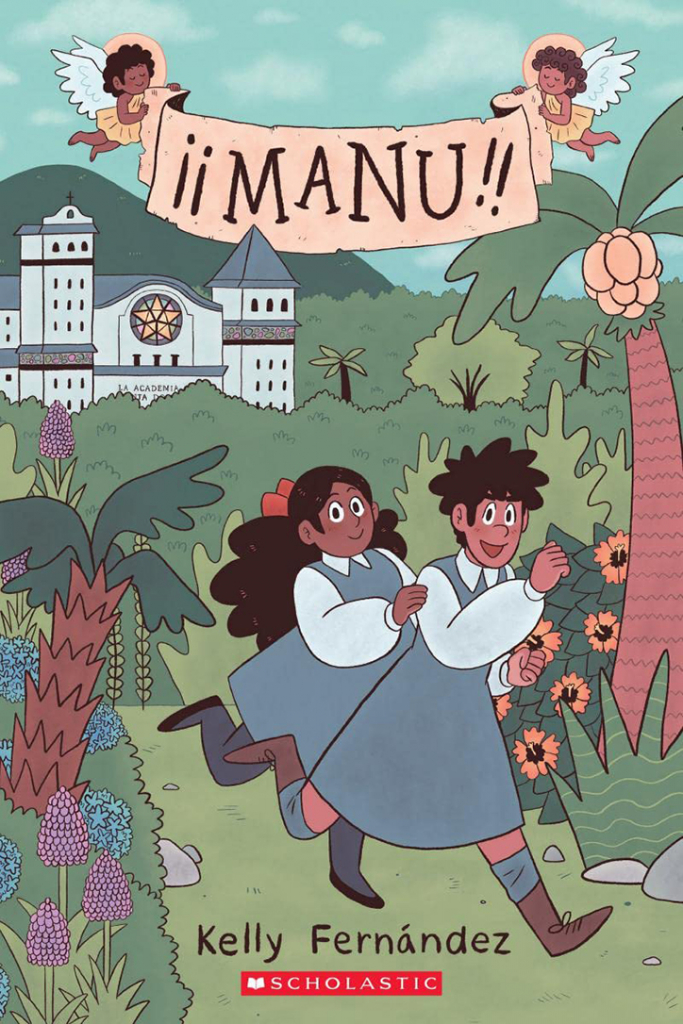 Manu: A Graphic Novel:
AUTHOR: Kelly Fernández
SYNOPSIS: Set at a magical school for girls, a funny and heartwarming middle-grade graphic novel adventure about friendship, defying expectations, and finding your place.
Manu and her best friend, Josefina, live at a magical school for girls, and Manu is always getting into trouble. The headmistress believes that Manu has the potential to help people with her magic, but Manu would rather have fun than fall in line. One day, a prank goes seriously wrong, and Josefina gets angry and wishes for Manu's magic to disappear… and it does. Manu uses a dangerous spell to restore it, but it makes her magic too powerful and nearly impossible to control. Great power comes at a cost, and it may be a price that Manu isn't able to pay!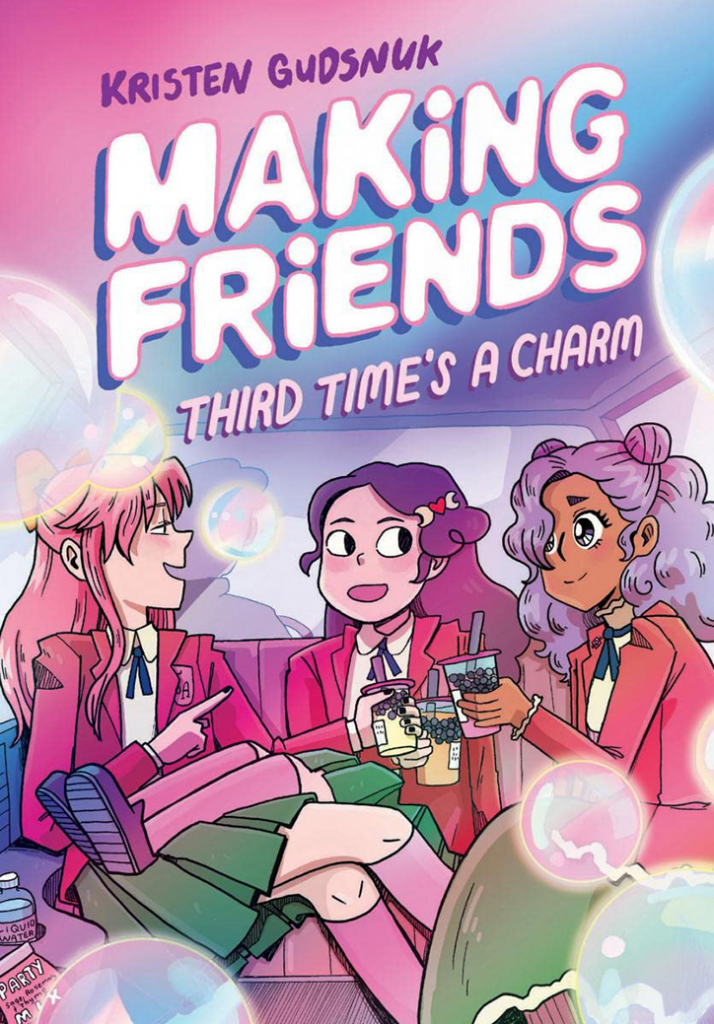 Making Friends: Third Time's a Charm:
AUTHOR: Kristen Gudsnuk
SYNOPSIS: Dany's sketchbook is at it again, but this time it's not Dany's doing!
Dany and Madison are living a new reality. Rather than best friends, the pair now believe they are twins — and that isn't the only part of their lives that has been completely rewritten. Their mom is a novelist, their dad is a rock star, and Dany has suddenly become a diligent student.
Things. Aren't. Adding. Up.
Dany and Madison start sleuthing and discover that someone has drastically altered the universe! Can the pair put things back the way they were, or is this magic beyond their control?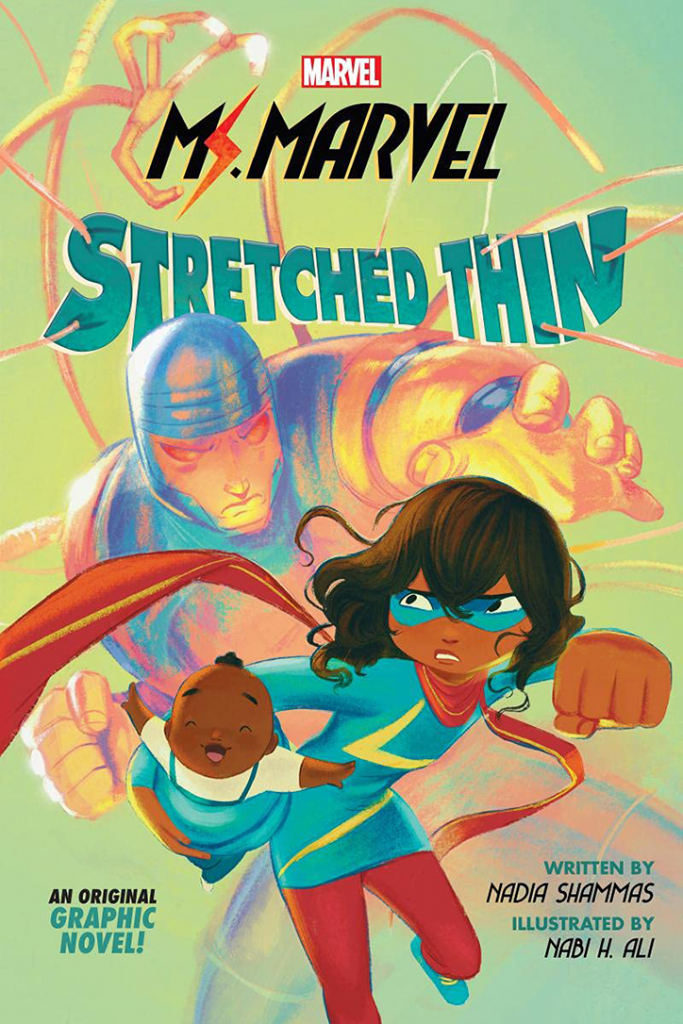 Ms. Marvel: Stretched Thin:
AUTHOR: Nadia Shammas
ILLUSTRATOR: Nabi H. Ali
SYNOPSIS: An original middle-grade graphic novel starring breakout character (and New Jersey's own) Ms. Marvel!
Kamala Khan (a.k.a. Ms. Marvel) is stretched too thin-literally. She's having a hard time balancing schoolwork with being a good friend, being there for her family, becoming the best fanfic writer this side of the Hudson River . . . and, you know, becoming a Super Hero. She's tired and just barely keeping control, BUT she's handling it. Totally.
But when a mysterious robot tries to infiltrate Avengers Tower, it'll be up to Ms. Marvel to (again, literally) pull herself together, learn to ask for help, and fix the mess she's made before anyone gets hurt!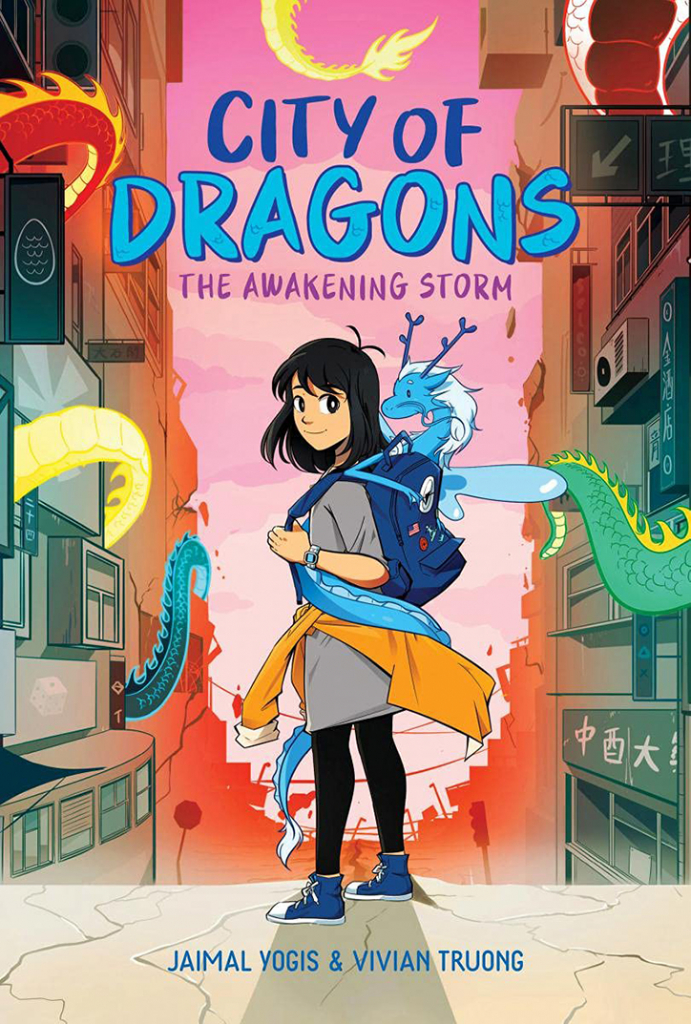 City of Dragons: The Awakening Storm:
AUTHOR: Jaimal Yogis
ILLUSTRATOR: Vivian Truong
SYNOPSIS: Grace and her friends must protect a newly hatched dragon from mysterious evildoers.
When Grace moves to Hong Kong with her mom and new stepdad, her biggest concern is making friends at her fancy new boarding school. But when a mysterious old woman gifts her a dragon egg during a field trip, Grace discovers that the wonderful stories of dragons she heard when she was a young girl might actually be real–especially when the egg hatches overnight.
The dragon has immense powers that Grace has yet to understand. And that puts them both in danger from mysterious forces intent on abusing the dragon's power. And now it's up to Grace and her school friends to uncover the sinister plot threatening the entire city!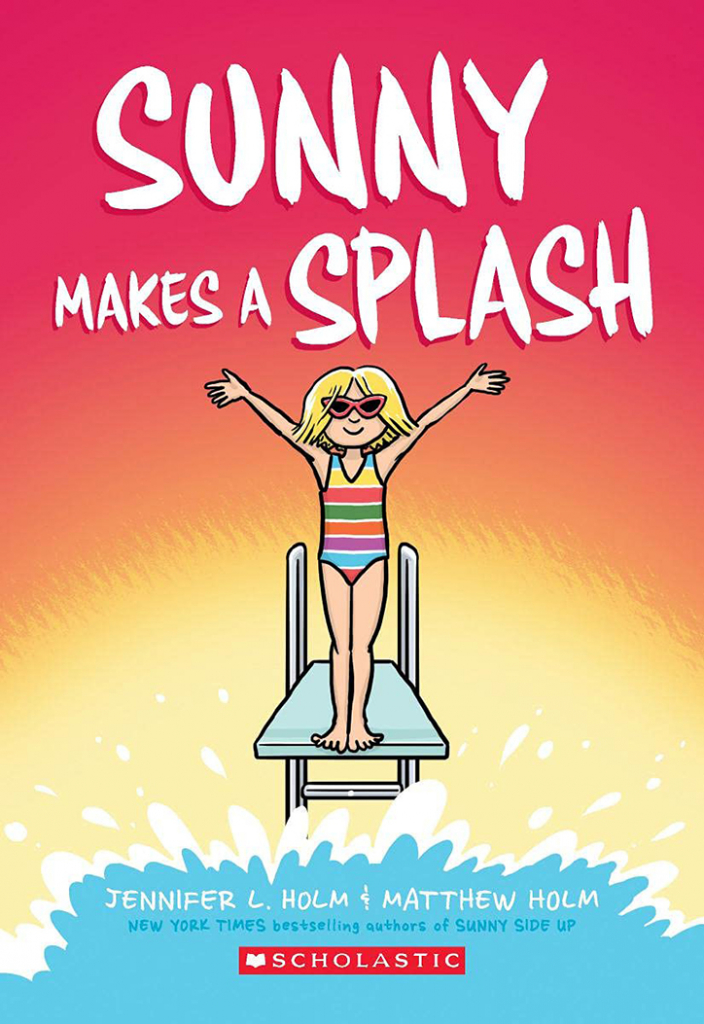 Sunny Makes a Splash:
AUTHOR: Jennifer L. Holm
ILLUSTRATOR: Matthew Holm
SYNOPSIS: The latest in the New York Times bestselling Sunny series brings Sunny into a sink-or-swim summer, where she needs to float her first job and dive into her first maybe-flirtation.
It's summer, and Sunny is BORED. Most of her friends are out of town. Her mom wants her to baby-sit way more than Sunny wants to baby-sit. There's nothing good on TV.
The only place that's cool (in a not-boring sense) and cool (in a not-hot sense) is the community pool. Sunny loves going there . . . and loves it even more when she's offered a job at the snack shack. Soon she's flinging fries and serving soft ice-cream like a pro . . . with the assistance of the very sweet boy who works with her.
Sunny's mom isn't sure Sunny should be quite so independent. But Sunny is definitely sure: Life is best when it's free swim.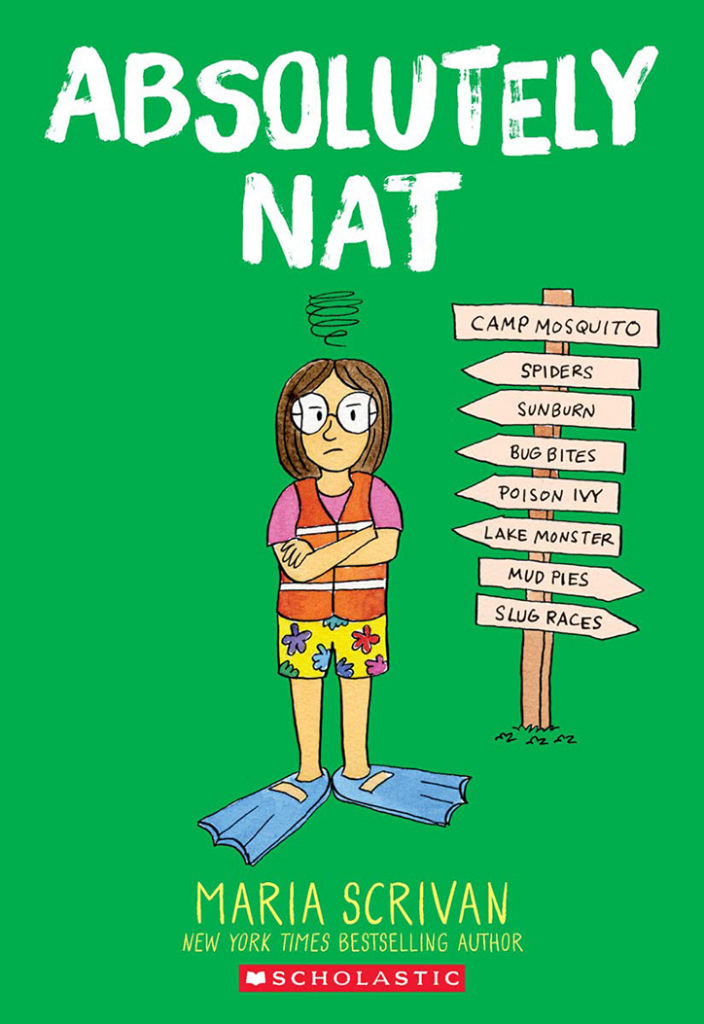 Absolutely Nat:
AUTHOR: Maria Scrivan
SYNOPSIS: Companion to the New York Times bestseller Nat Enough!
You can stay stuck or go forward, but you can't go back.
Natalie has just arrived at summer camp and soon realizes it isn't anything like the brochure. Instead of spending the summer with her best friends, Zoe and Flo, Natalie is stuck with her ex-BFF, Lily, and someone even more annoying than the endless mosquitoes: Millie Flatbottom. Even worse, she's constantly pushed out of her comfort zone and forced to come face-to-face with some of her greatest fears. Although summer camp isn't at all what Natalie expected, could it be exactly what she needs?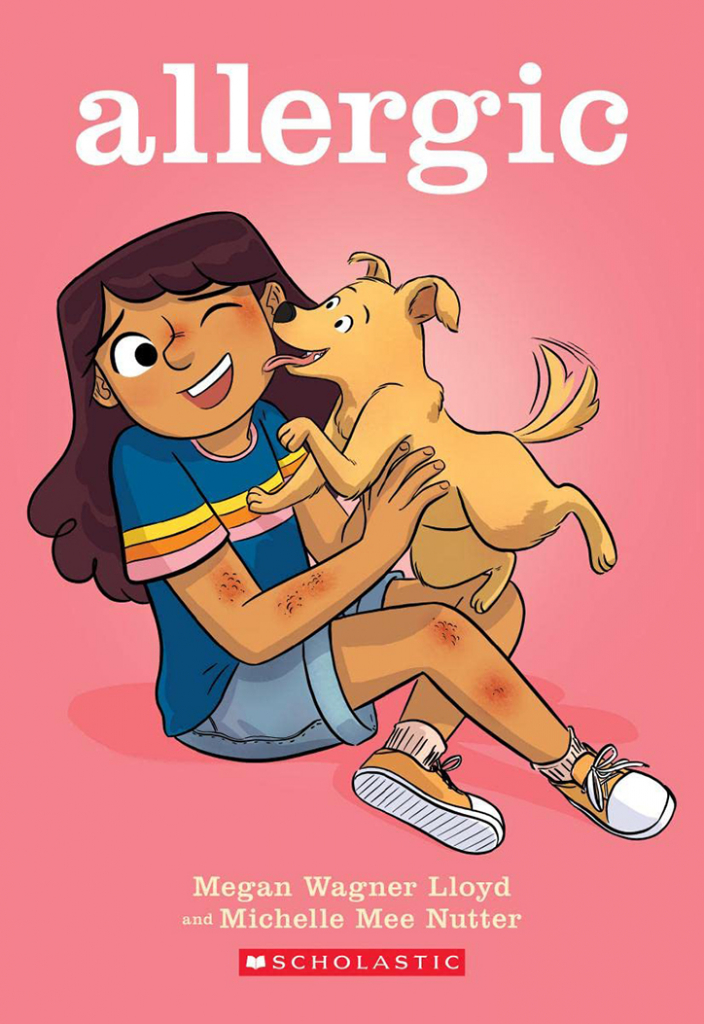 Allergic:
AUTHOR: Megan Wagner Lloyd
ILLUSTRATOR: Michelle Mee Nutter
SYNOPSIS: A coming-of-age middle-grade graphic novel featuring a girl with severe allergies who just wants to find the perfect pet!
At home, Maggie is the odd one out. Her parents are preoccupied with getting ready for a new baby, and her younger brothers are twins and always in their own world. Maggie loves animals and thinks a new puppy to call her own is the answer, but when she goes to select one on her birthday, she breaks out in hives and rashes. She's severely allergic to anything with fur!
Can Maggie outsmart her allergies and find the perfect pet? With illustrations by Michelle Mee Nutter, Megan Wagner Lloyd uses inspiration from her own experiences with allergies to tell a heartfelt story of family, friendship, and finding a place to belong.
BONUS: Want to read an exclusive minicomic and find out fun facts about Allergic? Click here!
Scholastic Graphix Scholastic Graphix Graphic Novel Stash Giveaway: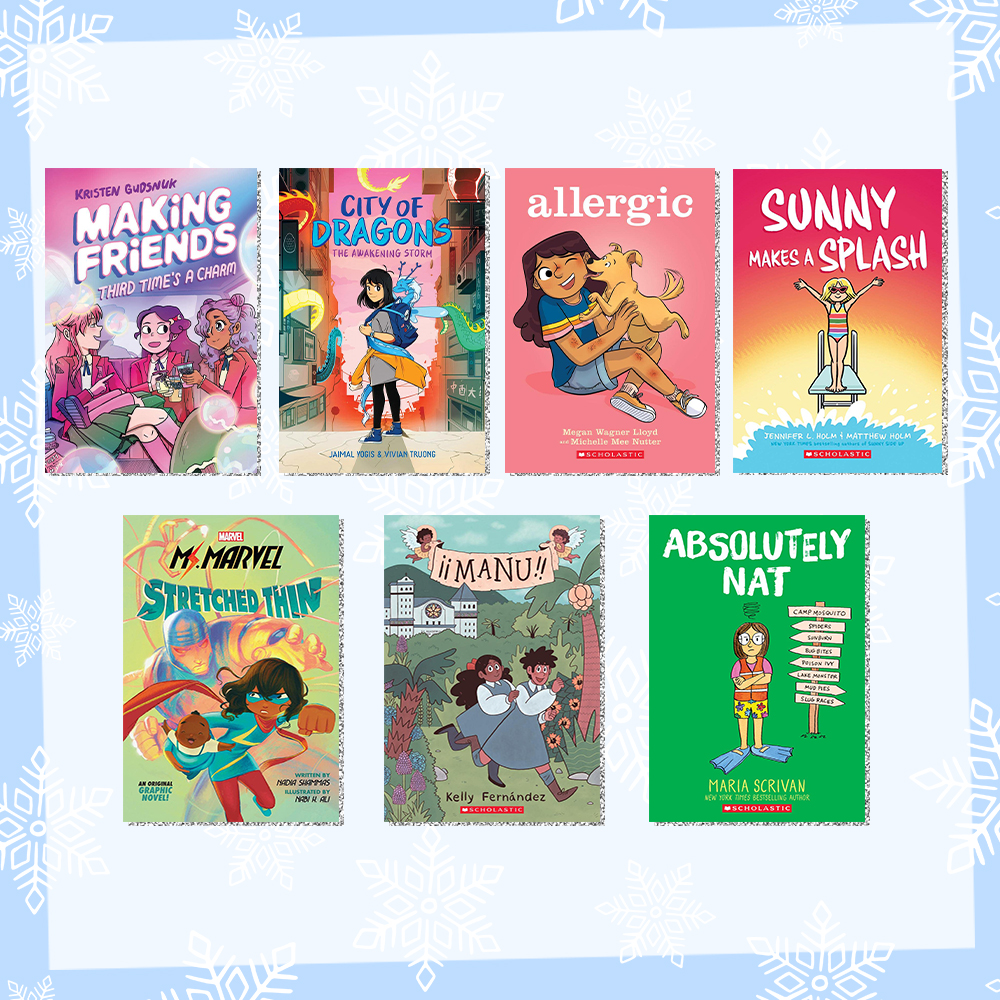 WHAT DO I WIN?:
ONE lucky winner will receive a Scholastic Graphix Graphic Novel Stash Prize Pack that includes:
– ONE (1) copy of Manu: A Graphic Novel by Kelly Fernández
– ONE (1) copy of Making Friends: Third Time's a Charm by Kristen Gudsnuk
– ONE (1) copy of Ms. Marvel: Stretched Thin by Nadia Shammas, illustrated by Nabi H. Ali
– ONE (1) copy of City of Dragons: The Awakening Storm by Jaimal Yogis, illustrated by Vivian Truong
– ONE (1) copy of Sunny Makes a Splash by Jennifer L. Holm, illustrated by Matthew Holm
– ONE (1) copy of Absolutely Nat by Maria Scrivan
– ONE (1) copy of Allergic by Megan Wagner Lloyd, illustrated by Michelle Mee Nutter
Prizes generously provided by Scholastic Graphix
HOW DO I ENTER?:
Grab a parent or guardian and have them fill out the form below by December 11, 2021 at 11:59pm ET.
Giveaway runs from 11/27/21 at 12:00 pm ET through 12/11/21 at 11:59 pm. Open to US residents ONLY. Be sure to read the fully detailed rules HERE before entering.
THIS GIVEAWAY HAS ENDED AND THE WINNER HAS BEEN CONTACTED.
You must be 18 or older to enter. Please, only ONE entry per person. If selected as a winner, we will provide your parent/guardian with an affidavit to confirm that you are a valid winner who has permission to win. They will be REQUIRED to sign and return the affidavit to YAYOMG! to claim your prize. Prizes will not be mailed out without signed parental consent.
Need more holiday cheer (and free stuff!) in your life? Keep an eye on this link now through November 26th so you don't miss a single one of our Holly Jolly Giveaways!