Holly Jolly Giveaways: Make it Real DIY Dreams Bundle
NOTE: The items in our Make it Real DIY Dreams Bundle Giveaway were provided by the brand for the purposes of our Holly Jolly Giveaways. No money was exchanged, and all opinions are our own. We reached out to these brands for this giveaway because they create products we love.
Need a dose of DIY to help you shine as bright as the lights on your tree? Our next Holly Jolly Giveaway is here to make your jewelry design dreams come true!
Are you hoping to make 2023 your craftiest year yet? Whether you want to start a bracelet-making business or make gifts to swap with your squad, our friends at Make it Real are making it happen with a seriously fabulous prize pack filled with some of their best jewelry-making kits!
It doesn't matter if you're into simple braided bracelets or big, bold charms, we've included a kit for every crafter to create an accessory to pair with your coziest oversized sweater, poshest party dress, and everything in between. Plus, there's also a sneaker design kit so you can temporarily dazzle up your kicks with beautiful butterflies as you step into Spring after the gloomy winter.
Ready to enter? Grab your favorite adult and have them enter below for your chance to WIN!
Make Your Design Dreams Come True With These Make it Real Kits: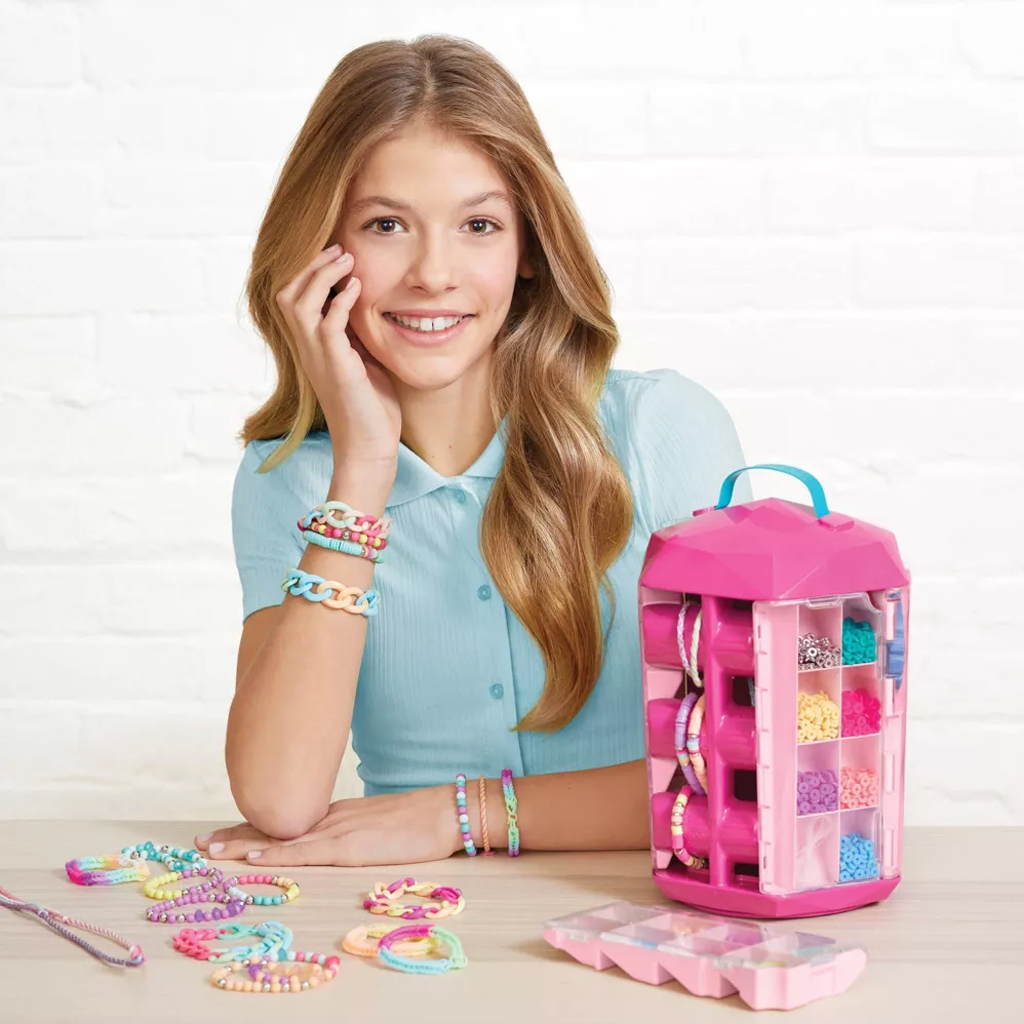 Make it Real 5-in-1 Activity Tower:
Crafty creators, get excited, because we found your ultimate must-have – the 5-in-1 Activity Tower!

From chunky link bracelets to braided friendship bracelets, this set is stuffed with over 1600 pieces you can use to create 40+ bracelets across five different jewelry styles. Plus, everything packs neatly into lidded storage containers, making it a breeze to organize all your jewelry-making accessories and put your creations on display!
Since everything snaps into place, you can even take it on the go, making it a perfect sleepover activity or post-game bonding moment with your soccer team!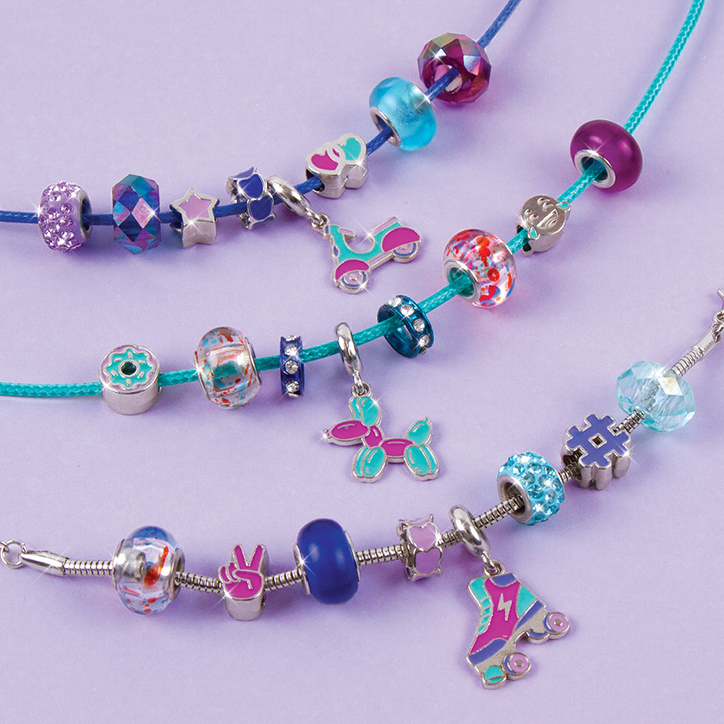 Halo Charms – True Blue Bracelet Kit:
You'll make the whole room shimmer when you craft and wear these glam charm bracelets!
Complete with metallic charms in bold shades and glimmering crystals, you can craft three bracelet creations using the Halo Charms kit. From balloon animals to rollerskates, peace signs, and stars, you can truly express your aesthetic while letting your creativity flow.
Since there are enough to make three bracelets, we think this is a great way to craft friendship bracelets with your BFFs!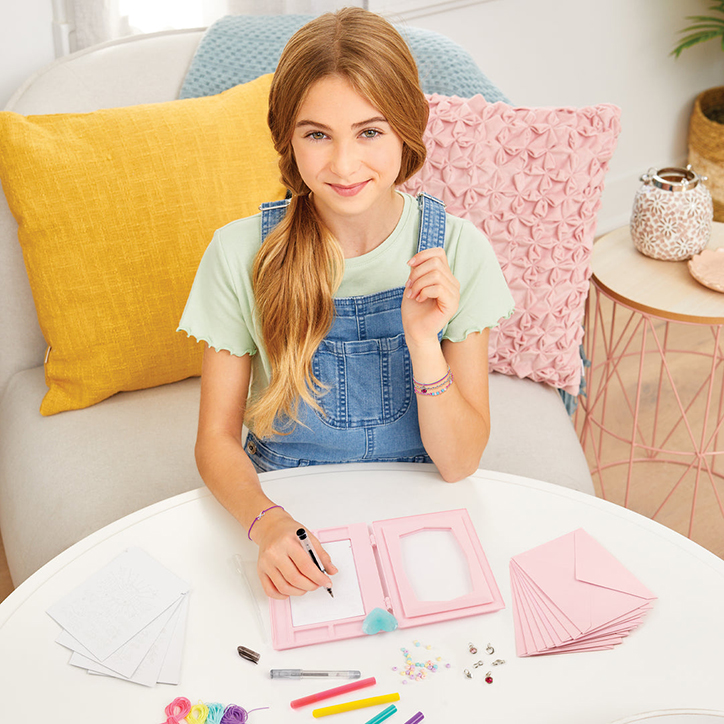 Jewelry & Art Gift Station:
If kindness is your superpower, we think you'll adore the Jewelry & Art Gift Station! This kit comes with everything you need to craft simple yet stylish friendship bracelets and artful cards to gift to all your besties.
You'll become the ultimate gift giver with everything included in this set! There are markers and a pipette for designing cards with gorgeous watercolor designs, gel pens for penning the perfect message, and colorful cords, beads, and charms for crafting dainty bracelets you can attach to each card.
From holiday gift swaps to end-of-camp forget-me-nots, this kit is perfect for creating sweet and thoughtful handmade gifts!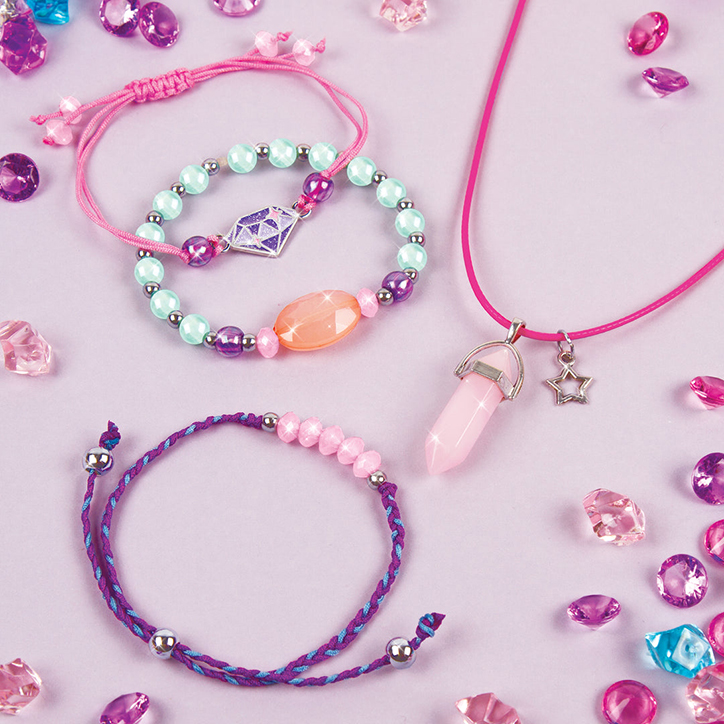 Positive Gems Jewelry Kit:
We could all use a little zen during the holidays, especially as we set our intentions and goals for the new year. The Positive Gems Jewelry Kit will help you do just that!
As you settle in for a crafting sesh, you'll feel yourself de-stress as you forget about the pressure of upcoming exams, holiday shopping, and the texts you forgot to return. Instead, you'll be able to focus your energy into designing pretty and positive jewelry.
Each kit comes with shimmering beads, charms, and crystals to make your creations pop, and each time you wear them, you'll be reminded to stay chill and breathe in positive energy!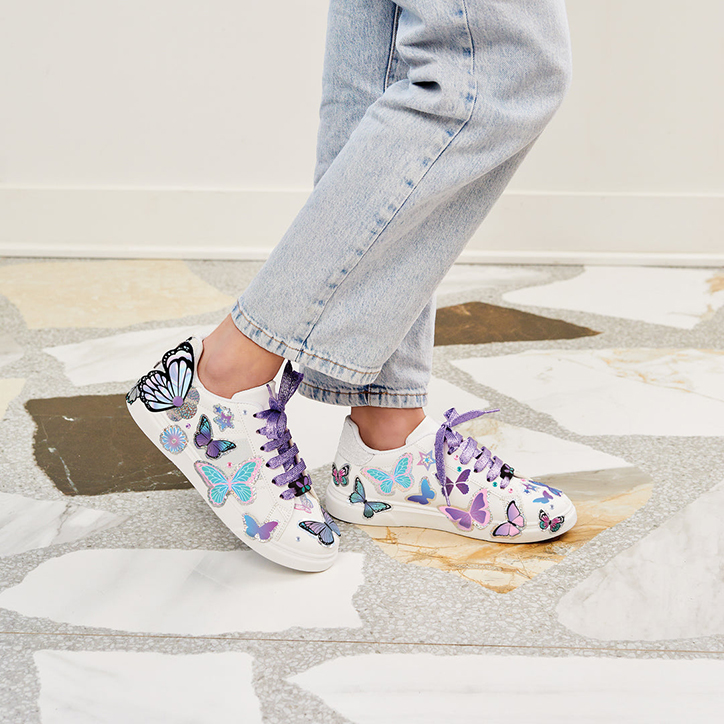 Sticker Chic – Butterfly Bling Sneaker Decorating Kit:
Temporary tattoos for your shoes, the Sticker Chic Butterfly Bling Sneaker Design Kit is the ultimate way to add Y2K sparkle to your favorite fit!
Add flair to your footwear by adding butterfly decals, shimmering rhinestones, and shoelace charms, then top it all off with glimmery purple shoelaces. These decals can be repositioned, so you can switch up the style anytime.
The kit in our prize pack is called Butterfly Bling, but there's a sister set called Rainbow Street you can snag at the store to add magical vibes to your sneaks with metallic unicorns, stars, gummy bears, and rainbows!
Make it Real DIY Dreams Bundle Giveaway: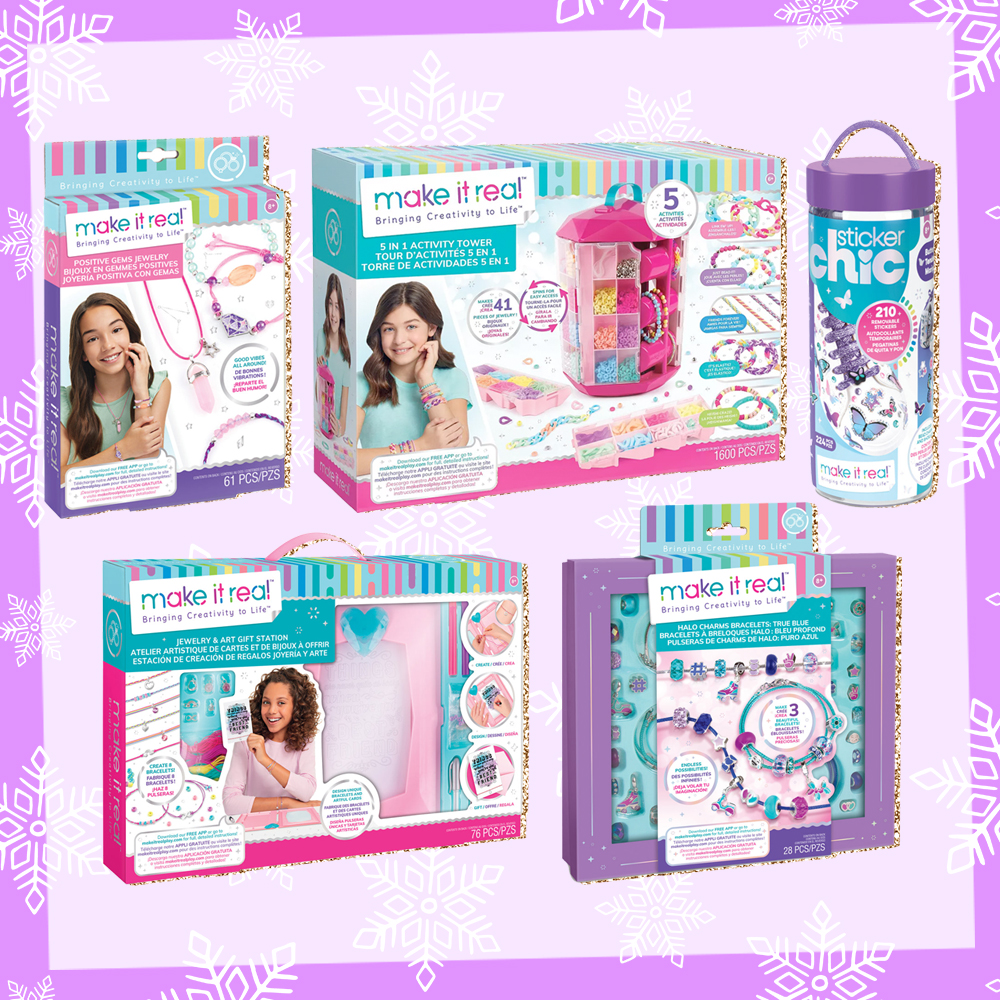 WHAT DO I WIN?:
ONE (1) lucky winner will receive a Make it Real DIY Dreams Bundle that includes:
– ONE (1) Make it Real 5-in-1 Activity Tower
– ONE (1) Halo Charms Bracelet Kit (True Blue)
– ONE (1) Positive Gems Jewelry Kit
– ONE (1) Jewelry & Art Gift Station
– ONE (1) Sticker Chic Sneaker Decorating Kit (Butterfly Bling)
*Prizes generously provided by Make it Real.
HOW DO I ENTER?:
Grab a parent or guardian and have them fill out the form below by November 30, 2022 at 11:59pm ET.
Giveaway runs from 11/16/22 at 03:00 pm ET through 11/30/22 at 11:59 pm. Open to US residents ONLY. Be sure to read the fully detailed rules HERE before entering.
THIS GIVEAWAY HAS ENDED AND THE WINNER HAS BEEN CONTACTED.
You must be 18 or older to enter. Please, only ONE entry per person. If selected as a winner, we will provide your parent/guardian with an affidavit to confirm that you are a valid winner who has permission to win. They will be REQUIRED to sign and return the affidavit to YAYOMG! to claim your prize. Prizes will not be mailed out without signed parental consent.
MORE HOLLY JOLLY FUN:
❄️CRAFTY VIBES: DIY your way to aesthetic bliss this winter with a resin jewelry kit & soap-making kit from Wish*Craft!
?WATERCOLOR WISHES: Make your artistic dreams come true! Enter to WIN an iHeartArt Ultimate Watercolor Bundle overflowing with artsy essentials!
❄️DIY DREAMS: Paint, stitch, & sticker your way through the snowiest season with this awesome haul of crafts and stickers from Horizon Group!