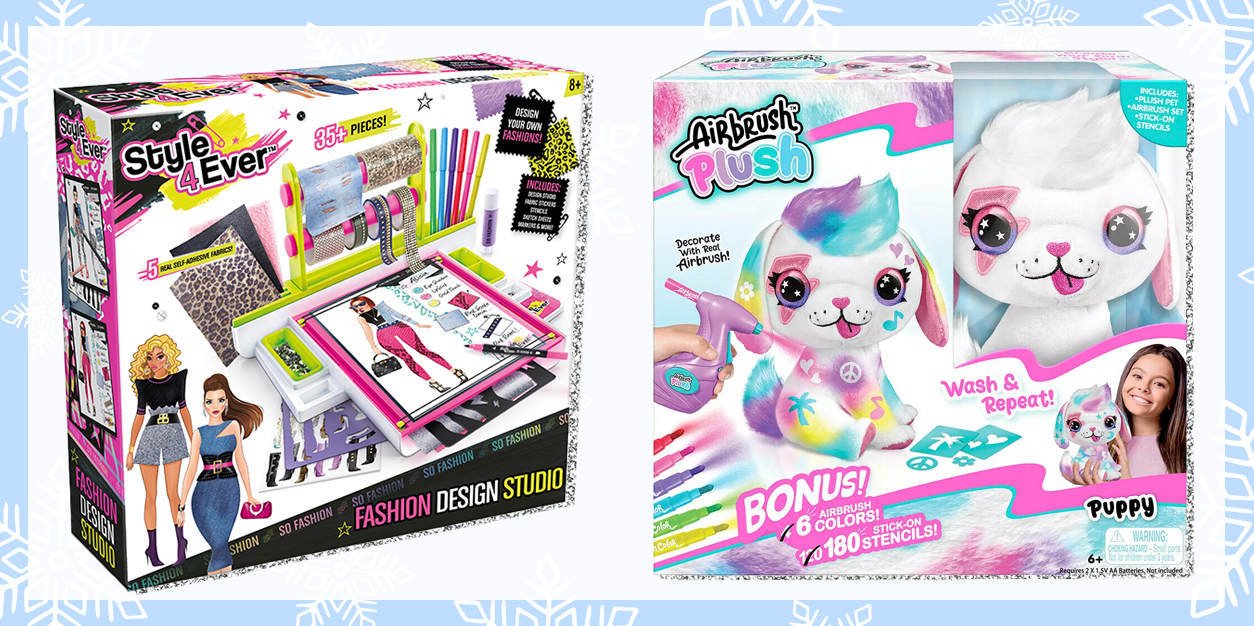 Holly Jolly Giveaways: Canal Toys Designer Dreams Stash
NOTE: The items in our Canal Toys Design Dreams Stash Giveaway were provided by the brand for the purposes of our Holly Jolly Giveaways. No money was exchanged, and all opinions are our own. We reached out to these brands for this giveaway series because they create products we love.
Do you ever find yourself daydreaming about seeing your doodled outfit designs hanging on a rack at your favorite store or watching as a model struts down the NYFW runway in one of your creations? If so, our next Holly Jolly Giveaway will have you on your way to making your design dreams a reality!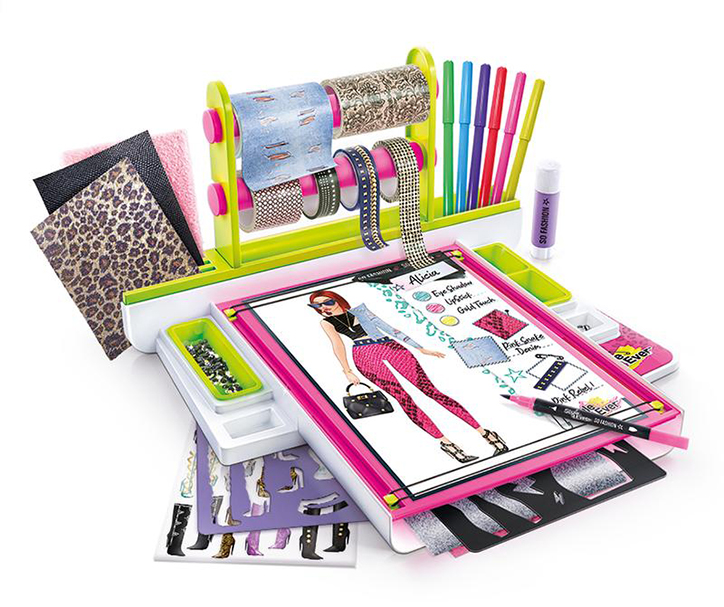 Their new Style4Ever Fashion Design Studio is all about empowering you to showcase your creativity through fashion! It comes with everything you need to design glam gowns to edgy tops and anything else you can dream up! Feeling inspired? Sketch out an outfit idea using the included design sheets and stencils, and then bring it from concept to runway-ready using gems, fabrics, patterns, and more.
The kit also helps keep you inspired and organized by doubling as a place to store all your materials. We think it's a fab way to express yourself and tap into the future fashion mogul we know you can be!
Ready to show off your style? We teamed up with our friends at Canal Toys for a seriously stylish giveaway! TWO runner-ups will win a Style4Ever Fashion Design Studio!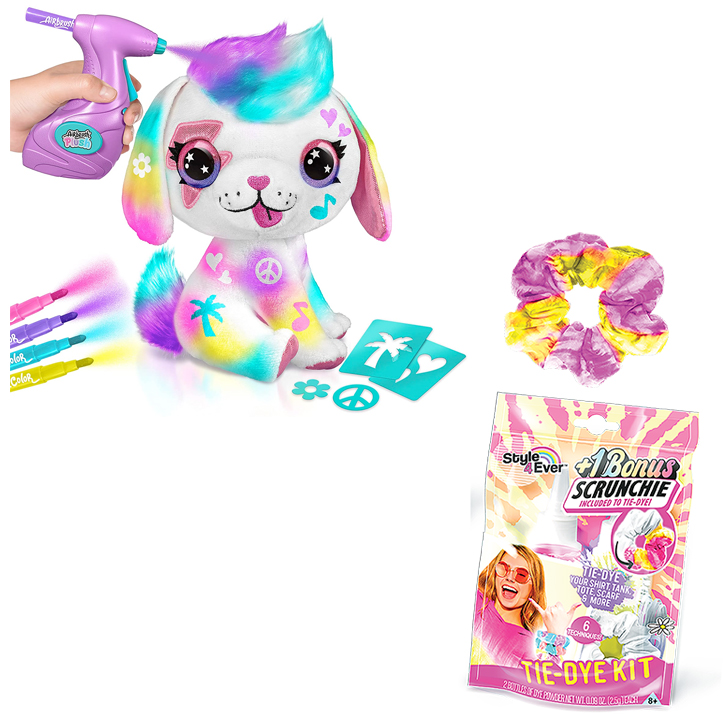 We're also giving ONE grand prize winner a prize pack featuring the Style4Ever Fashion Design Studio as well as an Airbrush Plush, which will have you channeling those design vibes through a totally cute plush you can airbrush adorable designs and patterns onto, and then wash and do it again. (It's also one of the most in-demand toys this holiday season!) The grand prize winner will also receive a Tie-Dye Kit that teaches 6 tie-dye techniques you can use IRL and includes a scrunchie for you to try!
Ready to enter? Grab your favorite adult and have them fill out the form below for your chance to WIN!
Canal Toys Design Dreams Stash Giveaway: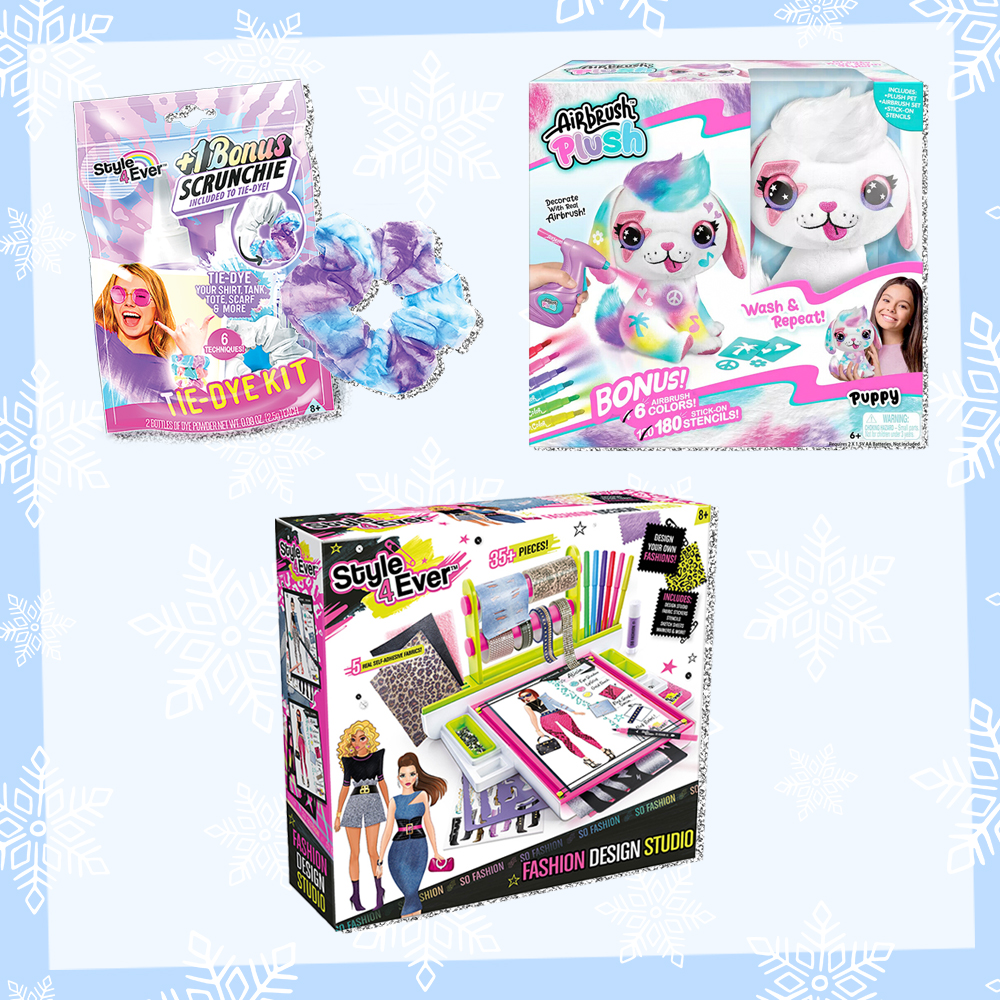 WHAT DO I WIN?:
ONE lucky grand prize winner will receive a Canal Toys Design Dreams Stash Prize Pack that includes:
– ONE (1) Style4Ever Fashion Design Studio
– ONE (1) Style4Ever Airbrush Plush (Puppy)
– ONE (1) Style4Ever Tie-Dye Kit*
*Prizes generously provided by Canal Toys
*Tie-Dye Kit will be selected at random, we cannot guarantee which colors you will receive.
RUNNER-UP PRIZES: In addition to the grand prize winner, TWO (2) additional runner-ups will be selected to win ONE (1) Style4Ever Fashion Design Studio Kit!

HOW DO I ENTER?:
Grab a parent or guardian and have them fill out the form below by November 29, 2021 at 11:59pm ET.
Giveaway runs from 11/15/21 at 04:30 pm ET through 11/29/21 at 11:59 pm. Open to US residents ONLY. Be sure to read the fully detailed rules HERE before entering.
THIS GIVEAWAY HAS ENDED AND THE WINNERS HAVE BEEN CONTACTED.
You must be 18 or older to enter. Please, only ONE entry per person. If selected as a winner, we will provide your parent/guardian with an affidavit to confirm that you are a valid winner who has permission to win. They will be REQUIRED to sign and return the affidavit to YAYOMG! to claim your prize. Prizes will not be mailed out without signed parental consent.
Need more holiday cheer (and free stuff!) in your life? Keep an eye on this link now through November 26th so you don't miss a single one of our Holly Jolly Giveaways!