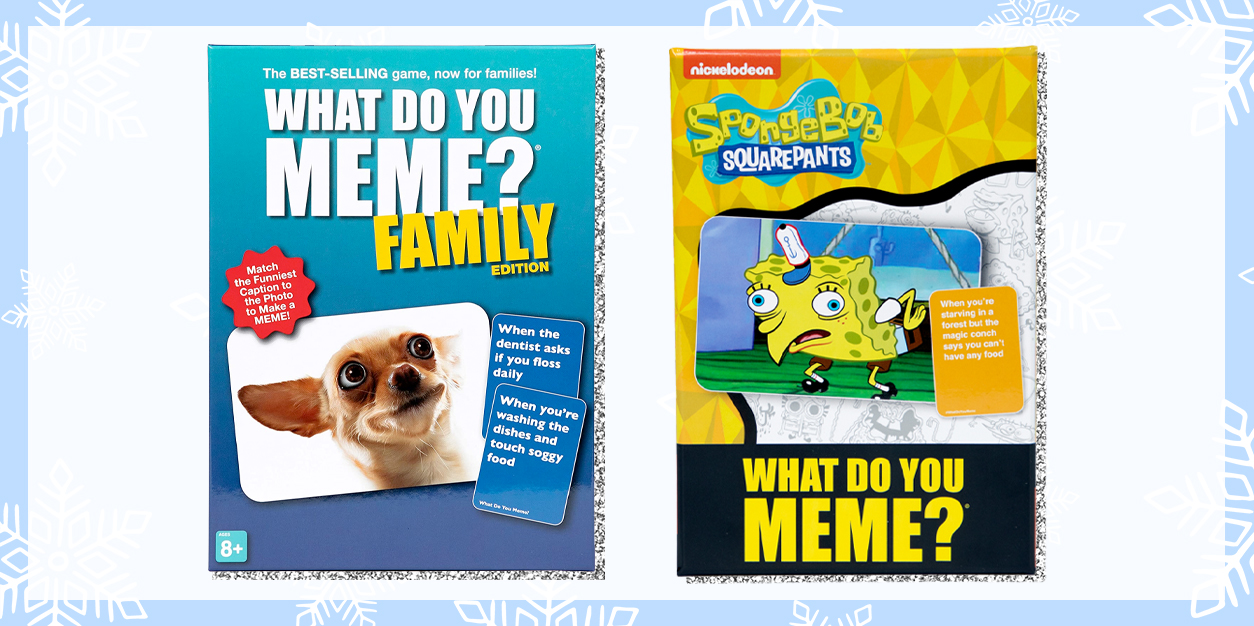 Holly Jolly Giveaway: What Do You Meme? Family Game Haul
NOTE: The items in our What Do You Meme? Family Pack Giveaway were provided by the brand for the purposes of our Holly Jolly Giveaways. No money was exchanged, and all opinions are our own. We reached out to these brands for this giveaway series because they create products we love.
Game lovers, get excited, because the next prize pack in our Holly Jolly Giveaways series is perfect for slaying boredom and keeping you busy on blustery snow days!
Want to challenge your besties to make hilarious memes at your next sleepover or quiz your family members on their pop culture knowledge? The What Do You Meme? Family-Friendly game line will help transform any night into a hilarious game night! That's why we teamed up with our friends at What Do You Meme? Family to give ONE lucky winner the ultimate game haul filled with 4 of their most LOL-worthy card games.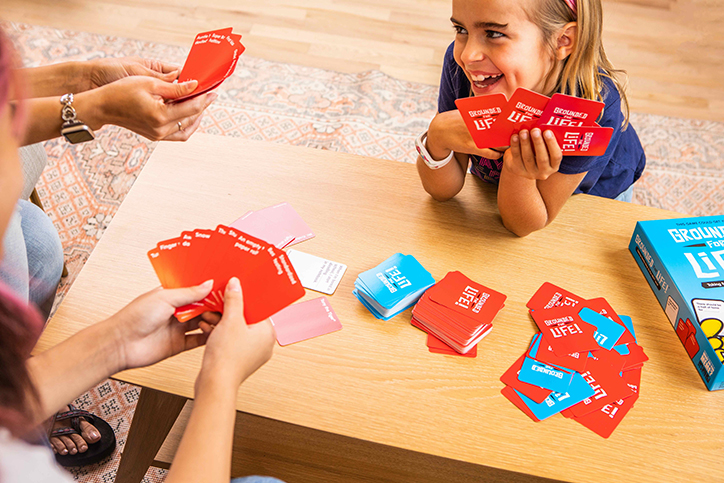 Their games are super funny, fast-paced, easy to learn so you spend less time bogged down by instructions and more time having fun!
What Do You Meme? Family Edition is all about competing against the other players to create the funniest memes. Match up silly captions the photos on display to become the ultimate meme master! Want to make things extra silly? We're including the SpongeBob Expansion Pack so you can channel your inner Goofy Goober!
Grounded for Life has a similar vibe, except it's all about wordplay and crafting the most outrageous sentences. You'll have to be quick, clever, and impress the judge if you want to win!
All of Us is a trivia game designed to include the entire family – including your grandparents! Teams take turns reading and answering questions specific to their generation – Gen Z, Millennial, Gen X, and Boomer. This way, everyone can be included and be quizzed on the things they know best!
Ready to snag this seriously awesome prize pack? Grab your favorite adult and fill out the form below!
What Do You Meme? Giveaway: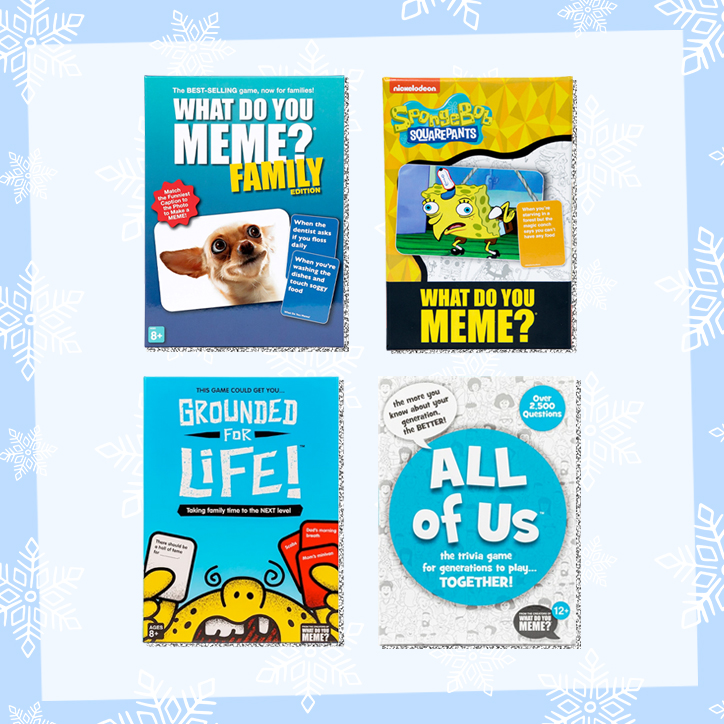 WHAT DO I WIN?:
ONE lucky winner will receive a What Do You Meme? Family Prize Pack that includes:
– ONE (1) copy of What Do You Meme? Family Edition
– ONE (1) copy of What Do You Meme? SpongeBob Expansion Pack
– ONE (1) copy of Grounded for Life
– ONE (1) copy of All of Us
*Prizes generously provided by What Do You Meme?
HOW DO I ENTER?:
Grab a parent or guardian and have them fill out the form below by November 30, 2020 at 11:59pm ET.
Giveaway runs from 11/23/20 at 12:00 pm ET through 11/30/20 at 11:59 pm. Open to US residents ONLY. Be sure to read the fully detailed rules HERE before entering.
THIS GIVEAWAY HAS ENDED AND THE WINNER HAS BEEN CONTACTED.
You must be 18 or older to enter. Please, only ONE entry per person. If selected as a winner, we will provide your parent/guardian with an affidavit to confirm that you are a valid winner who has permission to win. They will be REQUIRED to sign and return the affidavit to YAYOMG! to claim your prize. Prizes will not be mailed out without signed parental consent.
Need more holiday cheer (and free stuff!) in your life? Keep an eye on this link now through December 4th so you don't miss a single one of our Holly Jolly Giveaways!