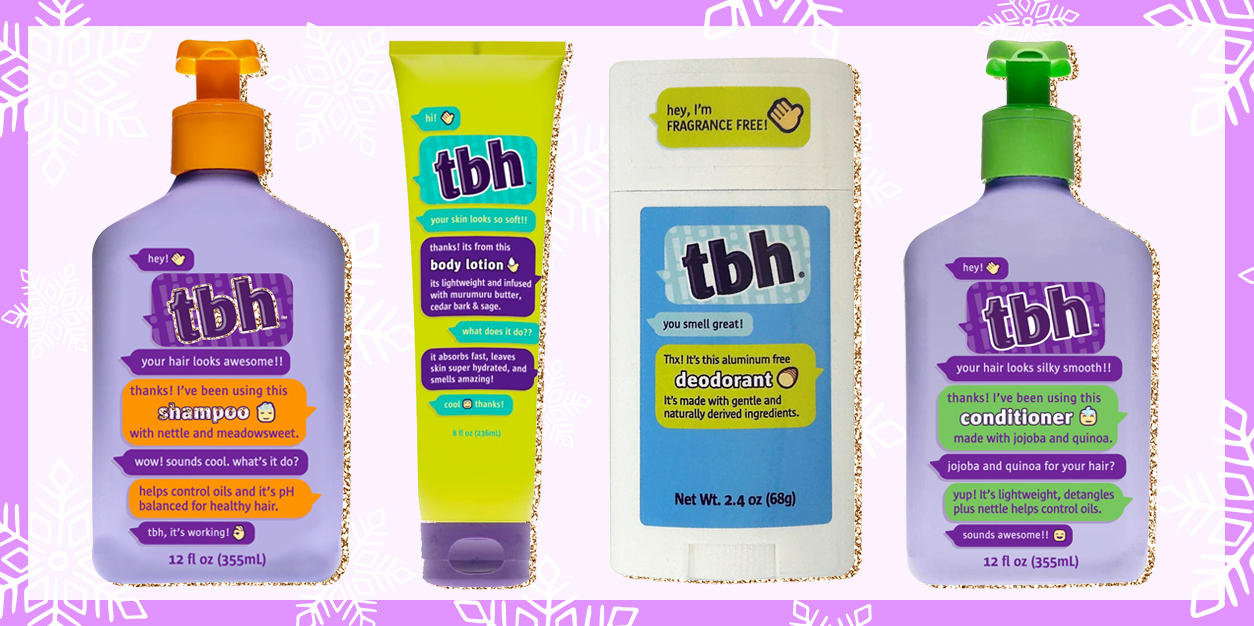 Holly Jolly Giveaway: TBH Kids Holiday Gift Set
NOTE: The items in our TBH Kids Holiday Gift Set Giveaway were provided by the brand for the purposes of our Holly Jolly Giveaways. No money was exchanged, and all opinions are our own. We reached out to these brands for this giveaway because they create products we love.
Our next Holly Jolly Giveaway is here to shake up your hygiene routine and help you kick off the new year with confidence!
A new year doesn't have to mean a new you – TBH, we think you're pretty great the way you are! We find that smaller goals are much easier to keep than major resolutions, like swapping an hour per week of social media time for reading, saying yes to volunteering at the school bake sale, or finally putting those gel pens you've been collecting to good use to practice your drawing skills. Little accomplishments pay off in a big way, and even the simplest changes can lead to big results. That's why we teamed up with our besties at TBH Kids for a giveaway of their 7-piece starter kit to help you refresh your routine just in time for the new year!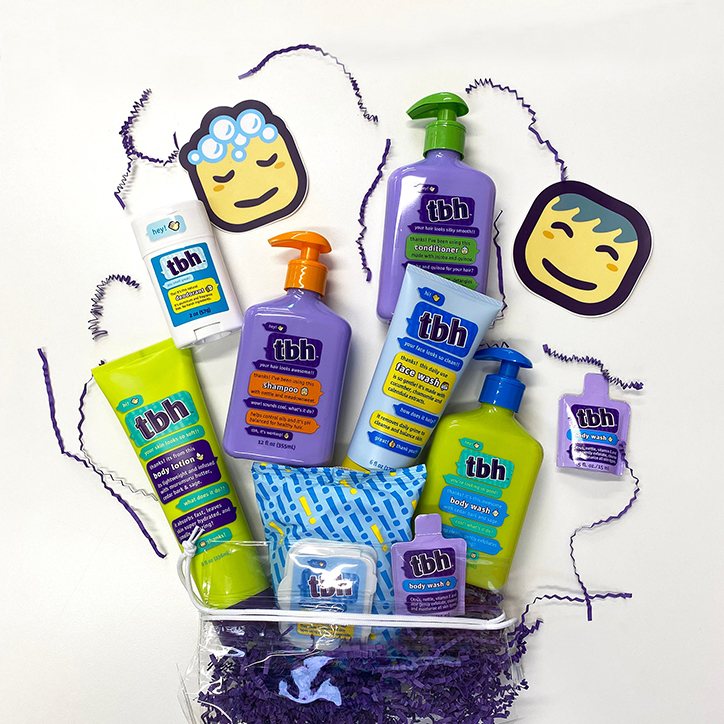 Whether you're a self-proclaimed self-care queen or struggle to keep up with healthy hygiene habits, TBH Kids is here to make shower time your favorite time! Their good-for-you products, from invigorating face scrubs to natural deodorants and softly scented shampoos and conditioners will not only make you feel and smell great but will make your personal care routine something you look forward to. Plus – feeling good can spark confidence, which means you'll feel refreshed and ready to take on everything from a pop quiz to drama club tryouts.
Ready to enter? Grab your favorite adult and have them enter below for your chance to WIN!
TBH Kids Holiday Gift Set Giveaway: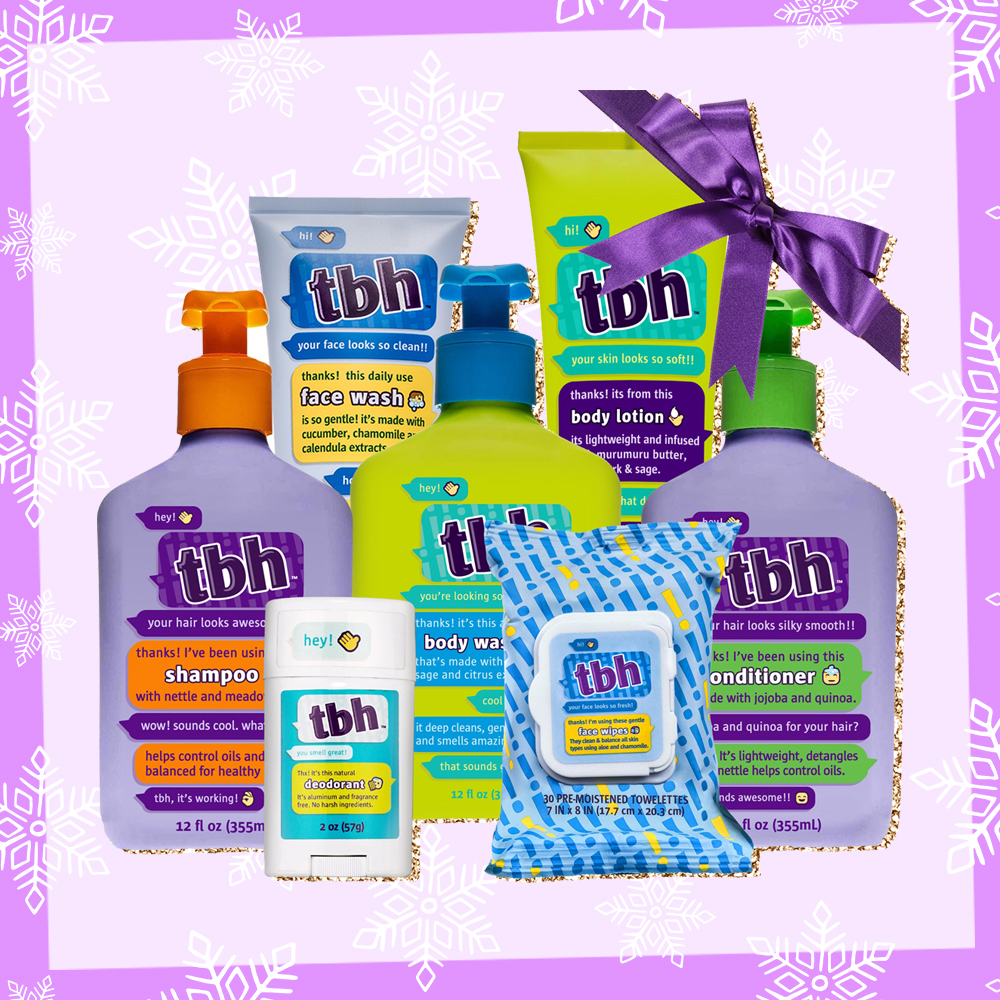 WHAT DO I WIN?:
THREE (3) lucky winners will receive a TBH Kids Holiday Gift Set that includes:
– ONE (1) TBH Kids Shampoo
– ONE (1) TBH Kids Conditioner
– ONE (1) TBH Kids Body Wash
– ONE (1) TBH Kids Gentle Face Cleanser
– ONE (1) TBH Kids Gentle Face Wipes
– ONE (1) TBH Kids Body Wash
– ONE (1) TBH Kids Body Lotion
– ONE (1) TBH Kids Deodorant
*Prizes generously provided by TBH Kids.
HOW DO I ENTER?:
Grab a parent or guardian and have them fill out the form below by December 5, 2022 at 11:59pm ET.
Giveaway runs from 11/21/22 at 12:00 pm ET through 12/05/22 at 11:59 pm. Open to US residents ONLY. Be sure to read the fully detailed rules HERE before entering.
THIS GIVEAWAY HAS ENDED AND THE WINNERS HAVE BEEN CONTACTED.
You must be 18 or older to enter. Please, only ONE entry per person. If selected as a winner, we will provide your parent/guardian with an affidavit to confirm that you are a valid winner who has permission to win. They will be REQUIRED to sign and return the affidavit to YAYOMG! to claim your prize. Prizes will not be mailed out without signed parental consent.
MORE HOLLY JOLLY FUN:
❄️GIRL POWER: In need of new reads? Snag this stash of girl power graphic novels from HarperCollins!
?JEWELRY VIBES: Bring big DIY energy into the new year with this huge haul of bracelet-making kits from Make it Real!
❄️FOODIE FUN: Cuddle up with oversized fried chicken, sushi, & burgers with these Seriously Supersized plush!