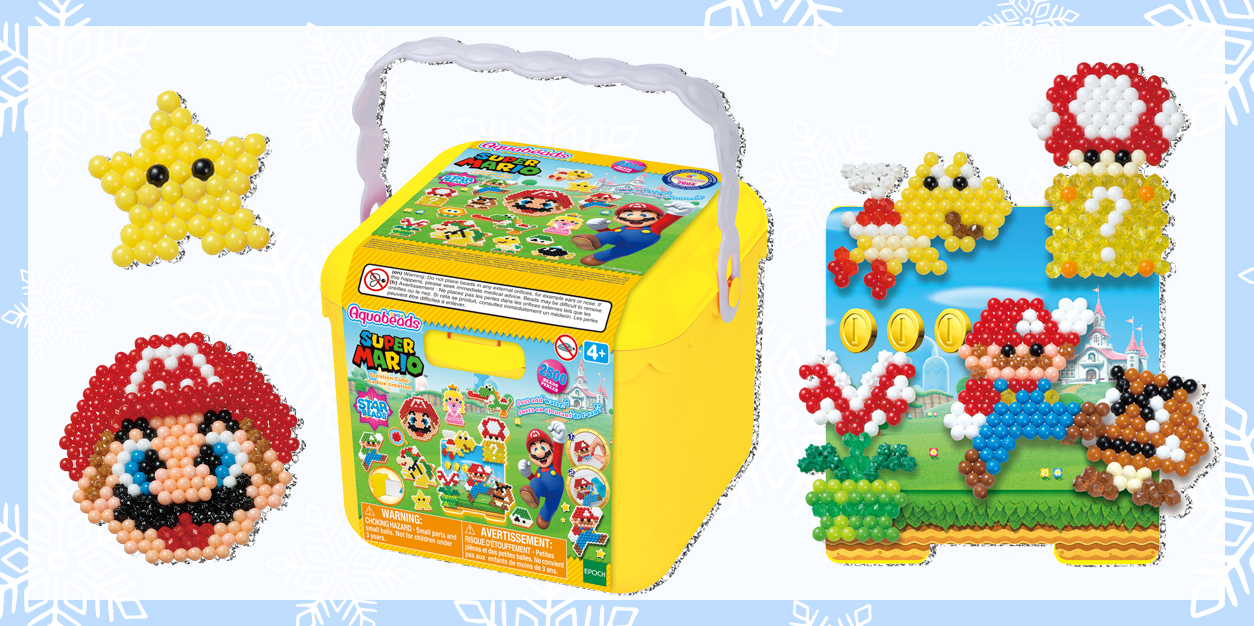 Holly Jolly Giveaway: Super Mario Aquabeads Creation Cube
NOTE: The items in our Super Mario Aquabeads Creation Cube Giveaway were provided by the brand for the purposes of our Holly Jolly Giveaways. No money was exchanged, and all opinions are our own. We reached out to these brands for this giveaway because they create products we love.
If you need a power-up this holiday season, our next Holly Jolly Giveaways prize, the Super Mario Aquabeads Creation Cube, is here to save the day – and the princess!
After a long day of traveling down pipes and stomping Goombas, this crafty activity is a SUPER way to continue the fun after a game over! Even beginner DIY-ers can jump into this creative activity and level up their crafting skills. All you have to do is create, spray, and then they stay – Aquabeads fuse together with water, so your creations will last long after you make them. With 15 templates and 2500 beads, you can create all your favorite characters, like Mario, Luigi, Yoshi, and Princess Peach, as well as enemies like Bob-ombs and Piranha Plants, and power-ups like Fire Flowers and Mushrooms!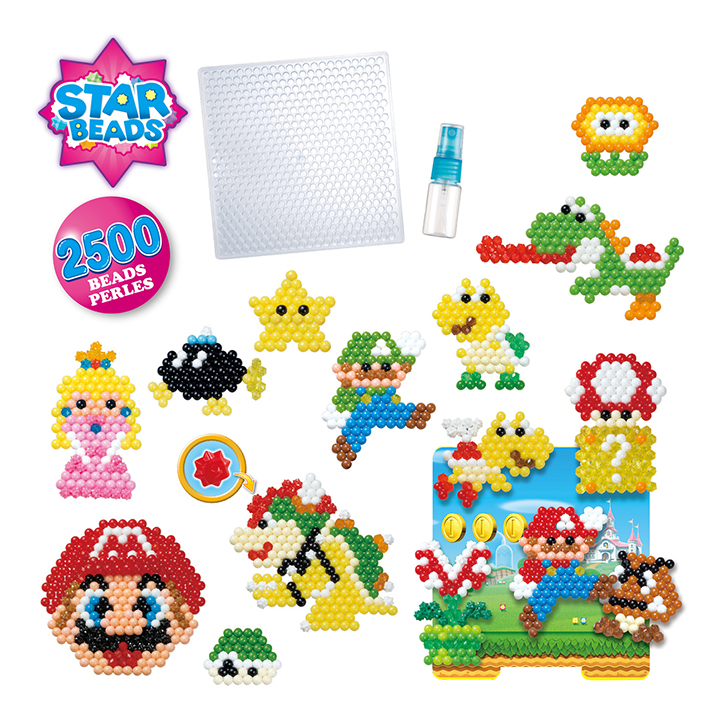 Once you're done crafting your way through the Mushroom Kingdom, you can make your own game-inspired moment by displaying your creations on the Super Mario scenery.
We teamed up with our friends at Epoch Everlasting Play to give TWO lucky winners a chance to snag a Super Mario Aquabeads Creation Cube! Ready to enter? Grab your favorite adult and have them enter below for your chance to WIN!
Super Mario Aquabeads Creation Cube Giveaway: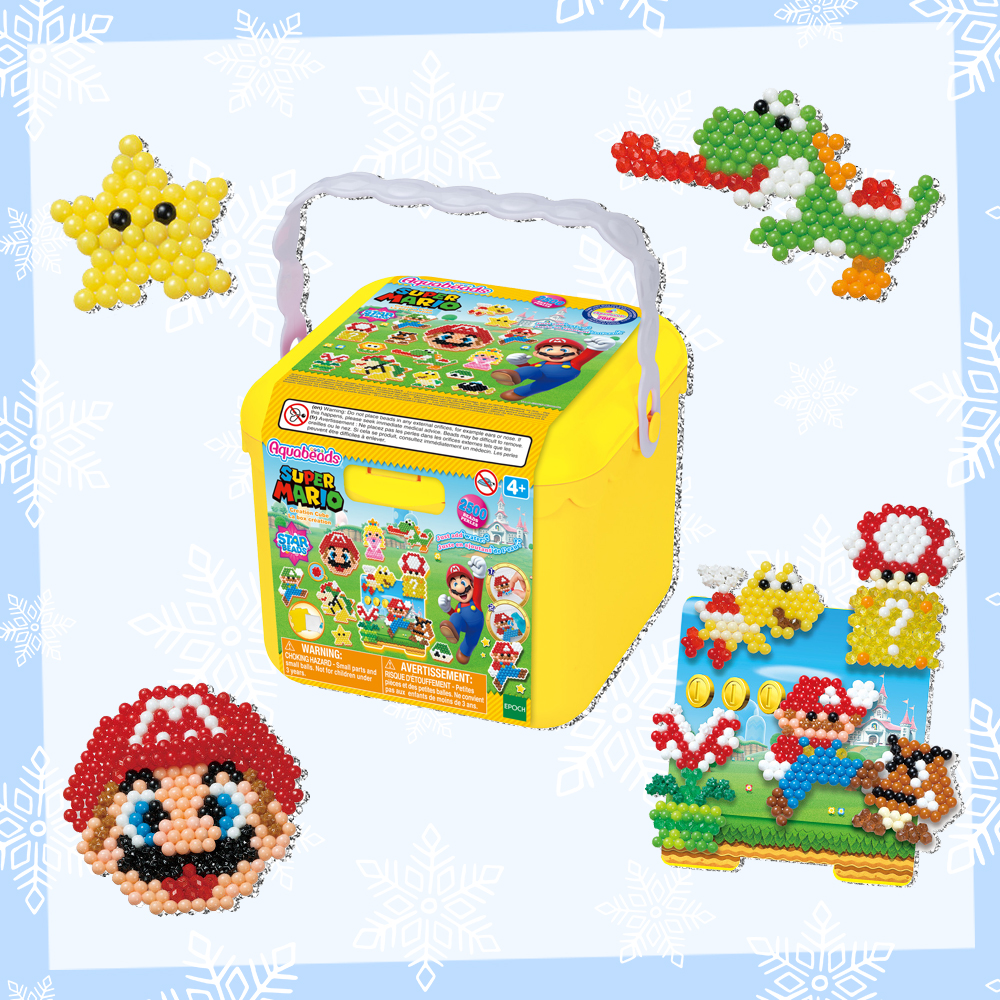 WHAT DO I WIN?:
TWO (2) lucky winners will receive a Super Mario Aquabeads Creation Cube!
*Prizes generously provided by EPOCH Everlasting Play.
HOW DO I ENTER?:
Grab a parent or guardian and have them fill out the form below by December 8, 2022 at 11:59pm ET.
Giveaway runs from 11/24/22 at 12:00 pm ET through 12/08/22 at 11:59 pm. Open to US residents ONLY. Be sure to read the fully detailed rules HERE before entering.
THIS GIVEAWAY HAS ENDED AND THE WINNERS HAVE BEEN CONTACTED.
You must be 18 or older to enter. Please, only ONE entry per person. If selected as a winner, we will provide your parent/guardian with an affidavit to confirm that you are a valid winner who has permission to win. They will be REQUIRED to sign and return the affidavit to YAYOMG! to claim your prize. Prizes will not be mailed out without signed parental consent.
MORE HOLLY JOLLYS:
❄️NATURALLY WILD: Embrace your inner explorer & connect with nature with PLAYMOBIL'S eco-friendly Wiltopia building sets!
?GRAPHIC NOVEL HAUL: This collection of girl-power-fueled graphic novels are the reads you need this holiday season – enter to WIN!
❄️SQUEEZE & POP: Make your holidays POP! Enter to WIN a set of SIX Holiday Poppers soft foam shooters from Hog Wild!