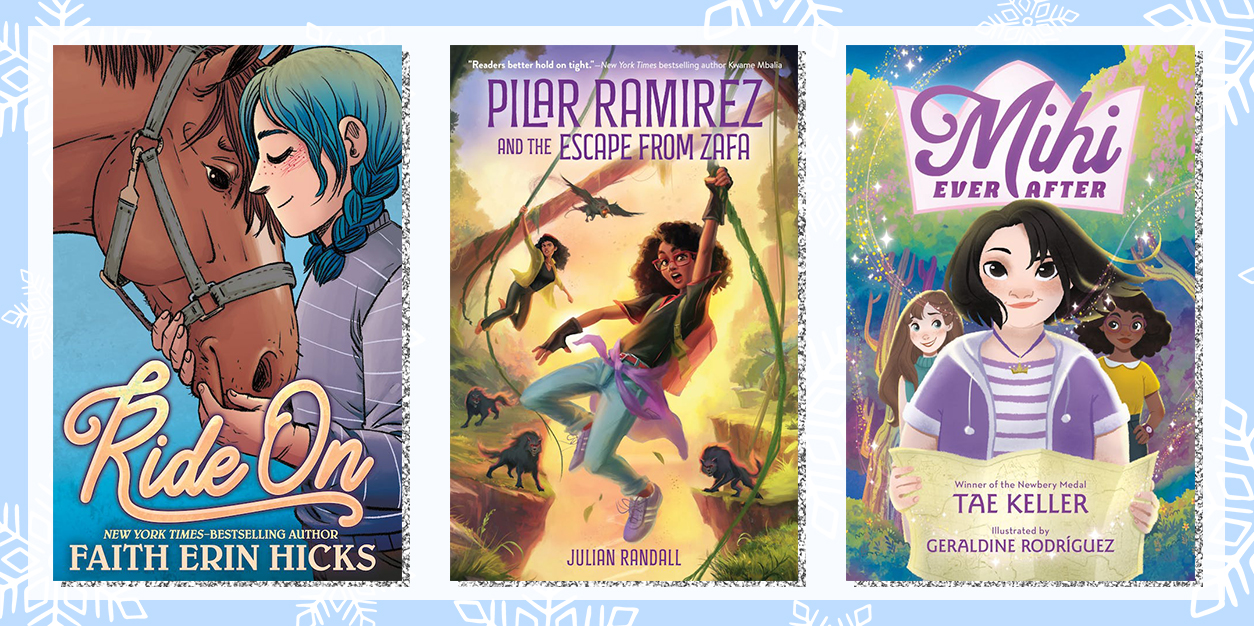 Holly Jolly Giveaway: Macmillan Empowering Reads Collection
NOTE: The items in our Macmillan Empowering Reads Collection Giveaway were provided by the brand for the purposes of our Holly Jolly Giveaways. No money was exchanged, and all opinions are our own. We reached out to these brands for this giveaway because they create products we love.
Tis the season to be READING, and our next Holly Jolly Giveaway is delivering a Santa-sized stack of new empowering new reads to you. We're teaming up with our BFFs at Macmillan to give away a collection of exciting books starring fierce leading ladies!
The stories you'll discover between the pages of these reads are filled with girls making their mark amongst the halls of a magical boarding school, bonding with horses and navigating tricky friendships, adventuring through a mythic island, and becoming a princess in a fairytale realm. Each of these girls radiates main character energy and you will too after finishing the final chapter!
Ready for a reading adventure? Grab your favorite adult and have them enter below for your chance to WIN!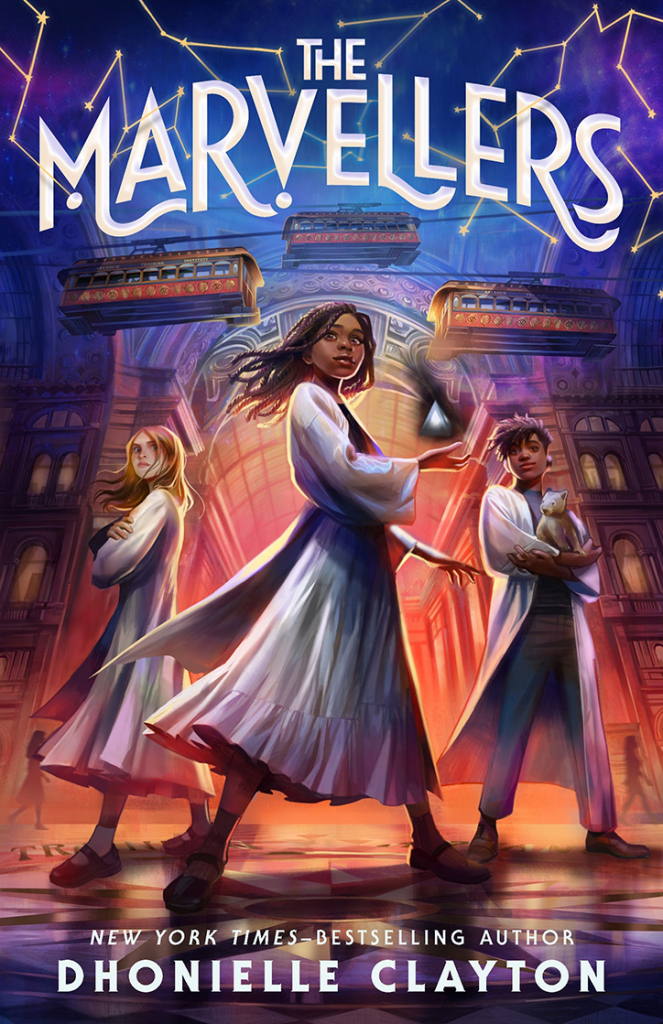 The Marvellers
AUTHOR: Dhonielle Clayton
SYNOPSIS: Dhonielle Clayton makes her middle-grade debut with a fantasy adventure set in a global magic school in the sky —an instant New York Times and #1 Indie Bestseller!
"The Marvellers deserves the highest compliment I can give a book: I want to live in this world." —Rick Riordan, #1 New York Times bestselling–author
Eleven-year-old Ella Durand is the first Conjuror to attend the Arcanum Training Institute, a magic school in the clouds where Marvellers from around the world practice their cultural arts, like brewing Indian spice elixirs and bartering with pesky Irish pixies.
Despite her excitement, Ella discovers that being the first isn't easy—some Marvellers mistrust her magic, which they deem "bad and unnatural." But eventually, she finds friends in elixirs teacher, Masterji Thakur, and fellow misfits Brigit, a girl who hates magic, and Jason, a boy with a fondness for magical creatures.
When a dangerous criminal known as the Ace of Anarchy escapes prison, supposedly with a Conjuror's aid, tensions grow in the Marvellian world and Ella becomes the target of suspicion. Worse, Masterji Thakur mysteriously disappears while away on a research trip. With the help of her friends and her own growing powers, Ella must find a way to clear her family's name and track down her mentor before it's too late.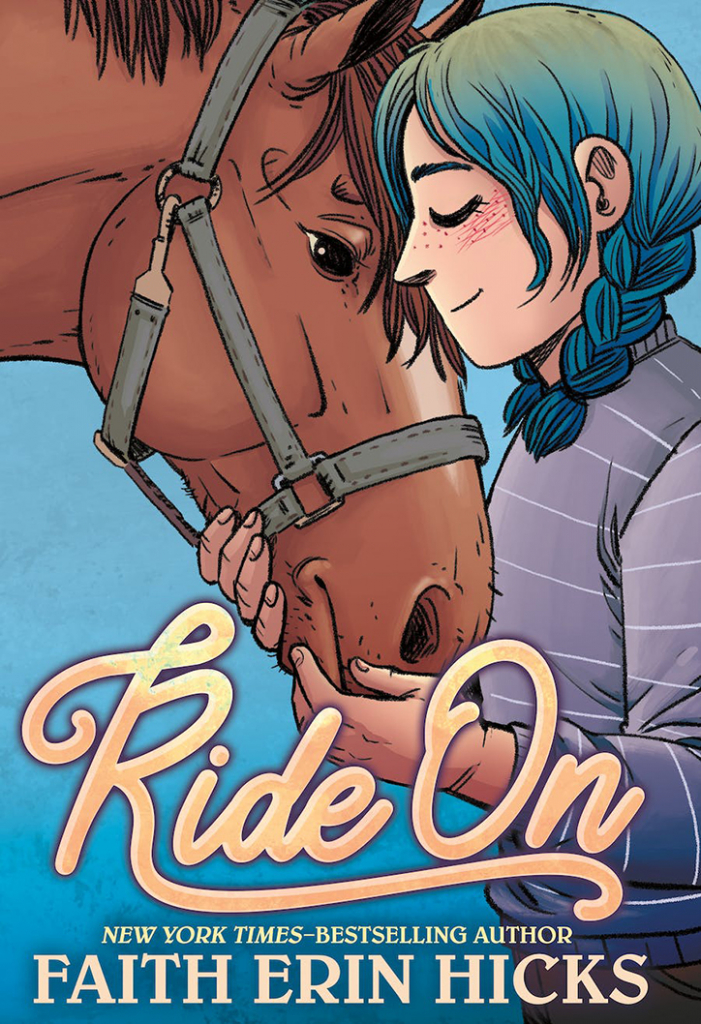 Ride On
AUTHOR: Faith Erin Hicks
SYNOPSIS: In Ride On, this middle grade graphic novel from Faith Erin Hicks, twelve-year-old Victoria is burned out from the high-pressure world or riding competitions. Can she get back to basics and rekindle her love of horses? Perfect for fans of Best Friends and Stargazing!
Victoria has always loved horses. But riding in competitions is high stakes, high stress, and shockingly expensive. And even though Victoria's best friend Taylor loves competing, Victoria has lost her taste for it.
After a heartbreaking fight with Taylor, Victoria needs a new start—at a new stables. A place where she doesn't have to worry about anything other than riding. No competition, no drama, no friends.
Just horses.
Edgewood Stables seems ideal. There are plenty of horses to ride, and Victoria is perfectly happy giving the other riders the cold shoulder.
But can she truly be happy with no friends?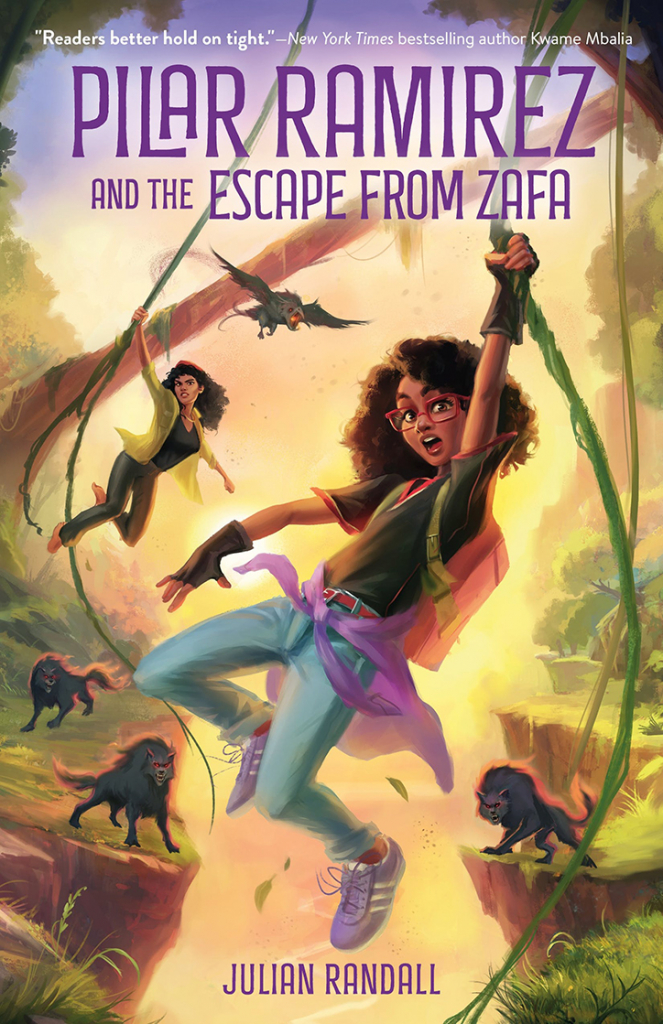 Pilar Ramirez and the Escape from Zafa
AUTHOR: Julian Randall
SYNOPSIS: The Land of Stories meets Dominican myths and legends come to life in Pilar Ramirez and the Escape from Zafa, a blockbuster contemporary middle-grade fantasy duology starter from Julian Randall. Fans of Tristan Strong and The Storm Runner, here is your next obsession.
"A breathtaking journey . . . readers better hold on tight." —Kwame Mbalia, New York Times bestselling author of the Tristan Strong series
Twelve-year-old Pilar Violeta "Purp" Ramirez's world is changing, and she doesn't care for it one bit. Her Chicago neighborhood is gentrifying and her chores have doubled since her sister, Lorena, left for college. The only constant is Abuela and Mami's code of silence around her cousin Natasha—who vanished in the Dominican Republic fifty years ago during the Trujillo dictatorship.
When Pilar hears that Lorena's professor studies such disappearances, she hops on the next train to dig deeper into her family's mystery. After snooping around the professor's empty office, she discovers a folder with her cousin's name on it . . . and gets sucked into the blank page within.
She lands on Zafa, an island swarming with coconut-shaped demons, butterfly shapeshifters, and a sinister magical prison where her cousin is being held captive. Pilar will have to go toe-to-toe with the fearsome Dominican boogeyman, El Cuco, if she has any hope of freeing Natasha and getting back home.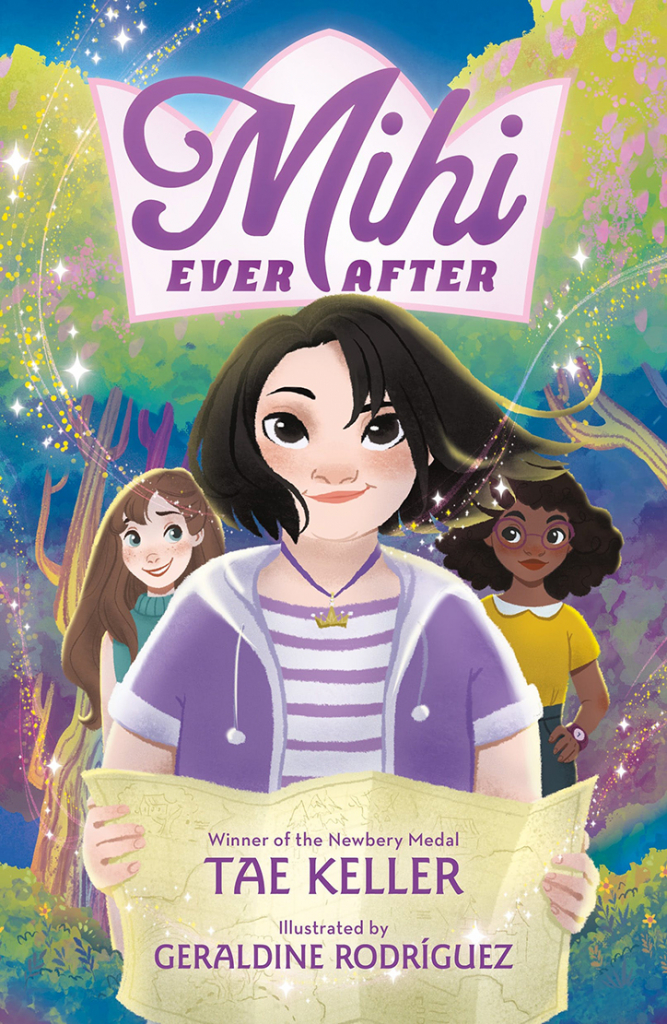 Mihi Ever After
AUTHOR: Tae Keller
ILLUSTRATOR: Geraldine Rodriguez
SYNOPSIS: Newbery Medalist Tae Keller and illustrator Geraldine Rodríguez deliver a middle grade fantasy adventure in Mihi Ever After about three girls who fall into a fairy tale world. Should they stay forever, or find a way to escape?
Mihi Whan Park loves fairy tales. She wants to be a princess more than anything, but everyone tells her she's not the princess type. Then Mihi gets her shot: When she and her new friends Savannah and Reese discover a portal to a fairy tale realm, they get a chance to learn how to be princesses! But the fairy tale world turns out not to be the wonderful place Mihi imagined. Soon, Savannah and Reese decide they're ready to go home, and Mihi has to decide where her loyalties lie: With her friends and her future at home, or with her princess dreams?
Macmillan Empowering Reads Collection Giveaway: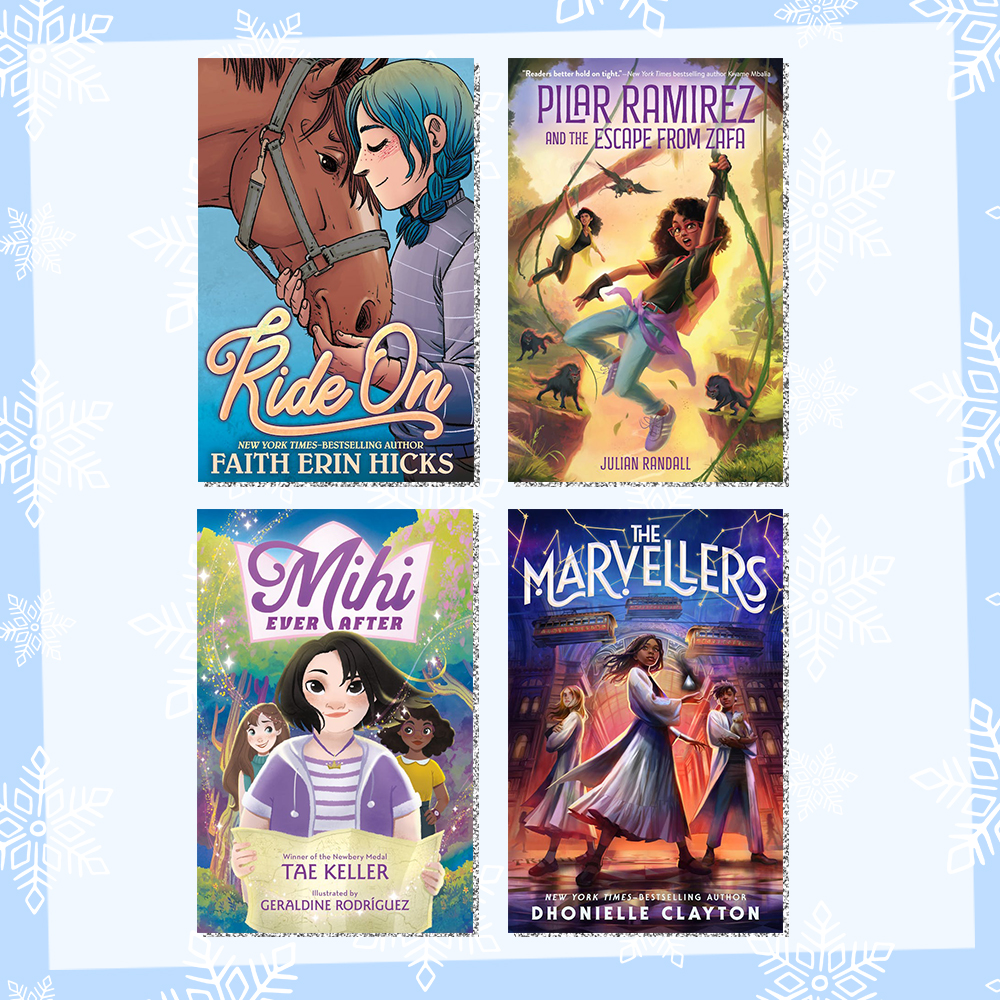 WHAT DO I WIN?:
ONE (1) lucky winner will receive a Macmillan Empowering Reads Collection that includes:
– ONE (1) copy of The Marvellers by Dhonielle Clayton
– ONE (1) copy of Ride On by Faith Erin Hicks
– ONE (1) copy of Pilar Ramirez and the Escape from Zafa by Julian Randall
– ONE (1) copy of Mihi Ever After by Tae Keller
*Prizes generously provided by Macmillan.
HOW DO I ENTER?:
Grab a parent or guardian and have them fill out the form below by December 7, 2022 at 11:59pm ET.
Giveaway runs from 11/23/22 at 12:00 pm ET through 12/07/22 at 11:59 pm. Open to US residents ONLY. Be sure to read the fully detailed rules HERE before entering.
THIS GIVEAWAY HAS ENDED AND THE WINNER HAS BEEN CONTACTED.
You must be 18 or older to enter. Please, only ONE entry per person. If selected as a winner, we will provide your parent/guardian with an affidavit to confirm that you are a valid winner who has permission to win. They will be REQUIRED to sign and return the affidavit to YAYOMG! to claim your prize. Prizes will not be mailed out without signed parental consent.
MORE HOLLY JOLLYS:
❄️REBEL READS: Read your way through hundreds of stories about powerful women around the world with this Rebel Girls Dream Big Book Collection!
?GAMER GEAR: Snag a stash of gamer gear & start streaming – enter to WIN an Ultimate Roccat Streaming Starter Kit!
❄️SELF-CARE STASH: TBH, your routine could use a refresh! Enter to WIN a TBH Kids Holiday Gift Set!