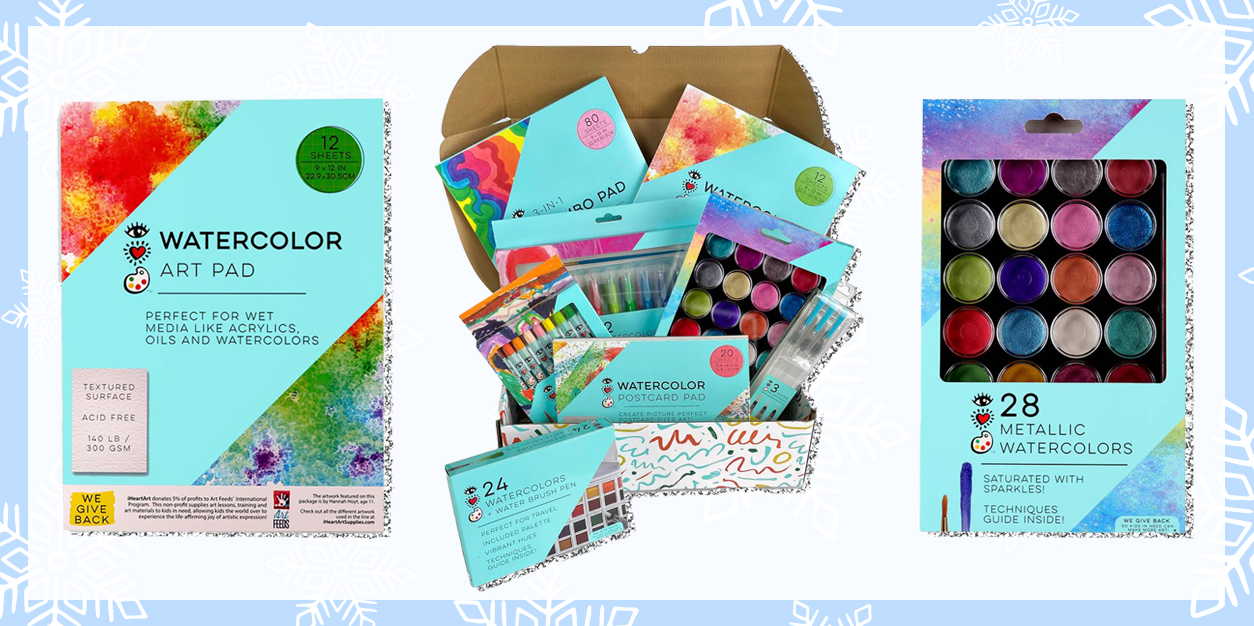 Holly Jolly Giveaway: iHeartArt Ultimate Watercolor Bundle
NOTE: The items in our iHeartArt Ultimate Watercolor Bundle Giveaway were provided by the brand for the purposes of our Holly Jolly Giveaways. No money was exchanged, and all opinions are our own. We reached out to these brands for this giveaway because they create products we love.
Our next Holly Jolly Giveaway will inspire your inner artist and keep you creating through the dark and chilly winter months!
As temperatures dip and winter weather rolls in, you'll be spending more time inside. After you've marathoned all your favorite flicks and refreshed your socials more times than you can count, you'll be on the hunt for a way to cure that winter boredom – and we've got you covered! This iHeart Art Ultimate Watercolor Bundle is a dream come true for aspiring artists of any skill level! Whether you're just starting out or flex your creativity on the regular, this kit has everything you need to keep those artsy vibes intact all winter.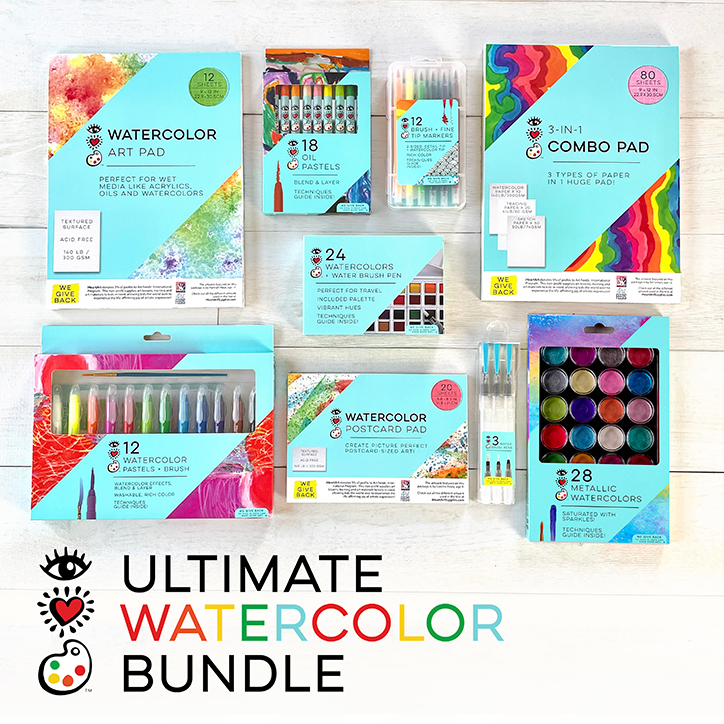 This collection is overloaded with artsy essentials from watercolors in shimmering shades to pastels to brush tip markers. Create watercolors of the winter scenes you see outside your window, design gorgeous postcards to send your friends over holiday break, or relax and have an abstract moment. However you like to create, this iHeartArt Ultimate Watercolor Bundle has got your back – and we're giving ONE lucky winner a chance to WIN, thanks to our BFFs at Bright Stripes!
Ready to enter? Grab your favorite adult and have them enter below for your chance to WIN!
iHeartArt Ultimate Watercolor Bundle Giveaway: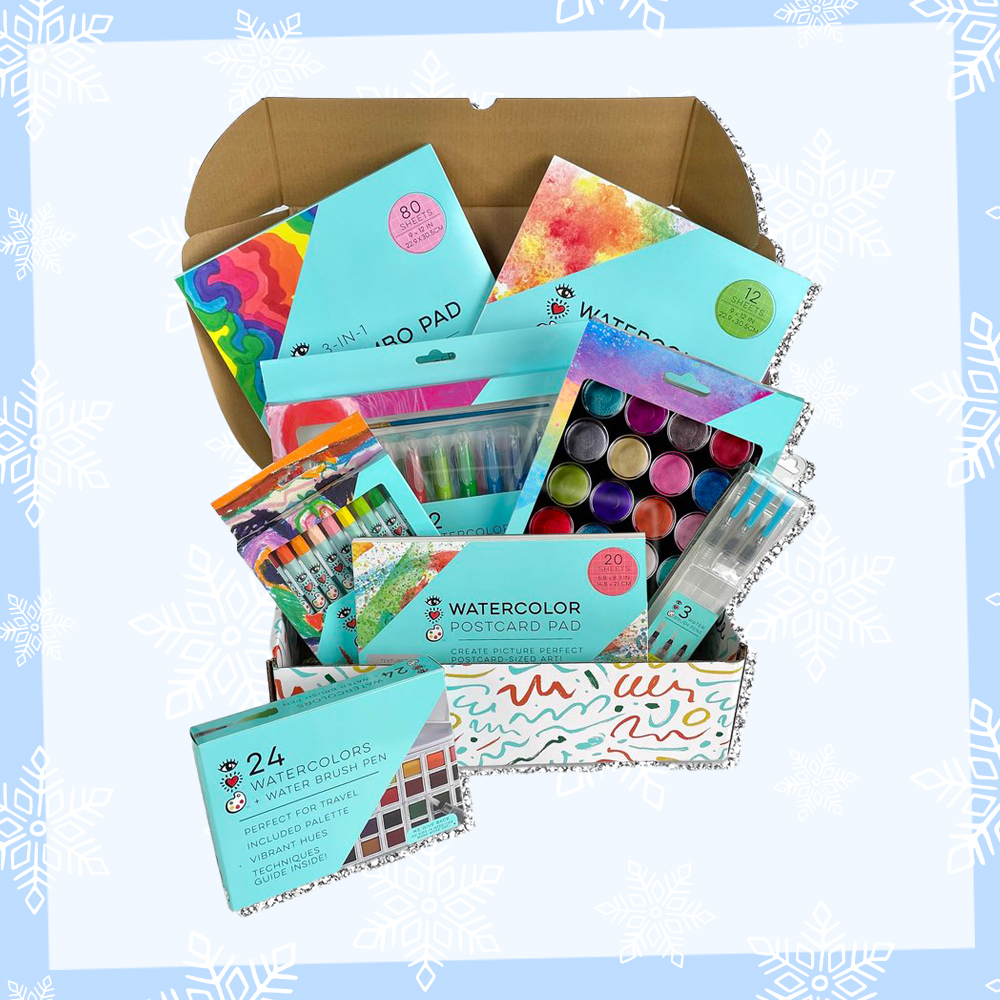 WHAT DO I WIN?:
ONE (1) lucky winner will receive an iHeartArt Ultimate Watercolor Bundle that includes:
– ONE (1) iHeartArt Watercolors + Water Brush Pen Set
– ONE (1) iHeartArt Metallic Watercolors Set
– ONE (1) iHeartArt Watercolor Pastels + Brush (12 Pack)
– ONE (1) iHeartArt Oil Pastels (18 Pack)
– ONE (1) iHeartArt Brush + Fine Tip Markers (12 Pack)
– ONE (1) iHeartArt Water Brush Pens (3 Pack)
– ONE (1) iHeartArt Watercolor Art Pad
– ONE (1) iHeartArt 3-in-1 Combo Pad
– ONE (1) iHeartArt Watercolor Postcard Pad
*Prizes generously provided by Bright Stripes.
HOW DO I ENTER?:
Grab a parent or guardian and have them fill out the form below by November 28, 2022 at 11:59pm ET.
Giveaway runs from 11/14/22 at 03:00 pm ET through 11/28/22 at 11:59 pm. Open to US residents ONLY. Be sure to read the fully detailed rules HERE before entering.
THIS GIVEAWAY HAS ENDED AND THE WINNER HAS BEEN CONTACTED.
You must be 18 or older to enter. Please, only ONE entry per person. If selected as a winner, we will provide your parent/guardian with an affidavit to confirm that you are a valid winner who has permission to win. They will be REQUIRED to sign and return the affidavit to YAYOMG! to claim your prize. Prizes will not be mailed out without signed parental consent.
MORE HOLLY JOLLY FUN:
❄️CRAFTY VIBES: Create shimmery jewelry & scented soaps with these aesthetic Wish*Craft kits!
?STICK & STYLE: Customize an avatar IRL – enter to WIN your own My Avastars doll!
❄️FITS DIFFERENT: Rescue & collect Misfittens, comical cats stuffed into super tiny spaces!