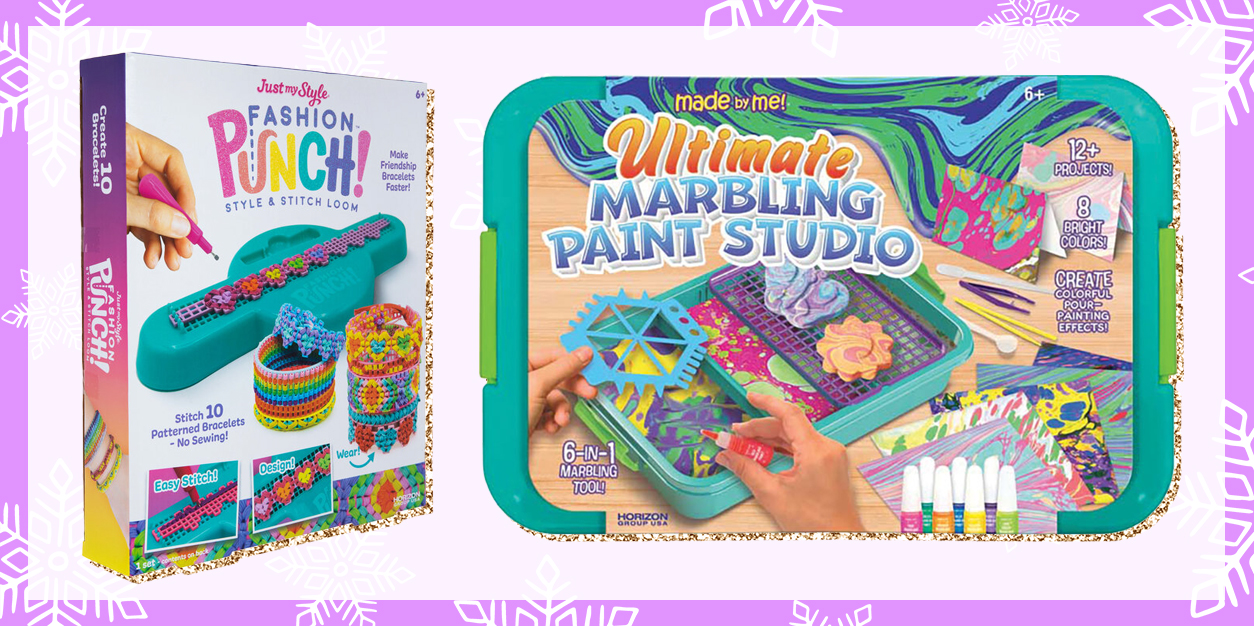 Holly Jolly Giveaway: Horizon Group Creative Craft Stash
NOTE: The items in our Horizon Group Creative Craft Stash Giveaway were provided by the brand for the purposes of our Holly Jolly Giveaways. No money was exchanged, and all opinions are our own. We reached out to these brands for this giveaway because they create products we love.
In search of a way to stay crafty and warm as blustery winter weather approaches? Look no further than our next Holly Jolly Giveaway!
These crafty kits from Horizon Group are the perfect pairing for snowy sleepovers or just embracing those DIY vibes on a chilly afternoon.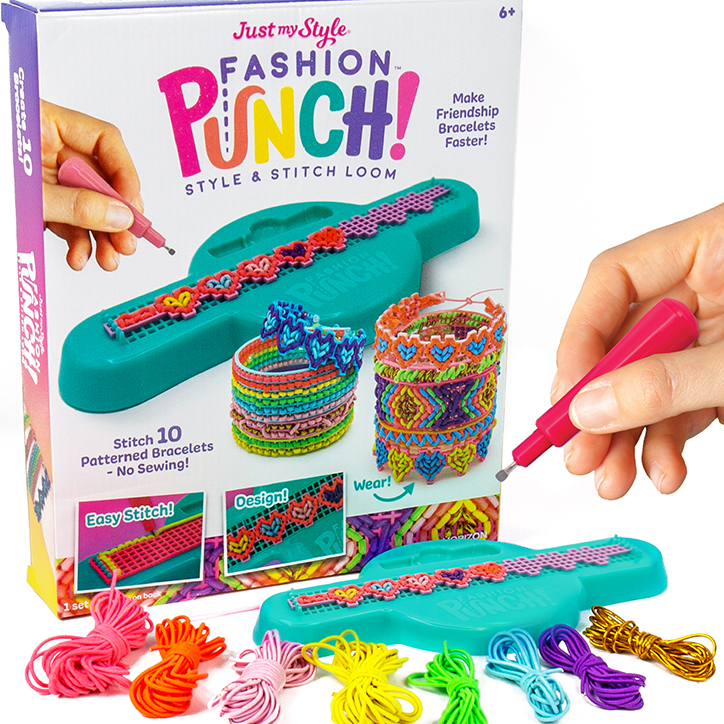 Just My Style Fashion Punch Style & Stitch Loom:
The Fashion Punch Style & Stitch Loom makes the art of making friendship bracelets a breeze. Just create a pattern on the loom, make simple stitches, and in a matter of minutes, you and your squad can have matching bracelets that stand out as you walk the halls in the new year!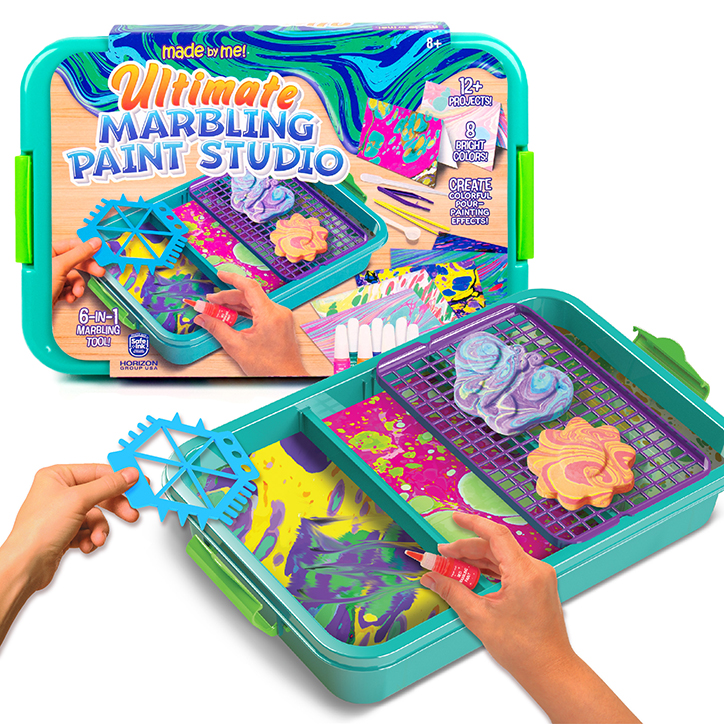 Made by Me Marbling Paint Studio:
The Ultimate Marbling Paint Studio makes paint pouring and marbling a breeze!
Add your colors to the tray, use the marbling tool to swirl and create patterns, and then dip your paper or ceramic figures to pick up the swirly patterns. There's even a drying rack! Create amazing paintings and crafts to display in your room, gift to a friend, or just have a chill time creating.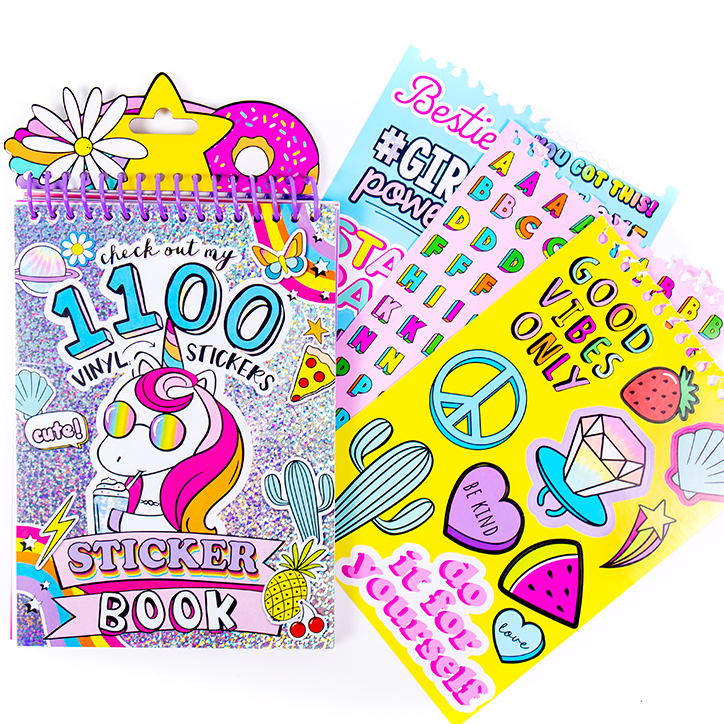 Just My Style 1100 Cute Vinyl Stickers Sticker Book:
Stick 'em on your stuff! Journals, planners, waterbottles, whatever you've got!
This sticker book is spiralbound so all your stickers stay together and since they're vinyl, they're reusable and repositionable on smooth surfaces. With 1,110 stickers to choose from, you can deck out your water bottle, cute up your calendar, or dazzle up your laptop. With fun phrases like "do it for yourself" and "you got this", fun shapes like unicorns, cacti, rainbows, planets, peace signs, and sweet treats, the possibilities are endless!
Ready to get crafty? We teamed up with our friends at Horizon Group to giveaway a creative craft stash featuring each of these 3 creative products! Grab your favorite adult and have them enter below for your chance to WIN!
Horizon Group Creative Craft Stash Giveaway: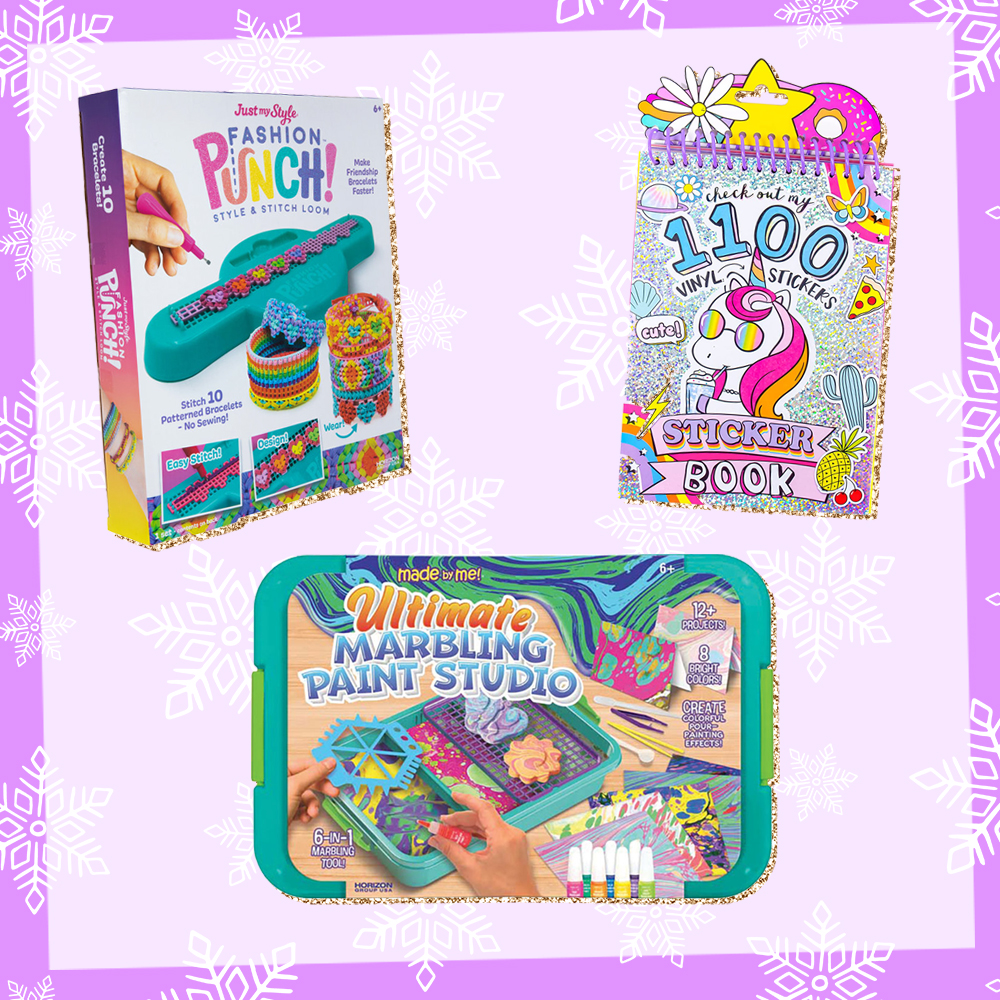 WHAT DO I WIN?:
ONE (1) lucky winner will receive a Horizon Group Creative Craft Stash that includes:
– ONE (1) Just My Style Fashion Punch Style & Stitch Loom
– ONE (1) Made by Me Ultimate Marbling Paint Studio
– ONE (1) Just My Style 1100 Cute Vinyl Stickers Sticker Book
*Prizes generously provided by Horizon Group.
HOW DO I ENTER?:
Grab a parent or guardian and have them fill out the form below by November 23, 2022 at 11:59pm ET.
Giveaway runs from 11/09/22 at 03:00 pm ET through 11/23/22 at 11:59 pm. Open to US residents ONLY. Be sure to read the fully detailed rules HERE before entering.
THIS GIVEAWAY HAS ENDED AND THE WINNER HAS BEEN CONTACTED!
You must be 18 or older to enter. Please, only ONE entry per person. If selected as a winner, we will provide your parent/guardian with an affidavit to confirm that you are a valid winner who has permission to win. They will be REQUIRED to sign and return the affidavit to YAYOMG! to claim your prize. Prizes will not be mailed out without signed parental consent.
MORE HOLLY JOLLY FUN:
❄️MY AVASTARS: Customize an avatar-inspired doll! Enter to WIN a My Avastars doll!
?SPARKLY MAKEUP HAUL: Sparkle & shine this holiday season with a stash of Petite 'n Pretty makeup!
❄️ENDLESS CURIOSITY: Spark your curiosity & learn about everything from space to farts to chess with this awesome book haul!