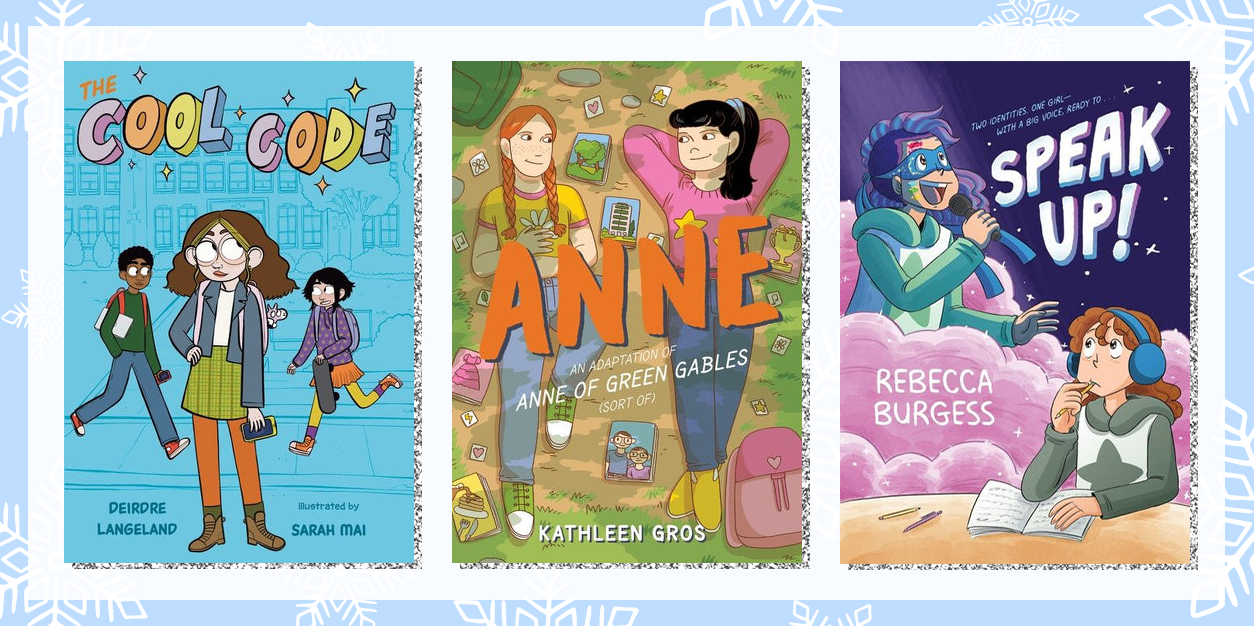 Holly Jolly Giveaway: HarperCollins Girl Power Graphic Novel Bundle
NOTE: The items in our HarperCollins Girl Power Graphic Novel Bundle Giveaway were provided by the brand for the purposes of our Holly Jolly Giveaways. No money was exchanged, and all opinions are our own. We reached out to these brands for this giveaway because they create products we love.
If your perfect winter break consists of days spent lost within the pages of a fresh stack of books, our next Holly Jolly Giveaway will make your reading dreams come true!
Prepare the perfect reading spot, slip on your warmest sweater, and grab a stash of holiday cookies to snack on because our besties at HarperCollins are giving TWO lucky winners a chance to win a graphic novel haul more iconic than Santa himself. Each of these seven reads is packed with girl power and relatable life lessons – from new girls at school trying to make their mark to girls discovering who they are and where they belong, this graphic novel bundle is filled with fierce girls figuring things out just like the rest of us.
As you get swept away into these amazing stories, you'll be inspired to put yourself out there, discover your confidence, and take big chances! Ready to start your bookish adventure? Grab your favorite adult and have them enter below for your chance to WIN!
7 Girl-Power-Packed Graphic Novels You'll Love: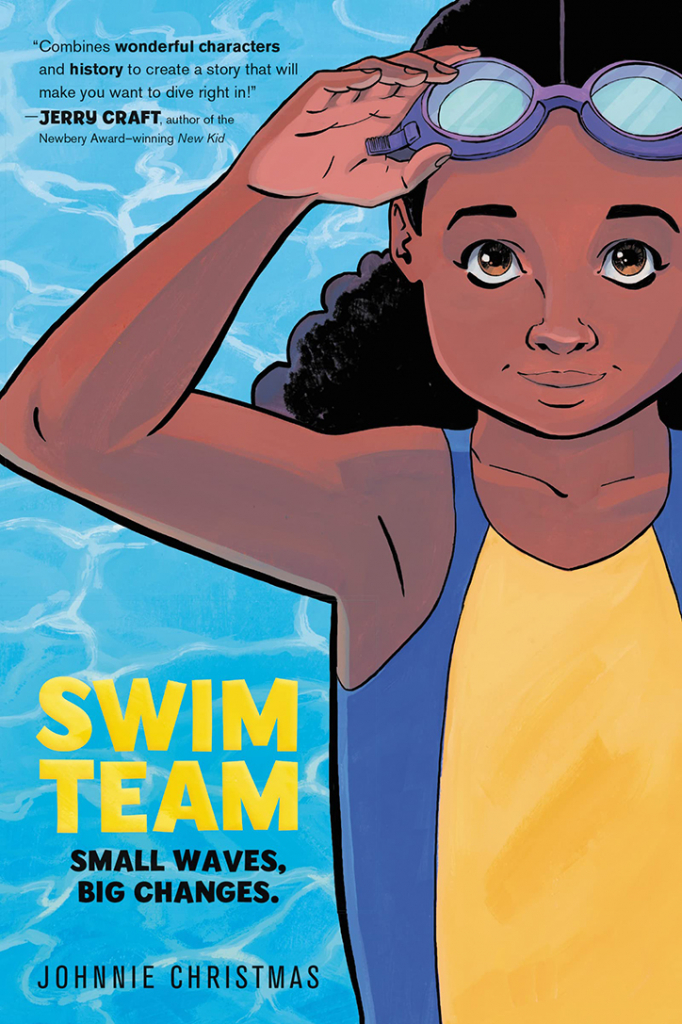 Swim Team
AUTHOR: Johnnie Christmas
SYNOPSIS: Combines wonderful characters and history to create a story that will make you want to dive right in!" JERRY CRAFT, author of the Newbery Medal–winning New Kid
A splashy, contemporary middle grade graphic novel from bestselling comics creator Johnnie Christmas!
Bree can't wait for her first day at her new middle school, Enith Brigitha, home to the Mighty Manatees—until she's stuck with the only elective that fits her schedule, the dreaded Swim 101. The thought of swimming makes Bree more than a little queasy, yet she's forced to dive headfirst into one of her greatest fears. Lucky for her, Etta, an elderly occupant of her apartment building and former swim team captain, is willing to help.
With Etta's training and a lot of hard work, Bree suddenly finds her swim-crazed community counting on her to turn the school's failing team around. But that's easier said than done, especially when their rival, the prestigious Holyoke Prep, has everything they need to leave the Mighty Manatees in their wake.
Can Bree defy the odds and guide her team to a state championship, or have the Manatees swum their last lap—for good?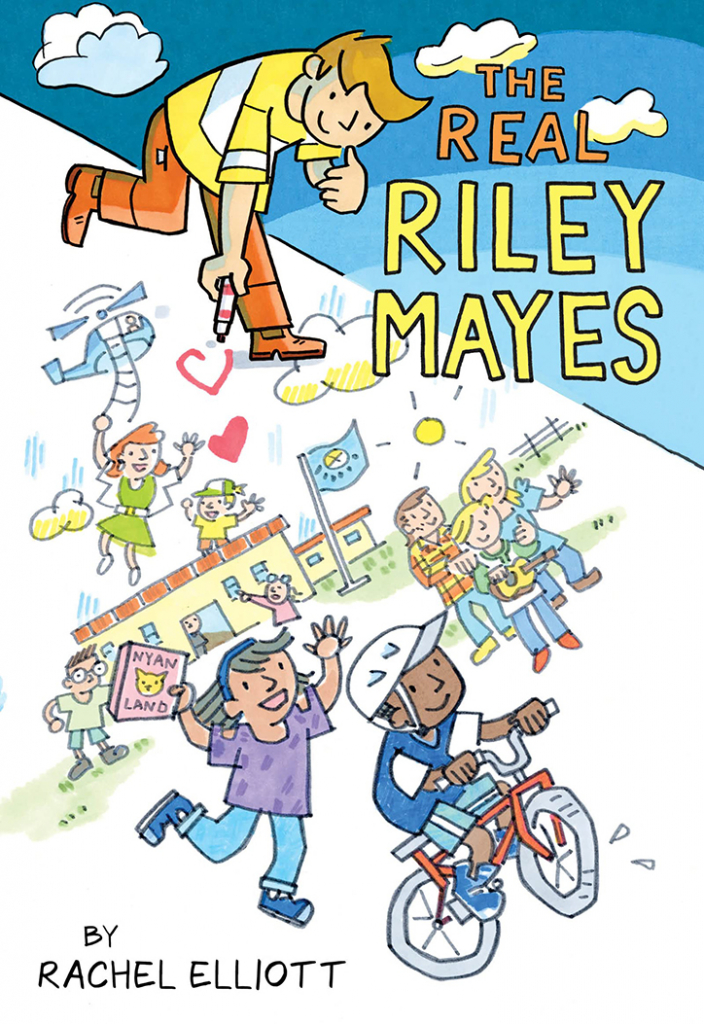 The Real Riley Mayes
AUTHOR: Rachel Elliot
SYNOPSIS: Funny and full of heart, this debut graphic novel is a story about friendship, identity, and embracing all the parts of yourself that make you special.
Fifth grade is just not Riley's vibe. Everyone else is squaded up—except Riley. Her best friend moved away. All she wants to do is draw, and her grades show it.
One thing that makes her happy is her favorite comedian, Joy Powers. Riley loves to watch her old shows and has memorized her best jokes. So when the class is assigned to write letters to people they admire, of course Riley's picking Joy Powers!
Things start to look up when a classmate, Cate, offers to help Riley with the letter, and a new kid, Aaron, actually seems to get her weird sense of humor. But when mean girl Whitney spreads a rumor about her, things begin to click into place for Riley. Her curiosity about Aaron's two dads and her celebrity crush on Joy Powers suddenly make more sense.
Readers will respond to Riley's journey of self-discovery and will recognize themselves in this character who is less than perfect but trying her best. And creative kids will recognize themselves in her love of art and drawing.
While often funny and light, Riley's exploration of what it feels to be an outsider and how hard it can be to make a friend break your heart in the best way. And with all of Riley's hijinks and missteps, this story is laugh-out-loud funny from start to finish.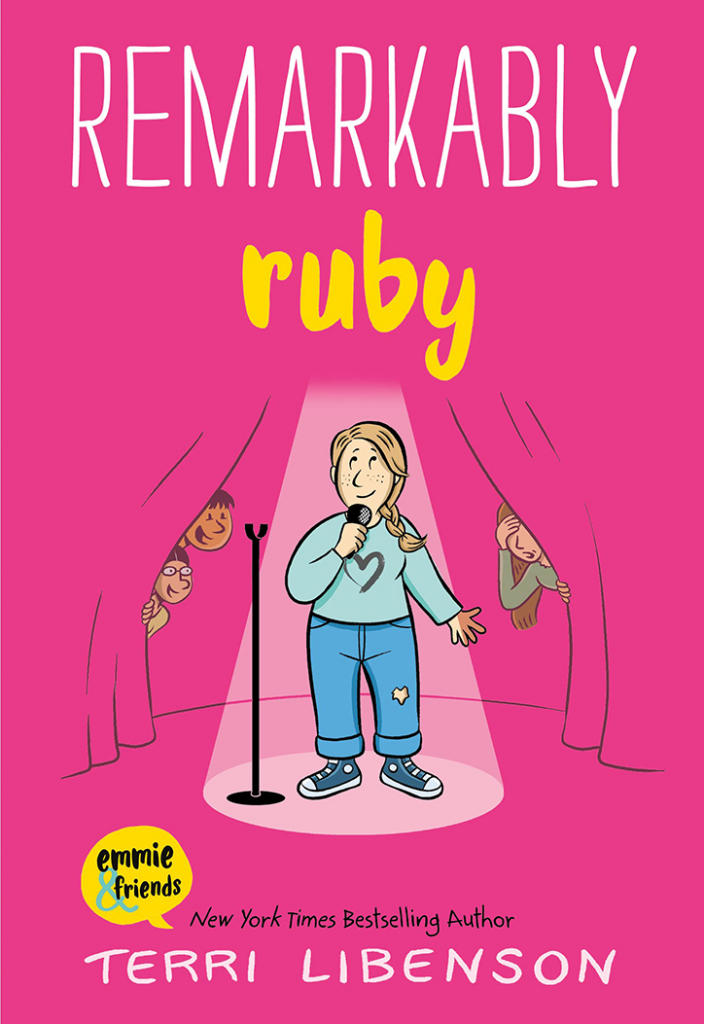 Remarkably Ruby
AUTHOR: Terri Libenson
SYNOPSIS: From bestselling author Terri Libenson, this is a story about how there's more to everyone than meets the eye.
Pride. Popularity . . . Poetry? Middle school.
Ruby and Mia are total opposites:
Ruby is a little awkward, not a "joiner," and loves to write poetry.
While Mia is type A, popular(ish), and wants to be class prez.
They used to be friends. But now they have nothing in common anymore…Or do they?
BONUS: Want to find out what makes YOU stand out? Take our quiz to find out!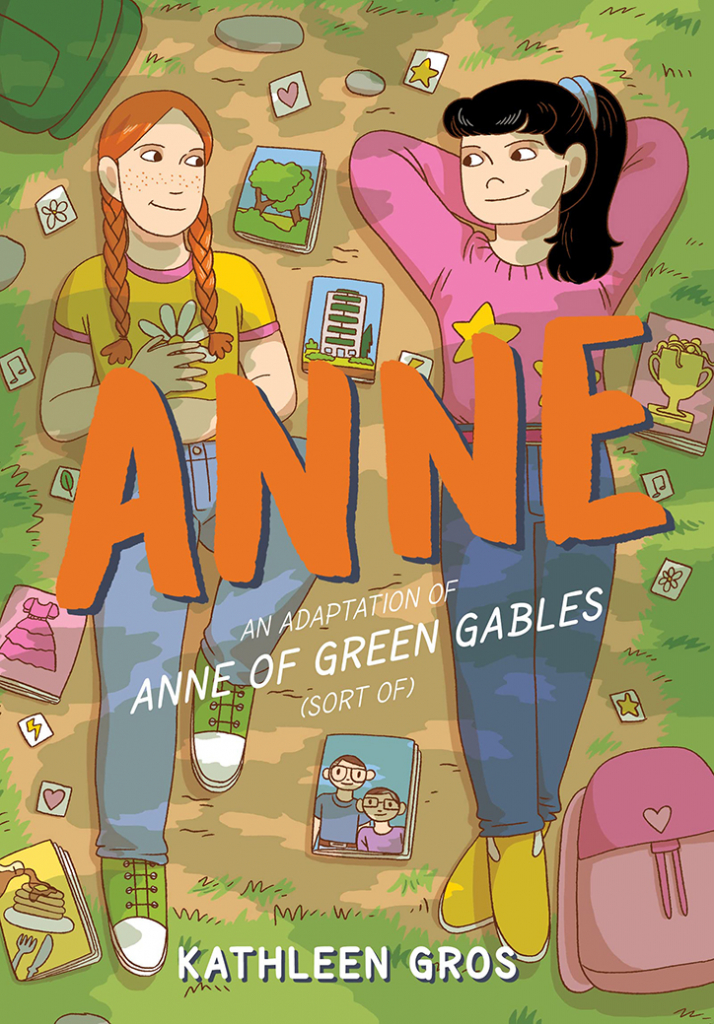 Anne: An Adaptation of Anne of Green Gables (Sort Of)
AUTHOR: Kathleen Gros
SYNOPSIS: In this modern graphic novel retelling of Anne of Green Gables from graphic novelist Kathleen Gros, foster kid Anne Shirley finally lands in a loving home and befriends a girl who she may have more-than-friends feelings for.
Anne Shirley has been in foster care her whole life. So when the Cuthberts take her in, she hopes it's for good. They seem to be hitting it off, but how will they react to the trouble that Anne can sometimes find herself in . . . like accidentally dyeing her hair green or taking a dangerous dare that leaves her in a cast?
Then Anne meets Diana Barry, a girl who lives in her apartment building, the Avon-Lea. The two become fast friends, as Anne finds she can share anything with Diana. As time goes on, though, Anne starts to develop more-than-friends feelings for Diana.
A new foster home, a new school, and a first-time crush—it's a lot all at once. But if anyone can handle life's twists and turns, it's the irrepressible Anne Shirley.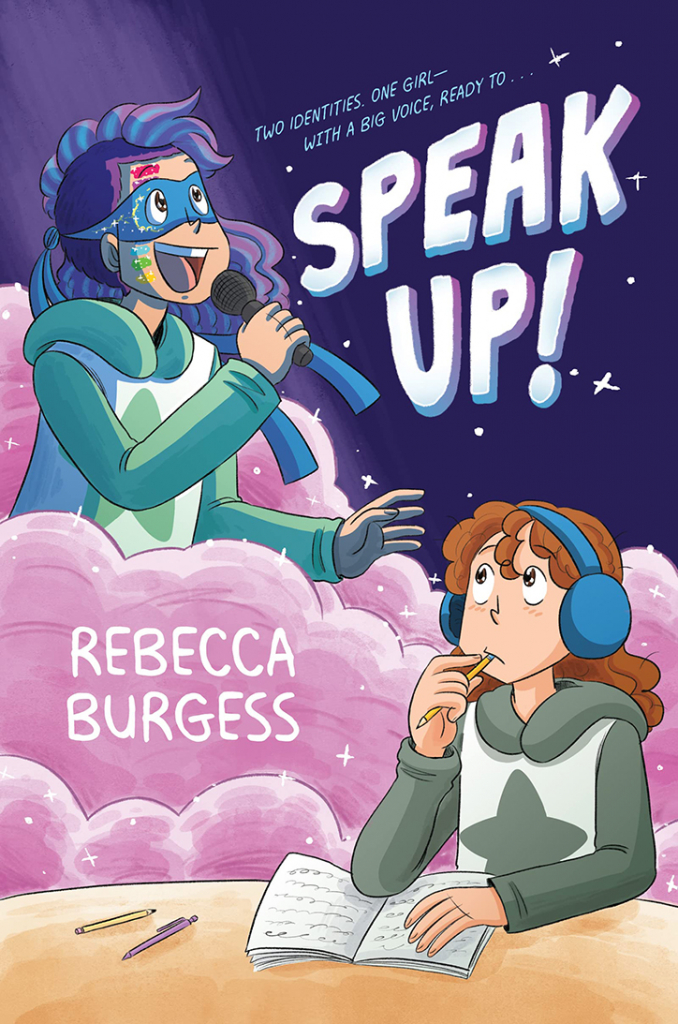 Speak Up!
AUTHOR: Rebecca Burgess
SYNOPSIS: For fans of Click and Brave, this touching coming-of-age middle grade graphic novel debut follows an autistic girl who finds friendship where she least expects it and learns to express her true self in a world where everyone defines her by her differences.
Twelve-year-old Mia is just trying to navigate a world that doesn't understand her true autistic self. While she wishes she could stand up to her bullies, she's always been able to express her feelings through singing and songwriting, even more so with her best friend, Charlie, who is nonbinary, putting together the best beats for her.
Together, they've taken the internet by storm; little do Mia's classmates know that she's the viral singer Elle-Q! But while the chance to perform live for a local talent show has Charlie excited, Mia isn't so sure.
She'll have to decide whether she'll let her worries about what other people think get in the way of not only her friendship with Charlie, but also showing everyone, including the bullies, who she is and what she has to say.
BONUS: Think Mia is totally fierce? Us too! – which is why we asked author Rebecca Burgess to dish on all of Mia's best qualities in our FIERCELY FICTIONAL series!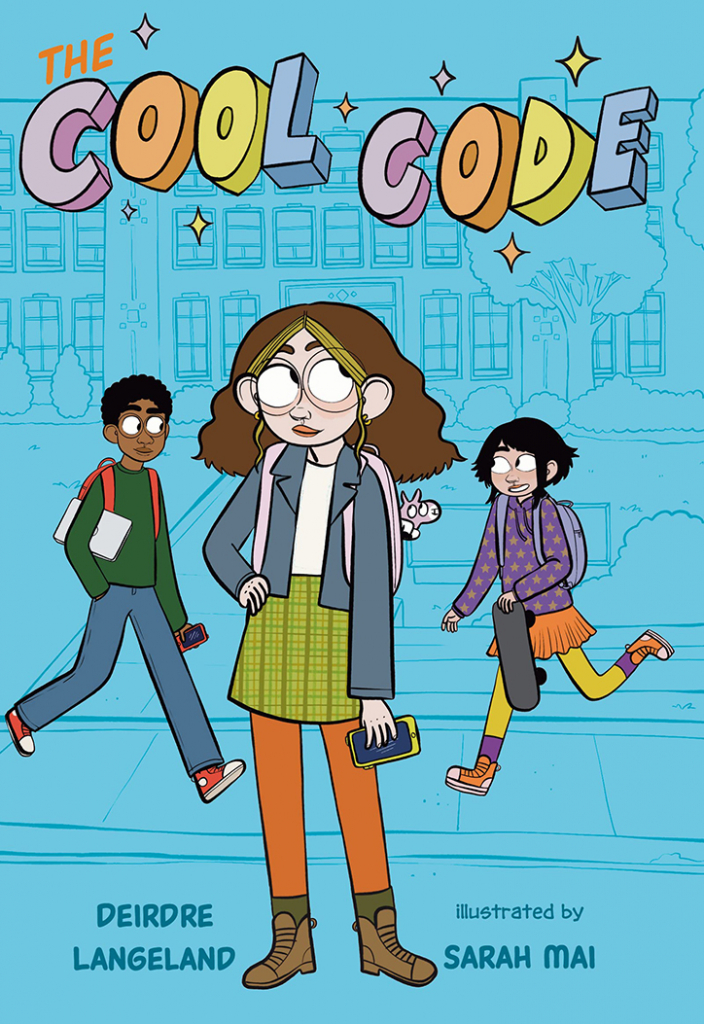 The Cool Code
AUTHOR: Deirdre Langeland
ILLUSTRATOR: Sarah Mai
SYNOPSIS: In this funny and heartfelt slice-of-life graphic novel for fans of Raina Telgemeier and Kayla Miller, when coding whiz Zoey goes from homeschooled to new school, she develops an app to help her make friends. Will the Cool Code help Zoey fit in? Or will it completely crash her social life?
In an attempt to fit in, Zoey develops an app called the Cool Code with a cute llama avatar that will tell her everything from what to say to what to wear based on pop culture algorithms she's uploaded.
But when the app gives her ridiculous advice, awkwardness and hilarity ensues. With a few upgrades and a bit of debugging from the coding club, the app actually works—Zoey gets really popular . . . and gets her pulled in all kinds of directions, including away from her real friends.
Life's most complicated choices. . . is there a code for that?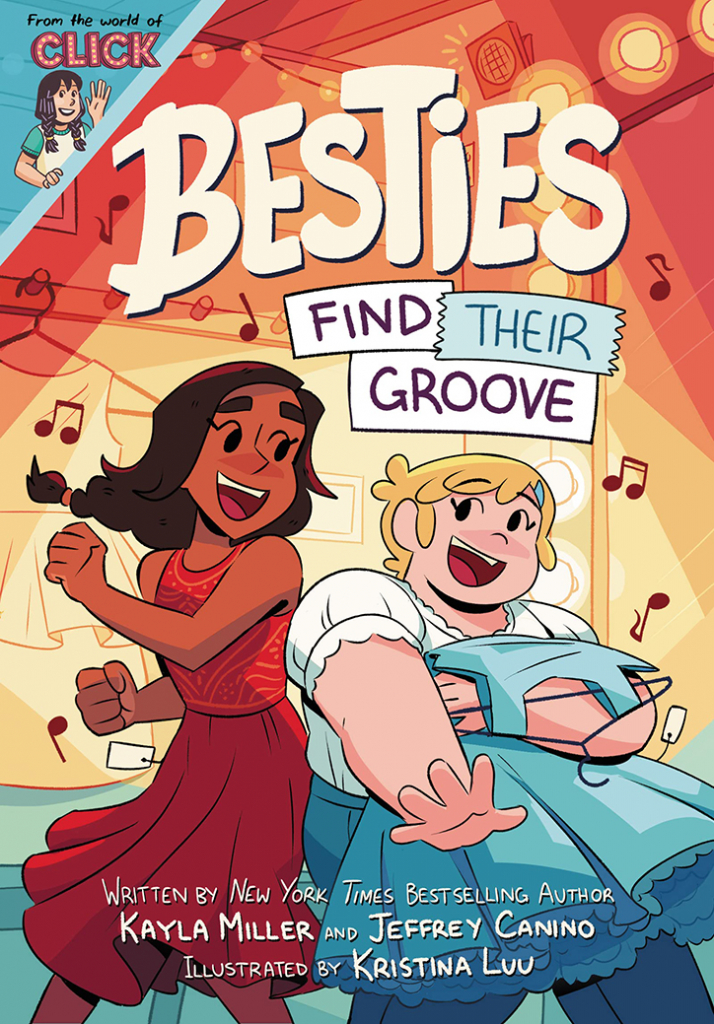 Besties: Find Their Groove
AUTHORS: Kayla Miller & Jeffrey Canino
ILLUSTRATOR: Kristina Luu
SYNOPSIS: A fun and fresh spin-off of the New York Times bestselling Click graphic novels. With the school dance around the corner, fashionistas Beth and Chanda are ready to dazzle!
With their first formal school dance around the corner, Beth and Chanda are on a mission to make it the best night ever. Step one? Secure the perfect dresses so they can dominate the dance floor! But when neither of them can find an outfit that lives up to their high expectations—and when they encounter unexpected pressure to find dates—these besties will need to lean on their friendship more than ever if they hope to find their groove and bust a move!
HarperCollins Girl Power Graphic Novel Bundle Giveaway: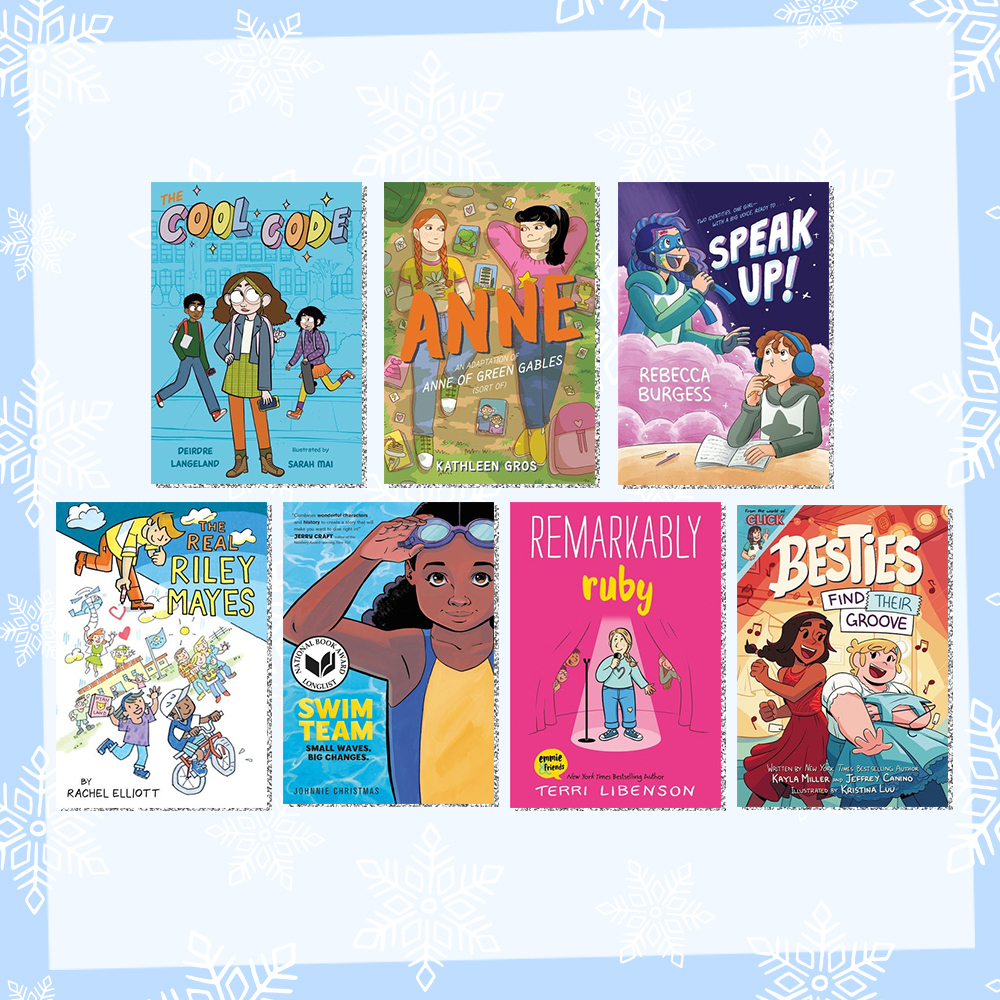 WHAT DO I WIN?:
TWO (2) lucky winners will receive a HarperCollins Girl Power Graphic Novel Bundle that includes:
– ONE (1) copy of Swim Team by Johnnie Christmas
– ONE (1) copy of The Real Riley Mayes by Rachel Elliott
– ONE (1) copy of Remarkably Ruby by Terri Libenson
– ONE (1) copy of Besties: Find Their Groove by Kayla Miller, Jeffrey Canino, & Kristina Luu
– ONE (1) copy of Speak Up! by Rebecca Burgess
– ONE (1) copy of The Cool Code by Deirdre Langeland & Sarah Mai
– ONE (1) copy of Anne: An Adaptation of Anne of Green Gables (Sort Of) by Kathleen Gros
*Prizes generously provided by HarperCollins.
HOW DO I ENTER?:
Grab a parent or guardian and have them fill out the form below by December 2, 2022 at 11:59pm ET.
Giveaway runs from 11/18/22 at 03:00 pm ET through 12/02/22 at 11:59 pm. Open to US residents ONLY. Be sure to read the fully detailed rules HERE before entering.
THIS GIVEAWAY HAS ENDED AND THE WINNERS HAVE BEEN CONTACTED.
You must be 18 or older to enter. Please, only ONE entry per person. If selected as a winner, we will provide your parent/guardian with an affidavit to confirm that you are a valid winner who has permission to win. They will be REQUIRED to sign and return the affidavit to YAYOMG! to claim your prize. Prizes will not be mailed out without signed parental consent.
MORE HOLLY JOLLY FUN:
❄️EMPOWERING READS: Filled with stories of extraordinary women from around the world, this book collection from Rebel Girls will inspire your biggest dreams!
?AMAZING ACCESSORIES: Channel your inner jewelry designer with this huge haul of bracelet-making kits from Make it Real!
❄️WHIMSICAL WATERCOLOR: Flex your creativity with must-have art essentials – enter to WIN this iHeartArt Ultimate Watercolor Bundle!